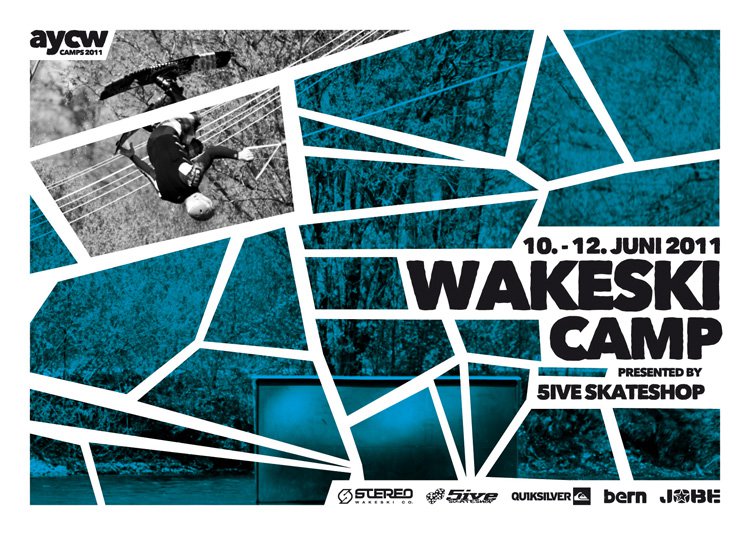 STEREO Wakeski Camp presented by 5ive Skateshop
For all Wakeskiiers and future pros the Inselsee Allgäu Wakepark will be THE place to be
from 10th to 12th of June 2011. This is the time when the STEREO Wakeski Camp presented
by 5ive Skateshop will take place. And this means Wakeski en masse and unlimited fun.
Under the direction of camp leader Christian Golhofer (GER) the STEREO Coaching Team
with Kristian Hvaara (NOR), Lukas Gütling (GER), Jan Schädle (GER) and another surprise
coach from the international STEREO-Team will be on the ground to help the riders with
words and deeds.
No matter if you are beginner or expert ? everybody will meet his needs and be able to
thoroughly improve his skills. Wakeskiing is also the perfect summer alternative for all
freeskiers that feel at home in snowparks on jib obstacles and kickers in the winter. The
camp is the ideal possibility to get started.
During the camp the coaches will choose one of the participants as ?Most Impressive Rider?
that will not only take home a brand-new bern helmet but also a special goody of STEREO.
Besides sessions during the regular opening hours there will also be extensive lift sessions
whereby the facilities will be run exclusively for the riders of the camp. ?Spot on!? is the
motto on Saturday evening, as the ?Inselsee? will be enlightened by flood light. Riders can
run wild in the limelight to show their skills for the video- and photoshooting which will
definitely be a highlight of the camp!
All this will be accompanied by relaxed and chilled camp atmosphere: the riders will awake
in the morning sun when the bar ladies of the bikini-bar will already have prepared a great
breakfast for the hungry people. There is a lot going on at the lakeside in the evenings, too:
as the sun goes down behind the summits of the Allgäu Mountains – painting a wonderful
alpenglow ? the participants will be decently pampered at the Welcome Dinner on Friday and
during the yummy BBQ on Saturday.
All in all it will be a weekend that should not be missed by enthusiastic or future wakeskiiers.
For only 99,- Euros you will get this Allround package:
- 3 days Coaching by STEREO-Pros
- 3 days lift tickets for the regular opening hours
- 4 exclusive Lift-Sessions, thereof 1 night session
- 3 days free camping at the lakeside (bring your own equipment)
- 3 days catering (breakfast and dinner)
- Welcome Dinner
- BBQ on Saturday evening
- Goody-Package
For those of you who prefer a comfy bed to sleeping in a tent, here are some sleeping
possibilities:
- Schiff in Bihlerdorf (ca. 5 km, from 15,- ? per person/day)
- Explorer Hotel Fischen (ca. 15 km, from 30,- ? per person/day)
So what are you waiting for? Apply for the camp and come to beautiful Allgäu! You can find
all further information as well as application possibilities online here: http://www.inselsee-
allgaeu.de/2011-05-16_wakeski_camp_en.php