Words: Dan Abrams
Photos: Geoff Jansen
The World Skiing Invitational Superpipe competition wrapped up in Whistler yesterday, as the winners of Monday's qualification round met the roster of pros pre-qualified for the semi-finals and finals. Warm-up laps began this morning with concern over the fog and drizzle that hung over the course, but to everyone's relief conditions improved throughout the day.
The men's semi-finals were up first, with 22 skiers gunning for nine spots in the final round. Each athlete would get two runs with only the best run counting. At the end of the first go around it was Mike Mertion of Vernon, BC sitting in first, who kicked off his run with a lofty switch left 10 followed by back-to-back 9s. Wing Tai Barrymore followed with one of the most memorable hits of the round, a massive 1260, which Barrymore was able to ski out of and continue, despite a slight hip check.
Regardless of a clean grab on his 10, Mertion's overall second run did not score as highly as his first which was only bested by two skiers: Joss Christensen and Marshall Lacroix. Lacroix skied his run with style and grabs that were clearly visible from the judge's platform, starting with back to back 7's and finishing with a nicely tweaked alley-oop flat 5 japan to finish in second overall. Christensen's winning run included a massive first hit flat 3 to switch 5 followed by a switch right 9, and on his second try stomped the final 9 which he had crashed on during his first run.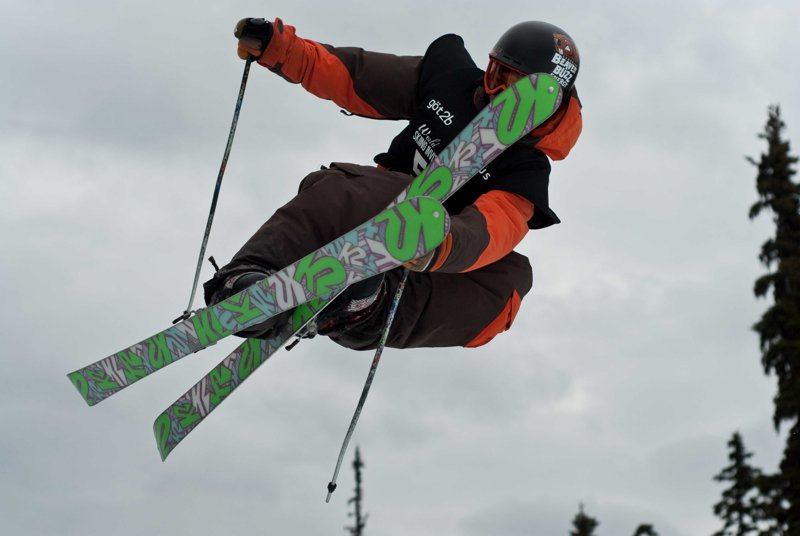 Sam Thakray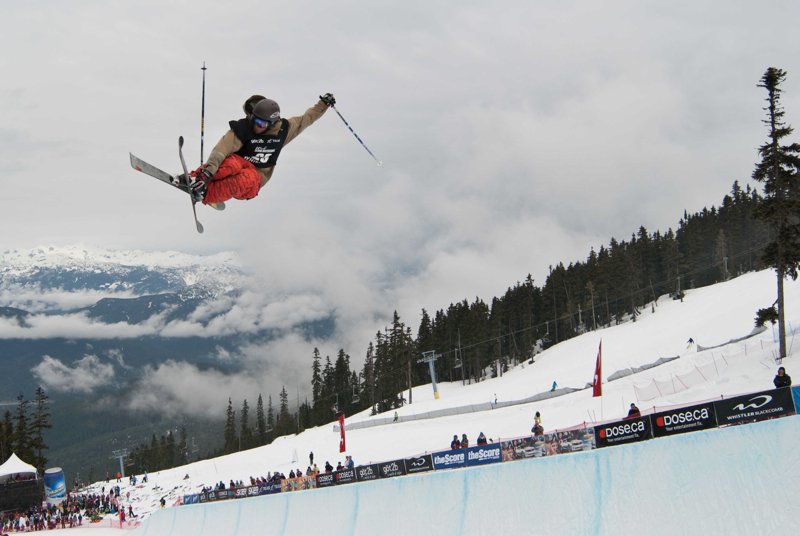 Tyler Peterson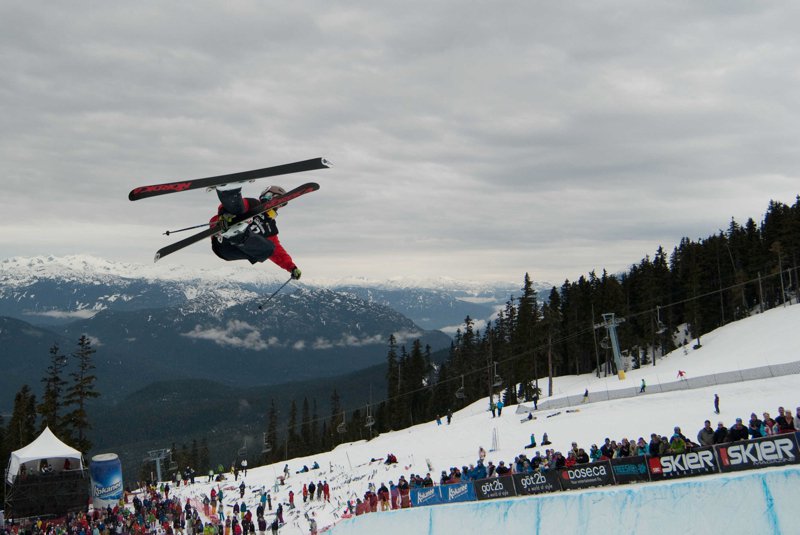 Kris Atkinson
Men's Semi-Finals Results
1) Joss Christensen
2) Marshall Lacroix
3) Mike Mertion
4) Wing Tai Barrymore
5) Tyler Peterson
6) Patrick Baskins
7) Rob Heule
8) Sandy Boville
9) Sean Collin
cut-off
10) Evan Schwartz
11) Kyle Smaine
12) Colin Vaykovich
13) Nathan Wood
14) Peter Adam Crook
15) John Leonard
16) Colin Campbell
17) Kris Atkinson
18) JP Solberg
19) Brian Kish
20) Sam Thackray
21) Billy Mann
22) Simon D'artois
Up next were the women's finals, and the continuously progressing pipe riding from these ladies was on full display. Ever-present pipe threat Sarah Burke kicked her runs off with an impressive first hit left 9, but caught the deck on her second hit flair both times. Boosting perhaps the largest airs of the day was Rosalind Groenewoud, with a large and in charge first hit straight air into a 900, 540's both ways, and a last hit 7 which she landed on her second run to finish in fourth. Sliding in to third place was the always consistent Mirjiam Jaeger, who spin left, right, and threw in some alley-oop 5's for good measure. Throwing perhaps the most impressive single hit of the day was Megan Gunning with her cork right 1080 and it, along with a right 9 and switch alley-oop right 5, landed her in second place. However it took consistent tricks on both walls to take the top spot today and Jen Hudak did just that, starting her run with a left 900 to alley-oop 540 and finishing with a nicely tail grabbed 720.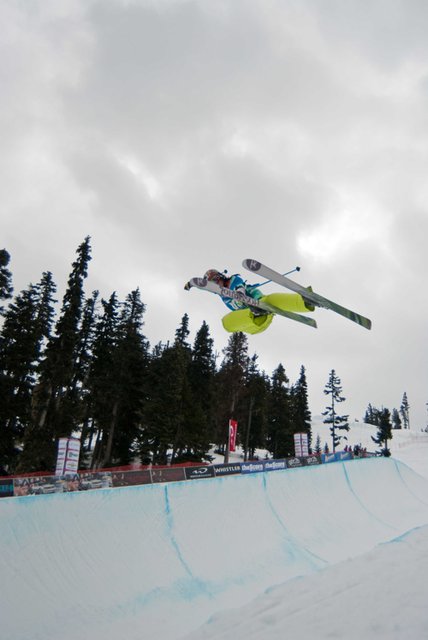 Rosalind Groenewoud
Jen Hudak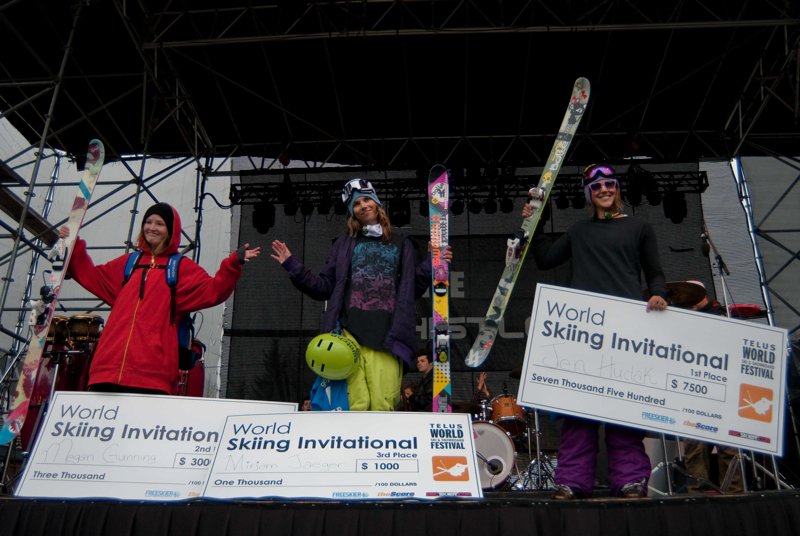 Megan Gunning (2nd), Mirjam Jaeger (3rd), Jen Hudak (1st)
Women's Finals Results
1) Jen Hudak
2) Megan Gunning
3) Mirjiam Jaeger
4) Rosalind Groenewoud
5) Shannon Gunning
6) Sarah Burke
7) Anais Caradeux
8) Devin Logan
9) Brita Sigourney
10) Dania Assaly
11) Amy Sheehan
In the men's finals, the pre-qualified skiers finally got a chance to drop in against those who had earned their place in previous rounds. Despite earlier reports that Peter Olenick and Matt Margetts would not be competing due to knee injury/infection, both athletes appeared in the start gates. Unfortunately neither were able to land a run, with Margetts back slapping on an alley-oop double flatspin 9 and Olenick starting strong but appearing to be in considerable pain. Standing ahead of the pack in the first round was Joss Christensen, who linked together his mostly switch run with incredible fluidity and consistent amplitude, throwing a lofty alley-oop flat 360 japan into a switch left 5 to switch right 9 followed by a switch left 7 to regular right 9. Christensen attempted to change things up with a switch 10 on his second run but was unable to put it down. Edging him out of first was upcoming pipe powerhouse Walter Wood of Evergreen, Colorado, with his first win of the season and the biggest of his young career. Wood's run kicked off with a right 10 in to a switch rodeo 7, followed by back-to-back 9's and finished with authority with a mind boggling and solidly landed 1440. His performance today, as well as the alley-oop double flat 9 he landed yesterday in practice, is reason enough to keep your eyes on Wood for next year. Rounding out the podium by means of floating style, consistent amplitude, and solid grabs rather than large rotations was Taylor Seaton, who capped off his run with an incredibly clean and tweaked alley-oop 540 mute grab. Seaton seemed more than pleased with the podium spot after suffering an injury at the X-Games earlier this year.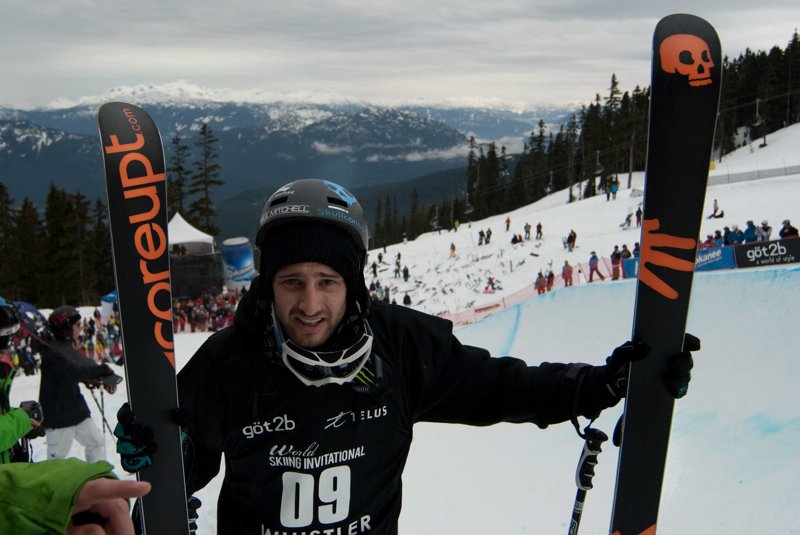 Colby James West, who was the only person at JOSS who somehow managed to escape from Sweden despite the volcanic ash that has brought virtually all flights in Europe to a halt.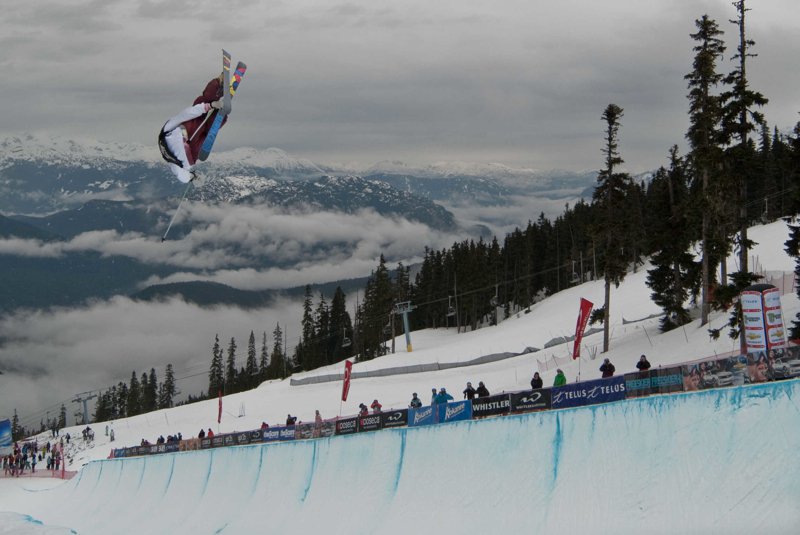 Rob Heule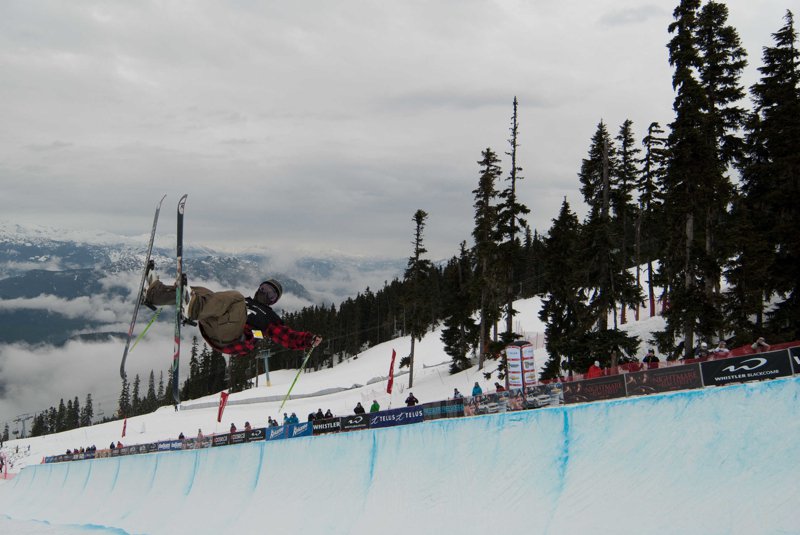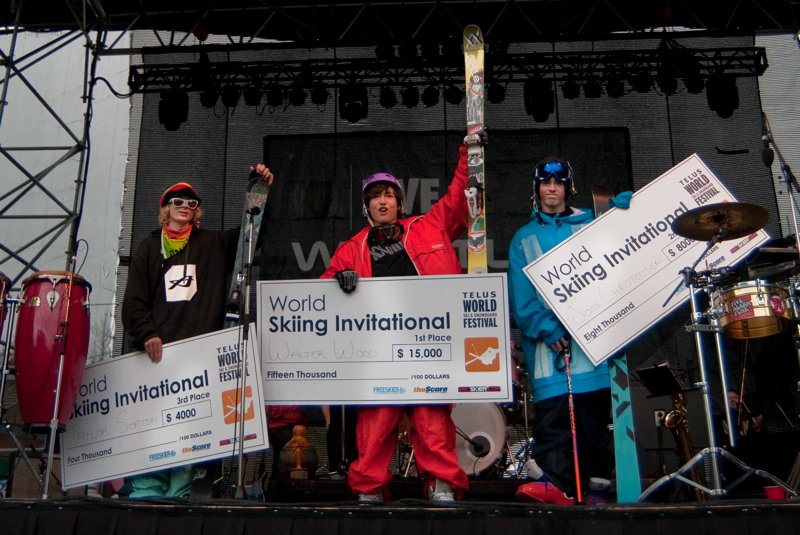 Taylor Seaton (3rd), Walter Wood (1st), Joss Christensen (2nd)
Men's Finals Results
1) Walter Wood
2) Joss Christensen
3) Taylor Seaton
4) Noah Bowman
5) AJ Kemppainen
6) Colby West
7) Sean Collin
8) Dan Marion
9) Marshall Lacroix
10) Rob Heule
11) Mike Mertion
12) Sandy Boville
13) Matt Duhamel
14) Patrick Baskins
15) Wing Tai Barrymore
16) Matt Margetts
17) Tyler Peterson
18) Peter Olenick
With the regular rounds out of the way it was time for the Superhit competition; a 15-minute jam session with both men and women competing to throw down the single most impressive hit, with the winner decided by athlete vote and rewarded with a $2,000 bar tab to be used anywhere in Whistler Village where event sponsor Kokanee is served. The jam format gave the athletes a lot more freedom to attempt something they might not land, and the combination of big tricks and big spills delivered the best show of the day to the crowd.
The men's shots at the number one hit ranged from massive straight airs from Taylor Seaton to JP Solberg's attempts to christen a new double flair to switch that he came very close to landing. Noah Bowman was landing double flairs with near-perfect consistency, and standout tricks from earlier in the day (such as Wing Tai Barrymore's huge left 9's and Marshall Lacroix's alley-oop flatspin 5 japans) were pushed to new heights. Kyle Smaine put together a creative combo with a steezy left 9 double grab to a screamin-seamen flair, but lacked the amplitude to take the top honor. In the end, the men rewarded Rob Heule for his perseverance on a stratospheric alley-oop double flatspin 9 which it took him half a dozen very close tries to ski away from. He later credited the enthusiastic crowd for cheering him on.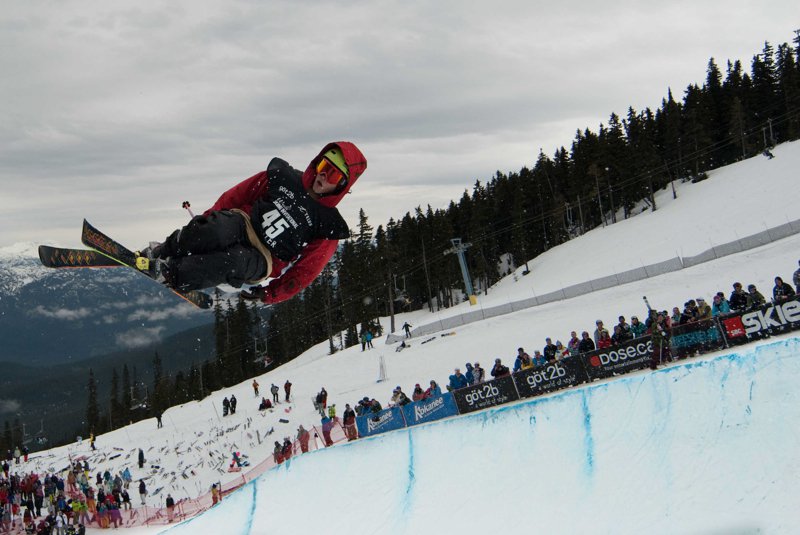 Alex Mochan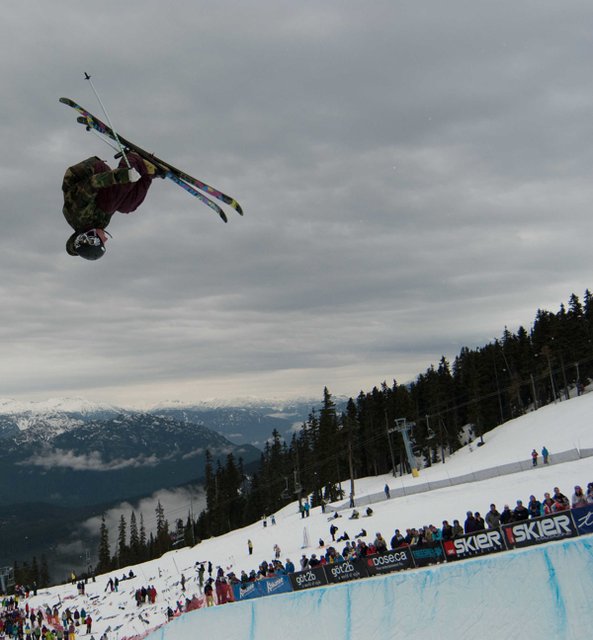 Rob Heule double flipping for a whole lot of beer money.
Choosing the women's Superhit winner came down to a battle of the 1080's between Jen Hudak and Megan Gunning. Despite her consistency in both competition and practice, Gunning was unable to put her right corked 10 to her feet during the jam session, and the opportunity was seized by Hudak, who grabbed solid tail on her stomped left 10 to become the most popular person at the bar tonight.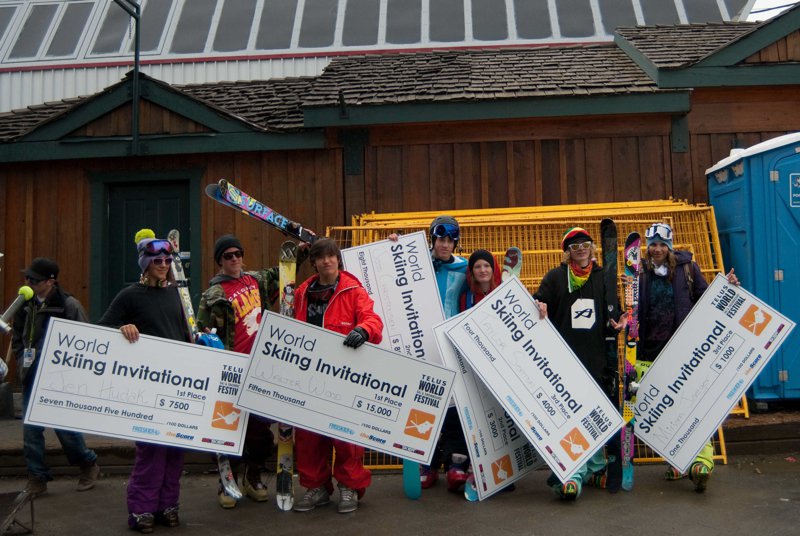 As pointed out by event host Luke Van Valin, the World Skiing Invitational has historically been a venue that produces innovation and progression in pipe skiing and this year was no exception. With the skiing portion of the Telus World Ski & Snowboard Festival in Whistler, BC now over, there is no doubt that many of these athletes will be out and about tonight and for the remainder of the Festival celebrating each other's accomplishments and polishing off those big bar tabs.