words by Jeff Schmuck
photos by Dan Carr & Felix Rioux
To the weekend warriors that religiously drive their SUV's to Whistler from Vancouver and the throng of drunkards muddling around the village, there is no bigger event at the World Ski & Snowboard Festival than the crowd pleasing big air.
Last night, in front of the standard massive crowd that seems to get bigger every year, the ooh's and ahh's could be heard at full volume as the top skiers and snowboarders threw down their best under the lights.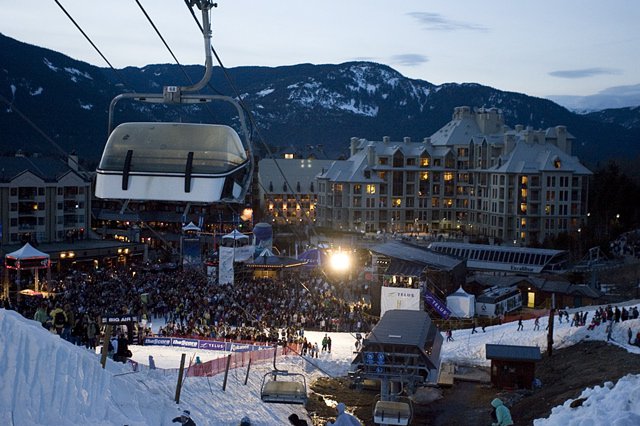 Two pretty darn amazing things that separated this year's contest from years' past were a) it wasn't raining, and b) the jump was actually pretty big. After a great snow year in Whistler and the contest being moved up a week from its usual last weekend placing, there was plenty of snow to go around for the jump builders, who constructed a fine looking stepover gap that pleased the competitors but due to some angling issues was a bit difficult for the crowd to comprehend the largeness of.
Nonetheless, with last year's refreshing format returning for another go (each rider got two jumps, best one of two counting, before three were picked for the finals where they would have one chance each to stomp their best 5, 7, 9 and then any trick of their choosing) and a large quiver of skiers on hand to throw down, the stage was set for continued good times at WSI.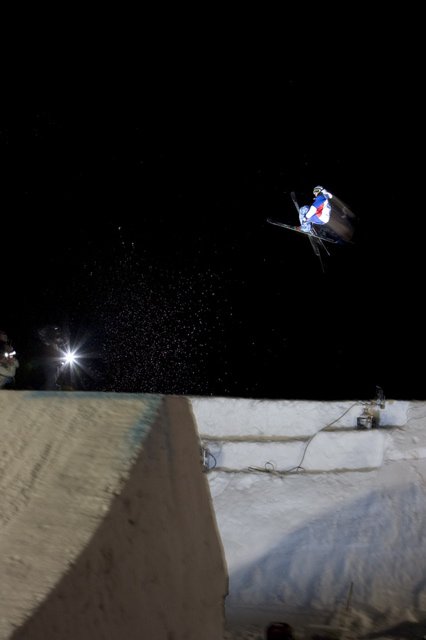 Justin Dorey
In practice doubles were being thrown a plenty and early favorites Justin Dorey (with his double flatspin 1080), Ian Cosco (with his double cork 12) and local boys Chris Turpin and Austin Ross (with their kangaroo flips) were blowing the crowd away with their antics while most of the snowboarders were having a tough time figuring out the speed. Also putting on a show were Canadians Mike Riddle and Mike Mertion, Japan's Shinji Osada and the head turning newcomer from Idaho, Ian Williams.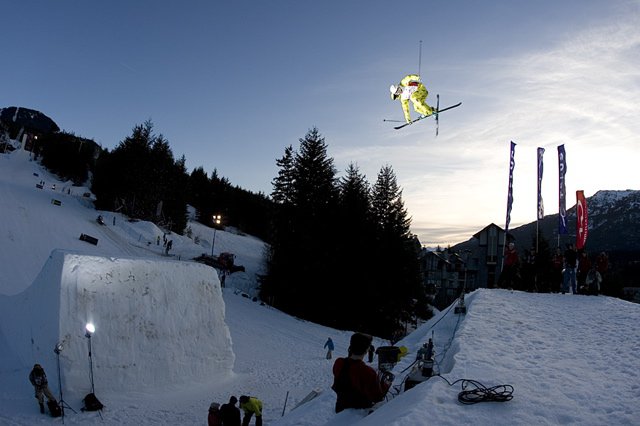 Mike Riddle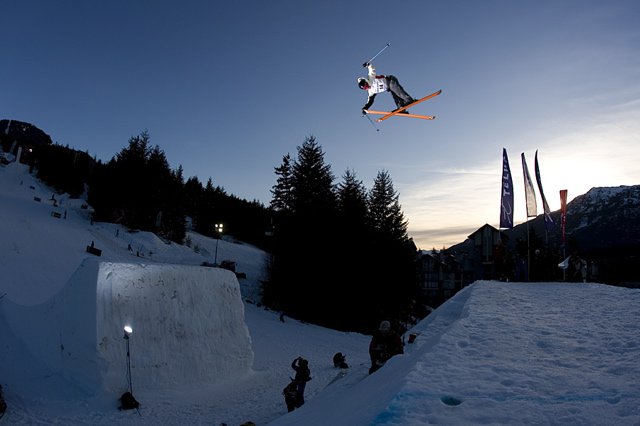 Mike Mertion
Things changed a bit once the comp actually got going as Dorey and Turpin both disappointingly crashed on their doubles after stomping the piss out of them in practice, while JF Houle stepped up his game after bobbling earlier in the night and went bigger than anyone with a gigantic cork 9, landing himself in finals. Austin Ross also crashed on his first attempt but then stomped his version of a kangaroo flip on the second, also securing himself a spot.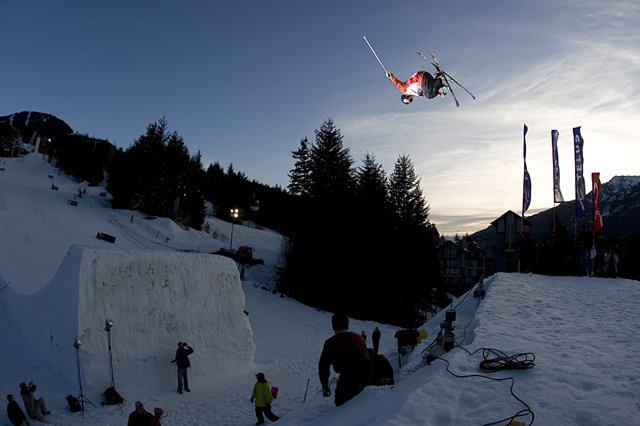 JF Houle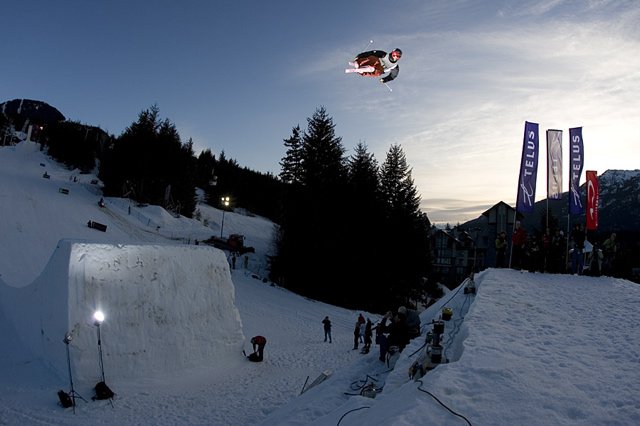 Austin Ross
Some controversy then erupted as Ian Cosco, who threw a sick double cork 12 straight to his feet and seemed a sure bet for the finals, was beat out by Ian Williams, who sketched out on the landing of his double flair. As the finalists were announced many in the crowd wondered if someone had gotten the last name wrong.
Ian Williams
The contest also saw a girl's division with Sarah Burke, Ashley Battersby and Rosalind Groenewoud (who was a fucking trooper for being out there after bashing her face open earlier in the day at Masters) going head-to-head with two jumps each, best one winning. The girls were definitely going balls to the walls with Roz attempting some massive 10's and Sarah going for some 12's. Neither of them could put it to their feet though so in the end, Ashley's smooth switch 7 took home the bread.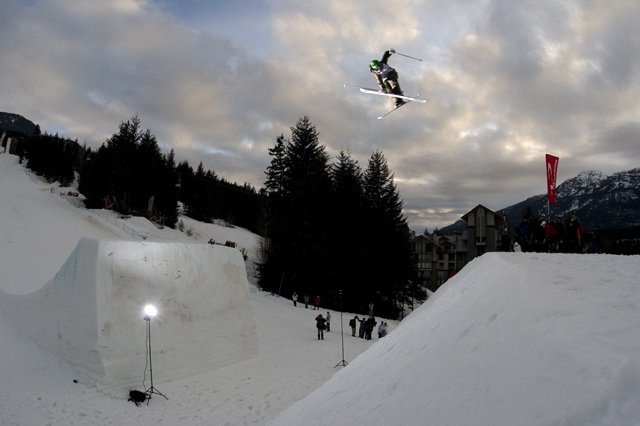 Ashley Battersby
Next up were the men's finals where JF Houle, Austin Ross and Ian Williams took turns throwing their best 5's, 7's and 9's plus one of their choosing. Each of the competitors had a different look in their eye as Austin's (who has been in the game since he was 14 without a big podium) were burning with desire to win, Ian seemed just stunned and stoked to be there and JF appeared calm and relaxed, a definite sign of his experience at major events.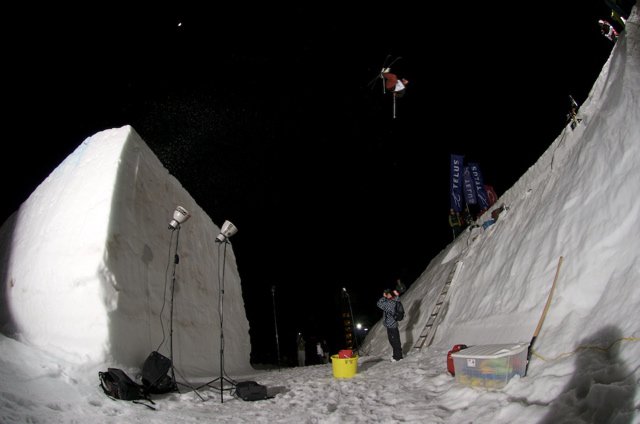 Austin Ross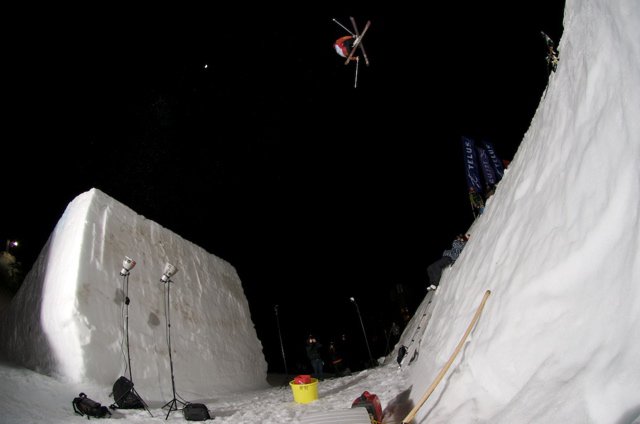 JF Houle
After each took their turn and many a stylish spins were thrown, it was JF that went home with gold after landing all of his tricks while the other two crashed on one or two of their hits.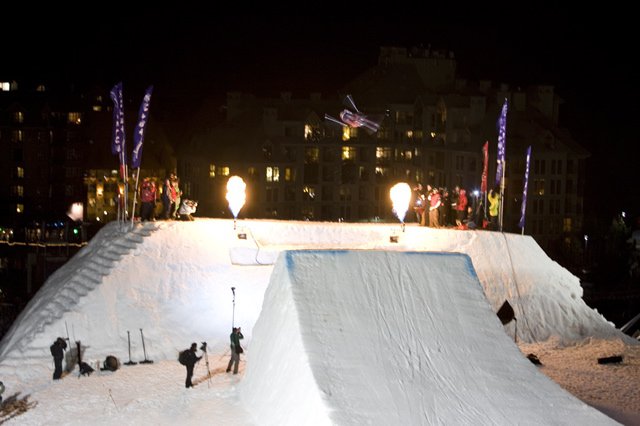 JF Houle
Following the big air the 'other' reason Whistler is what it is kicked into high gear with some A+ partying at the Maxx Fish. And with the next ski competition not scheduled until Wednesday (pipe qualifers) and the Orage Heaven and Hell themed party for the Masters going down tonight at the Savage Beagle and Comor Sports' upcoming Playboy Mansion party at Garf's, it will surely be more of the same here at the last hurrah of the season.
Final Results
Women
1) Ashley Battersby
2) Sarah Burke
3) Rosalind Groenewoud
Men
1) JF Houle
2) Ian Williams
3) Austin Ross
4) Shinji Osada
5) Ian Cosco