Wanaka, New Zealand (August 19th, 2009) The Sport of Freeskiing was taken to a new level today, highlighted by the style and technical riding of USA's Bobby Brown who took first place in the Men's Slopestyle competition at the Volkl NZ Freeski Open 2009, at Cardrona Alpine Resort. "Never before in competition have I seen so many riders successfully landing the newest and most difficult tricks you'll see anywhere," said Nick Draxl, Chief of Competition. "I've never seen a stronger field in any competition."
Click here to view the embedded video.
Brown, 18 and a number of other riders were performing breathtaking double corks, which are some of the latest innovations performed by only the world's most talented freeskiers, but it was Brown's style with his double corked 1080 which separated him on the judging sheet. "The slopestyle course was awesome. I loved it," said Brown. "It was the best competition I've been in for a long time, the event had a great feel and there were a lot of people around." Brown shared the podium with Tom Wallish, of USA and Henrik Harlaut, of Sweden, who placed third.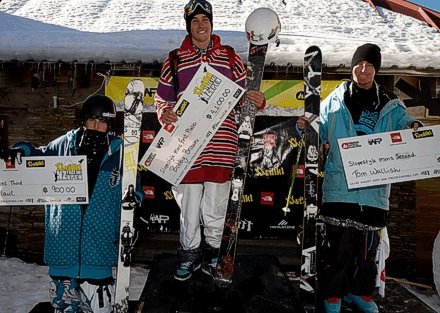 Photo: Camilla Stoddart