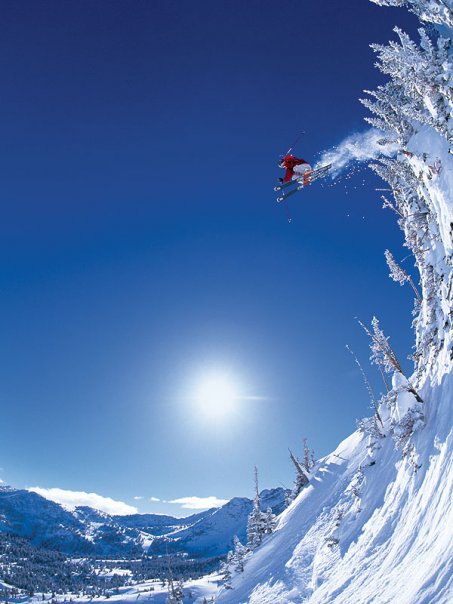 Ingrid Backstrom - Courtesy of gindtv.com
Words: Erme Catino
Volkl Freesking has been pushing the limit and width of skis since the Gotama changed the game several years ago. This season Skiershop will be carrying a few of their freeride boards, and since it just dumped here on the East Coast, you might be in market for some new sticks. Here is what the shop is carrying for 2010/2011.
Volkl Gotama – $699.00: 137/106/122 ? 170cm, 178cm, 186cm
This ski took people by storm, and gained cult status during its initial year on the market. Last year the Gotama received a bit of a makeover, and now features ELP (Elongated Low Profile) rocker and a rounded top edge that increases its maneuverability in deep snow. The Gotama is a versatile everyday big mountain ski.

Volkl Bridge – $599.00: 128/95/115 ? 171cm, 179cm, 187cm
The Bridge is Volkl?s all mountain twin, and a Freeskier Magazine Editor?s Pick. Redesigned for 2011, the Bridge has a gradual ELP rocker, and has a more playful smooth flex than the Volkl Kendo or Volkl Mantra ? The Bridge is a go-to ski from park to pow riders.
Volkl Aura – $699.00: 130/94/113 ? 156cm, 163cm
The Aura is the women?s version of the popular Volkl Mantra. The Aura features traditional camber and 2 sheets of Titanium, and can easily carve up the front-side when the pow has been demolished at your local resort.

Volkl Kendo – $649.00: 127/88109 ? 163cm, 170cm, 177cm, 184cm
Brand new for 2010, the Kendo was designed for skiers looking for that elusive all mountain freeride do-it-all ski. The Kendo features the same sidewall construction found in the Mantra, with a slightly narrower design. This ski will support your off-piste runs and make you feel like a rock star on the groomers.

Gotama Jr. – $269.00: 113/80/105 ? 138cm, 148cm
Little groms need legit boards to shred the backcountry and big mountains too, which is why Volkl made the Gotama Jr. The Gotama Jr. features ELP rocker allowing for increased maneuverability, and the shape provides the versatility of an all-mountain ski.

As always feel free to Ask an Expert, or call the shop (1-800-996-8398).