Coors Light presents Voleurz Outdoor Graduation - a snowboard, ski, skateboard video release party in association with:
WHISTLER BLACKCOMB / ATOMIC SNOWBOARDS / LINE SKIS / OGIO / NEWSCHOOLERS / RON JON SURF SHOP
FEATURING
Max Hill, Justin VDP, TJ Schiller, Braden Dean, Cam Schuster, Shayne Zwickel, Jeff Boake, Warren Williams, Ian Cosco, Matt Margetts, Josh Stack, Corey Klim, Joe Schuster, Riley Leboe, Colby James West, Andrew Jackson, Jan Schuster, Nugget, Josh Bibby, Tyler Holm, Colston JVB, Paul Welters, Nathan Ramler, Trevan Salmon, Scott Sych, Barry Hartman, Peter Olenick, Chris Turpin & Friends
PRODUCED & DIRECTED BY
Darren Rayner and the Voleurz Family
-----------------------------------
We conquered the West, and now it's time to show you east coasters the Outdoor Graduation vibe. Join us in our final leg of the 2009 tour!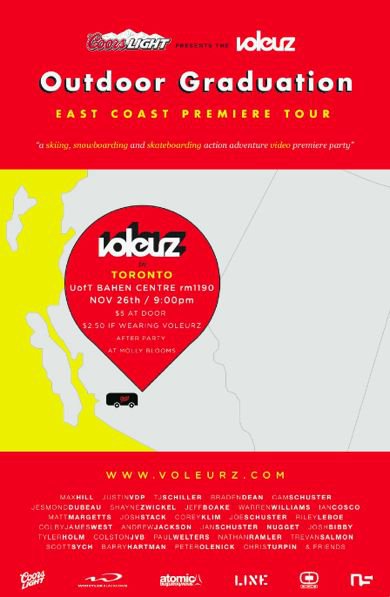 TORONTO
Thursday Nov 26th / 9:00pm
UofT Bahen Centre, Room 1190, 40st. George street
$5 at the door / $2.50 for people wearing Voleurz clothing
Facebook event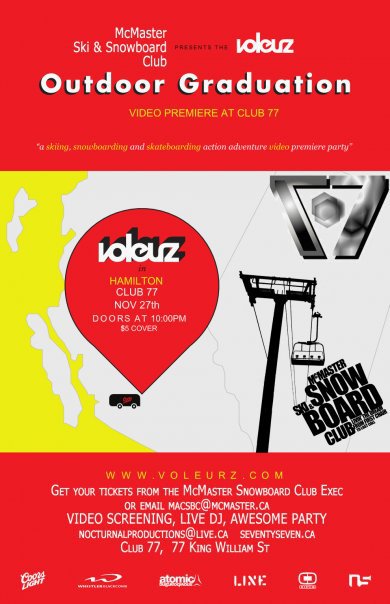 HAMILTON
Friday Nov 27th / 10:00pm
Club 77 (77 King Williams St)
$5 tickets / $2.50 for people wearing Voleurz clothing
Facebook event
LONDON premiere
Presented by Western Snowboard Federation
Thursday, Dec 3rd / 8:30pm
London Taphouse / FREE screening!
Facebook event
BARRIE premiere
Presented by Georgian Ski Resort Operations
Thursday Dec 3rd / 9:00pm
The Mansion Nightclub / 34 Dunlop Street East
5$ tickets / $2.00 if wearing Voleurz
Facebook event