VOLEURZ OUTDOOR GRADUATION TO BE RELEASED ONLINE FOR FREE DECEMBER 9TH AT 5pm PST / 8pm EST
FOR IMMEDIATE RELEASE - Vancouver, BC, December 3rd, 2009 - Voleurz, a Vancouver-based lifestyle clothing brand, will be releasing their full-length snowboard / ski / skateboard film Voleurz Outdoor Graduation online for free.
A live online premiere will take place on the world's largest freeski community - Newschoolers.com on December 9th at 5pm PST / 8pm EST / GMT-8.
Voleurz Outdoor Graduation, Voleurz's fifth feature film, will once again embrace the power of the Internet as a distribution model. Outdoor Graduation's online distribution is widespread reaching a worldwide audience through websites such as Voleurz.com, Newschoolers, Vimeo, Lineskis.com, Whistlerblackcomb.com, Zapiks, DogLotion, Broadband sports, MPORA and more.
Voleurz Outdoor Graduation features some of North America's finest freestyle skiers, snowboarders and
skateboarders including:
Max Hill, Justin VDP, TJ Schiller, Braden Dean, Cam Schuster, Jesmond Dubeau, Shayne Zwickel, Jeff Boake, Warren Williams, Ian Cosco, Matt Margetts, Josh Stack, Corey Klim, Joe Schuster, Riley Leboe, Colby James West, Andrew Jackson, Jan, Schuster, Nick Moore, Josh Bibby, Tyler Holm, Colston JVB, Paul Welters, Nathan Ramler, Trevan Salmon, Scott Sych, Barry Hartman, Peter Olenick, and Chris Turpin.
Voleurz Outdoor Graduation was shot on location at Whistler/Blackcomb, Revelstoke, Vernon, Kelowna,
Nanaimo, Clearwater, Idaho, Spain, Sweden, and Norway.
Highlights from Outdoor Graduation include the custom built gap jump overlooking the P2P gondola on Whistler that is featured in numerous ski and snowboard publications; a trip to Sweden/Norway with skiers TJ Schiller and Ian Cosco; the Summer and Winter Volympics - an anti-competition of random debauchery featuring the Voleurz family and friends; action-packed segments from snowboarders Braden Dean and Jesmond Dubeau; and a closing segment with one of the most unique skiers in the business, Max Hill.
Outdoor Graduation is proudly presented by
Whistler Blackcomb / Atomic Snowboards / Coors Light / Line Skis / Newschoolers / Ogio
A message from the Director
The most rewarding aspect of making this film was the opportunity to travel the globe with a group of talented, creative, and not to mention amazingly goofy people. For the past 9 months we've been chasing the snowfall across 3 continents. Sometimes even departing on trips within minutes of checking the weather. These last minute escapades allowed for a level of spontaneity and freedom unprecedented in my filmmaking career, and helped me truly document who we are; something I am genuinely proud of.
Join us at Newschoolers.com on Wednesday December 9th at 5pm PST for the online world premiere. We hope you enjoy watching Outdoor Graduation as much as we did making it.
-Darren Rayner, Producer / Director
Live online broadcast will take place here:
http://newschoolers.com/web/members/culthome/id/4832/t/Outdoor+Graduation+Online+Premiere/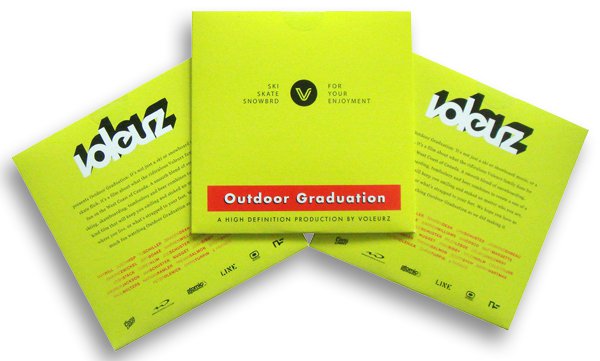 For more info, or to watch the trailer please visit: http://www.voleurz.com