For those of you who were too busy stuffing your face last Thursday with turkey, mash potatoes, gravy and cranberry sauce during American Thanksgiving and missed the live online premiere of Voleurz's Outdoor Education right here on NS, don't fret, as the full movie is now available online in both streaming and downloadable formats.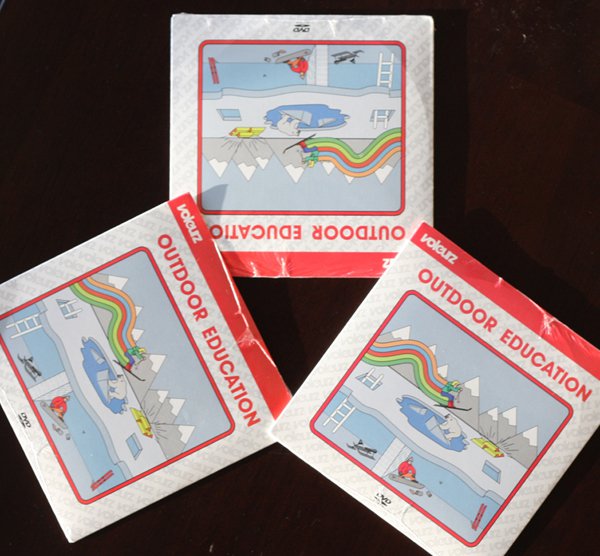 Before we give you the goods, here's a few words on last week's premiere, the boys' future plans and their thoughts on the NS community from one of the many wonderful members of the Voleurz family, the mastermind behind Outdoor Education, Darren Rayner...
"The online premiere was really fun and well 'recepted.' Lots of our friends and family logged on to check it out, and it was gratifying to hear what the NS community thought of the flick," says Darren. "We've already started filming for our next film and I think its safe to say the jump in quality from More for the Astronauts to Outdoor Education will be repeated again this coming year. We've got some tricks up our ridiculously fashionable sleeves. We also just finished designing our next fall/winter collection. It's a big leap forward with new designs everywhere, we don't really want to reuse patterns and designs for more than two seasons, it helps to make the clothing more unique. With the womens line we focused on getting away from the standard tee and hoodie to more distinct cut and sew pieces. We worked with Vancouver-based fashion designer Randi Obenauer to help us turn our ideas into cotton masterpieces."
"We'd like to take the time to thank the heads at the NS office in Montreal...Moose, Jeff, Doug, Rogge and CKO showed us mad love in our 2008 season. Sometimes I wonder why you guys like us so much, but now I've realized it's just because we have similar party habits. And to the NS community, we'd like to thank you for watching our films over the years, and supporting a multi-sport crew. We're trying to reduce the animosity between skiing and snowboarding...and our generation of skiers seem to be appreciating the one plankers of the world. In this respect, the skiing movement is booming, and the NS community is fueling that boom. Keep killing it."
So without further ado, to peep Outdoor Education in all its visual glory, grab your self some popcorn and a beverage of your choice and check out the film below, or head on over to voleurz.com to download it so you can watch it over, and over, and over again. Enjoy!
Voleurz Outdoor Education from Voleurz on Vimeo.