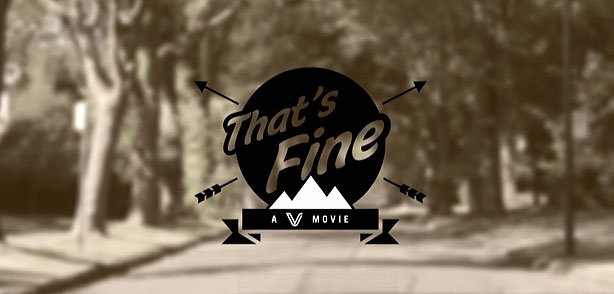 Oh how I love delivering full movies to your screens. And this one is f*cking awesome. I don't want to type too much as I want to watch this whole movie undisturbed so all I'm going to do is paste in the details they provided. Trust me, you should watch it as well.
"Voleurz's 'That's Fine' documents the antics and exploits of the infamous Voleurz Family, comprised of skiers, snowboarders and skateboarders, making the multi-sport offering one of the most well-rounded and diverse films in the action sports world.
Highlights include snowboarder Justin VDP slaying pillow lines in the Whistler backcountry, freeskier KC Deane's jaw-dropping big mountain segment, a raucous urban trip to Ontario with Scott Sych & Matt Brindisi, the unique style of one of skiing's most imaginative individuals, Max Hill (along with the highly entertaining return of Max Hill vs The Intern), skateboarding the streets of Vancouver with Tyler Holm, and of course, the hilarious and not-to-be-missed Winter Volympics. As voted by fans, That?s Fine won Best Web Video of 2011 on ESPN.
That?s Fine is proudly supported by Faction skis, Kombi gloves, Line Skis, and features KC Deane, Justin VDP, Max Hill, Braden Dean, Simon D'Artois, Mack Jones, Rob Heule, Tyler Holm, Riley Leboe, Billy Mitchell, Matt Brindisi, Warren Williams, Colston VB, Josh Bibby, Jake Black, Joe Schuster, Josh Stack, Scott Sych, Shayne Zwickel, Cam Schuster, Matty Richard, Corey Klim, Andrew Jackson, Dylan Stack, Jan Schuster, Ian 'Chug' Cosco and The Intern."
More Ski Videos
Related posts:Voleurz: That's Fine teaser That's Fine documents the antics and exploits of the infamous...
Voleurz: Look On The Bright Side Well….. we've been waiting for this for a long time...
Voleurz announces "Outdoor Graduation" Voleurz is pleased to announce "Outdoor Graduation"- the full-length movie!...