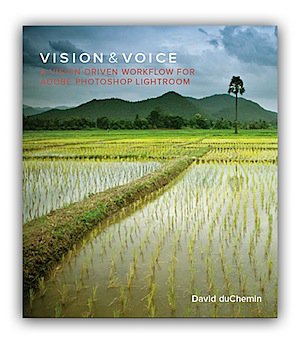 I want to begin this review by stating that David DuChemin is one of my favorite photographic authors. His previous books, including "Within the Frame" and "Photographically Speaking" take photographers through the mental side of creating a photograph. Both books are dynamic, but ?Vision and Voice? is a different breed of photography books altogether.
I must also confess that, although a photographer, I have a very short attention span for technical "how to" books on editing. I am sure a number of readers may also identify with this mindset. I typically will profit 10x more from a short tutorial than an entire book on technical editing. Books on editing rarely hold my attention.
Vision and Voice is a book written for photographers like myself.
If you want to learn more about the art of creating an image as a whole, from it's capture in your mind and lens, to it's final touch up in the digital darkroom, Vision and Voice is perfectly suited for you.
DuChemin guides you through the "art" of creation in several parts. First, he speaks of your personal vision for your art. He asks you questions to ponder on what makes your style uniquely you, or how to determine what you want your images to "say".
Using 40 examples from his own work, DuChemin walks the reader through the entire process of his creation. Starting with his vision for the image and what he wanted to achieve with the piece as a whole, he provides a visual example of each step he took in the Lightroom editing process. This unique perspective provides us with a dynamic tutorial both interesting and enlightening. In my opinion, DuChemin could have written a book soley on this body of work. But in the effort to be thorough, DuChemin adds several other parts to his book to complete the work.
How does a photographer create a workflow based on vision? DuChemin explains this with separating "intention", "aesthetics" and "process", and I appreciate the clarification of both. For the Lightroom newbie, DuChemin's 6th chapter is an uncomplicated tour of the Develop Module; for the experienced Lightroom user, it is a surprisingly comprehensive guide to tools unknown and unused.
His book, Vision and Voice is a refreshing, and dynamic addition to every photographer?s bookshelf (it is also currently 38% off at Amazon).
Post originally from: Digital Photography Tips.
Check out our more Photography Tips at Photography Tips for Beginners, Portrait Photography Tips and Wedding Photography Tips.
Vision and Voice by David DuChemin [Book Review]