words & photos: Julie WeinbergerSunny skies, 50-plus degree temperatures, some killer skiing... What more can you ask for in the end of April? Around 85 competitors took to Loveland Ski Area, CO's Third Annual Vert Alert slopestyle course on Saturday, April 22. While the boarders clearly held the majority in numbers, the two-plankers made sure they were noticed.The course consisted of a few different lines. To start off, riders could hit a booter or a flat-down box. Almost everyone went for the booter where the whole gamut of degree of rotation was seen: straight airs, to corks to even a somewhat penciled 10. From there, riders who hit the box instead of the booter continued on with rail antics. Those who chose the booter then had three choices: another larger kicker, a flat rail or a small jump. Most went for the larger booter or the rail as the other jump was too small for just about anything other than a couple of hucked back flips and 1s. Everyone who hit the second booter went huge, throwing clean, stylie 3s, 5s and 7s. Of note was Jeff Rutkowski's enormous 7 and Erin Young's massive floated 3, easily one of the biggest hits all day. Next, riders had a zillion rails and boxes to choose from. Well, maybe not a zillion, but eight is a pretty number too. Features included two flat rails, two flat-down boxes, a trapezoid rail, a 20-foot fun box, a trapezoid box and a down-flat-down box. As expected, this section of the course was a 270 fest with a 450-off thrown in every once in a while. Lastly, a wallride waited for slaying at the end of the course. It seemed like everyone was too tired from the rest of the course to do much with this.After the slopestyle festivities, most of the competitors participated in a rail jam. There were two heats, each jamming for 25 minutes. The top four moved on to a one run winner takes all battle. All four skiers threw down solid runs, spinning on and off features. This finals format, however, failed to allow much room for creativity as each rider wanted to put down a clean run.At the end of the day, everyone sauntered off with a smile and a gnarly goggle burn. *Of note:Every time it was Matt Harvey's turn to ski, the clouds rolled in, Bryan Gallant ate it hard in practice and knocked out his front tooth. He was all smiles throughout the event. Free heelers took first place in the men's 19+ and second in the women's divisions.Results Women'sKeri Herman Erin Young Jennifer HirschMen's 19+Jeff Rutkowski Billy Langacre Brett Sipe Bryan Gallant Scott Bloomer Men's 16-18Brett Weiss Ben Palmer Taylor Scott Adam Bagby Drake UnrubMen's 11-15Duncan Adams Sketer Lance LuPuma Jeremy Brown John LeonardRail JamBilly Langacre Bryan Gallant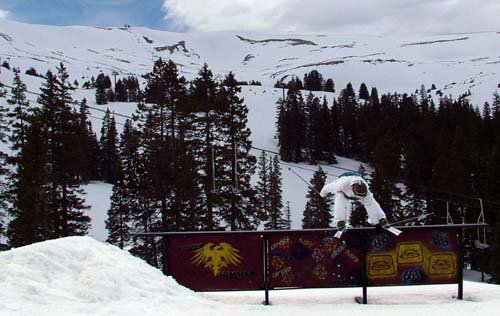 Matt Harvey put his age as 17 on the comp registration form.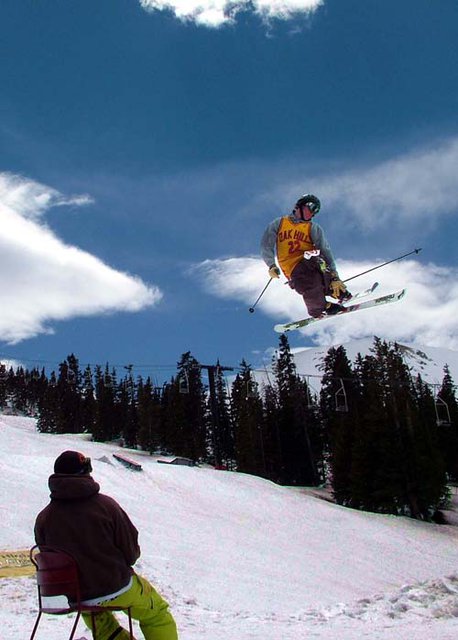 Jeff Rutkowski throws a stylie 7 in his winning run.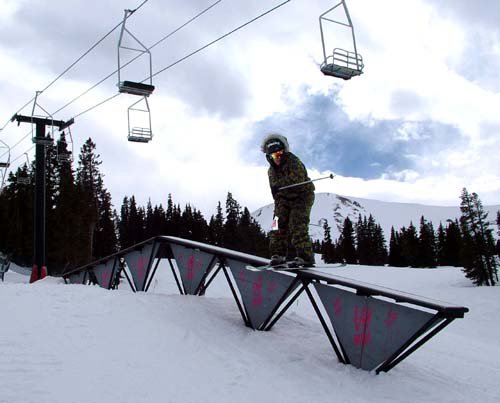 Bryan Gallant slides into second place in the rail jam. He pretty much spun across the entire box.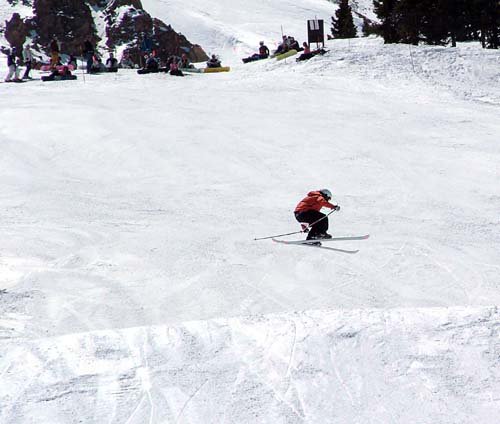 Erin Young floats one of the smoothest 3s seen all day en route to a second place finish.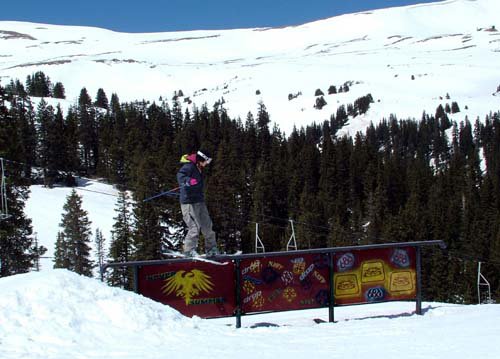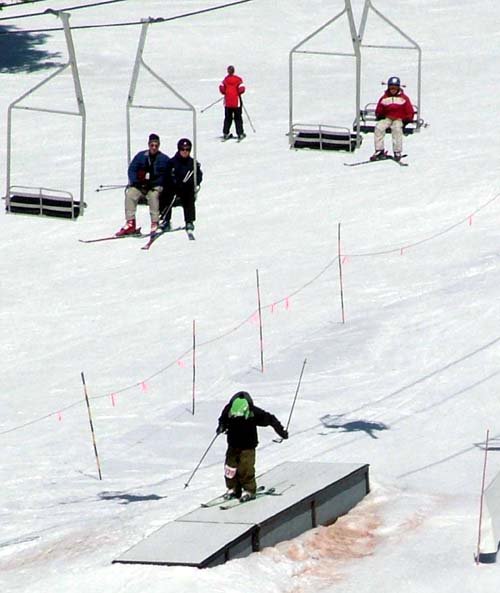 Austin Bloomer spins across the 20ft. fun box.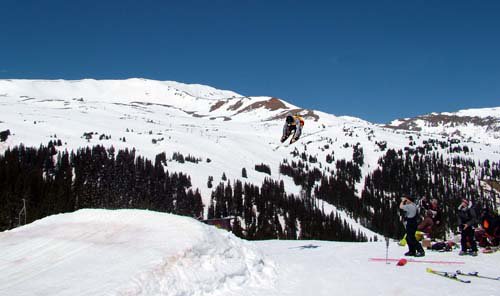 Nice backdrop!