The 15th annual ski motion picture by Level 1 titled 'Less' is one of the many titles available on Vimeo On Demand through Newschoolers. Starting at just $4.99, you can rent and stream, or purchase and download the content for your personal use.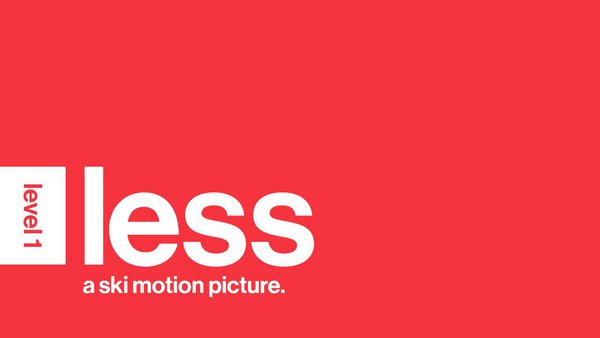 Level 1 killed it again this past fall with the release of Less. Indulge in Duncan Adam's big mountain opening segment, followed by Magnus Granér slaying the streets, and so many more of your favorite athletes.
There's no better way to check out Adam Delorme's outrageous butters, Khai Krepela's rail wizardry, or the freshest lady in the game, Tatum Monod. Head on over to the video on demand section of Newschoolers to watch Less, and treat your summer ski withdrawal before it gets any worse.
Less ski withdrawl, less boredom, #lessismore.
//
Featuring: Magnus Granér. LSM. Will Berman. Duncan Adams. Sig Tveit. Adam Delorme. Tim McChesney. Wiley Miller. Khai Krepela. Will Wesson. Sandy Boville. Shay Lee. Tanner Rainville. LJ Strenio. Banks Gilberti. Ahmet Dadali. Logan Imlach. Tatum Monod. Superunknown XI and Friends.
Shot on Location in: Schweitzer, Idaho. Summit at Snoqualmie, Washington. Riksgränsen. Colorado. Wyoming. Whistler, British Columbia. Aspen, Colorado. Ontario. Poland. Switzerland. Sweden. France. Japan. New York. Minnesota. Montana. Massachusetts. Wisconsin. Michigan. Illinois. Vermont.
Directed by Josh Berman and Freedle Coty | Produced by Josh Berman | Principal Cinematography by Josh Berman, Freedle Coty, Jonny Durst, Jake Strassman and Ante Olofsson | Edited by Jonny Durst, Josh Berman, Freedle Coty and Blake Kimmel | Art Direction by Schui Baumann