V.I.O. Announces Professional Filmmaker & Athlete Team
Top Filmmakers and Athletes Choose the POV.HD Camera System
Marquette, MI (September 13, 2011) – V.I.O., the decade-long leader in wearable video technology, is proud to announce the company's first-ever sponsored team. Comprised of a hand-selected list of top filmmakers and athletes, the new team will use V.I.O.'s award-winning POV.HD video system to collect and produce stunning video across multiple sports and genres.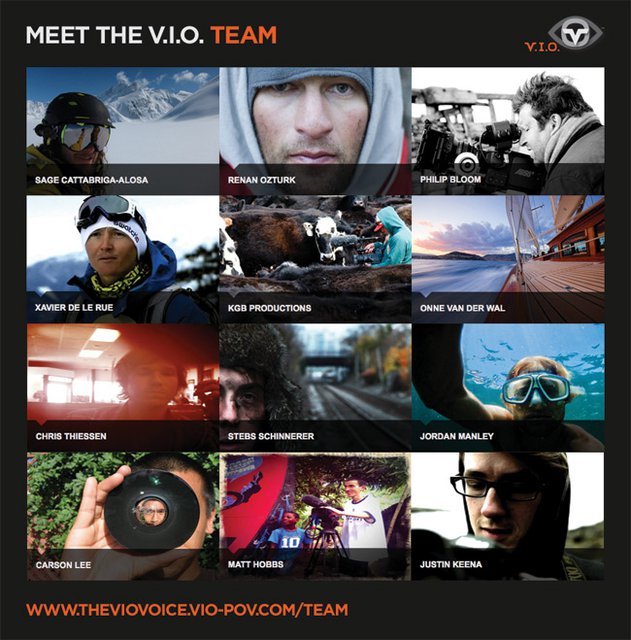 The V.I.O. Team consists of top filmmakers and athletes that push the boundaries in their respective fields creatively as well as technically. "We looked for people producing very beautiful stuff that you don't see every day. These filmmakers and athletes really stand for what V.I.O. is all about: technical perfection, beauty and creativity," said V.I.O. Marketing Director Clint Slack, "We have athletes like Sage Cattabriga-Alosa & Xavier De Le Rue who use their athleticism to turn themselves into extreme cameramen. We also have filmmakers like Philip Bloom and Renan Ozturk who achieve incredible results by applying years of camera experience toward new technologies like the POV.HD."
Renan Ozturk, professional North Face athlete as well as co-founder of Camp 4 Productions, said of working with the POV.HD camera: "If I want to actually look at the frame and not botch the shot, V.I.O.'s POV.HD is mandatory equipment. Some moments can not be recreated and with the POV.HD I know I'm always getting the best quality video and frame composition."
Meet the Team:
Sage Cattabriga-Alosa, professional athlete
Xavier De Le Rue, professional athlete
Philip Bloom, filmmaker
Renan Ozturk, professional athlete + filmmaker
Matt Hobbs, filmmaker
Onne Vanderwal, filmmaker + photographer
Jordan Manley, filmmaker + photographer
Chris Thiessen, filmmaker
Carson Lee, filmmaker
Stebs Schinnerer, filmmaker
Justin Keena, filmmaker + photographer
Chris Kitchen + Sam Pope, filmmakers
Learn more and watch videos on the V.I.O. Team Page
About V.I.O.
Since the company's inception in 2000, V.I.O. has been the leading innovator in point-of-view video technology. The V.I.O. point-of-view system is unique in that it's designed specifically to capture adventure and tactical video. V.I.O.'s customers include professional and amateur athletes in a wide variety of sports such as mountain biking, skiing, snowboarding, skydiving, motocross, snowmobiling and auto racing. Other industries relying on V.I.O. video systems include the military, law enforcement, aviation and movie and television production. For more information, visit vio-pov.com or call 1-888-579-2267.