My name is Fiona Lumsdaine.
I?m a passionate fine art portrait, wedding, corporate and event photographer living in Sydney Australia. You can find me at http://www.lumsdainephotography.com.
I?m also the NSW representative for Heartfelt.
Heartfelt is a volunteer organisation of professional photographers from all over Australia dedicated to giving the gift of photographic memories to families that have experienced stillbirths, premature and ill infants and children in the Neonatal Intensive Care Units of their local hospitals, as well as children with serious and terminal illnesses.
Heartfelt is dedicated to providing this gift to families in a caring, compassionate manner. All services are provided free of charge.
I?m going to share with you a story of one of my Heartfelt sessions.
This article is not for everyone. There is great emotion and devastating loss. You will be introduced to a family in their darkest moments. You will meet their stillborn baby boy.
If you can bear it, please read this article. Please talk about Heartfelt (and Now I Lay Me Down To Sleep in countries other than Australia) so that we don?t continue to hear ?Oh how I wish I had known that you existed!?.
It?s an important topic.
And, if you are a professional photographer, please think about whether you?ve got what it takes to be a volunteer Heartfelt or NILMDTS photographer. If you are in Australia and think that you would like to join the Heartfelt team of compassionate and skilled photographers, please apply on our website, http://www.heartfelt.org.au.
———–
The email comes through? ?There is a session at XXXX Hospital for a still born baby boy. I spoke to his father today and they would like the session in the next day or so and he is expecting a call from the photographer that can help them out.?
The next day I?m on my way to the hospital. My Think Tank is prepped (as a Heartfelt photographer, you always have your batteries fully charged and CF cards formatted and read to go) and I?m telling myself that I?m good to go.
I arrive on the ward and am directed to the Mum?s room. I knock on the door and wait to be invited in.
This is possibly the most difficult moment that we experience as Heartfelt photographers. We are walking into the most intimate and harrowing moments of a strangers? life. We don?t know them, and they don?t know us. We don?t know how they are coping with their grief. We usually don?t know any details at all about their baby or child.. other than their medical situation or prognosis.
Some parents greet us with relief and gratitude. Others are barely aware that we?re there. Some are desperate to talk to us? a person outside the system but there to support and help them. And others are terrified to speak at all, lest they break down and can?t find a way to hold it together.
I?m invited into the room and introduce myself to Mum, Dad and their 5 year old daughter. We?re all waiting for their baby boy to be brought into the room from the mortuary.
I get my gear ready? the room is big enough for me to use my 85mm f/1.4, and so I pop it onto my D3S and put my 35mm f/2 on to my D700. I have my 50 f/1.4 ready to swap out with my 85mm. I would use my 24-70mm but it?s back-focusing a tad and I can?t risk missing a single frame. There is no do-over.
The daughter is shy. She doesn?t like having her photograph taken and Mum is worried that she won?t be able to have a photograph of her two children together. I kneel by the daughter and ask her to look through my viewfinder. I ask her what she sees. I show her how to press the shutter, and we spend a minute or so together as she takes photographs of me.
Mum touches my shoulder and mouths ?thank you?. She sits by her daughter, and I capture them laughing together.. hugging each other.
Dad is lying on the bed. Barely talking.
Mum asks me why I?m a Heartfelt photographer and I tell her that I know what it is to experience loss. In those few words, we establish a trust. She knows that I understand, and I know that she knows that I understand.
I ask her if there are any specific photographs that she would like taken, and she explains that there are a few family traditions that she?d like to uphold. And that other than that she would simply like a record of their precious time with their baby boy.
Baby is brought into the room and I begin shooting in earnest. My primary role is to record this moment in this family?s history. To provide the only photographs that they will ever have of their time with their first born son. To prove that he did exist. To keep his memory alive and with them in a tangible way.
Mum is howling. Dad is silent. Daughter is hiding in a corner painting with a family friend.
Tears are streaming down my cheeks, but I hardly notice them as I move around following the light and the emotion.
I realise that I?m short of breath. I have almost stopped breathing, as if in respect for the depth of emotion in front of me. I struggle to slow my breathing back to normal.
Daughter eagerly and gently helps her parents bathe her brother. She sits with him on the bed and kisses his forehead. She watches her Mum and Dad holding each other and leans into them and places her hands on their arms.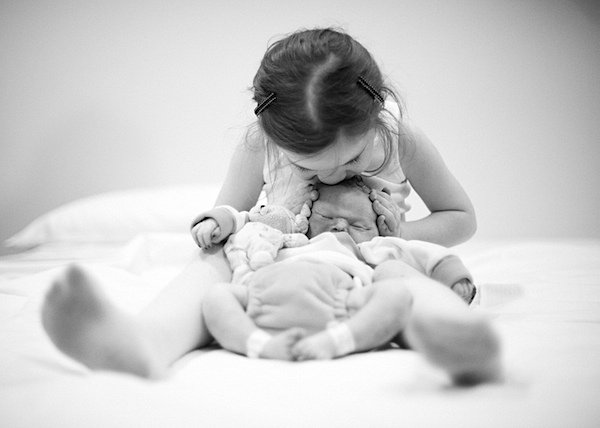 Immediate family come and go, and I shoot them all. I ask Mum if she?d like me to leave them alone for a while, but she tells me that she doesn?t want me to miss a single moment, and so I stay.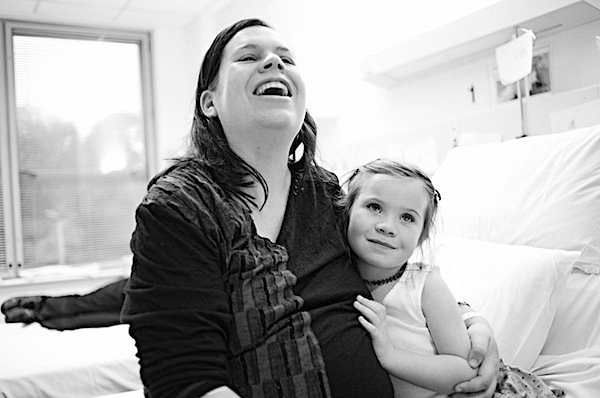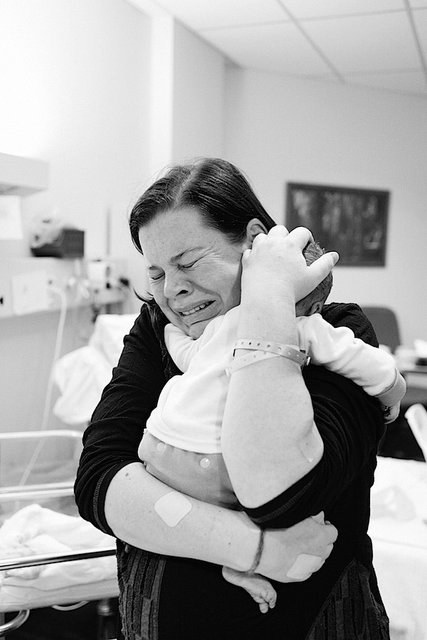 After what seems like 15 minutes, but is really an hour and a half, I tell them that I will leave them alone with their precious boy, and pack my gear up.
We hug. We cry. I explain the Heartfelt process and make my goodbyes.
This is the next hardest part of being a Heartfelt photographer. I make my way into the corridor and gulp back my tears. I try to regulate my breathing and tell myself that I can cry once I?ve made it to my car.
And when I have made it to my car, I let it all out. The unjustice. The grief. The cruelty. The heartache. It comes POURING out of me? loudly. And then I call my state rep and debrief as I drive home.
Home, to my healthy and alive children.
*Mum wrote and sent an amazing letter to the President of Heartfelt, Gavin Blue, after our session. She has given her permission for me to share it here with you. She has also written a very profound and moving blog post describing her experience of having a Heartfelt photographer turn up in her most devastating moment. That can be found here
?Hi Gavin.
I just wanted to take a moment in the stillness of ?The After? to write to you.
Wow. What can I say. You have helped me in such a profound way, and yet we have not met, have not spoken, and only briefly ?talked? on Facebook before all this started.
I was one who asked for flyers many moons ago to give to my midwife to keep on hand if every she had a client who needed to get in contact with you and the Heartfelt services. I never received the flyers (time gets away from all of us), however as Murphy?s Law would have it ? I would have been that client to need your details.
I have promoted Heartfelt and spoken many times of what you do ? all before. Before it happened to me. Before I really knew. And now we are here in this place, where Avery is not with us and Heartfelt has become a massive piece of me, in ways I never imagined.
Before the news of his death was even 12 hours past the monographers lips, I was talking about Heartfelt. I was telling the midwives, the social workers, the ICU nurses that I would have heartfelt come. The midwives went home and looked you up on the internet. The Obstetricians took down your website on their notes so they could have you on file, and the Social Worker wrote your website on the front page of her diary. Everyone who came by my room heart about you. And by the time they left, they knew how important you were to a family like mine.
To have to make that call, and have you send someone is a big ask. But you sent us more than just a photographer. You sent us Fiona. What an angel she was when she came into our lives, on the Darkest of journeys. When she opened the door and became part of our family, with tears shed, warm embraces and an understanding beyond all comprehension.
We asked for a couple of photos for the funeral, just one or two. Fiona sent us a collection that warmed our hearts and told a story we could not utter in words. Shown on a slide show they illustrated the grief, the joy, the family and the love for our little boy. The small snippet of photos sent through blessed our families and friends with a million memories of Avery ? without them having ever kissed his cheeks. I have attached just one photo. It is one moment that was caught, but I think it says everything that Heartfelt means to me. It captured love, time, relationships, joy, heartache and more. The photo is magic. To my little girl, it is a perfect moment of her being a big sister to her little brother. To a mama, it?s is a magic family portrait of my two beautiful children. This photo is everything.
We gave a small flyer out to all of our guests with Avery?s photo on the front and the attached photo of Fiona?s on the back. We included a message underneath asking for donations to Heartfelt in Avery?s name. I know a number of people have already made donations. I hope many more do.
I am hoping to raise some money myself to donate to Heartfelt in the next few weeks as I process all that has occurred. It is the least I can do after what Heartfelt and Fiona have given to me and to my husband and daughter. I know my friends and family and acquaintances will come to the party and dig deep for the cause and hopefully my darling Avery will help you get the word out to other hospitals around the country. I know that none of the people had heard of you at the hospital before Avery ? but they all do now. I really hope I can help with the book. It is the very least I can offer.
Gavin, thank you so much for the tireless work you do, and the special breed of photographers that work under the Heartfelt banner do.
I know you know how much it means. With love and blessings
Kristie Tatton, Avery?s Mama.?
If you know of any family who would benefit from our services, please do not hesitate to call us on 1800 583 768 (Australian Number). State reps and individual photographers are also listed on our website. We understand that time is crucial in some cases, which is why we are able to take your call 24 hours a day, 7 days a week.
We offer complimentary individual or family portrait sessions for families who meet the Heartfelt criteria. Families who have suffered a still birth (over 22 weeks gestation), have a critically ill premature baby (under 28 weeks), families with ill infants in NICU, as well as babies and children with serious and terminal illnesses are able to access Heartfelt services.
Participating photographers will come to your hospital or your home at a time convenient to you, and will help capture cherished photographic memories. After your session, a photographer will provide your family with a full set of prints (approximately 20 however some circumstances may not permit a variety of images). The photographer will also supply a disc of high resolution images for the family. There will be no charge for this service or for those prints.
If you would like to discuss this further, enquire about joining Heartfelt, or know anyone who is in need of our services, please contact your Heartfelt State Rep on 1800 583 768 (Australian Number).
For more information, please visit the following sites:
http://www.lumsdainephotography.com
http://www.nowilaymedowntosleep.org
Post originally from: Digital Photography Tips.
Check out our more Photography Tips at Photography Tips for Beginners, Portrait Photography Tips and Wedding Photography Tips.
Using Photography to Make a Heartfelt Difference