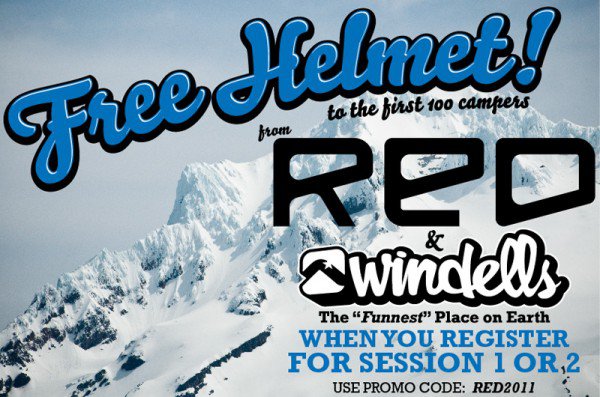 Spots for camp are filling up fast! With only a few weeks left, it's time to fill out that registration packet and secure your place with us this summer. Do yourself a favor, use your noggin and sign up for Sessions 1 or 2! In return, we will do our best to protect that brain of yours by hooking you up with a FREE, yes free, RED helmet! That's right. Be one of the first 100 campers to sign up and pay in full for either Session 1 or 2, and win some swag.
And College students! Don't forget, if you are a current student, you can receive $200 off Session 1 if you fax in your Student ID Card. We know you need a summer vacation after finals week, so why not come to Windells for the best week of your young adult life? Sign up, it will be worth your while.
How do you sign up you ask? Well it's easy, just click on the REGISTER tab on the home page and sign up! For all you helmet seekers out there, use the discount code RED2011 and you are all set. Remember, you must pay in full to receive your prize. For the college folk in need of a discount, use the code collegeBUMdeal. Told you it was simple. Pack your bags, keep working on that goggle tan, and we will see you this summer!
 
DISCOUNT CODES
First 100 campers to sign up for Session 1 or 2 and pay in full receive a new RED helmet: RED2011
Current college students fax in a copy of your Student ID Card and receive $200 off Session 1: collegeBUMdeal
Windells - BMX. Skiing. Skateboarding. Snowboarding.