UPGRADED 22 FT SUPERPIPE THIS SEASON WILL HOST ALL-NEW WOODWARD AT COPPER HALFPIPE CAMPS
Copper Mountain, CO – Woodward at Copper, located in the heart of the Rocky Mountains at Copper Mountain, remains on the forefront of accelerating the sports of snowboarding and skiing with the addition of an upgraded 22 foot superpipe (and cutter) for this winter season, and in this upgraded superpipe, Woodward at Copper will be hosting all-new Halfpipe ski/ride 5-day winter camps during the holidays, focusing on Pipe progression.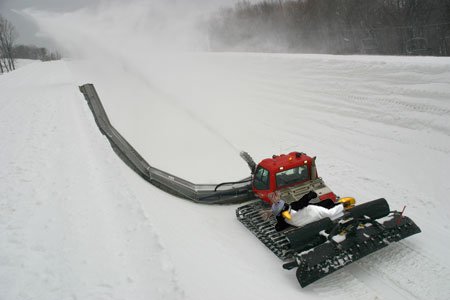 New 22 foot Superpipe
During the 2010-11 season, a new 22 foot pipe-cutting 'Zaug', allowing Copper to have a 22 foot Olympic-sized superpipe year round, will debut for all the pipe slayers out there. With all of last-season's Olympic qualifiers out of the way and Vancouver in the bag, many of the top competitors can bring their polished runs to Copper's new and improved, Olympic-worthy superpipe. Many top athletes agree that the level of riding and amplitude that they can get on a larger pipe makes a world of difference, as well as it being much safer…mmm, safety first.
Winter Halfpipe Camps
Woodward at Copper is rolling out new halfpipe camps this winter, the first one being from Dec. 19 – 23, focusing on progressing individual skills in the superpipe. The Pipe Camp will offer ample Barn training time, as well as daily on-snow shred sessions, and will take place in the upgraded 22 foot superpipe, where athletes will be able to ride like the pros and reach their maximum amplitude. The upgraded pipe is now starting to become the standard for anyone, from regular Joes to all the pros, trying to master their halfpipe skills. The Woodward at Copper Winter Halfpipe Camps provide a safe and fun learning environment for all levels of pipe riders/skiers through established progressive training techniques.
To get signed up for a Woodward at Copper session, call a Copper Mountain Vacation Specialist at 888-350-1544, The Barn at 970-968-3400, or visit http://www.woodwardatcopper.com.