words by Julie Weinberger
photos by Felix Rioux & Julie Weinberger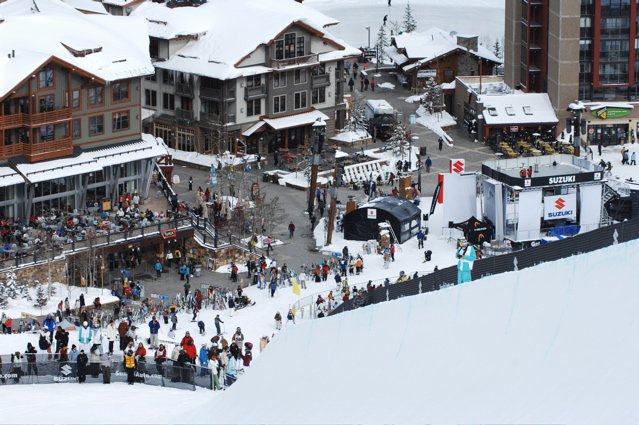 After yesterday's snowy men's and women's slopestyle finals, the snow took a breather for men's pipe qualifications today. Even though practice time has been tough to get the last couple of days since Copper needed to work on pipe because of all the snow, riders came out firing.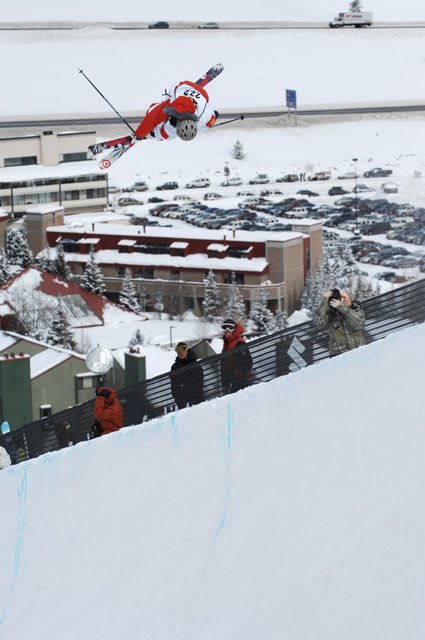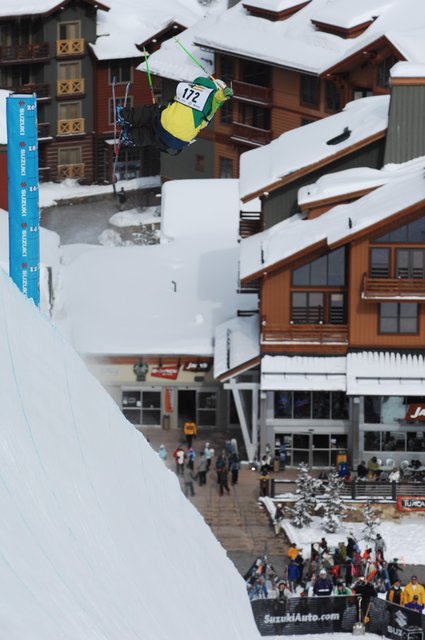 Highlights included Lyndon Sheehan easily boosting 20-foot on his first hits, Sean Pettit going huge the whole way down the pipe as well as Matt Margetts and Taylor Seaton's overall runs. Also, props to the kid who absolutely stomped a clean 12 on his first hit, and to the kid who seemingly tried a double cork. Either that, or he completely effed up.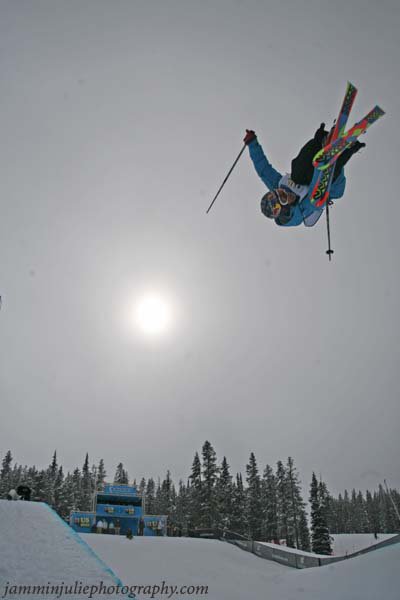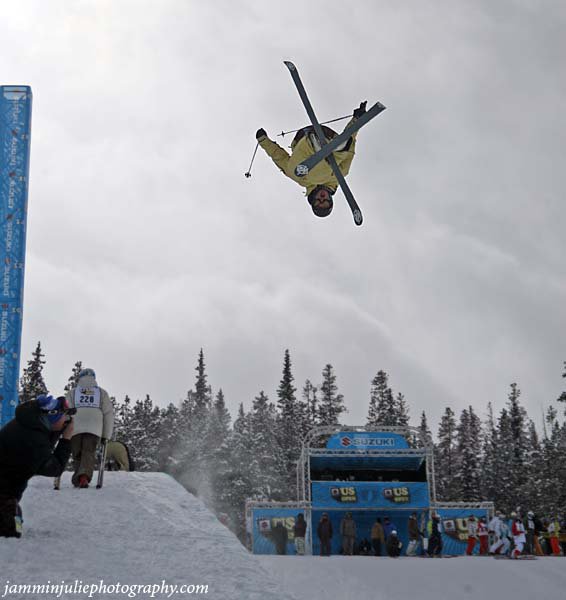 With the pipe riding reasonably well, tomorrow's final event should go off. It will be interesting to see some of these younger guys take on the pre-qualified big names without Simon and Tanner taking over.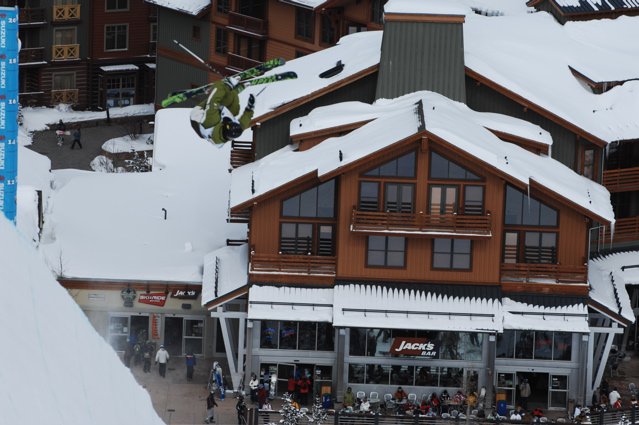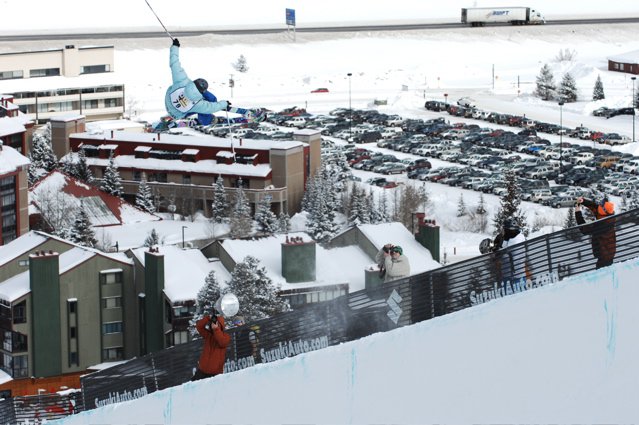 Results
Men's Results Heat #1
Name F Last BIB Country Run #1 Run #2 Best
1 John Symms 283 USA 82.5 75.7 82.5
2 David Wise 77 USA 22 78 78
3 Tony Seibert 131 USA 10.7 75.7 75.75
4 Marshall Lacroix 138 USA 64 71.5 71.5
5 Matt Hayward 147 CAN 55.5 70.5 70.5
6 kiyoshi terada 154 JPN 70.2 59.5 70.25
7 Clayton Vila 158 USA 26.2 66.5 66.5
8 Mike Henitiuk 149 CAN 60.2 65.2 65.25
CutOff
9 Scott Hibbert 284 CAN 18.7 61.2 61.25
10 Tyler Spence 104 USA 56 56.2 56.25
11 Evan Schwartz 134 USA 15.2 55.2 55.25
12 Logan Imlach 58 USA 52.7 11.7 52.75
13 Dakota Schlag 265 USA 13.2 52 52
14 Jared Larkin 171 USA 49.5 13.5 49.5
15 Shea Flynn 184 USA 41.2 14.2 41.25
16 Mitch Gilman 268 USA 38 20.5 38
17 Chris Laker 237 USA 36.2 23.5 36.25
18 Beau Wells 277 NZ 20.7 34.5 34.5
19 Jordan White 188 CAN 22 23.7 23.75
20 Grant Savidge 223 USA 13.7 14.2 14.25
20 Taylor Felton 231 USA 14.2 12.5 14.25
22 John Duhamel 167 USA 10.2 11 11
Men's Results Heat #2
Name F Last BIB Country Run #1 Run #2 Best
1 AJ Kempainen 222 FIN 43.7 91 91
2 Kalle Leinonen 221 FIN 18 88 88
3 Taylor Seaton 230 USA 85.7 81.2 85.75
4 Duncan Adams 204 USA 77.5 31.5 77.5
5 Andrew Taylor 81 CAN 77.2 52 77.25
6 Sean Hartel 79 USA 74.2 13.5 74.25
7 Ross Falcone 281 USA 18.5 72 72
8 Noah Bowman 173 CAN 70.2 13 70.25
CutOff
9 Walter Woods 71 USA 21.7 68 68
10 Mathieu Bijasson 129 61.7 65 65
11 Travis VanDomelen 62 USA 54 61.2 61.25
12 Ben Westmoreland 236 USA 56.2 28.7 56.25
13 Gus Kenworthy 287 44.2 48.2 48.25
14 Evan Walls 172 USA 38 42 42
15 David Cote 190 CAN 9.5 41.2 41.25
16 Murray McKay 83 CAN 35.2 14.5 35.25
17 Kristopher Atkinson 177 CAN 19 18 19
18 Brian Kish 153 USA 14.5 14.5 14.5
19 Logan Vadasz 253 USA 12.7 0 12.75
20 Mike Mertion 103 USA 12.2 0 12.25
Men's Results Heat #3
Name F Last BIB Country Run #1 Run #2 Best
1 Lyndon Sheehan 215 NZ 67.2 85.5 85.5
2 Joss Christensen 266 USA 76.2 71.2 76.25
3 Loic Collomb-Patton 124 FRA 72 24.2 72
4 Dane Ulsifer 187 CAN 15.2 64.7 64.75
5 Matt Margetts 183 CAN 53 63.5 63.5
6 Jon Cyrulik 270 USA 61.7 12 61.75
7 Karl Fostvedt 263 USA 42.2 57 57
8 Michael Mochan 189 CAN 10.5 56 56
CutOff
9 John Leonard 191 USA 45.7 25.2 45.75
10 Broby Leeds 90 USA 44.2 44 44.25
11 Matt Cook 86 USA 34.2 11 34.25
12 David Oliver 228 USA 29.7 32 32
13 Sean Pettit 224 USA 29.5 18 29.5
14 Christian Allen 160 USA 15.5 24.2 24.25
15 Alex Mathers 169 USA 16.5 18 18
16 tucker mead 256 USA 14.5 11.7 14.5
17 Zach Kary 259 CAN 9.7 9.7 9.75
Men's Results Heat #4
Name F Last Bib Country Run #1 Run #2 Best Run
1 Jon Marks 227 USA 83 57.2 83
2 Byron Wells 194 NZ 65.5 76.7 76.75
3 Geoffrey Straight 279 USA 74.5 32 74.5
4 Tyler Peterson 126 USA 71.2 21.7 71.25
4 Ryan Waddell 175 CAN 71.2 21.2 71.25
6 Matt Duhamell 143 USA 10.5 68.2 68.25
7 Jack Sullen 76 USA 18 55.5 55.5
8 Craig Coker 229 USA 51 52.5 52.5
CutOff
9 Colby Ward 285 USA 37.5 46.5 46.5
10 Takanori Shibabuki 164 JPN 16.5 41.5 41.5
11 Micheal Bockenek 274 USA 40.2 18.2 40.25
12 Lucas Wachs 254 USA 34 36.5 36.5
13 Banks Gilberti 74 USA 34.2 11.7 34.25
14 Miles Honens 237 USA 31 13 31
15 Andrew Hewitt 276 USA 16 14.5 16