Words & photos by Jon Lang
The Visa US Grand Prix was once again stoked for another stunning California day in Mammoth's Unbound Park for Men's and Women's Slopestyle Qualifiers yesterday. The hard working Mammoth park crew really out did themselves for the event, building a stunning course to match the great weather and talented field of skiers. The course offered smooth rail features at the top followed by four immaculate jumps, giving the skiers seven features to impress the judges. The competitors were all pretty stoked on the course and it definitely showed in their runs.
Ian 'Chug' Cosco, Nicky Keefer and Beau-James Wells
"The course is great, it's running fast. We've got blue skies, sunshine, no wind, everyone's having fun and skiing well; it's going to be a good day!" says Nick Goepper, who is by far the young gun of the year, giving every top skier a run for their money and is currently ranked first in the AFP Men's Slopestyle World Rankings. Another consistently impressive youngster, Torin Yater-Wallace, jumped into the slopestyle game yesterday and showed that he is by no means just a pipe skier by qualifying third ahead of Goepper and just behind Tom Wallisch. But in the end, the top spot went to another up-and-comer, Alex Bellemare, who is continuing to roll out an impressive season during his first go around on the professional competition circuit.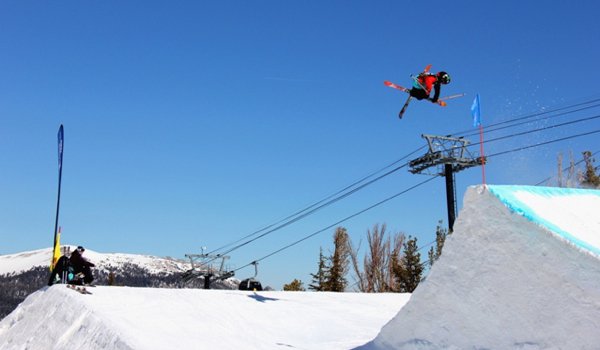 Tom Wallisch
Men's Slopestyle Qualifiers Results
1) Alex Bellemare
2) Tom Wallisch
3) Torin Yater-Wallace
4) Nick Goepper
5) Chris Laker
6) James Woods
7) Russ Henshaw
8) Bobby Brown
9) Joss Christensen
10) Charles Gagnier
11) Gus Kenworthy
12) Fridtjof Semb Fredricsson
cut-off
13) Noah Morrison
14) Joe Schuster
15) Ole Christian Mustad
16) Willie Borm
17) Soushi Utagawa
18) Colby West
19) Kalle Leinonen
20) Zach Pham
21) Yu Yoneya
22) Nick Keefer
23) Andy Partridge
24) Brendan Wall
25) James Cambell
26) Carson Lehouillier
27) Chase Mohrman
28) Lyman Currier
29) Colby Stevenson
30) AJ Kemppainen
31) Thomas Pool
32) Justin Mayers
33) Bryce Barker
34) Takumi Toyama
35) Matias Munoz
36) Joey van der Meer
37) Tim Ryan
38) Daniel Arnold
39) Devon Savino
40) Kory Kirby
41) Andrew Matthew
42) Tom Waddell
43) Alexi Godbout
44) Quinn Waddell
45) Jimmy Greenleaf
46) Grover Cameron
47) Erik Hughes
48) Ian Cosco
49) Henry Hawks
50) Evan McEachran
51) Courtney Osborn
52) Michael Hibbs
53) Cody Cirillo
54) Max Peters
55) Vincent Gagnier
56) Carlson Keaton
57) Ryan Johnson
58) Natsuki Endou
59) Yukon de Leeuw
60) Alex Brown
61) Billy Waller
62) Jaeden Schneider-Clark
63) PK Hunder
64) Masato Hirase
65) Raleigh White
66) Hans-Jakob Brandt Olson

67) Kohki Maebori
68) John Bodeau
69) Griffin Rasmussen
70) Scott Nelson
71) Beau-James Wells
72) Aleksi Patja
73) Max Novotny
74) Tyler Meg
75) Jeffrey Conway
76) Michael King
77) Scott Damon
78) Tristen Houston
79) Charlie Leveroni
On the ladies' side of things, the women of freeskiing sure stepped their game up on the big features Mammoth prepared, with Devin Logan taking the top spot followed by Kaya Turski in second and Emilia Wint in third, all of whom threw down killer runs. Their offerings were so impressive that I overheard a few ex-competitors saying something along the lines of, "Dude, I don't think I could actually make finals in the women's heat" Keep killing it ladies, and good luck in today's finals!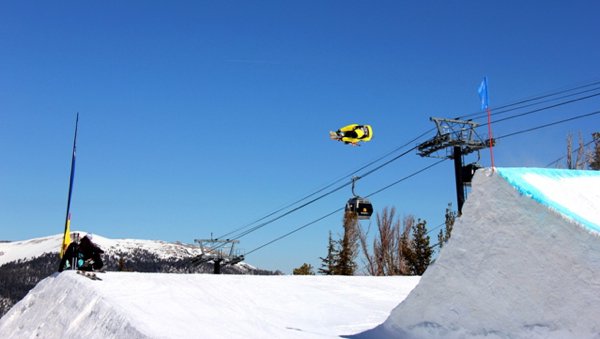 Women's Slopestyle Qualifiers Results
1) Devin Logan
2) Kaya Turski
3) Emilia Wint
4) Yuki Tsubota
5) Anna Segal
6) Dara Howell
7) Darian Stevens
8) Katie Summerhayes
9) Chiho Takao
10) Jessica Breda
11) Julia Marino
12) Hitomi Satoo
cut-off
13) Dominique Ohaco
14) Ami Ohkubo
15) Catherine Warchal
16) Victoria Hamilton
Stay tuned for more updates on the Visa US Grand Prix at Mammoth Mountain, California, including a live broadcast of Men's and Women's Ski Slopestyle Finals, which you watch watch right here on Newschoolers today at 1pm PST/4pm EST.