Words & photos by Jon Lang
Day one of the US Freeskiing Grand Prix went down at Mammoth Mountain, California yesterday with Men's and Women's Halfpipe Qualifiers. Calling it day one is a bit inaccurate though, because on day one most competitors, coaches and officials were spending their day fighting the torrential winds and snow just to cross the parking lot to get from the hotel to the meetings in the Main Lodge to discuss how bad the weather was and what to do about it. That was of course after just barely getting to Mammoth, which posed a difficult problem for quite a few flying travelers due to this storm; but isn't low snow levels the talking point of the season? The point is, it snowed really hard in the Sierras this week, the storm skiing was great yesterday and the event organizers created a very reasonable schedule to make up for the two-day delay. To get the mood back up though, yesterday was a super rad sunny day that got everyone stoked. Thanks to the California sun that was shining, the snow was soft and a great qualification round finally went down to kick off the event!
The ladies started things off by battling back and forth for spots in Sunday's Finals with big spins, great amplitude and classy style. The level of competition is getting better and better every season and it is great to see how awesome the girls are skiing.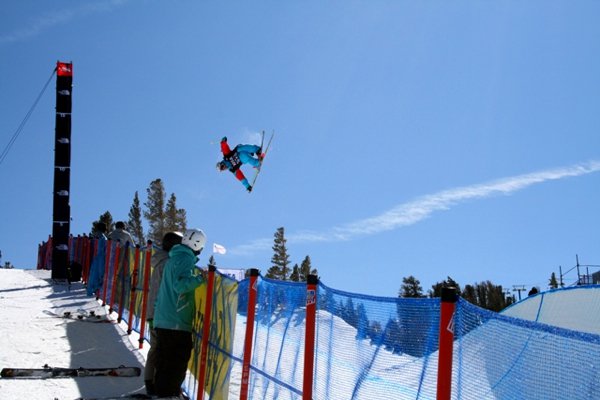 Women's Halfpipe Qualifiers Results
1) Devin Logan
2) Brita Sigourney
3) Megan Gunning
4) Rosalind Groenewoud
5) Maddie Bowman
6) Annalisa Drew
7) Iku Suzuki
8) Mirjam Jaeger
9) Anais Caradeux
10) Kimmy Sharp
11) Katrien Aerts
12) Emma Lonsdale
cut-off
13) Keltie Hansen
14) Ayana Onozuka
15) Yurie Yamazaki
16) Jakie Atkinson
17) Cassie Sharpe
18) Maiko Satoh
19) Shannon Gunning
20) Shuri Terada
21) Manami Mitsuboshi
22) Kendall Deighan
23) Allison Welsh
24) Julia Marino
25) Zyre Austin
26) Davina Williams
The men were also stoked the sun was out and they sure showed it. Between the two stacked heats a field of 12 great skiers threw down to secure spots in tomorrow's Finals. The top four skiers in each heat made it through, along with the next four highest scores respectively.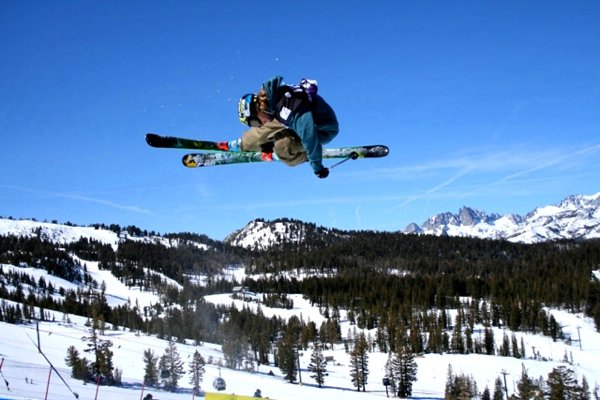 Matt Margetts
Men's Halfpipe Qualifiers Results
1) Gus Kenworthy
2) Tucker Perkins
3) Thomas Krief
4) Torin Yater-Wallace
5) Noah Bowman
6) David Wise
7) Benoit Valentin
8) Matt Margetts
9) Allen Christian
10) Dan Marion
11) Mike Riddle
12) Lyman Currier
cut-off
13) AJ Kempainnen
14) Aaron Blunck
15) Xavier Bertoni
16) Kalle Leinonen
17) Walter Wood
18) Alex Ferreira
19) Hunter Visser
20) Simon D'artois
21) Garett Northey
22) James Campbell
23) Beau-James Wells
24) Carson Lehouillier
25) James Machon
26) Murray Buchan
27) Duncan Adams
28) Broby Leeds
29) Aaron Mackay
30) Lukas Bowman
31) Billy Mann
32) Sean Collin
33) Michael Schumacher
34) Tyler Wilson
35) Kentaro Tsuda
36) Kyohsuke Namiki
37) Peter Olenick
38) Colby Stevenson
39) Collin Jeffries
40) Quinn Waddell
41) Thomas Waddell
42) Patrick Baskins
43) Alex Gorham
44) Geoff Straight
45) Sam Thackray
46) Kiyoshi Terada
47) Justin Mayers
48) Takanori Shibabuki
49) Joss Christensen
50) Austin Simonpietri
51) Kris Atkinson
52) Kyle Smaine
Mike Riddle
Stay tuned for more updates on the US Freeskiing Grand Prix in Mammoth, California, including a look at Slopestyle Qualifiers and live broadcasts of Halfpipe and Slopestyle Finals, which take place tomorrow at 9:30am and 1pm respectively.