US Freeskiing Comp Telluride CO
Words: Hannah Whitney
Photos: Ron Pankey
I knew the kickoff to the Subaru US Freeskiing Series was shaping up to be a hell of a ride when then light in the bathroom of our $38 motel in Montrose Colorado started to take off.  It sounded somewhat like a jet taking off, and kept speeding up and slowing down and I was a bit worried during my shower.  Then I learned we had the good room when our friends in the room next to us had a sink with a hole in the plumbing that sprayed water into the room when the sink was on...yeah.  We really got our money's worth.  That's what you get when you try to save money...quality life experiences!
That was Wednesday.  We got up early on Thursday to get to T-ride for registration.  This is my second year on the tour, and I think I'm getting a handle on the routine.  Show up, sign your life away, write down something funny for the announcers to read about you, get credentials and ski passes (and as many Emergen-C packets as you can stuff in your pockets) and head to the venue.  Officially we don't know the venue until its announced at the athlete meeting in the evening, but we go off of the previous year, keeping an ear out for any rumored changes.
No changes this year.  Well, other than the addition of a bunch of good snow!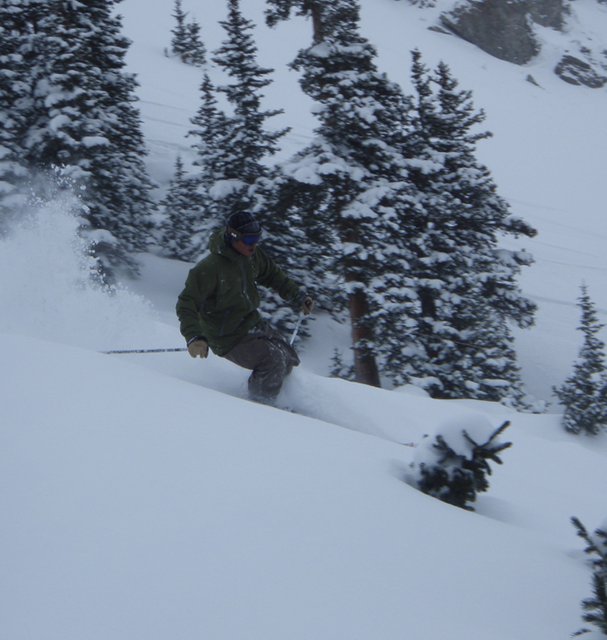 Three lifts to get to the right side of the mountain.  Hiking ensued, just a short way up to Genevieve.  Its a quick and kinda weird venue that makes it tough to hit many features.  That's the fun challenge with these comps, its like trying to figure out a puzzle that has a bunch of different solutions.  What's the hardest line you can ski without falling...but no one can ever judge that one perfectly.  The way I look at it, I want to be sure I make it to the final day, so i pick a line I'm confident I will pull off, even if it doesn't put me in first.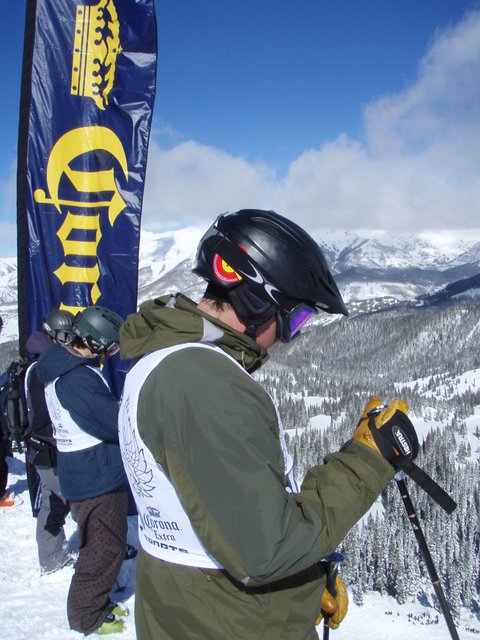 I picked two main hits.  You look at your line and try to get a feel for the snow, landings and all that, but its always going to change with 100+ competitors inspecting.  I skied through parts of my line, but didn't pick it for sure until Friday.  It was awesome to catch up with all the great people I met last year, and some I've known longer.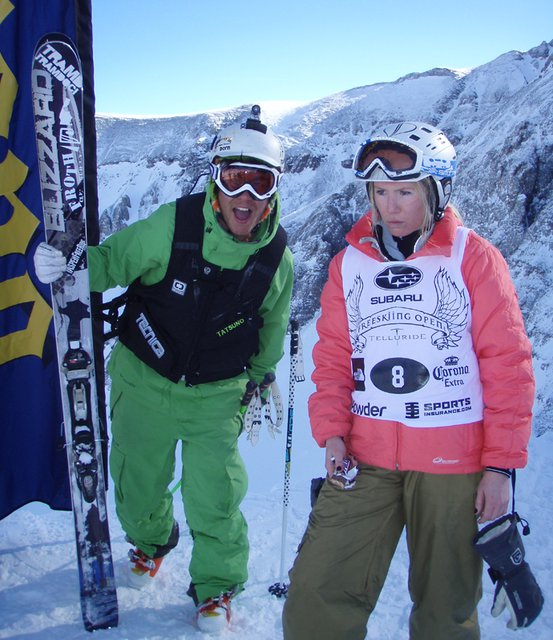 Free Corona and pizza took the edge off at the athlete meeting.  Okay, maybe there's no "edge" for most, everyone is just having fun...but I ALWAYS get nervous.
I stayed with my friend Crystal Wright, who's a bad ass on skis herself.  We stayed out past the airport a ways, which got us into a little predicament Friday morning as a result of some unbelievable winds overnight drifting snow knee high all the way down the endless driveway.  Long story short we shoveled for over an hour before a plow randomly showed up and proceeded to RALLY down the driveway fishtailing all over the place and not getting us out before getting stuck a handful of times.  We were wicked late to the resort, but fortunately for us things weren't running on time.  We had time for a quick inspection, we watched the first few women, and then headed up for our runs...butterflies freaking out in my stomach.
The runs were over in a flash, I stayed up, was happy with my run, congratulated some friends, consoled others and was blown away by some sick skiing!  Before finding out the results, we hiked Prospect Ridge past the first venue to inspect for the final day up in the Black Iron Bowl.  Hiking up past 12,000 feet reminded me that I could stand to be in better shape.  Oh well!  There was lots to pick from in this venue, but again I didn't pick my line for certain until the next morning.  The day turned sunny, more Corona followed skiing, and I ended up tied for second place with local ripper Galena, right behind Crystal and followed closely by a bunch more rippin chicks.
Nine women, three juniors, and thirty-six men made the cut to Saturday's finals.  I hiked the ridge three times that day, with the beautiful Palmyra Peak looking down.  Listening to anything from Jack Johnson to ACDC and Ciara, I felt a little more calm than last year, but still fluttering.  My first run felt awesome,  but my legs were BURNING!!!!  I jumped into first place, but I knew Crystal wasn't far behind.  I wanted so badly to stay on my feet, and not fall like last year in Jackson Hole and Kirkwood.  I toned it down a little and made it down in one piece.  The men and juniors were so sick to watch...so much amazing skiing and such a stoked and supportive group of skiers.  I had a perma-smile on my face.  Obviously I wanted to win, but I knew it would be close because all the five women who skied in the superfinal killed it.  Crystal and I hoped we would be on the podium together.
Before the awards Crystal, Tanya, Whitney and I relaxed on the tailgate drinking PBR's and eating potato sticks in the sun.  We talked about our love for skiing and our thoughts on women skiers showing off their bodies among other things.
Then it happened.  I won my first event.  I got to stand on the highest podium with a silver goblet and a big Corona, and then I burped HUGE right into the TV camera.  Honestly!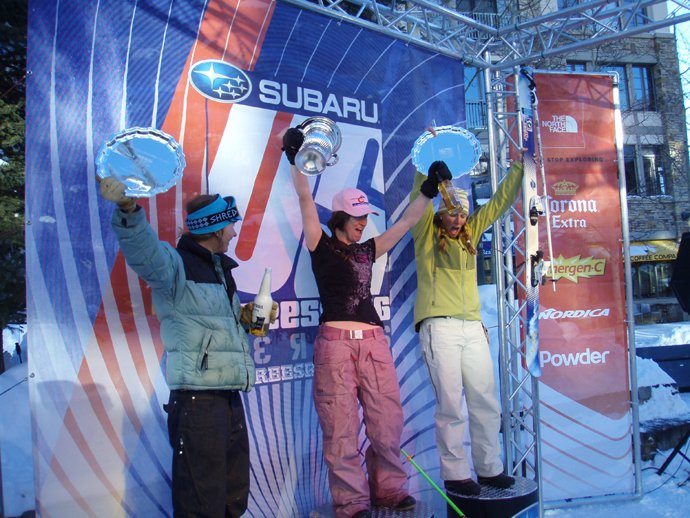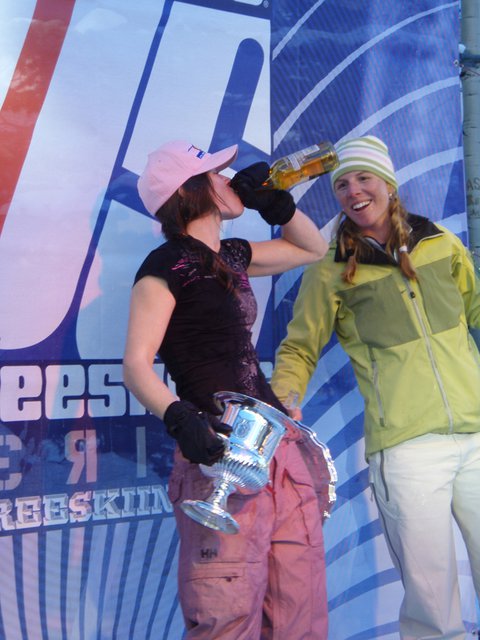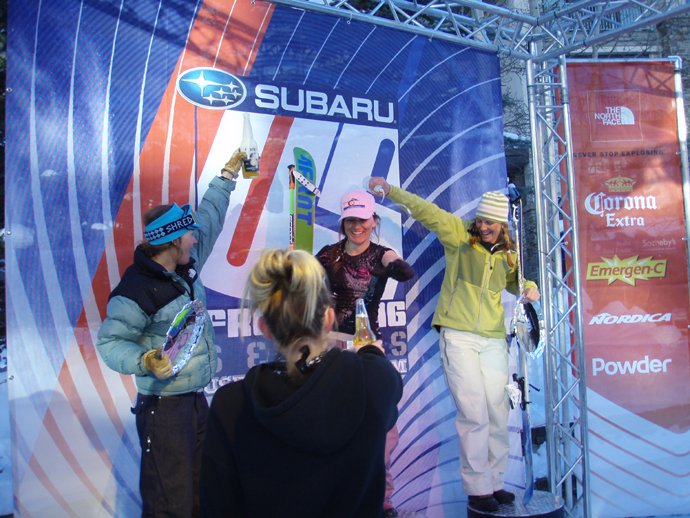 Congrats to Griffin on an amazing win for the guys, and to Eli for being a SICK BIRD!!!  And to all the skiers who took the chance on this event and really showed how its done.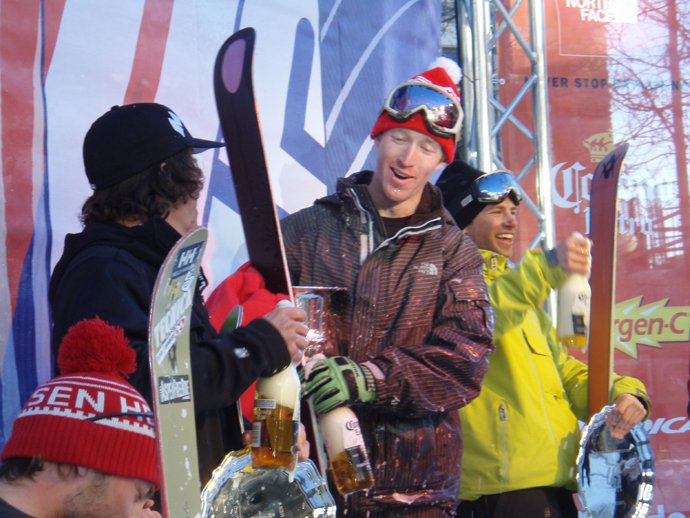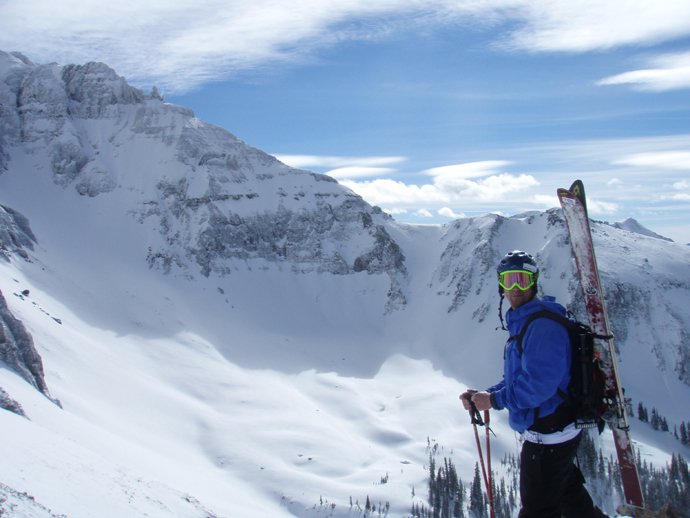 I have to say thanks to everyone at MSI, the judges, and my friends and fellow competitors who have been so fun and supportive.  Thanks also to my buds Jesse and Gabe at the Colorado Freeskier, as well as to Scott USA and Helly Hansen for giving me a chance.  I'm so excited to continue developing myself as a big mountain skier and having fun in this sport for as long as possible!
These events are such a blast, a different way to appreciate skiing and be appreciated as a skier.  I hope more and more people come out to future events whether to compete or to cheer everyone on.  I know this is a bit of a novel, promise it won't be every time!
The last thing I want to say is just keep loving skiing and being positive about your own and other people's skiing.  It should always be about fun!
~Hannah
Note from CFS:� EVERYTHING IS GOING ON SALE RIGHT NOW!!!� All outerwear is already on sale from 10-50% off, and all skis will be on sale in the next couple days %u2013 so give us a ring or drop us an email with any questions%u2026