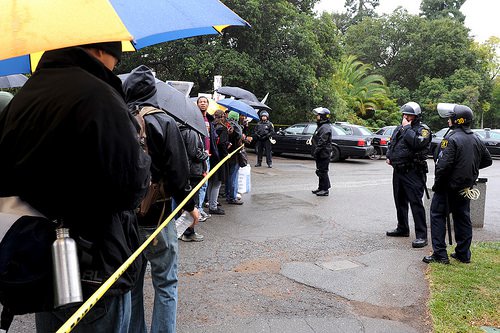 The University of California has agreed to dish out a $162,500 settlement to David Morse, a 43-year-old photographer who was arrested back in 2009 while covering a student protest. After being arrested on charges of rioting, arson, and vandalism, the police obtained a search warrant to seize his camera and access his photographs. Several of the photos were then published in order to identify people in them. After the university refused to compensate him for violating his rights, Morse decided to sue it in federal court. The SF Chronicle writes,
As part of the settlement [...] UC Berkeley police will modify their procedures "regarding acceptable means of seeking materials from a journalist" and conduct training sessions for officers about media rights, Terry Gross, an attorney for Morse, said Monday.
"From now on, it's going to be clear to all of them that they can no longer engage in this type of activity where they target a journalist or anyone else who is taking pictures," Gross said.
UC pays to settle photographer's suit over arrest (via PDN Pulse)
Image credit: 200911x_098 by Paul A Hernandez