Note: This is not the opinion of everyone that works at saga outerwear or any of our athletes, this is solely a personal statement.
Now I am not one to judge on typo's and spelling errors because if you read the blog often enough you have seen your fair share here, even some in this blog (it's just the internet). What concerns me is when it comes down to print in a magazine and to simply misprint a price or product name draws a bit more attention, especially when it happens to be off by just about $100 dollars ($279 for pants! not in this life time). Inconsistency is what looks cheap and unreliable by all parties included, that is why I made this post. But as with everything out of our control, we take it with a smile and just remind our selves if you want something done right, do it yourself. The reason why for the past two seasons we have provided our own look book that display's the most accurate information regarding all of our products (color, size, etc…). We have designed our outerwear to be the most affordable, best fitting, 3 Layer on the market, quality first. But I guess only looks matter, just sayin', you can see the updated information here.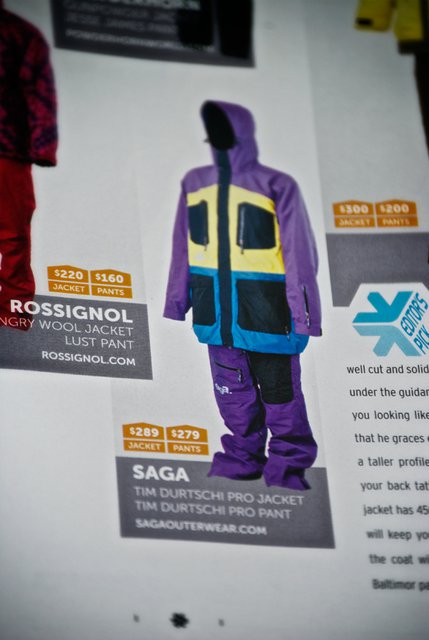 If you need to make a buying decision or want to preview our current selection head over to the outerwear section of our website and take advantage of the gear scroll-er. And for the record here are our tech specs for those of you in the know.
Anomie 10/11 Jacket features the following:
-Saga 3Layer Rip-Blok 20k+ shell fabric.
-Custom sublimated thick wick mesh lining
-Abrasion Resistant Heat Transfer Logos
-100% 3L seam taped construction
-High Density interfacing storm skirt system
-Durable reinforced cuffs
-2-Way Hood Adjustment
-Hood Snap Back
-3-Way venting w/rear length extension
-Bonded Storm Flap, Hood Bill and, Vents
-Interior & Exterior Audio/Cell Pockets
-Fleece Face chin lining
-All Exposed zippers YKK waterproof
-SAGA SIGNATURE FIT
Subscribe to the comments for this post?
Share this on Facebook
Share this on LinkedIn
Stumble upon something good? Share it on StumbleUpon
Tweet This!
Email this via Yahoo! Mail
No related posts.