Words and photos by Amplid TM, Rich Ewbank.
December is a busy month for every winter sports brand, but for Amplid it's always particularly busy. Not only do we have the Christmas rush and the annual Amplid sales meeting in December, it's also the month when we piece together the legendary "Dealer Workbook", a 70 page catalogue featuring all of next year's gear. Of course catalogues need pictures, but with a serious lack of snow in Europe in the run-up to Christmas our team riders were unable to shoot in their local resorts with their usual photographers. At the final hour I made the decision to invite a handful of riders and two of Europe's best photographers to Pitztal Glacier in Austria for a photoshoot. This meant a big journey for new team addition Julien Lange who had to drive across the Alps for nine hours from his home in Tignes, France. I saw it as the only way to guarantee good shots and if we failed then I'd only have myself to blame. I brought my little pocket camera along to document the weekend.
On the first day we planned to build a number of spots to hit the following day with the photographers. Cartel riders Alex Neurohr from Switzerland and Julien Lange from France were accompanied by local fixer and dedicated Ambush rider Andi Nitsche, photographer Severin Wegener and me. We met at 9:30am at the base of Pitztal Glacier, the sun was rising and there wasn't a cloud in the sky. If you've ever been to Pitztal you'll know that the drive up the valley from Imst is long, which is probably what keeps the huge crowds at Hintertux and Stubai. Small crowds and no clouds were exactly what I'd been praying for.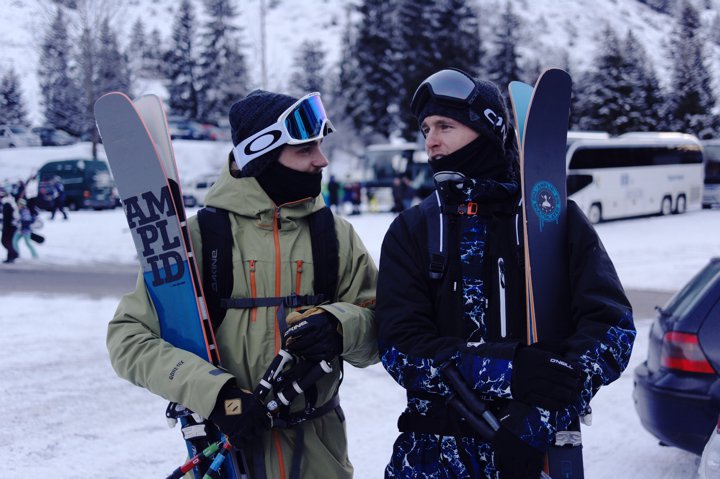 Andi and Julien brandishing some fresh 15/16 skis before the first day of the shoot. Photo: Rich Ewbank
Once the funicular had reached the glacier we were welcomed with blue skies and approximately 15cm of fresh snow. Sure, the Alps were struggling, but at 3000m Pitztal was looking good, even if we'd need to be extra careful to avoid sharks. With this in mind, we dropped our plans for the morning and started looking for lines. The first line we spotted was east facing and basking in glorious morning sunlight. Accessible from a rocky, windblown ridge beneath the main gondola, these lines were familiar to Sev and Andi who knew how to access the main chutes and where to shoot photos from. The three skiers, Andi, Alex and Julien, weren't going to take any risks and checked their transceivers. The face they were riding was sheltered from the wind which meant that wind deposited snow was a certainty. On checking his transceiver Alex discovered he'd forgotten to put batteries in it, he took my Ortovox 3+ and joined the crew... I'd be sitting this one out and joining Sev at the vantage point. Andi, the local Innsbrucker, was first to drop in, he put in a nice turn, maximising the spray and simultaneously making Sev's job easier, and popped a nice little ollie off his tails. Andi's first turn of the day was proceeded by a yard-sale as his ollie landed him on a perfectly hidden block of ice. Alex and Julien followed, careful not to make the same mistake, and met Andi at the grouping point, a safe, flat area where they would be able to assess the mainchute from. The main chute consisted of a 35-40 degree face which bottlenecked into a little couloir with cliffs either side; it then opened-out into a long face with a mellower gradient. Alex dropped first, using his new skis in steep terrain for the first time. In the background I could hear Sev's camera firing shots like a machine gun. Alex placed some smooth, considered turns at the top face and then, just before pointing into the couloir, he released an avalanche. Strong on his feet, he was able to straight-line through the little rock band and anchor in a strong left turn at the bottom. Larger slabs joined the avalanche as it travelled down the hill, but it never gathered any real momentum and Alex was able to ski alongside the bulk of the moving debris, teasing this force of nature, poking the bear. Once the other two skiers had reached the bottom of the face, the group decided that it would be silly to continue skiing lines with such an unstable snowpack. The limited depth of fresh snow meant it was unlikely that anybody would be buried, but it was possible that these heavy sluffs would be enough to pull a skier over rocks or worse still, off a cliff. 30 minutes later a skier who had decided to follow the team's tracks experienced just that and had to be airlifted off the mountain. As we rode to the lift station, Sev took the opportunity to use little untouched stashes of powder at the sides of the slopes to get the classic catalogue "tips-out, spray behind" shots.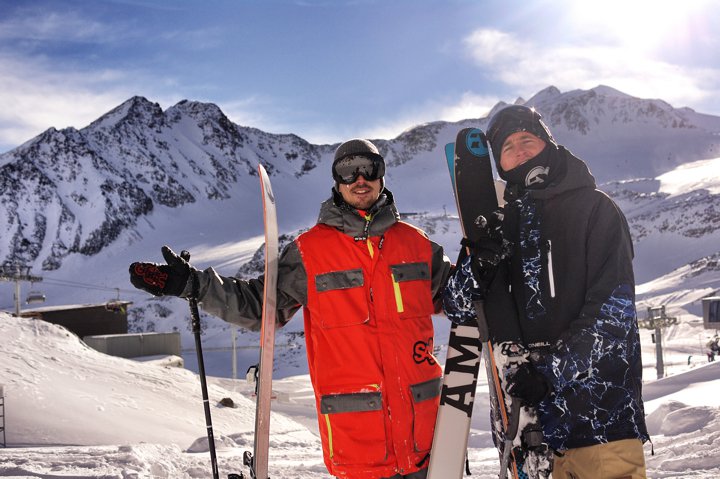 Alex and Julien were all smiles thanks to Pitztal's surprisingly good snow cover and sunny weather. Photo: Rich Ewbank
The rest of the day was spent scouting spots. In mid-season most spots can be made to work, but a snowless December meant we were working on a 1 in 5 ratio. The first build that might work was a double cliff step-down... or at least that was the original plan. I got the impression that with enough snow Julien and Alex would be willing to hurl themselves off anything, but a quick probe of the landing discovered that some sections of the landing were only 40cm deep and the guys were rightfully feeling a bit nervous. Still sure that this spot could work, we built a small lip on the second tier which would still give Alex and Julien plenty of airtime for a shot, but wouldn't put them at too much risk. The build took about an hour; once it was completed we sprayed water on the take off and left it overnight to settle.
During a photoshoot time goes-by inexplicably fast; by the time we'd finished the first build it was 2:30pm and everybody was ready for something to eat. While Alex, Julien and I tucked into the world's worst burger, Sev and Andi had sneaked behind the restaurant to see if there was any terrain that could work. 20 minutes later the two of them burst into the restaurant with big smiles on their faces. Literally 40 meters behind us was an area they wanted to show. We grabbed our things and followed Andi and Sev around the corner where sure enough, as promised, was a little oasis, sheltered from the wind, full of snow and basking in sun all day long. We quickly fashioned a hip and talked through the other features that might be workable and then ran to the Funicular just in time to get the last lift down.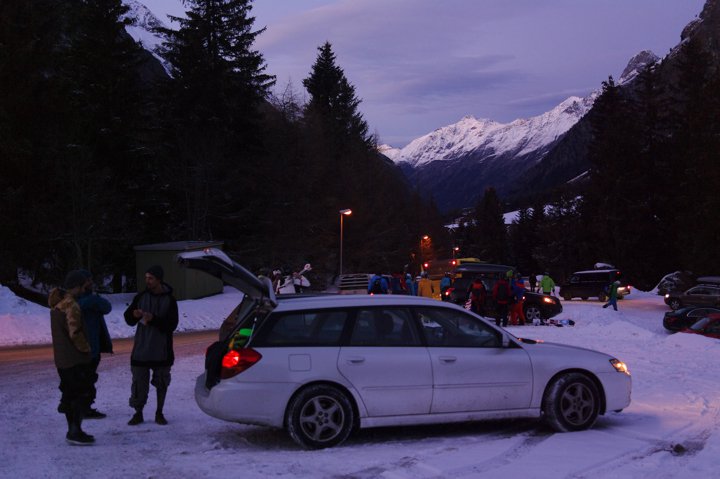 Andi and Alex talk Subarus. The perfect transport for the long drive up to Pitztal. This one is Alex's. Photo: Rich Ewbank
The next day we met earlier, I was at the Gondola at 8:30am to make sure that the larger crew, many of whom hadn't met before, had somebody there they would recognise. Gradually the crew assembled. Teddy Berr and photographer Roman Lachner had travelled down from Munich to join us. Snowboarder Jonel Fricke and the crew from the day before had travelled from Innsbruck, and 30 minutes late, but bubbling with enthusiasm was snowboarder Philip Toplitsch from the Voralrberg region of Austria. Philip had spent the early hours of the morning navigating the St. Anton pass.
By 10am everybody was on the mountain. Once again we'd been blessed with fantastic conditions. The sun was blazing and the wind from the previous night had died-down. Even more fortunate, a small snowfall and the strong winds had filled-in our tracks and padded-out the landings of the previous day's builds. Philip and I took a couple of laps to find our legs and enjoy some pow before a day of "work" and then joined Sev and Jonel who were shooting lifestyle picks on a windy ridge-line. Once Jonel had finished posing and Sev's NYC photostudio alter ego had vanished, we made the decision to head straight for the zone behind the restaurant and session the hip. In the meantime, Roman, who also happens to be Skiing Mag's chief editor, was shooting with the skiers at the step-down. It turned-out that the landing was too flat for really progressive skiing, but Alex and Julien were able to stick some well styled 7s and 3s, which Roman captured perfectly. Once the step-down landing was bombed, Teddy and Roman escaped into the sidecountry to shoot some lines. Keen for more airtime and a steep landing, Alex and Julien joined the snowboarders for the rest of the day.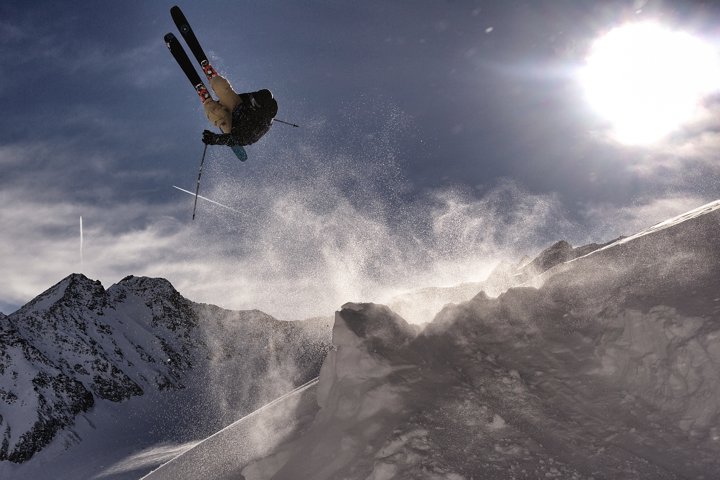 New team addition Julien Lange sends a styled Flat3 off the hip jump into a reasurringly deep and soft landing. Photo: Rich Ewbank
The next three hours were all about riding the hip. The landing was incredibly deep and had the dense feeling you only get from wind loaded snow. With its mellow transition and loaded landing, confidence was not an issue for any of the riders. Being a catalogue shoot, the most important component of each image is the product. Sev's professionalism shone through as he seamlessly switched angles, perspectives and lenses and talked through tricks with the riders that would give him the best opportunity of capturing bases and topsheets. The skiers experimented for a while with different tricks, but soon settled on a trick each that might produce a winning shot. Julien and Andi were favouring Flat3s while Alex was opting for big Cork3s. The snowboarders were also keeping the tricks basic and style focused. I was glad to have a goofy and regular footer at the shoot; this blend naturally guarantees trick variety. Jonel, the goofy footer on a left-side hip, naturally kicked things off with smooth "Mueller style" methods which looked incredible through the lens of Sev's Canon. Keen to add a degree of complexity to his tricks he started throwing down some heavily corked backside 540 Japans, but Sev just couldn't find an angle that worked. Philip, the regular footer, has an incredible amount of pop. Without too much effort he just seems to go bigger than anybody else. Philip set about destroying the hip with several underflips, a huge frontside 540 Indy nosebone and various grabs, each time following Sev's instructions carefully and trying to get "the shot". There must have been close to 40 hits on the hip before the landing was unrideable, after which we used the many other features located in "dreamland". Powder sprays, cliff drops, millerflips and countless other images were possible within a microscopic twenty meter radius. It was hard work for the next hour as Sev racked-up as many shots as he could before the sun dipped below the surrounding peaks.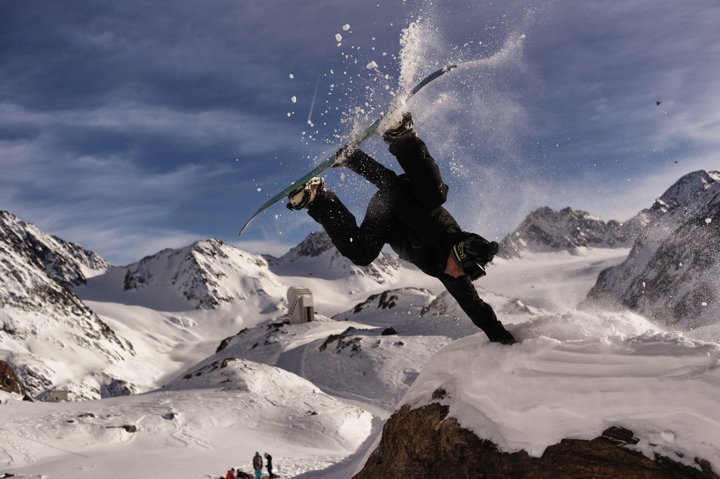 "Dreamland", the small area behind Pitztal's main restuarant, was full of little features that could be utilized for different shots. Here's Philip Toplitsch planting a miller flip. Photo: Rich Ewbank
It was already 5pm by the time everybody had made their way to the car park. Both the riders and photographers were eager to get back home and flick through the photos on a full-size monitor. It had been a busy couple of days, but as far as work goes I certainly can't complain. Getting out on the hill and shredding pow with team riders who conduct themselves in such a professional manner while at the same time being such cool people to hang-out with is a real privilege. I'd like to thank the riders: Julien Lange, Alex Neurohr, Jonel Fricke, Teddy Berr and Philip Toplitsch, for travelling to Pitztal at short notice and making the most of the not-so-perfect snow conditions. Sev and Roman, huge thanks for your time, your professionalism and your patience... we're stoked with the end result. And finally, thanks Andi Nitsche for taking on the role of team rider, host, guide, jump builder and guinea pig for the two days.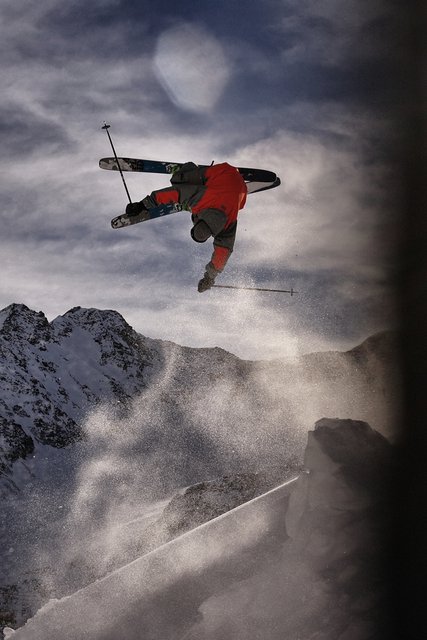 My camera strap swung across the lens as I took this shot of Alex styling a cork3. It ended-up looking great. Photo: Rich Ewbank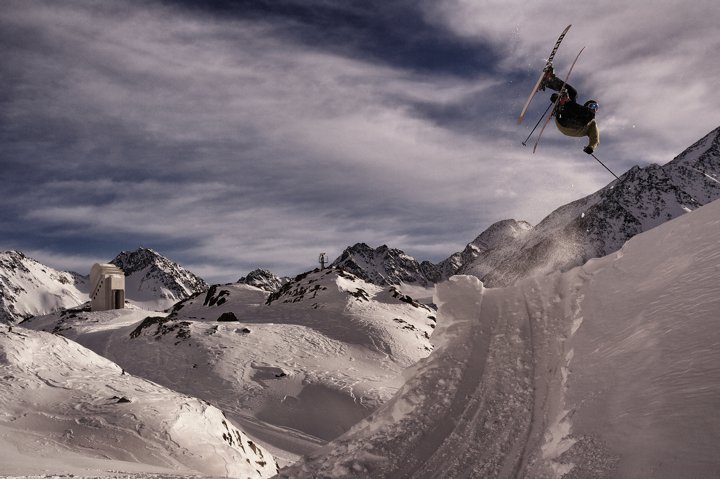 Ambush rider Andi Nitsche found this spot on day 1 and then layed down some smooth flat3s on the following day. Photo: Rich Ewbank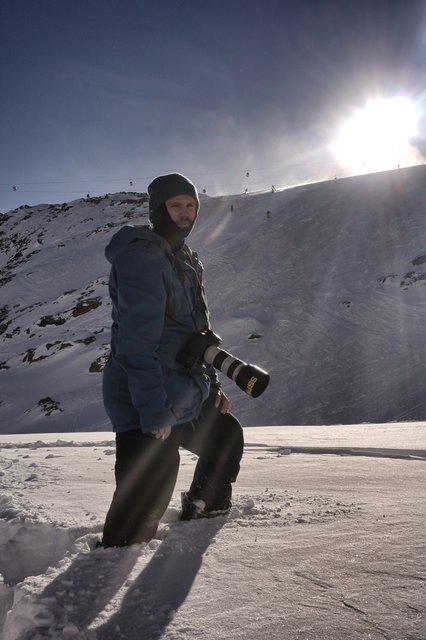 The man, the myth, the legend. Mr Severin Wegener soaking up the rays. Photo: Rich Ewbank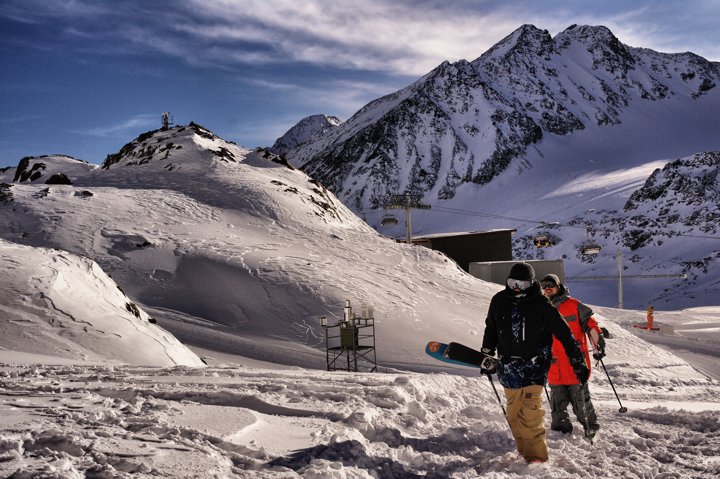 Welcome to "dreamland" gentlemen. Photo Rich Ewbank