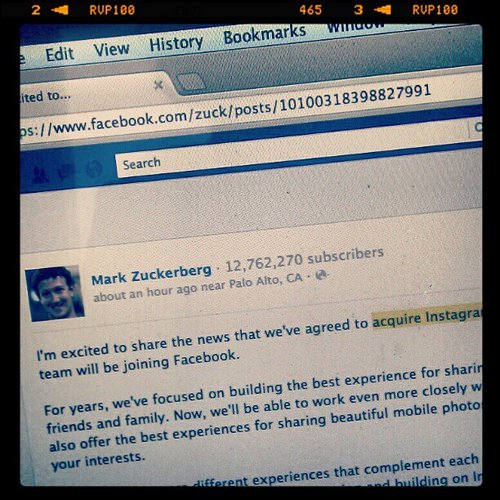 Facebook may have been the victor in the race to acquire Instagram, but it wasn't the only runner. The New York Times writes that Twitter had been interested in snatching up the service in the months leading up to the $1 billion buyout.
Mr. Systrom may have lost one connection in the deal: Mr. Dorsey of Twitter. His company, according to several people briefed on the matter, had expressed interest in buying Instagram in recent months. Mr. Dorsey once used Instagram daily to send photos to Twitter, but he has not been back since the deal was announced, perhaps a sign that he is not happy to see it in the hands of a competitor. A Twitter spokeswoman declined to comment.
Here's a crazy fact: in the 10 days after launching for Android, Instagram's member count skyrocketed from 30 million to 40 million — a million new users each day. Rob Haggart writes that Instagram joins the Kodak Brownie as the next great photography disruptor.
Image credit: Facebook koopt Instagram. by Stijn Vogels