A few weeks ago I wrote 15 Tips About Turning Pro. I thought it would be a good time to expand on some of those tips and add a few more. Today's article is the second in that series. Hope you find these new suggestions useful.
Part 2: People Skills and Generosity.
What do all successful professional photographers have in common? Great people skills and a generous spirit!
Of course, technical and business skills as well as a good dose of talent are also critical to your success, but when you get hired for a job, the client hires your skills and your personality. It?s a package deal! While this is especially true with wedding and portrait photography, it is also true in commercial work, which is mostly what I do.
I shoot interiors and food, and I can?t even tell you how many times clients have said to me: ?Wow, it?s so much fun working with you! Other photographers were good, but unapproachable and inflexible.? Your clients' promotion is your best form of advertising, so take good care of them.
Sure, there are difficult customers and challenging situations making us sometimes want to quit. Well, guess what, my friends, that's the case in every field. As hard as it might be, stay with that client until they are 100% satisfied with your service, even if you need to offer a partial reshoot at no extra cost.
Your job is to deliver images that have the "wow" factor, no matter the subject or the situation. Patience, graciousness, and professionalism are the necessary "soft" skills you'll need to help you grow, succeed and build a good reputation. And if your work is amazing, but you're the difficult one to work with, consider having an agent to represent you for the people-side of the job.
Great people skills are important when working with clients as well as in building a good network within the photography community. This business is all about sharing and networking. For example, I don?t shoot weddings, but when I get a request to do one, I refer that client to another photographer.
So many photographers are afraid to network because they are either shy or don?t want to share their ?secrets?. Networking and sharing is how you find the work and grow your business. Hey, if you?re good, you?ll get the work. Don?t worry – there's plenty of work for everyone. So when you're not able to take an assignment for whatever reason, refer that client with someone else. I guarantee that such generosity will circle back to you in the long run. If you refer a fellow photographer to your client to help them out, I can assure you that the photographer will reciprocate when the occasion arises. Be generous!
Conclusion: The more clients you have, the more you will improve your people skills. Your clients are critical to you becoming a successful professional. Their referrals are the best form of advertising you can get. I know – it?s cliché, but it?s true! And be generous within the community, especially the newcomers! Networking means referrals and everyone benefits.
Part 3 titled 'Passion and Vision' is coming soon!
Want more tips on Going Pro as a Photographer? Check out the dPS eBook kit – Going Pro: How to Make Money Through Your Photography.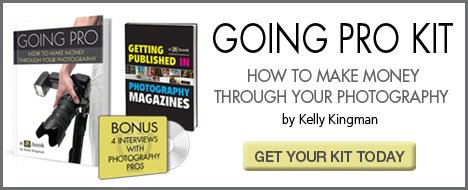 Post originally from: Digital Photography Tips.
Check out our more Photography Tips at Photography Tips for Beginners, Portrait Photography Tips and Wedding Photography Tips.
Turning Pro Part II: People Skills and Generosity