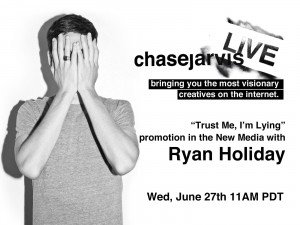 An online stunt or evocative content takes your work, your product, or YOU from total obscurity to internet sensation. A photographer wins a campaign even though she sucks. A malicious online rumor costs a company millions. What you don?t know is that someone is responsible for all this. Usually, someone like Ryan Holiday. And Ryan is my next –brilliant and certainly my most controversial– guest on chasejarvisLIVE this coming Wednesday, June 27th. You will not want to miss knowing the ethical AND unethical ways of making your work jump off the page and the screen.
Ryan is a media genius who hires and fires creatives–photographers, filmmakers, designers and more people just like us– AND he promotes, inflates and hacks some of the biggest names, celebrities and brands in the world. Ryan Holiday is all these things, he's also the Director of Marketing for American Apparel, and he's just 24 years old (yes you read that correctly – he took the job after he turned legal drinking age…). Mind blowing responsibility and million dollar budgets, plus the brains behind all those risque American Apparel ads you've seen…. Want to know all his secrets? How to create content that gets noticed? How to get hired as a creative? How to get your name in lights? And then hack the system to get results? It's more than you think, and it's not all fun and games. These insights and more will be the topic of the next #cjLIVE. Much like the Ramit Sethi and Tim Ferriss episodes, this coming show is another hard-hitting, actionable, how-to get shit DONE (and what to avoid) episode.
Who: You, Me, RYAN HOLIDAY and a worldwide gathering of creative people
What: Interview and your worldwide Q & A Ryan Holiday
When: This Wednesday, June 27th, 11:00am Seattle time (2 pm NYC time or 19:00 London)
Where: tune in to http://www.chasejarvis.com/live. It?s free – anyone can watch and we'll be taking YOUR questions via Twitter.
In addition to providing you with a roadmap for understanding all the above media mayhem, this #cjLIVE show will celebrate Ryan's much-anticipated book Trust Me, I'm Lying: Confessions of a Media Manipulator (pre-order via that link). Here's what people are saying about Ryan, below, plus a chance to score the first run signed copies of his book that ain't even out yet, plus other goodies at the bottom of this page…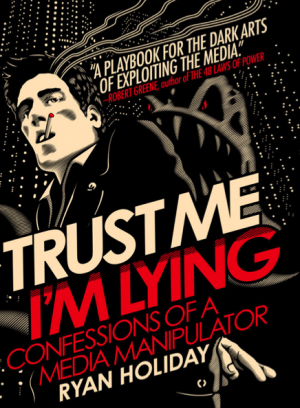 ?Behind my reputation as a marketing genius there is Ryan Holiday…? ?Dov Charney, CEO and founder of American Apparel
?Ryan is part Machiavelli, part Ogilvy, and all results. From American Apparel to the quiet campaigns he?s run but not taken credit for, this whiz kid is the secret weapon you?ve never heard of.? ?Tim Ferriss, author of the #1 New York Times bestseller The 4-Hour Workweek
?The strategies Ryan created to exploit blogs drove sales of millions of my books and made me an internationally known name. The reason I am standing here…is because of his insider knowledge.? ?Tucker Max, author of the #1 New York Times bestseller I Hope They Serve Beer in Hell
?Ryan Holiday is real. Not only real, but notorious for creating risqué ads online for American Apparel. How could a kid barely legal to buy a drink be the Don Draper of the Fast Company crowd?? ?317am.net
?Ryan Holiday is the Machiavelli of the Internet age. Dismiss his message at your own peril: He speaks truths about the dark side of Internet media which no one else dares mention.? ?Michael Ellsberg, author of The Education of Millionaires: It?s Not What You Think and It?s Not Too Late
?This primer on how to hack the media zeitgeist is so incredibly accurate, it just might render mainstream media completely useless. As opposed to mostly useless like it is now.? ?Drew Curtis, founder Fark.com
***And last but not least… 2 things very important…:
1. Score. In order to pimp this show and help bring together another gi-normous worldwide online audience, Ryan will be giving away 2 signed copies of his forthcoming book "Trust Me, I'm Lying: Confessions of a Media Manipulator". You will be the first to get your hands on this book, as it's not officially released until July 19th. To score one of these collector items, send out a creative and interesting tweet that contains the URL (or short url) to THIS post AND hashtag #cjLIVE starting NOW and ending at the beginning of the show on Wednesday. Enter as many times (tweets) as you want – tweet and retweet – we'll be watching out for your shoutouts.
2. Special. If you want to score a one-of-a kind gift from Ryan himself, tune in during the show – it will be special, and he'll tell you how – gotta watch to nail this one…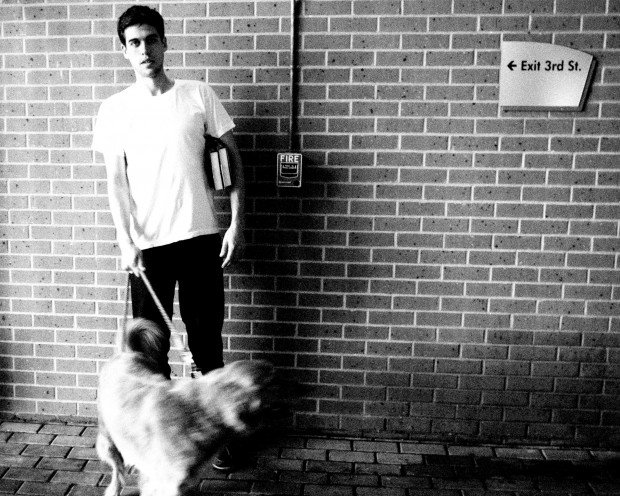 Snapshot I grabbed of Ryan with Tucker Max's dog in Austin, TX, 2012.