TRICKS FOR TREATS SNOWFLEX RAIL JAM AT WOODWARD AT COPPER ON HALLOWEEN
The Return of Fall Classes, starting November 1stCopper Mountain, CO…October 26, 2010…Woodward at Copper is the premier trick stomping playground that features The Barn, a 19,400 sq. ft. indoor facility complete with indoor artificial snow jumps and jib lines, foam pits, skate features and Olympic fly-bed trampolines, offering indoor and outdoor training programs where you can learn tricks in the Barn and take them on snow the same day.
Enjoy the season's first rail jam in The Barn on Halloween with the Tricks for Treats Snowflex® Railjam. Also, starting the day after the rail jam is the 2nd round of Fall Classes in the Barn, including Skateboarding, Tumbling & Trampoline, Snowflex® & Trampoline and Strength & Conditioning.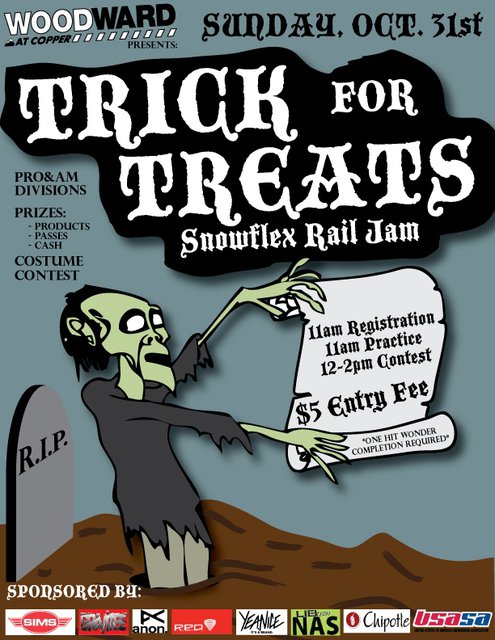 Tricks for Treats Snowflex® Rail Jam in the Barn, Oct. 31
Looking for an awesome way to spend Halloween? Look no further…Woodward at Copper has got you covered. Come on down to The Barn for the first-ever Halloween Rail Jam on the Snowflex®. The festivities will kick off at 11 a.m. with registration and practice, followed by the actual contest from Noon – 2 p.m. for both pros and amateurs. There is a $5 entry fee that goes to the winners as well as prizes such as Woodward at Copper passes and clothing, and general snowboarding/skiing product and swag. In addition, wear your best Halloween costume for the costume contest. The Tricks for Treats Rail Jam is sponsored by: Sims, Gravitee, Anon, R.E.D., Chipotle, NAS and USASA. Sign up at the Barn or call 970.968.3400.
Fall Classes, Round 2, Nov. 1 – Dec. 12
The best way to get ready for shredding the park and pipe this winter is to take a Woodward at Copper Fall Class. These classes are great for all ages, and cover the following topics: Skateboarding, Tumbling & Trampoline, Snowflex® & Trampoline and Strength & Conditioning. All classes run once a week for 6 weeks (except the Strength and Conditioning class – no class on Thanksgiving). There is a minimum of 5 participants to hold a class and pre-registration is required for all classes. Register by completing the form online (http://www.woodwardatcopper.com/site/ourprograms/Classes) or by calling the Barn at 970.968.3400.