Mammoth mini MOUNTAIN open
Wanaka, New Zealand – Over 60 competitors swarmed Treble Cone for the first ever mini MOUNTAIN open. The two day event was set up for skiers and snowboarders under twelve years old as an introduction to the world of competitive alpine sports.
Nearly all competitors took part in Saturday's Treble Cone Sponsored Freeride Clinic with Geoff Small and Treble Cone's top Snow Sports Instructors. This proved essential to the events success because competitor's fears were calmed with the instruction on safety, line selection and tips on judging criteria for the following day.
"It was amazing to see the competitor's development over the course of two days. The level of progression was high as the small crews pushed each others limits, feeding off the creativity. This kind of event is a perfect match for Treble Cone, and we are looking forward to future events of this variety," said Geoff Small, Head Judge.
The benefits of the clinic were clear as the event started on Sunday. Some competitors put on bibs for the first time and felt the small pangs of anxiety at the starting gate, but the camaraderie was high, keeping kids and parents amped for both runs through the progressive course.
At the end of the day, the Treble Cone sun deck came alive as a truckload of goody bags were unloaded onto every competitor. PUMP Water showed huge support keeping everyone hydrated through the end of the day.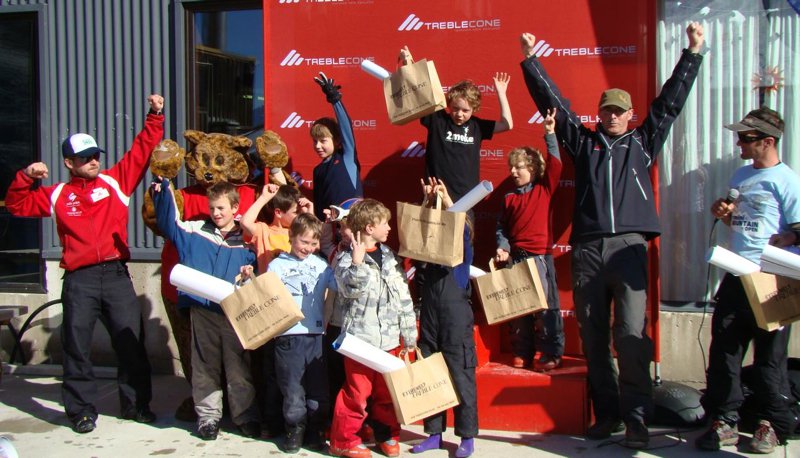 "This is the first time this kind of event has taken place and the buzz during the past two days has exceeded our expectations. The kids have been totally stoked with the format and we look forward to running more events of this nature; these kids ripped and are the future of snow sports in New Zealand," said Antony Hansen, Spokesman for Treble Cone.
With the South Island's largest vertical descent, the most terrain and longest groomed trails, Treble Cone is New Zealand's premier alpine resort. 360 degree views of the snow capped Southern Alps, the brilliant blue Lake Wanaka and the rugged Central Otago landscape make this one of the most memorable views of any global resort. Situated on the edge of Lake Wanaka, Treble Cone has established itself as a mecca for all snow enthusiasts both locally and abroad. Treblecone.com