Spring Skiing? Is it spring outside? You would know it standing in Aspen CO right now.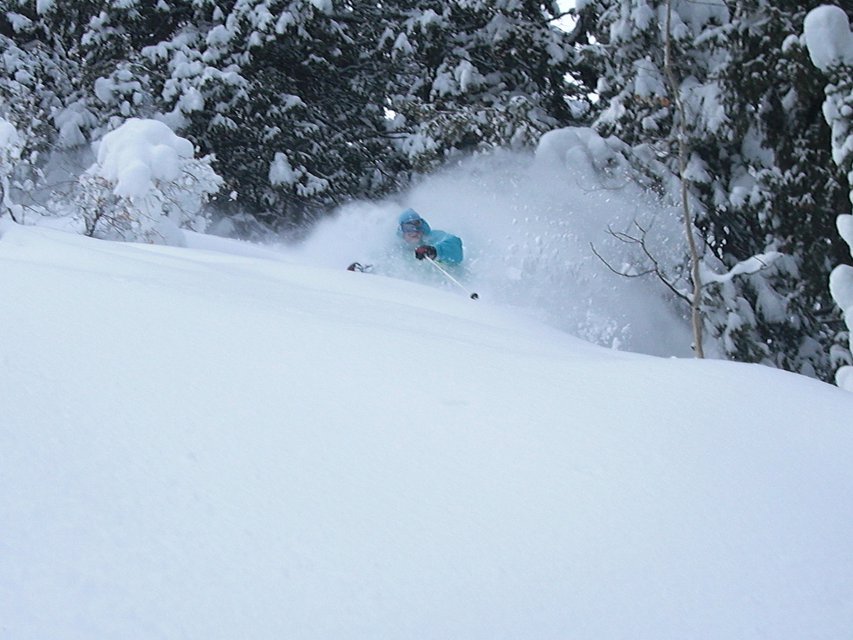 Over three feet of light snow has fallen this past week. A total rebate that was well deserved after two weeks of 60 degrees weather. But I wouldn't really know much about that considering I was skiing my "Tits" off in the most beautiful place in the world. Switzerland was a once in a life time experiences filled with dank cheese and fresh snow. After about 24hours of travel from my home in Aspen I arrived in Zurich Switzerland. After a beer and a coffee in the airport I was met by Tom Winter and Jake Bogoch. Two amazing writers/photographers that were soon to be two amazing friends. We hopped a couple trains that raced along the country side and pierced through mountains till we reached our first destination.
Vals was the smallest of the resorts skied while in Switzerland but the snow was by far the best.
The first thing that I noticed when we arrived at Vals was the smell. The air had the aroma of goats and chimney smoke. Pretty much exactly what I imagined a little town in the Swiss Alps would smell like. The first night Vals received two plus feet and it was on. The mountain was filled with little cliffs and secrete pow stashes that surprisingly none of the locals ever skied. We were like kids in a candy store or more accurately like skiers in Switzerland. It was epic. After a few amazing days of pow skiing and a some delicious Apre ski beers it was time to move on.
Our next stop was another small town nestled at the base of mountains that reminded me of something you would see in Alaska.
Disentis was probably my favorite spot we skied while in Switzerland. Pretty much every run we took involved 7,000 feet of vert, Ill Alaska style chutes and pillows and cliffs galore. My favorite run of the trip was at the end of the second day in Disentis. After an apre ski beer we meet up with some local photographers who were waiting for the proper snow conditions to ski off the back side. With the mass amounts of snow they had, combined with intense heat, threee new wet slides would rip each morning. These are huge avalanches of super wet, heavy snow balls sometimes the size of a VW Bug. This meant that we had to plan our big descents when the snow was cooling down rather then heating up to avoid any danger. It only took 30 minutes of hiking
from the top t bar and we were standing above a 4,000 sustained vert run with cliffs and chutes all the way down.
My line was on the far skiers left of the run and was pretty intense. My first 300 feet was a ridge line with cliffs on one side and was littered with rocks below. A for sure," no fall zone."
After that it was wide open, balls to the walls, rippin. The snow was sick and the best part was after 8,000 vert we ended up on the kiddy hill of a resort 10 miles away from Disentis. We skied right to the train station and grabbed a couple of tall boys while we waited. Our next stop was St. Moritz. Everyone has heard of St. Moritz and it is exactly like what you have heard. It is the spot in Switzerland for the Rich and the Richer. Windows were filled with 65,000 EU watches and ski out fits that could be sold for the same price as a small country. Besides all that jazz though St. Moritz is sick. With 4 mountains to choose from it kinda reminded me of Aspen. But fricken Huge. The snow was not the best but we defiantly found some goods.
In the Two days we were in St. Moritz we skied every mountain they had to offer. Not every run though because you could spend an entire season hear and not drop every cliff or ski every line.
This next shot does not quite tell the story. We hiked for 20 min to get atop this ridge that was not more than 30 feet below the tram. Every time the tram went buy people on it would cheer and clap. The whole experience was hilarious and the turns were epic.
After two weeks of epic skiing in Switzerland it was Finlay time to leave. One thing that I learned about Switzerland while I was there was that I was going to need to return, soon. Next was how the Swiss people work to live where as Americans live to work. I respected that, however when noon roles around, every business in the entire country shuts down for a two hour lunch. This can be extremely frustrating when attempting to catch a bus or even just buy some groceries. I also learned that it is important to at least have a general understanding of the language spoken or you might end up on the wrong bus or even miss the last bus all together. The amazing hospitality and good nature of the people we met was refreshing and the mountains were out of this word. This was pretty much the trip of a life time and I could never thank Liberty Skis enough for making this trip possible.