From the architecture and history of Italy, we now focus the Travel Photography Inspiration Project?s lens to Vietnam.
Vietnam has always been in the back of my mind as a travel photography destination, but I have yet to set foot in the country. From the moment the submissions you will find below started dropping into my inbox, I began moving Vietnam toward the top of the list.
I hope the photos and the travel/photography tips submitted by your fellow DPS readers helps you plan a trip abroad soon! My thanks to those who submitted such high quality images and information.
And if you would like to be involved in the next country?s post, drop me a line here.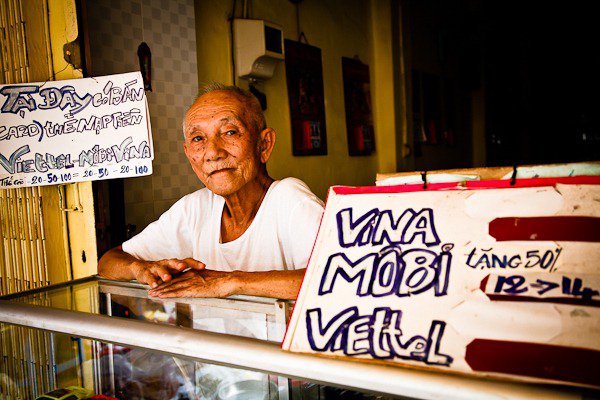 Mobile Man by Jon Sanwell
This gentleman was selling mobile phones and SIM cards from a little cabinet just outside his front room.  I wish I'd taken this at a slightly lower angle, so that you could see what's on display on the shelf in front of him.  Advice to self: think more about composition in portrait photos.  Taken in Can Tho.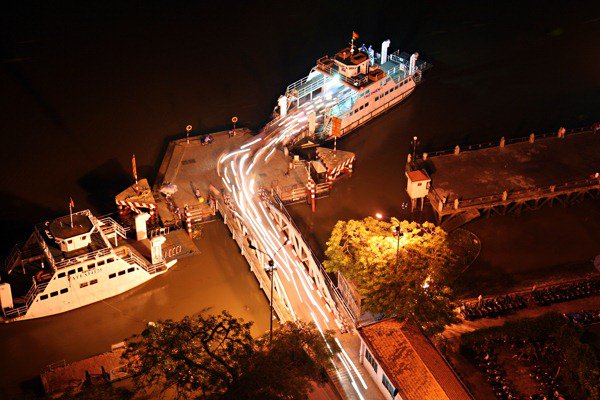 Ferry by Veni Oliveros
Motorbikes create light trails as they leave the Saigon Ferry.  I opened the shutter for two seconds for this photograph which I took from a hotel balcony. Vietnam is known for the thousands of motorbikes plying its streets.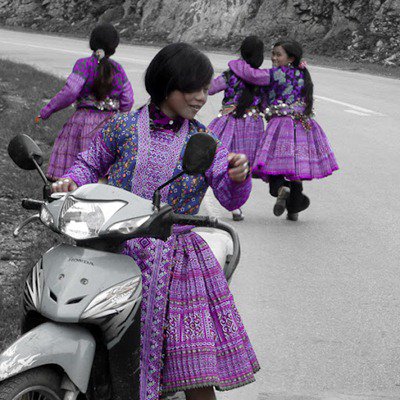 Untitled by Shaun Sava
The northern mountains boast numerous indigenous tribes that are well known for their traditional colorful clothing. Kids are fantastic to photograph, even as they try to run away! With a little help in post-processing I was very pleased to be able to highlight the amazing purple in these girls outfits.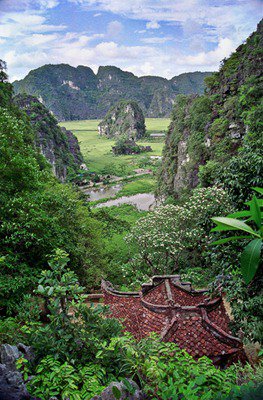 Pagoda in Tam Coc by Alexandre Ayer
Tam Coc, near Ninh Binh, about 1 ½ hours south of Hanoi is a must see destination. Think rice fields as far as the eye can see, massive caves that you can float through on a little boat, massive karst mountains towering above you. Depending on what season you choose, the rice fields will be more or less lush and green (this picture was taken in May).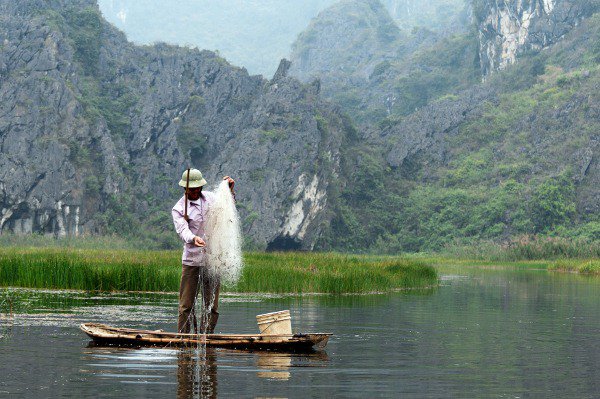 Fisherman in Halong Bay by Sebastien Miesch
Halong Bay is a must see when visiting Vietnam. Anywhere you look, it is a scene. The fishermen stand on their boat when getting the nets out of the water. As I was in a boat too, I asked the "driver" to slow down, so I could get a sharp picture. Do not hesitate to ask to get closer or further to compose the image as you want : Vietnamese people are sympathetic with photographers.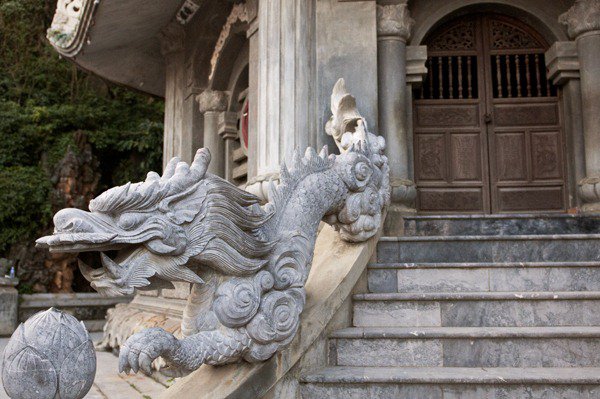 Marble Mountains, Danang by Claire Kennedy
There are a lot of mountains in the South Central Coast region of Vietnam, and many attractions are situated high up on these mountains. If you are travelling to this area my best advice is to not only prepare to walk around with your camera gear but also up lots of stairs.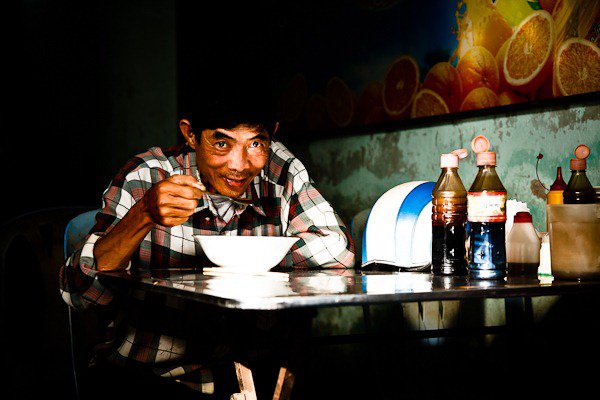 Untitled by Jon Sanwell
I walked past this little streetside cafe in Can Tho one afternoon, and was struck by how the man's face was lit up by the sunlight reflecting off the metal table.  I always used to zoom in a lot for portrait photos, but now I'm more often using wider angles from closer in, to provide some more context.  I underexposed by a stop to keep the background dark and make the most of the reflected light from the table top.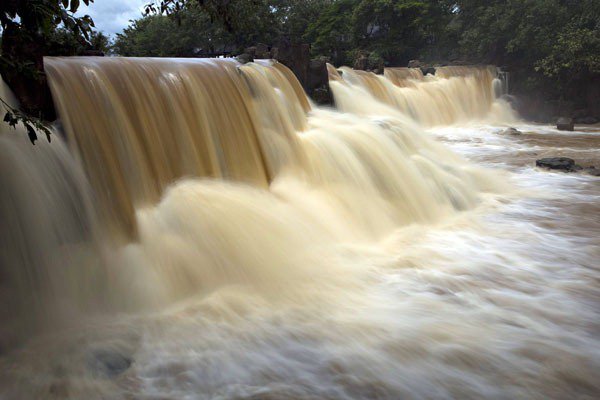 Giang Dien by Veni Oliveros
After a storm, Giang Dien Falls in Trang Bom District looks like flowing chocolate milk.  I used a long exposure and tripod to achieve the silky effect.  Trang Bom is located about 50 km from Ho Chi Minh City and can be reached by bus.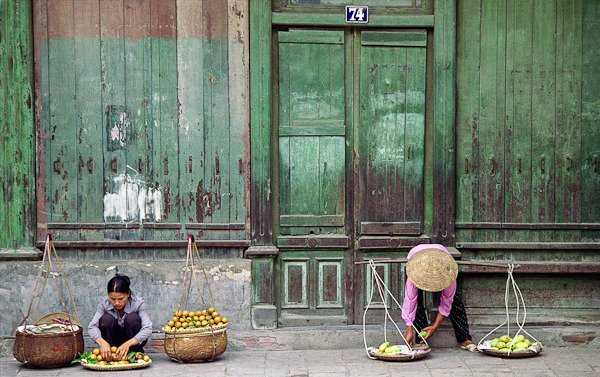 Fruit vendors in Old Hanoi by Alexandre Ayer
The old quarters of the city of Hanoi offer many photo opportunities, and you can easily spot the colonial influences all around town. In this case, the street number sign is the same one as you would see in a street in Paris.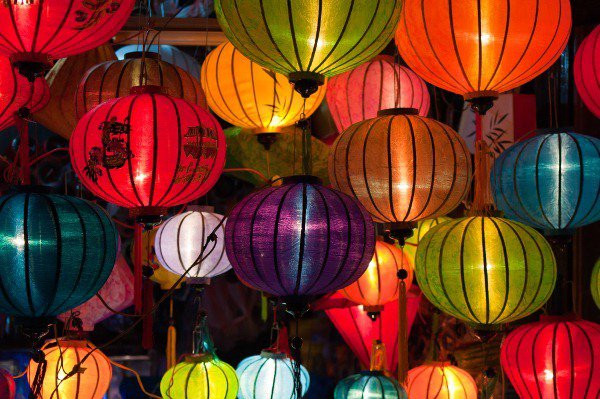 Silk Lanterns by Sebastien Miesch
The city of Hoi Han is well known for its handcrafted silk lanterns. I waited for the night to capture the beautiful colors of the lit lanterns. As the picture was taken handhelded, I had to set a high aperture (small f-number) and high ISO to get a sharp image. If possible, help yourself leaning against a wall.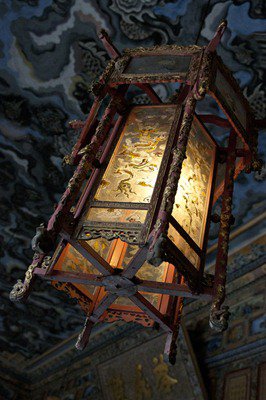 Khai Dinh Tomb by Claire Kennedy
There are plenty of tours to several of the popular Tombs outside of Hue. Most of these tours are in busses, but the best way to get around is by motorbike, whether you ride yourself or hire a guide, it's much quicker to get around on two wheels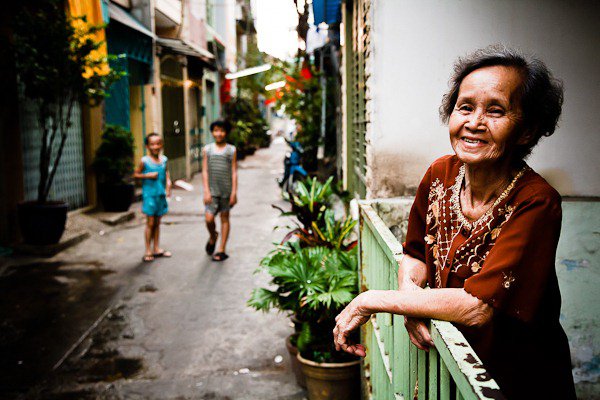 Life In The Slow Lane by Jon Sanwell
Most visitors to Ho Chi Minh City (Saigon) are struck by the chaos of the city streets.  Step away from the main streets, though, and you'll find a maze of narrow alleys and lanes where life is lived at a much slower pace.  I recommend wandering around these backstreets, stopping for some street food or Vietnamese coffee, and experiencing some everyday Vietnamese life.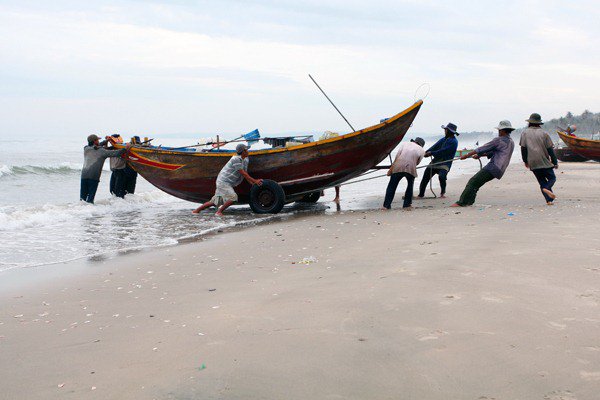 Phan Thiet by Veni Oliveros
Men work together to bring their boat to shore in a fishing village in Phan Thiet in the southeastern province of Binh Thuan.  One must be there early in the morning to be able to photograph the village's daily routine.  Phan Thiet is also known for its resorts and sand dunes and can be reached by bus or train.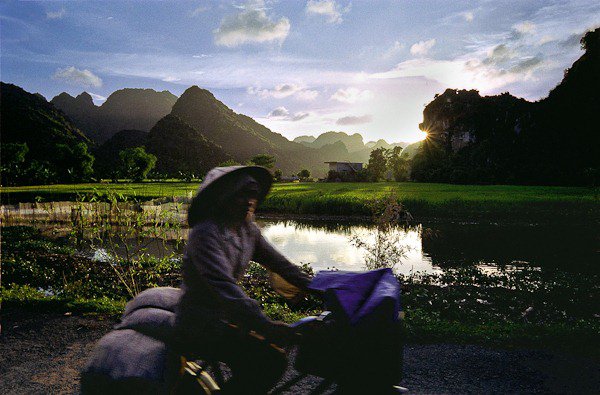 Sunset in Tam Coc by Alexandre Ayer
A landscape looks nicer with a foreground. In this case, I framed the shot and just waited for the woman on her bicycle to come into the frame.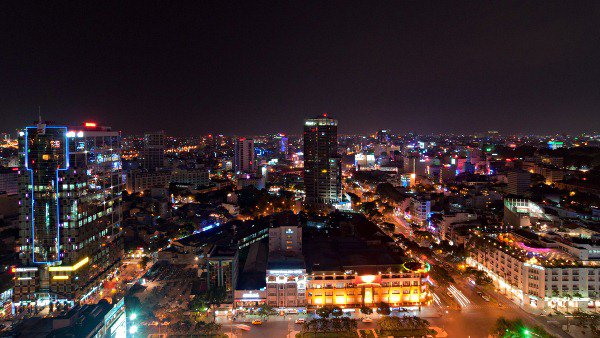 Saigon or Ho Chi Minh City by Sebastien Miesch
Saigon is a very interesting city for street photographers but I wanted to get a nice skyline picture. I read carefully my travel book to get the adress of one of the several bars or restaurants located on the buildings' roofs so I could get a nice viewpoint. A pocket tripod, a beer and let's go for a few shots…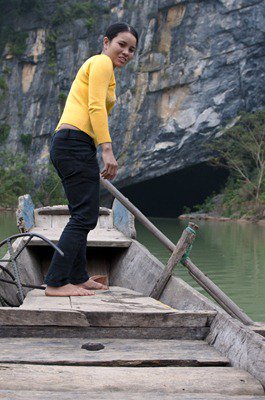 Phong-Nha Ke Bang National Park by Claire Kennedy
I found while travelling through Vietnam from Hanoi to Saigon, people were more than willing to be photographed.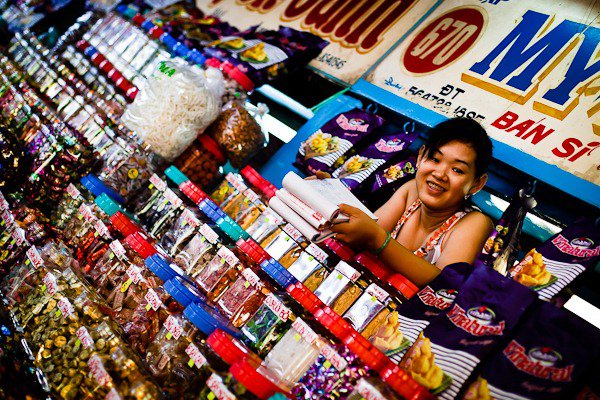 Untitled by Jon Sanwell
This was taken in Binh Tay market in Cholon, Ho Chi Minh City's Chinatown.  Vietnamese markets are great locations for photography.  They're hot and crowded, and space is tight; my advice is to leave your telephoto lens at home and get close to the action with a 50mm or standard zoom lens.  Before I took this shot, I took a few close up shots of the jars.  After a while, the girl in the picture got used to me being there, realised I was harmless, and relaxed enough to let me take her picture.
My overall advice for taking pictures in Vietnam would be to travel light.  It's hot and humid most of the time (all of the time in the south), so a massive kitbag will weigh you down and wear you out.  I tend to carry a DSLR with one or two lenses, a good book and a bottle of water in a small shoulder bag.  For taking people pictures, my advice is just to smile and be nice.  I like to interact a little with people when I take their picture, even if it's only through nodding, smiling and a few words of my limited Vietnamese.  I think this makes it a much more enjoyable experience for everyone involved.
Mekong by Veni Oliveros
A watermelon vendor brings her goods to the Can Tho floating market on the Mekong River.  (I was also on a boat so I used shutter priority and burst mode to capture this scene.)  Every morning this market teems with activity, providing numerous photo opportunities. You can easily arrange for a day tour of the Mekong at downtown Saigon (Ho Chi Minh City).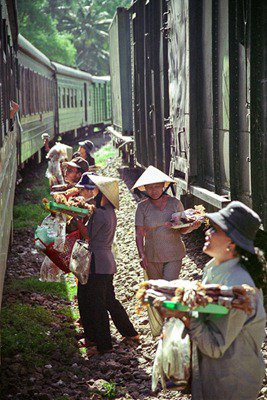 Selling dried fish, Nha Trang by Alexandre Ayer
The train tracks in Vietnam often run parallel and close to the ocean. If you?re travelling north, try to sit on the right side of the wagon to enjoy the views. And if you?re travelling south, sit on the left side. You can just shoot right out the window. Also, there are plenty of delicious snacks available at every stop, right at your window !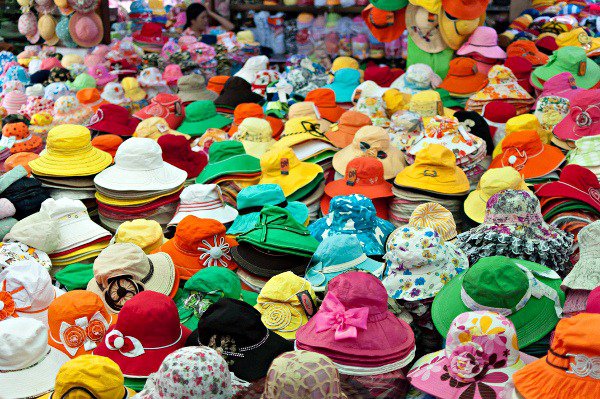 Explosion Of Colors by Sebastien Miesch
Ben Thanh Market in Saigon offers a nice opportunity for photographers to get unusual pictures. It is a real maze and you get totally lost after a few minutes walking across the multiple paths. This stall was full of hats. I used a wide angle to get the whole stall and I had to set a high ISO value because of the poor light (indoor market).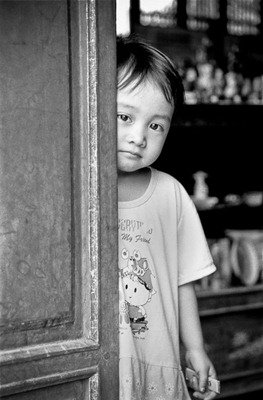 My friend, Hué by Alexandre Ayer
As in many south-east Asian countries, the population of Vietnam is very young, and you will meet many children. Some will be shy, some will be playful, some will want to sell you various goods, and some will beg for money. Make sure you know what the average wage is in Vietnam, as it is important not to give too much to a beggar, especially a child. If he can make more money than his father by begging to tourists, why would he want to go to school or learn a craft?
Post originally from: Digital Photography Tips.
Check out our more Photography Tips at Photography Tips for Beginners, Portrait Photography Tips and Wedding Photography Tips.
Travel Photography Inspiration Project: Vietnam