With the world turning its interest to the UK as the Summer Olympics approach, let?s get a jump and see what DPS readers think of the country. We?ll see enough of the pomp and circumstance in a month, but for now, travelers and residents alike let us peer through their lens.
This is the eleventh country we are covering in the reader fueled DPS Travel Photography Inspiration Project.
If you would like to be involved in the next country?s post, drop me a line here.

The London Eye and the County Hall at night by Dev Wijewardane
Tip – The buildings along the Thames are lit pretty well and an evening walk with the camera is worth it.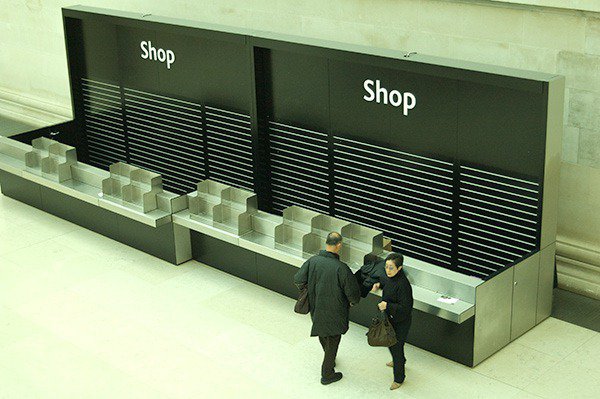 Exit Via the Gift Shop by Kelly Irving
OK, the title's appropriated from Banksy… however, the vacant gift shop is in one of London's premier tourist attractions: The British Museum. How can you shop when there's nothing on display? I'm a fan of, and vigilant for, signage and its incongruities.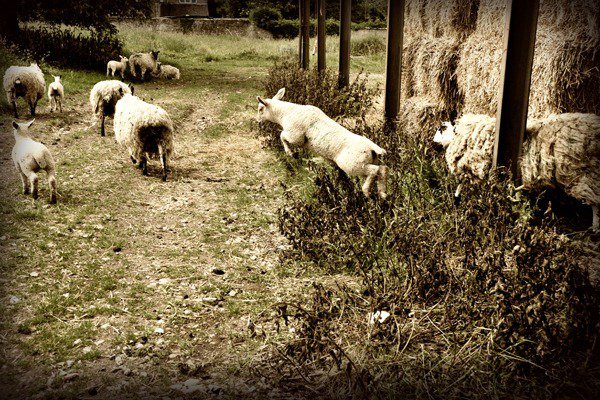 Lambs by Linda Olson
We had stayed on an old manor farm so were surrounded by horses, lambs, sheep and cows. As we went around to the aged barn with no roof, we startled the sheep who scurried away. Afterwards, I tinted this shot to be a bit more artistic.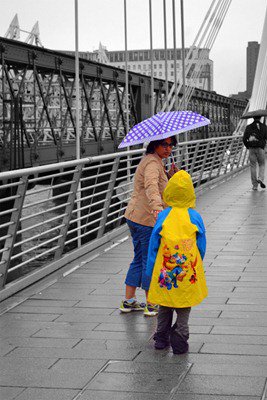 "Come With Me" by Luke A. Bunker
This photo was taken on the Wobbly (Millennium) Bridge in London as a mother tried to get her son to come with her (presumably) to get out of the rain. There have been days when going to the beach or out in the rain when I stow my camera away, but certain days present themselves well for taking a risk… I did a bit of selective coloring on this shot to bring out the blues and yellows of the umbrella and child's jacket.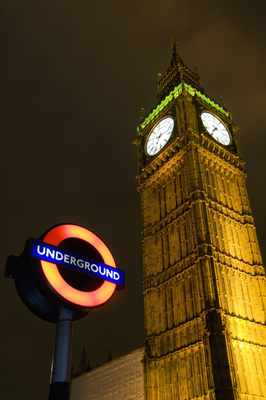 London's Icons by Arturo Lavin Gonzalez
This picture was made after the rain passed away. You should always be prepared to protect your photography equipment from the rain while in London. I used my tripod to be able to use a long exposure making this photograph and avoid any shake in the picture.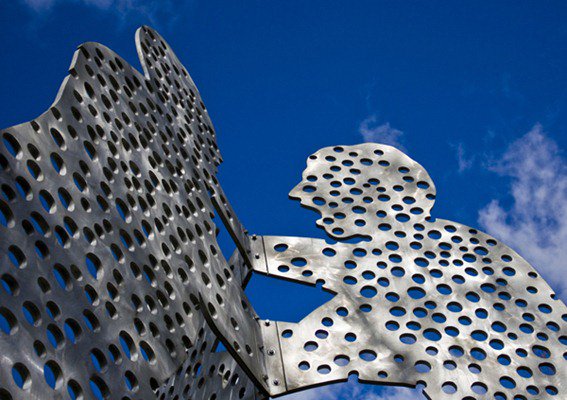 chrome men by Brian Kinsella
Huge steel sculptures in the Yorkshire sculpture park which I took loads of photos of from different angles. I had very little to do here as the sun was shining and the sky was perfect.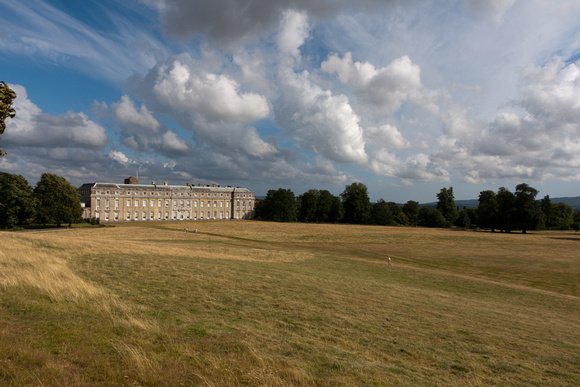 Petworth House by Richard Keeling
The Wyndham family home and now a National Trust museum (the family live in the south wing). This enormously expansive estate, grounds designed by 'Capability' Brown, was the subject for many landscapes by J. M. W. Turner. In this shot, the miniature figure in the center is my mother. Seeing how such an important figure in my life can be swallowed up by such a scene only reinforces a strange of isolation and loneliness in the midst of such grandeur.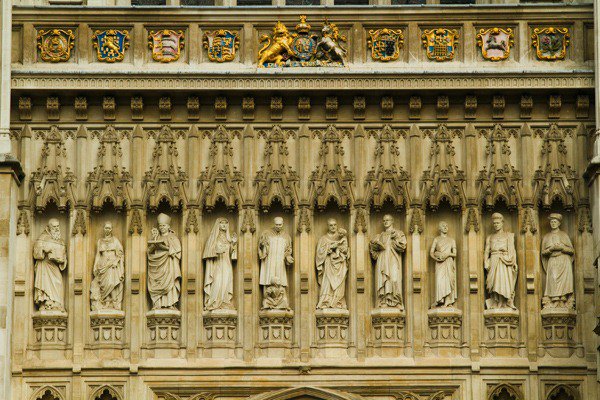 Detail above the entrance to Westminster Abbey by Dev Wijewardane
Tip – Look out for intricate details in churches and palaces.
Carousel by Kelly Irving
London is packed with scenes that could be from another age. This carousel must be 100 years old. Once again I took many exposures, playing with the speed settings. I like that the riders are blurred but the relief portrait on the centre spindle is frozen, looking towards the riders.
Pub at night by Linda Olsen
This is the little restaurant we had our first dinner in at the Cotswolds. I loved the evening light. I did not haul my tripod on this trip so had to hand-hold the evening shots. I would recommend a lightweight tripod.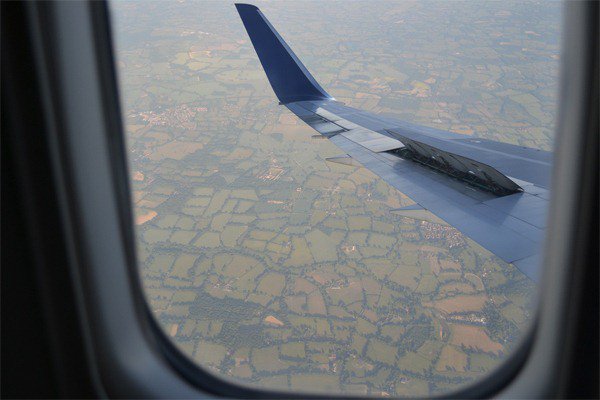 "Outside My Window" by Luke A. Bunker
When traveling to a another place, most "travel snobs" balk at people taking pictures outside their plane window. I, however, feel that there is no better way to start your trip album than with a photo of your destination from above, as in this shot of the UK countryside while on approach to London Gatwick.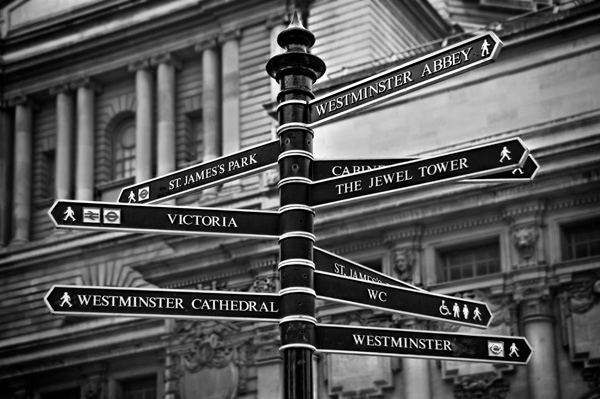 Westminster Road Sign by Arturo Lavin Gonzalez
I loved this road sign when I saw it. I added a Black and White treatment in post-production because I didn't like the colors of the overcast day. I also used a small aperture to subtle the busy background and have all the attention in the road signs.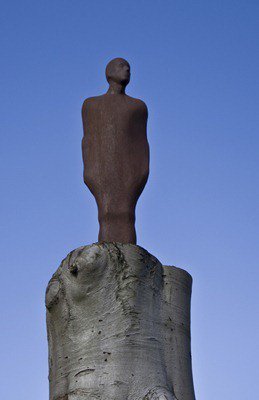 man above by Brian Kinsella
I nearly missed this guy when visiting the yorkshire sculpture park in march, about 20ft in the air on top of a tree. I had very little to do here as the sun was shining and there wasn't a cloud in the sky. The link to the sculpture park is http://www.ysp.co.uk – very cool place and a great site too.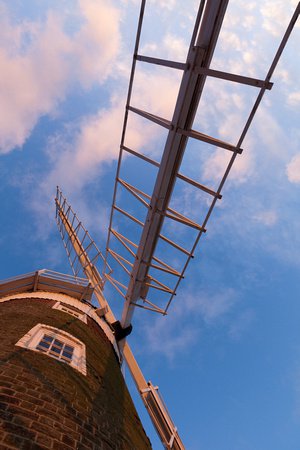 Windmill at Cley Next the Sea, Norfolk by Richard Keeling
What do you have to do to get this shot? Book a room in the Cley Windmill hotel in the windmill itself, awake at sunrise, walk out onto the balcony and look upwards.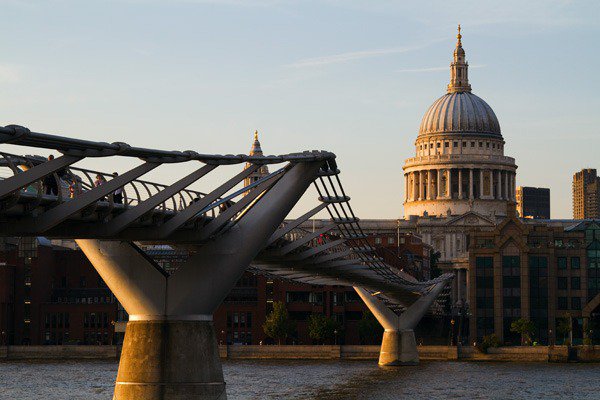 St Pauls across the Thames by Dev Wijewardane
Tip – Do your research before you go and identify potential locations to shoot from. Google maps is helpful!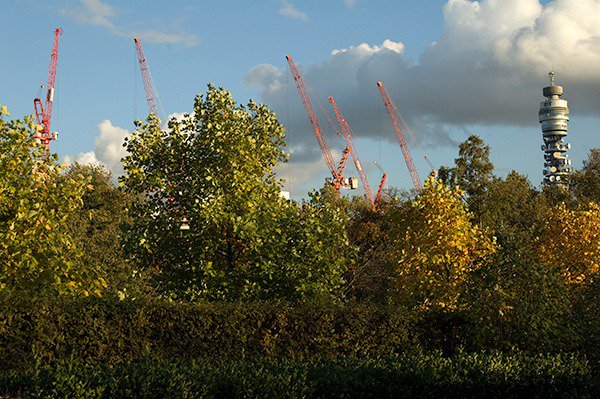 London Grows by Kelly Irving
London has been expanding for a couple of thousand years and shows no signs of slowing down. The building cranes are ubiquitous but here they seem to emerge from the forest and the only visible structure is a futuristic looking tower. I used the foliage of Regents Park to hide the city buildings and took the photo late in the afternoon to maximize the colours and shadows.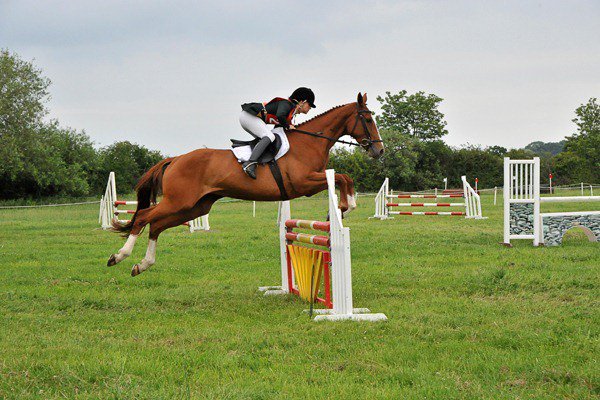 Horse Trials by Linda Olson
While walking through a little town of Broadway, we decided to go to a little market, buy food for a picnic and then see where the day would take us. We came across a country dog show where the townspeople all came out for a little fun. Then we continued to walk up the countryside hills and saw in the distance some activity. It turned out to be a horse Trials competition. We then enjoyed the event before walking all the way back to our B&B. I shot numerous competitors jumping and prancing.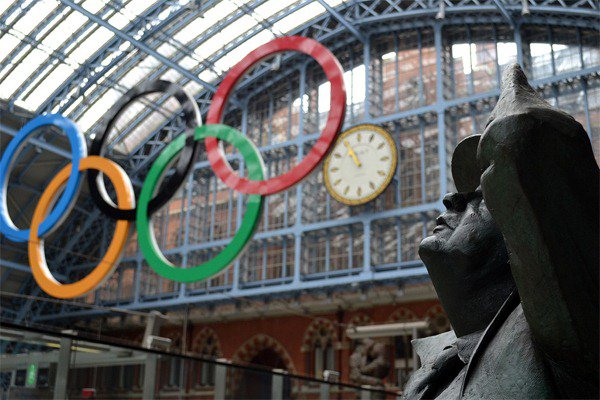 "Olympic Rings at St. Pancras" by Luke A. Bunker
This photo was taken at London's St. Pancras International. A long delay after missing our train to Paris allowed for several hours to roam the station and explore its many works or art; it turns out this delay was a blessing in disguise and is a great example of taking inevitable delays in stride. In this piece, I contrasted the statue of John Betjeman with the Olympic Rings in the background (as London is preparing for its Olympic Games for later this year), trying to frame the photo to where he was looking at those rings.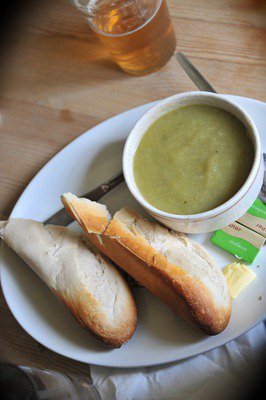 Lunch by Linda Olson
Taking photographs of various meals made our memories of the trip even more vivid. I can just remember the crusty crunch of the bread with the lovely herbs in the pea soup. Glorious!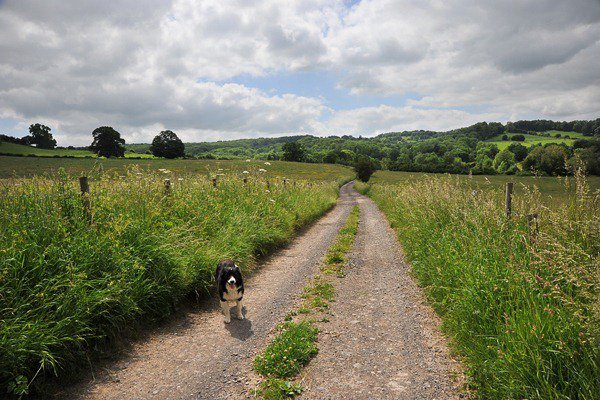 Our guide by Linda Olson
One day, we were walking up the hills on some roman roads and a friendly pup, traveled with us for a bit. He guided us for a while up to a path that led us to some cool old church and cottages. We tried to let our journey be a bit more fluid and discovered some fantastic experiences. We went on a road less traveled.
Post originally from: Digital Photography Tips.
Check out our more Photography Tips at Photography Tips for Beginners, Portrait Photography Tips and Wedding Photography Tips.
Travel Photography Inspiration Project: United Kingdom