Three countries down and about 200 to go. It?s time to check out South Africa for today?s post in the Travel Photography Inspiration Project?s.
While this view of South Africa through the lenses of DPS readers does contain the expected wildlife found at the end of the continent, it will also highlight a mix of images you might not be expecting. From the beach to the interior, South Africa is country full of color and vibrance.
Join your fellow readers/photographers on this journey to South Africa.
And if you would like to be involved in the next country?s post, drop me a line here.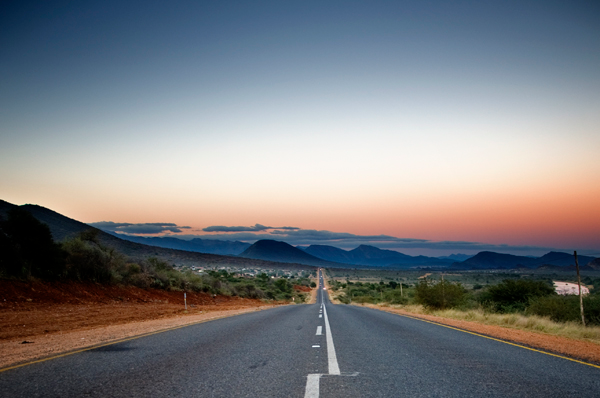 South African Roads by Arturo Lavin Gonzalez
Sunsets in South Africa are legendary. I got caught in a highway when the sun started to fade and the sky took some wonderful colors. I drove to the side of the road, took my tripod out and made this picture using a low aperture to get detail all the way down the road. I used a wide angle lens in this picture to emphasize the foreground and give the idea of a very long road ahead.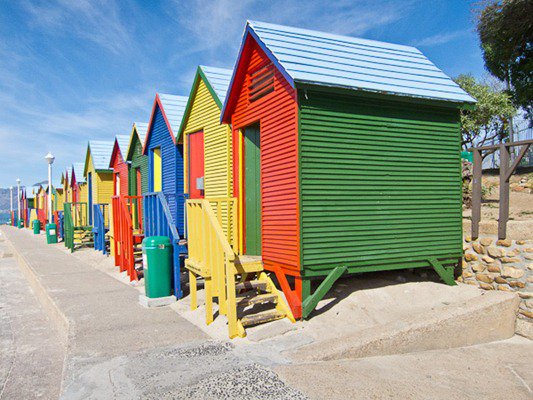 Beach huts in St James by Craig Strachan
Cape Town has wonderful beaches, and in summer the beaches are full of people enjoying the sun and surf. These brightly coloured beach huts, which are found on both St James and Muizenberg beaches, provide a great photo opportunity. If you want to shoot the huts, try to get there in the morning when the sun lights them up, but before it gets too bright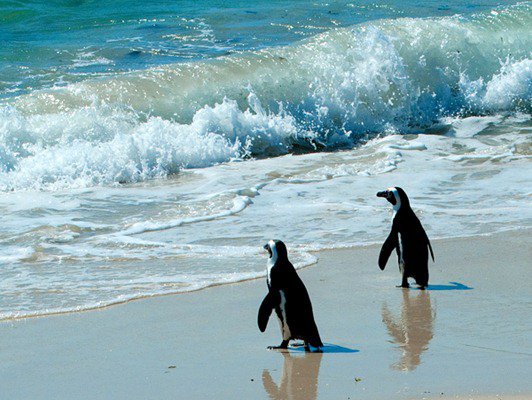 Penguins by Julie H. Ferguson
This is a protected breeding colony in Simon?s Town; one of four in South Africa. The birds are unafraid and close, so photographers can get superb shots easily; I?d swear that some actually posed for me. You will also see nests with eggs and youngsters covered in brown fluff. The only penguins north of Antarctica and the Southern Ocean can be seen at Boulders Beach, south of Cape Town; here wild African Penguins hungry for pilchards head into the warm Indian Ocean.
Diamond Boats – Port Nolloth on the Western Cape coast by 24 Atlantic Photography
Most mornings on this coast have a lot of fog and mist in the west due to the cold Atlantic, but sometimes the sun rising in the east manages to get through this bank of cloud to shine onto the diamond boats laying at anchor in the bay of this quaint little town.  Quite far off the main routes but definitely worth a visit with its old buildings and diamond mining history.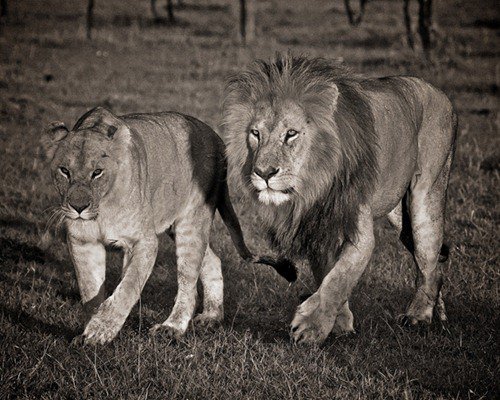 Untitled by Butch Mazzuca
Description: On an early morning game drive from the Tanda Tula Camp in South Africa we came across this pair of lions
Tip: I look for "symmetry" in animal movements.  In this image, both cats are walking in 'lockstep' which adds interest to to the photo.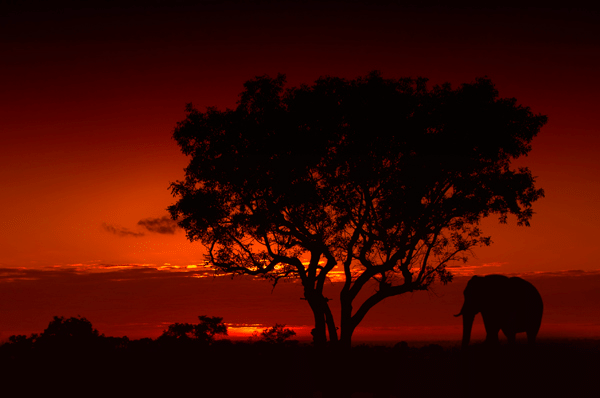 South African Sunrise by Arturo Lavin Gonzalez
This picture was made during the sunrise at the Kruger National Park. I exposed for the sun and then underexposed the shot 3 stops to get only silhouettes on the foreground and have detail in the background.
You need to get out of the hotel early to get this kind of shoot, which should be no problem because all the safari vehicles depart early to the Kruger National Park due to the limited car allowance inside the park. I asked the driver to stop the vehicle and placed my camera on a Monopod outside the vehicle to avoid any shake in the camera when making this picture.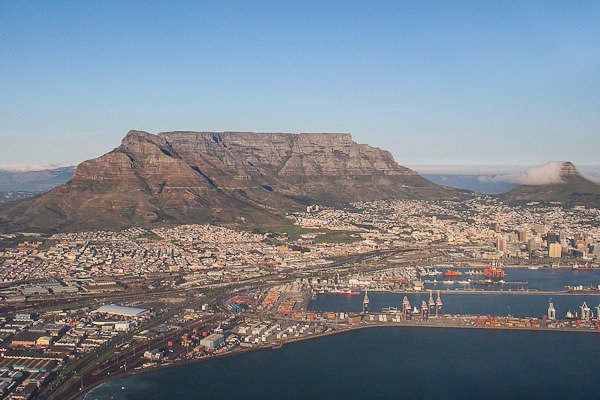 Table Mountain, Cape Town, one of the most recognisable mountains in the world by Craig Strachan
To get this shot, I was strapped into the front seat of a helicopter with the door removed which gave me a clear view of the mountain. Because the helicopter was bouncing around a bit, I shot this at F7, 1/640 at ISO400, which was fast enough to get a sharp focus. There are a few helicopter charter companies offering trips around the Cape Peninsula, a must do if you come and visit.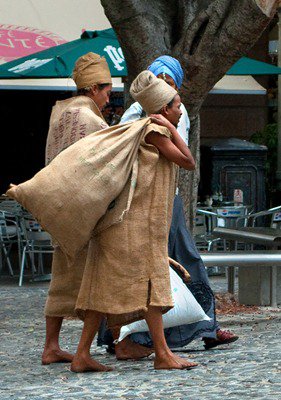 Cape Town men by Julie H. Ferguson
Africans on their way to set up a market stall in the heart of Cape Town.
Spend at least three days here and rent a car to see Table Mountain, Cape Point, and the Winelands. South Africa is much cheaper to visit than North America and Europe. Heineken is $1.76 a bottle and we drank many ? hey, it was hot!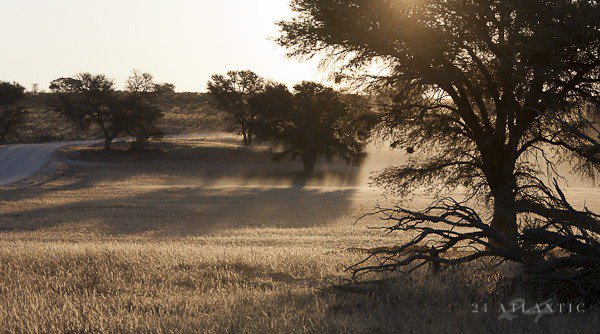 Kalahari Dust – the dry Nossob river bed in the Kgalagadi Transfrontier Park, Northern Cape by 24 Atlantic Photography
The Kgalagadi is one of the few "wild" parks left in the country which gives wonderful photographic opportunities in the extremely dry (and cold) winter months with all the dust in the air and sepia toned vegetation , as it does in the wet (and very hot) summer months with majestic  cloud formations, everything suddenly green and colorful.  Definitely a place where the rules of shooting early morning / late evening apply!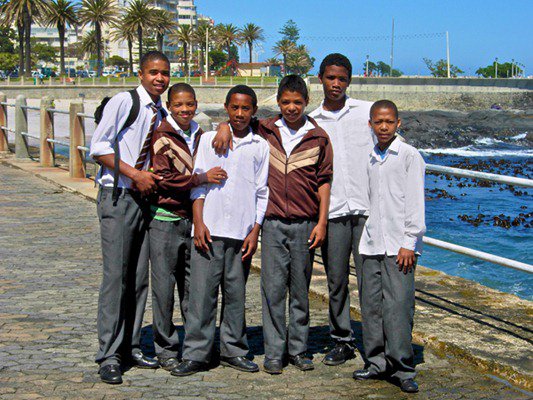 Untitled by Butch Mazzuca
Description: We we walking along the waterfront in Cape Town when we ran across these young school boys on their way home from their classes.
Tip: Africa isn't always about animals–people make very interesting photos.  These youngsters were only too happy to pose for my little "Coolpix" camera.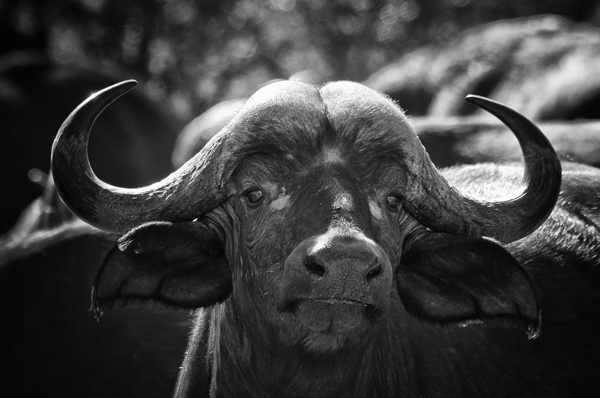 African Buffalo by Arturo Lavin Gonzalez
This image was made during a safari at the Kruger National Park in South Africa. I post-processed this photo in black and white because it let me get all the attention to the details  in the buffalo and get over some distracting colorful bushes at the background.
I used a 400mm lens to get this shot. Wildlife are not always close to the safari vehicle so you need to be prepared with long glass in case the driver can't get any closer to the wildlife you want to photograph.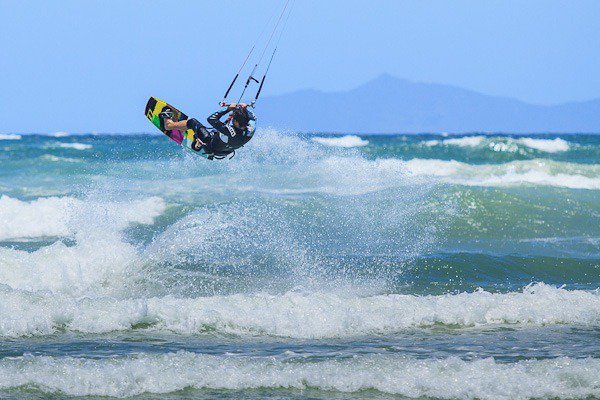 Kite surfing on Muizenberg Beach by Craig Strachan
If you like water sports, you will love Cape Town. Kite-surfing has grown into a huge sport, and if the wind is blowing you will see the sails of the kites from far away. To get the surfer and the spray in focus, I increased the ISO to 200, and shot at F4, 1/1000 (200mm).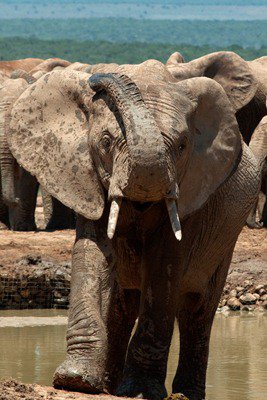 Aggressive Elephant by Julie H. Ferguson
An aggressive elephant heads straight at me in Addo Elephant National Park, Eastern Cape.
Addo is not to be missed and visitors can self-drive in this hot, arid park. Elephant can?t be missed either?you?ll be so close, you?ll have to change your lens from a long to a shorter telephoto.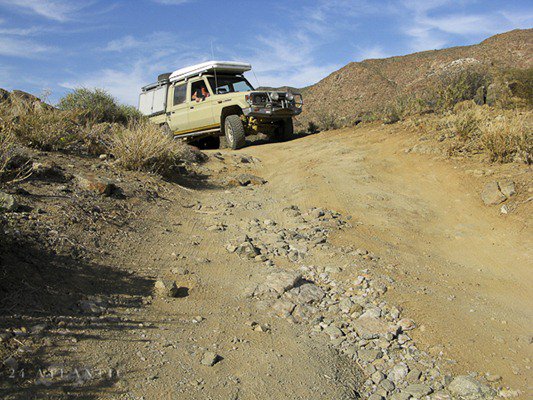 Akadis Pass – Richtersveld Transfrontier Park, Northern Cape by 24 Atlantic Photography
The Akadis (meaning lizard) Pass being one of the 4×4 routes in this beautiful park known for its rare botanical diversity and native Nama people. Not as bad as it looks (taken low down, wide angle) but visitors to this area can take guided tours to the park, particularly in August / September when the spring flowers transform the desert into a colorful wonderland.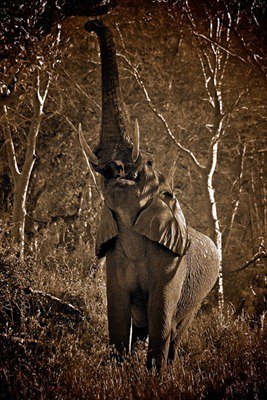 Untilted by Butch Mazzuca
Description: On an early morning game drive from the Pafuri Camp in South Africa we came across this large adult bull pulling down a branch for breakfast.
Tip: I always try to capture animals doing something or positioning themselves in a way not normally seen.  In this particular image, the early morning light was perfect and I thought the perspective was unusual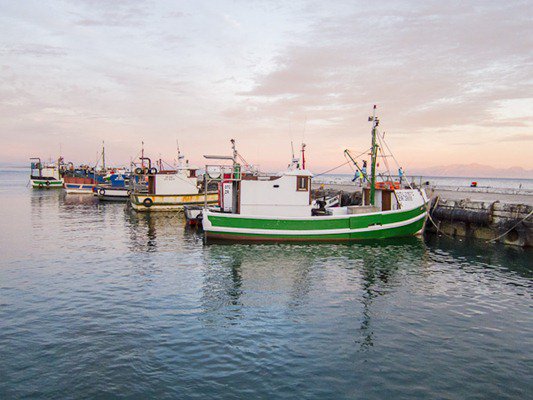 Fishing boats in Kalk Bay Harbour by Craig Strachan
Kalk Bay contains a traditional fishing harbour, where you can buy fresh fish straight off the boats when they come in after night's fishing. Alternatively pop into on the restaurants in the harbour, where the fish is as fresh as you will ever get. They say that you should always have a camera with you, and this was one of those times where I was not planning on shooting, but the clouds looked so nice in the sunset, I had to stop and take a few shots.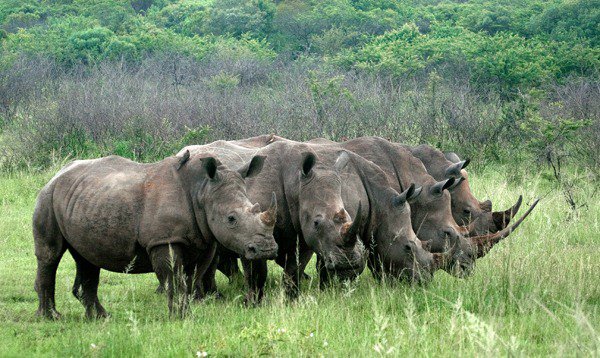 Rhino line by Julie H. Ferguson
Rhino line up for me in a pearly dawn high in the lush Hluhluwe-Umfolozi National Park, Kwa-Zulu.
Safari game drives run at dawn or dusk when the animals are more active. The light is poor and very variable, so I was always changing settings. There was no room in the Land Rover to use even a small tripod. With the vehicle bouncing and the animals moving, camera shake and motion blur was a significant challenge. I had my ISO up to 3200 early and late in the day and still had to use a shutter speed below 1/60 on occasion. A zoom is essential.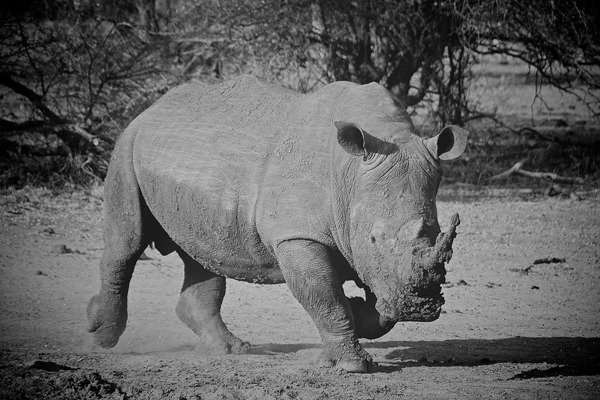 Untitled by Butch Mazzuca
Description: We came upon this lone wide mouth or so called "White Rhino" moving from one mud hole to another
Tip: Use high speed continuous drive when photographing moving animals.  If you take 30 images at high speed, one of them is likely to convey "action or movement" as seen here with two of the rhino's hooves off the ground.
If you would like to see your images highlighted, follow this link to the Travel Photography Inspiration Project?s for more info and other countries already covered.
Post originally from: Digital Photography Tips.
Check out our more Photography Tips at Photography Tips for Beginners, Portrait Photography Tips and Wedding Photography Tips.
Travel Photography Inspiration Project: South Africa