When I say Cambodia, what comes to mind? Angkor Wat? Monks? While we will be feature photos of that nature in this post, there is more to the country to be explored. The coast, the people the quiet moments of religion.
Follow along with these DPS readers who submitted their images for another view of Cambodia. Maybe you?ve seen all this before, maybe you will find something new. The readers have also graciously offered tips if you are planning a trip to Cambodia to capture your own magic.
This is the seventh country we are covering in the reader fueled DPS Travel Photography Inspiration Project.
If you would like to be involved in the next country?s post, drop me a line here.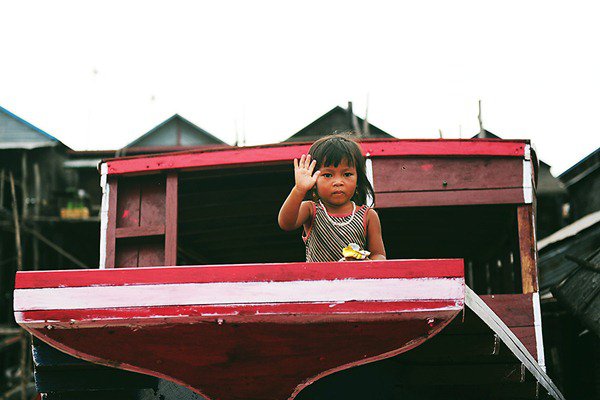 Girl on a boat in the stilt village of Kompong Klong by Kirsty Larmour
Tip: Always have your camera ready to snap – 2 seconds later and we were past her, and on the way back she'd disappeared.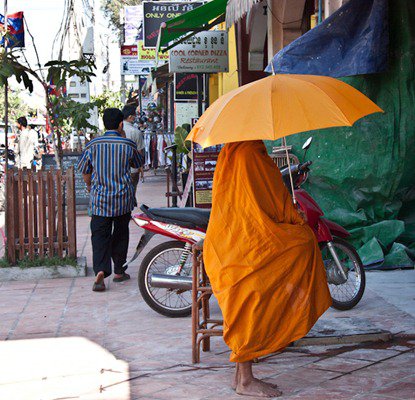 Monk at Siem Reap by Danielle L Goldstein
The saffron cloaked monks are ubiquitous at the temples….less so in the town of Siem Reap….even less so carrying an umbrella! This was a lucky shot.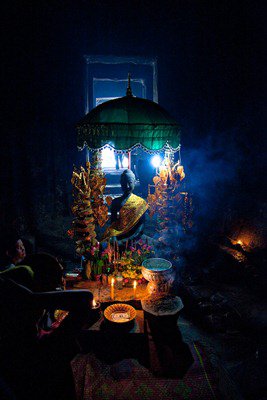 Worshippers, Angkor Wat by Sarah Ball
Description: The devout give offerings and prayer to a Buddha at Angkor Wat.
Tip: Only a small part of the photo is properly exposed, but the darkness enhances to the mystery of the scene. A touch of Fill Light in Lightroom brings in a little detail on the worshippers's faces without adding noise.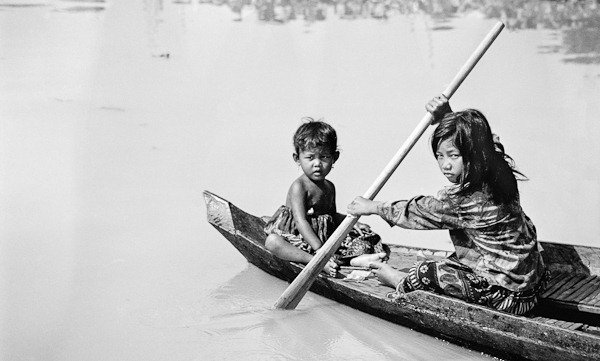 On the Tonle Sap river, near Battambang, 2003 by Alexandre Ayer
The Tonle Sap lake is the heart of Cambodia?s biodiversity. During the monsoon, the Tonle Sap river reverses it?s flow and the lake increases tenfold, creating South East Asia?s largest floodplain.
The trip from Siem Reap (where Angkor is) to Battambang can be done by boat. It is slow but beautiful. There are many floating villages and daily life on the river can be very photogenic.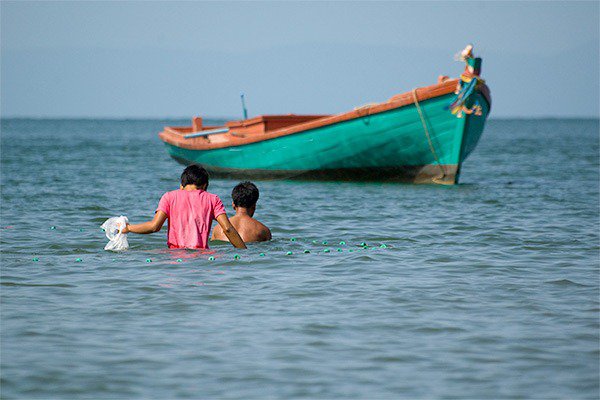 Father and Son Fishing by Kelly Irving
Another telephoto photo from a photographer who prefers not to use one. But in this instance it allowed me to stay on the beach and  achieve a selective depth of field, blurring the boat so the figures stand out against it. Taken on Rabbit Island, my favourite island paradise in Cambodia.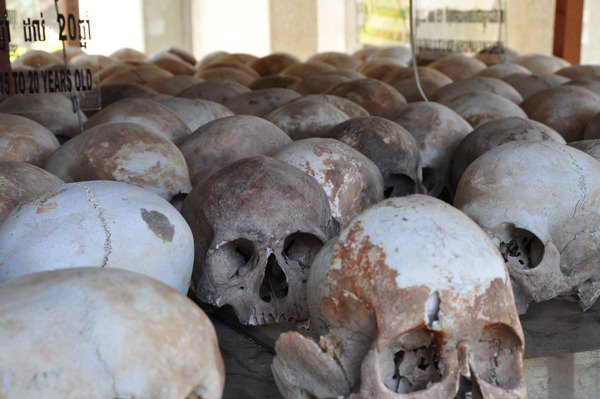 The Killing Fields by Vicki Stewart
The Killing Fields of Cheung Ek near Phnom Penh is where 17,000 civilians were killed and buried in mass graves, and is a chilling reminder of the brutalities of the genocidal Khmer Rouge regime (not advisable for the faint hearted). This photo is from the 17 story glass memorial in the middle of the Killing Fields area which houses 8000 skulls exhumed from mass graves, and was taken at a low angle to emphasize the seemingly never-ending layer of skulls.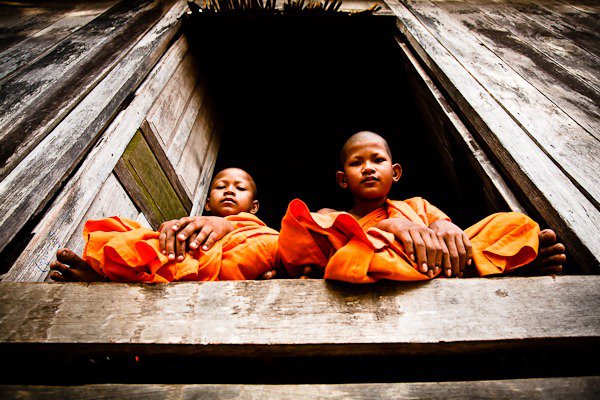 Untitled by Jon Sanwell 
These two monks were sitting in the doorway to a stilt house, while I was at ground level below them.  I wanted to get the whole of the doorway in the frame, so I used a wide angle.  I usually try to be at eye level with people when I take their picture, but in this case, I quite like the way they are peering down at the viewer.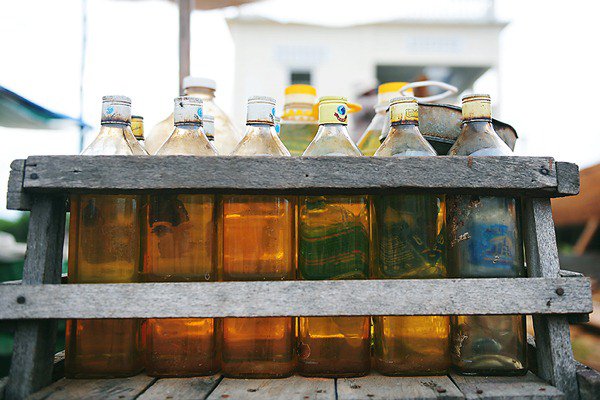 Petrol Station by Kirsty Larmour
Tip: You see so much life happening right by the roadside. Take photos of the every day stuff that's so different from what you see back home.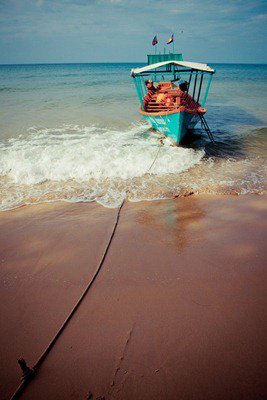 Peaceful Afternoon, Sihanoukville by Sarah Ball
Description: A fishing boat is moored on Otres Beach, Sihanoukville.Tip: With travel photography you often have to capture a moment by nailing the shot in one or two frames. Take advantage of the quiet moments when you can take time to align and compose a little more thoughtfully.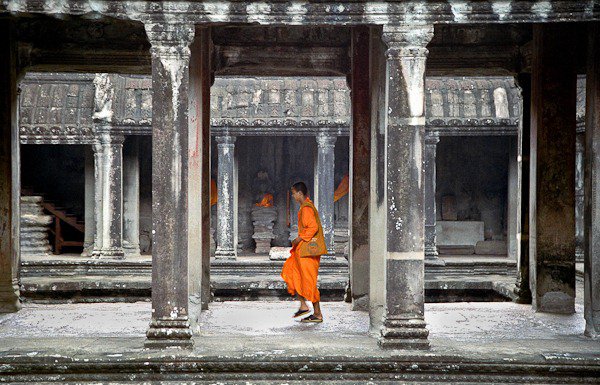 Sanctuary, Angkor Wat, 2003 by Alexandre Ayer
The ancient city of Angkor offers countless photo opportunities. It?s most famous temple is Angkor Wat. Try to avoid the postcard shot and look for something a little different. In this case, a touch of color, symmetry, and patience (I had to wait almost 15 minutes for the frame to be empty of people and the monk to pass by).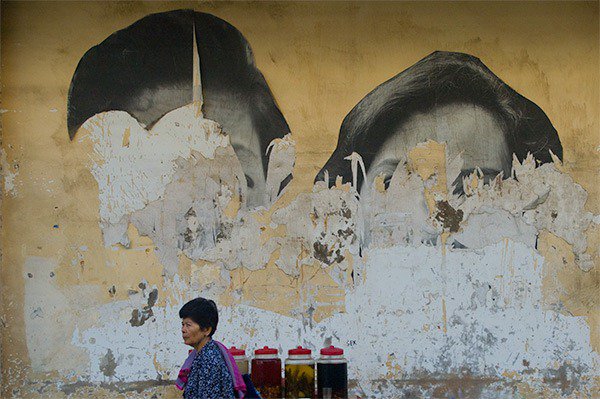 Faces by Kelly Irving
One of my techniques for street photography is to obviously be taking a photo of something, in this case the torn faces on the wall, and wait for someone to walk into the frame. Later, while cataloging my images, I noticed the word 'sex' scrawled on the wall, which just added to the oddness of the image. Phnom Penh is a city of textures with lots of decay, contrasting with the modern building boom.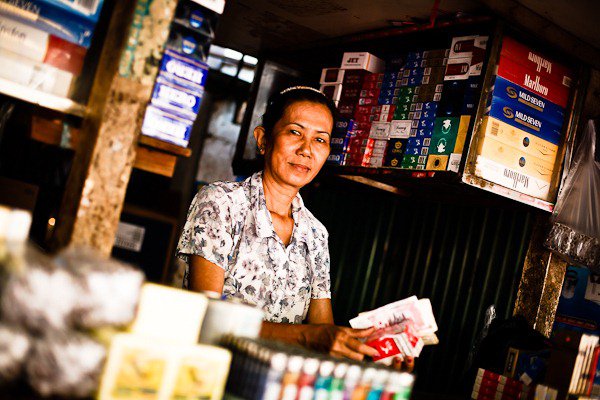 Cigarette lady, Phnom Penh by Jon Sanwell
I often use a 50mm lens for taking people pictures in cities.  You can get close to the subject and hopefully create some intimacy, and still include plenty of background to show some context.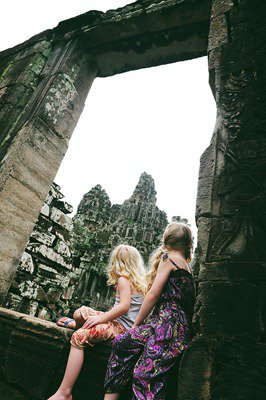 Kids exploring around Angkor Wat/Bayon by Kirsty Larmour
Tip: Make sure you remember to capture your own family exploring the country too – you don't always have to take the posed typical tourist photos to show that they were enjoying themselves and taking it all in.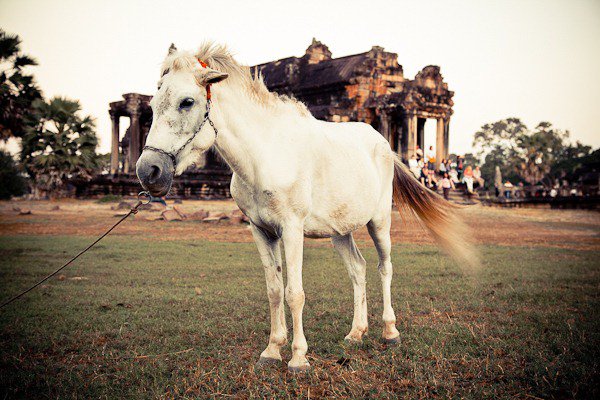 At Dawn, Angkor Wat by Sarah Ball
Description: A pony grazes at Angkor Wat while visitors watch the sun rise over the temple.
Tip: Be careful around animals when you're traveling, many societies don't touch animals with affection so your approach will often be seen as hostile.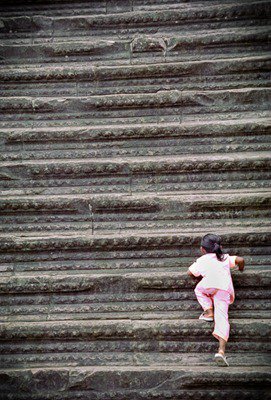 Stairway to Nirvana, Angkor Wat, 2003 by Alexandre Ayer
The steep stairway that leads to the heart of the Angkor Wat temple (the sanctuary) is extremely steep, in order to symbolize the difficulty of accessing Nirvana (Buddhist heaven). Getting up is easy, but be careful on the way down !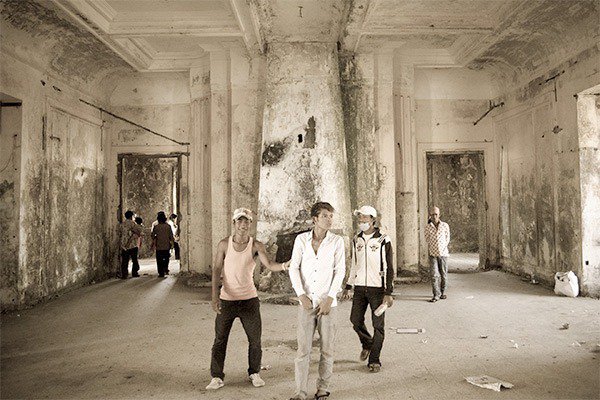 Bokor Boys by Kelly Irving
Bokor Hill Station is an old French resort sitting on a high plateau in southern Cambodia. At New Years they opened the new road, still under construction, so that Cambodians could drive up for a holiday picnic. I framed the room and waited. The lads walked directly towards me, the one fellow tugging on his friend's sleeve to alert him to my presence. I desaturated the colour to emphasize the other-worldliness of the scene.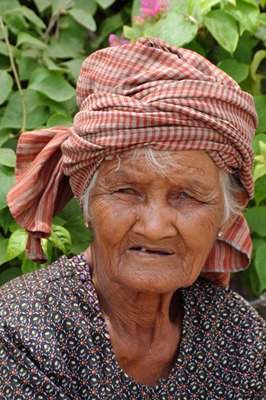 Krama Wisdom by Vicki Stewart
A ?krama? is the checkered scarf which distinctly separates the Khmer (Cambodians) from their SE Asian neighbours, and can make for some very colourful photographs. This photo was taken in Kampong Thom, a small village between Siem Reap and Phnom Pehn. Respectfully taken using a wide aperture at a distance (with her permission), you can?t help wondering what Cambodians of her generation have lived through.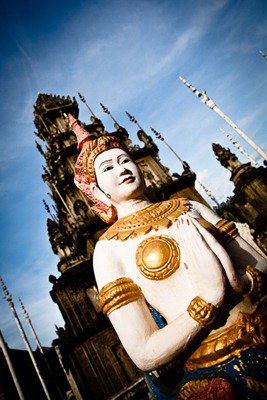 Untitled by Jon Sanwell
I got down low to take this picture, as I wanted to get the tower lined up behind the statue.  This was taken near Kompong Cham, on the Mekong river.  If you have the time, I recommend getting away from Phnom Penh and Siem Reap, and seeing some more of the country; Kompong Cham and Kratie in the east and Battambang in the west are all well worth a visit.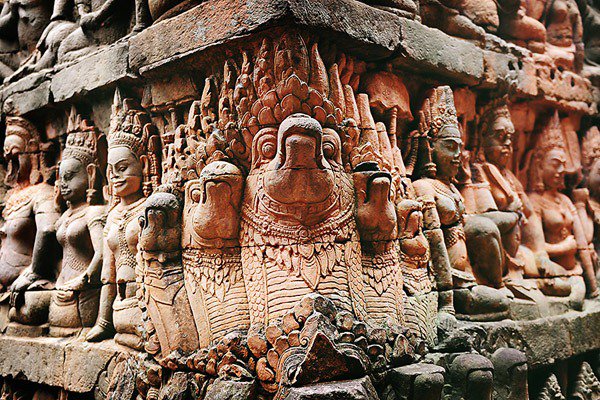 Carvings at the Terrace of the Leper King by Kirsty Larmour
Tip: Change your angle of view, maybe take from the corner instead of straight on, but watch the light to see that it's reasonably even on both sides to avoid blowing one side out.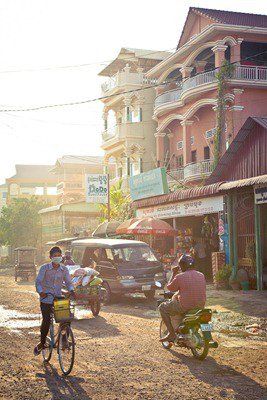 Afternoon Light, Siem Reap
Description: I'm always struck by how different the light looks when traveling from place to place, and the first thing I noticed arriving in Siem Reap was the ethereal quality of the afternoon light.
Tip: Even though the subject isn't that exciting, I love this photo because it tells you about the place with light, color, and texture. When you look back at your photos years later, it's shots like these that will bring you back to the time and place you shot it.
Thoughtful by Kelly Irving
One of my favourite portraits. The morning light was excellent, highlighting the monkey's eyes. He was still, so the detail in his fur is amazing. It's best to use a telephoto for photographing monkeys; if you get too close they'll be all over you, trying to snatch whatever they can.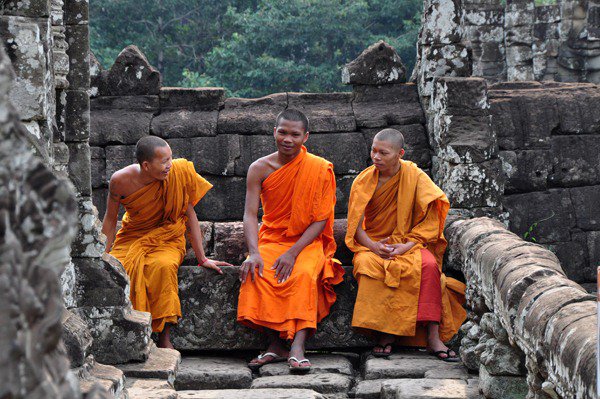 Monk(ey)ing Around by Vicki Stewart
Most young men in Cambodia, especially if they are from the countryside, are expected to study the teachings of Buddha as novice monks. They are conspicuous in their orange robes throughout the temples of Angkor, and are generally happy to smile for a photo and to talk with you, depending on what vows they have taken. Here, I gave a friendly wave from a distance and was given permission with a smile to take a photo ? the two monks on either side were sharing a joke and oblivious to me.
Post originally from: Digital Photography Tips.
Check out our more Photography Tips at Photography Tips for Beginners, Portrait Photography Tips and Wedding Photography Tips.
Travel Photography Inspiration Project: Cambodia