On Saturday, April 14th, The High Fives Foundation will present their annual Trains Freestyle Ski & Snowboard Contest at Alpine Meadows Ski Resort in the Lake Tahoe, California region. The event will feature top ranked professional skiers and snowboarders (check out the list of athletes below), The Silver Boombox Thief on the turntables, and event production from Crux Events.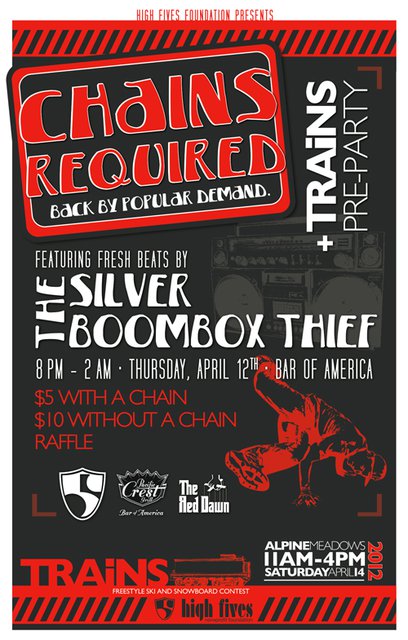 This year's installment of Trains has a new format, where teams of 10 people will compete along with individual contests in the morning, where awards will be handed out for the Best 540, Best Male and Best Female. These individual winners will become the captains of each team, and will pick their respective teams of 10 for the Trains event.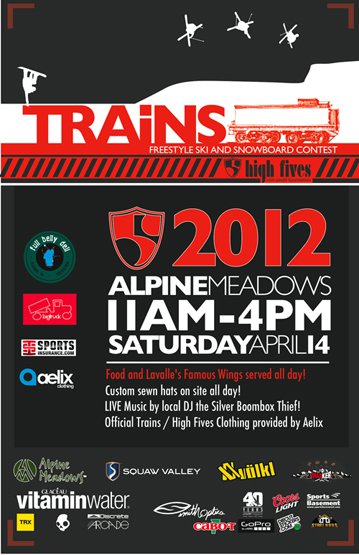 Here's a look at the details for the event, along with the list of athletes that will be in attendance...
 
Schedule:
• 9:30 -10:30am: Practice
• 10:45am: Riders Meeting
• 11:00am -1:00pm: Individual Contest
• 1:00 -1:45pm: LaValle's World Famous Chicken Wings 
• 1:45pm: Pick Teams of Ten for Trains Contest
• 3:30pm: Awards
 
Charitable Contributions ($5,000 Total): Five charities will be chosen to by winning competitors. These winning will donated to the athletes' choice of the Shane McConkey Foundation, Arne Backstrom Memorial Fund, SkiD.U.C.K., Reeve Irvine Research Center and Vermont Adaptive.
Cost: Trains is FREE to watch! Catered food from Full Belly Deli in Truckee, California will be available for a $5 donation, vitamin water will be on hand to provide hydration for any occasion, as well as Jamie Lavalle's world famous Buffalo chicken wings, which will also be available for a $5 donation.
 
Post Event Party: Immediately following the contest at Alpine Meadows Ski Resort, a post-event party will take place at Sun Deck in Olympic Valley with great food & drink specials and DJ One-Truest on the turntables.
 
Thank you to the Trains 2012 Sponsors: Volkl Skis, Marker Bindings, Alpine Meadows | Squaw Valley, vitaminwater (official non-alcoholic beverage), Miller/Coors (official alcoholic beverage), DieCutStickers.com, Powder Magazine, GoPro, Cabot Creamery Cooperative, Sports Basement, Start Haus, Smith Optics, Arcade Apparel, Discrete Headwear, Skullcandy and TRX Suspension Training.
 
Thank you to the Trains 2012 Partners: BigTruck Headwear, Full Belly Deli (Truckee), Aelix Clothing (official clothing sponsor), the Auburn Ale House and Sports Insurance.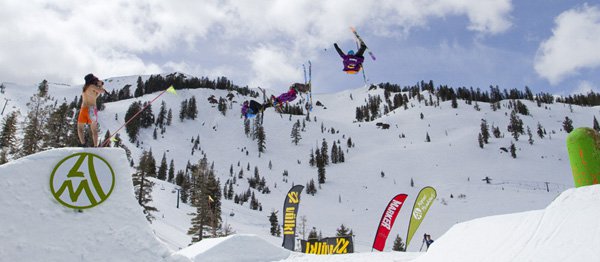 Photo by Josh Anderson
 
Athletes
 
Ski Men
Nick Goepper
Max Szkely
Carson Lehouillier 
Charlie Ingalls
Raleigh White
Will Hibbs
Chris Logan
Parker White
Davis Souza
Austin Stewart
Sean Collin
Nick Miles
Jason Arens
Peter Kukesh
Andy McDowell
Garrett Russell
Tanner Rainville
Will Wesson
Ski Women
Maude Raymond
Ali Agee
Kristin McComack
Katie Souza
Marta Krusell
Michelle Parker
Snowboard
Brady Lem
Silver Serino
Danny Toumarkine
Brandon Sorel
Willard House
Will Mayo
Alternates
 
Billy Mann
Austin Simonpietri
Kyle Smaine
Forerunners
 
Aspen Spora
Cody LaPlante
Logan LaPlante
Judges
Steve Wallace / Overall
Jake Hickman / Ski
Greg Lindsey / Ski
Mat Jackson / Ski
Chris Bosco / Snowboard
Jim Lindberg / Snowboard
For more information on Trains and The High Fives Foundation, check out http://www.highfivesfoundation.org.