Can you hear it? The ground is rumbling, shaking off the tens of feet of snow that the Lake Tahoe region has received in the past weeks. That's right, Trains 2011 – Freestyle Ski & Snowboard Contest is on its way…all aboard!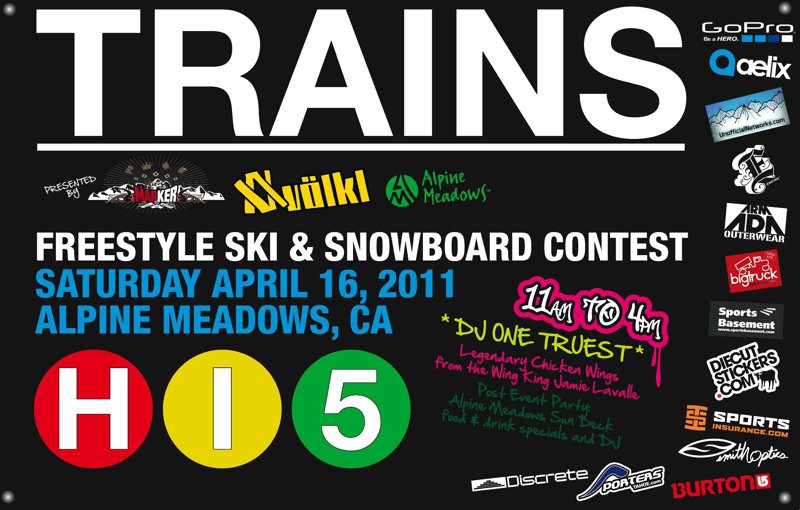 The High Fives Non-Profit Foundation, Marker Bindings, Volkl Skis, Smith Optics and Alpine Meadows Resort are proud to host the invitational slopestyle contest on Saturday, April 16 from 11am - 4pm. This is a truly rider-driven event, featuring top local and pro athletes mixing it up in The Shreadows Terrain Park arena. The unique team-oriented format rewards creativity and style in a progressive environment. With music from DJ One Truest and catering from Full Belly Deli including chicken wings from the wing king himself Jamie LaValle (Marker/Volkl), Trains 2011 is a locomotive of energy, positivity and fun for all!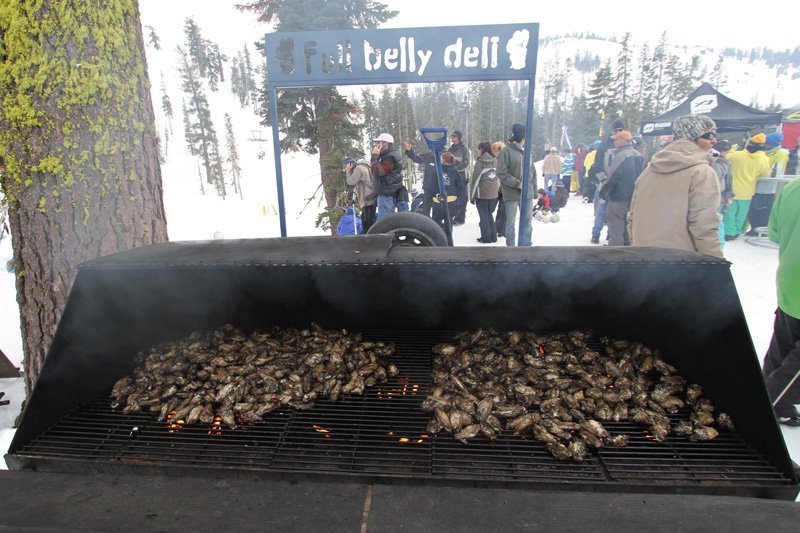 Photo: Josh Anderson
• Cost: FREE for spectators ($10 donation for food from Full Belly Deli serving Jamie Lavalle's World Famous Chicken Wings)
• There will be a Burton chicken wing contest…
• Special slopestyle sponsored feature: "Oh buddy, reign supreme"
CR Johnson Memorial – Smith Optics custom train tracks feature.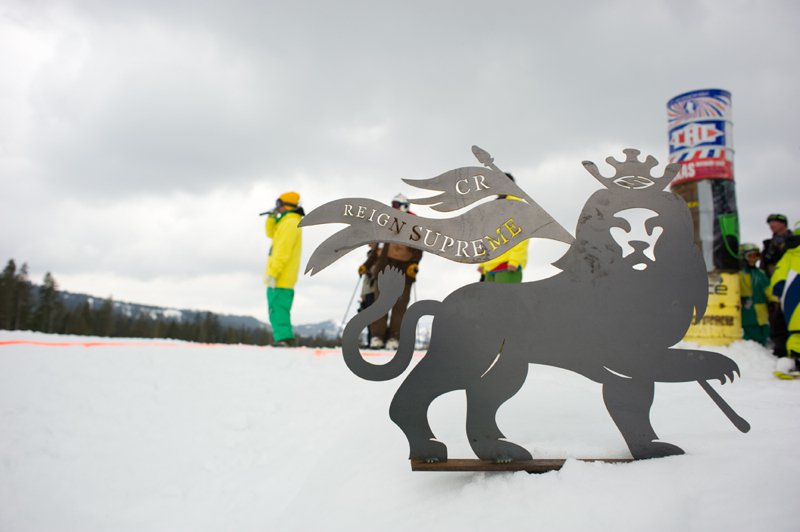 Photo: Jason Abraham/Elevated Image
"Alpine Meadows is really excited to host the annual Trains contest. It's such a fun spring event for everyone, whether they're competing on the snow, eating way too many wings, or simply getting together with friends. At the end of the day, our goals are the same: to help athletes get back to doing what they love: skiing and snowboarding." – Erin DeMont, Senior Marketing Manager, Alpine Meadows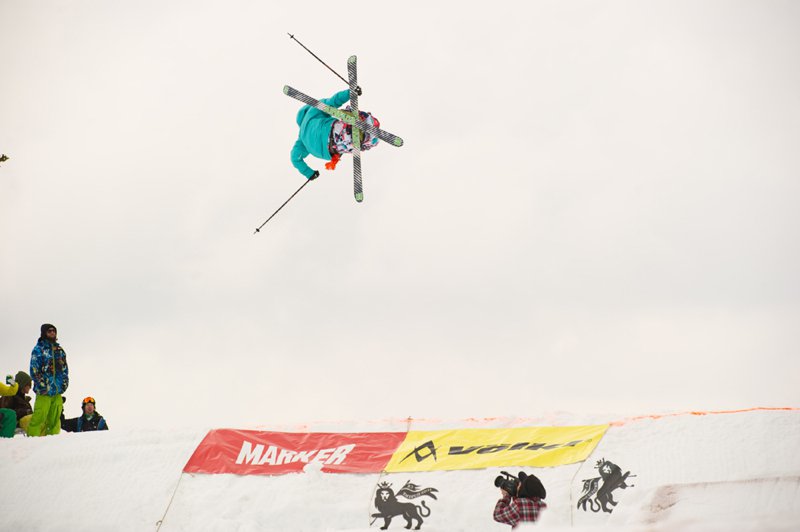 Billy Mann. Photo: Jason Abraham/Elevated Image
$3,000 in cash will be donated by the winners to selected to charitable organizations as well as amazing prizes are up for grabs for top finishers in 5 categories: Top Male, Top Female, Best High 5, and Best Trains Team. The morning portion of the competition will consist of individual athletes showcasing their talents followed by an afternoon of high flying, creativity when the athletes divide into teams of 5 for the Trains 2011 team competition.
Invited Athletes
Carson Lehoillier
Dan Marion
Matt Philippi
Nick Goepper
Chris Logan
Parker White
Sean Collin
Matt Nelson
Nick Miles
Aspen Spora
Max Szelsky
Jimmy Greenleaf
Peter Kukesh
Andy McDowell
Ian Compton
Will Wesson
Billy Mann
Lyman Currier
Katie Souza
Michelle Parker
Jaci Passo
Ali Agee
Brita Sigourney
Maude Raymond
+ 6 Snowboard Athletes (TBA)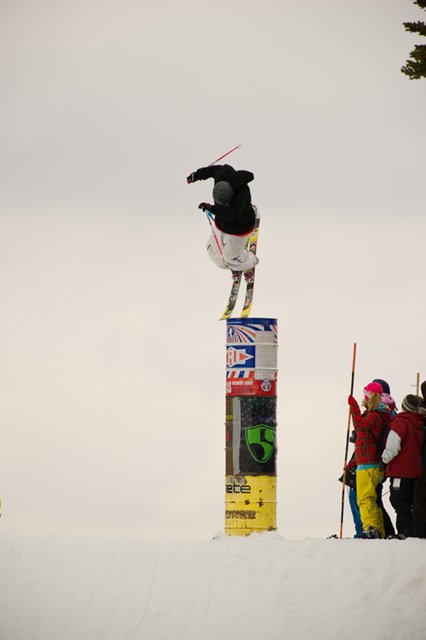 Tim Russell. Photo: Jason Abraham/Elevated Image
Judges
Ahmet Dadali
Tim Russell
Mike Laroche
Landon McGauley
And in addtion to everything going on at Trains 2011, the day after the event, The High Fives Non-Profit Foundation will host a silent auction in Truckee, California, on April 17th, where among other things, a custom Les Paul guitar will be auctioned off.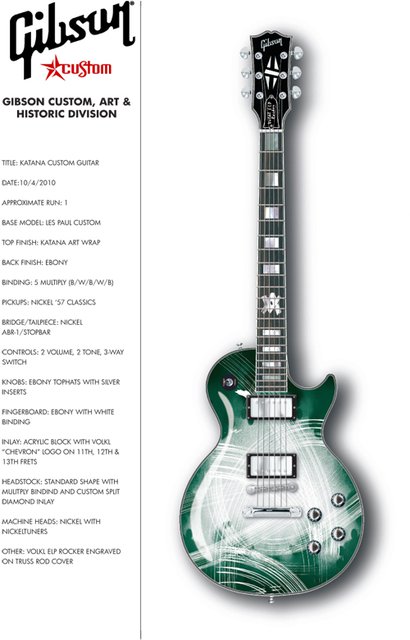 The one-of-a-kind guitar is a Les Paul model that was manufactured at Gibson Custom in Nashville, Tennessee and highlights the graphics of the Volkl Katana, a popular big mountain model featuring their ELP rocker technology...so don't miss your chance to own it!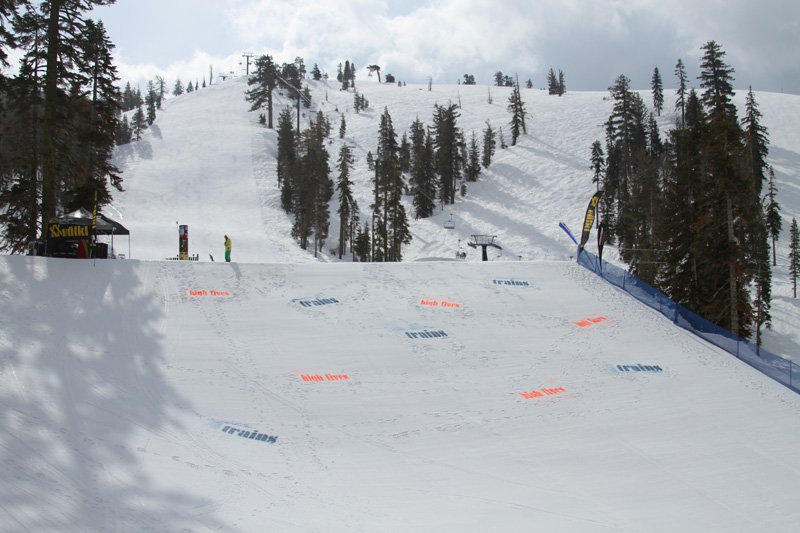 Photo: Josh Anderson
For more information on Trains 2011, visit http://www.highfivesfoundation.org and http://www.skialpine.com. Please note that the event schedule is subject to change.