No matter what resort you're skiing at chances are you'll pass at least one or two trail maps as you make your way down the mountain. Providing us with valuable insight on the tricky trails below these maps have been around just as long as the resorts themselves. Have you ever wondered what your favorite ski resort looked like back in the day? SkiMap.org a website founded in 2008 collects trail maps from resorts all over the planet with some maps dating all the way back to 1936. Below you will find trail maps from Loon Mountain, Jackson Hole Mountain Resort and Whitstler Blackcomb. Each resort is featured with three sets of trail maps from three different decades.
LOON MOUNTAN, NEW HAMPSHIRE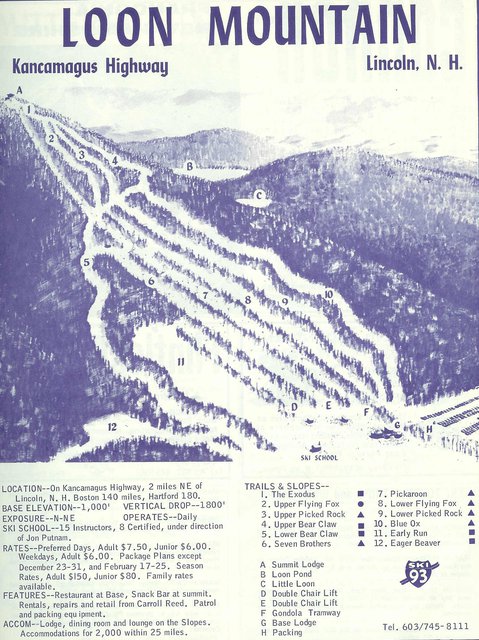 Loon in 1969 Photo Courtesy: SkiMap.org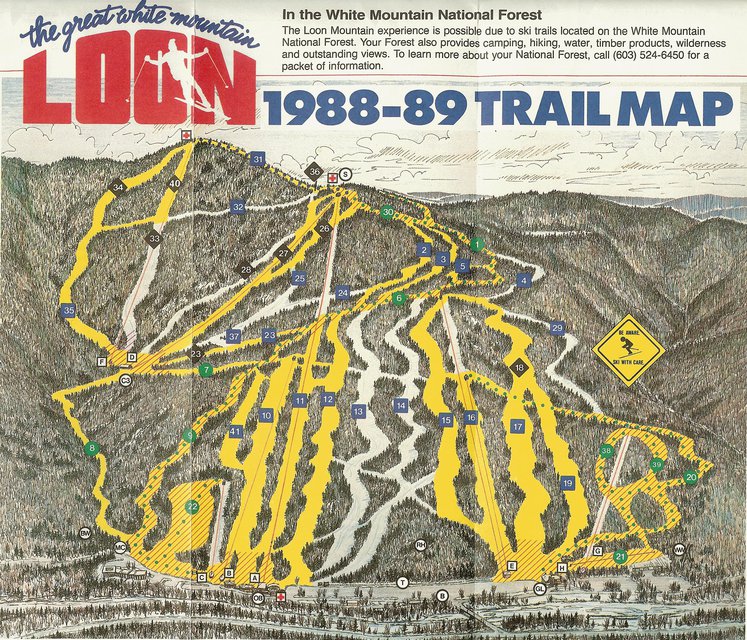 Loon in 1989 Photo Courtesy: Skimap.org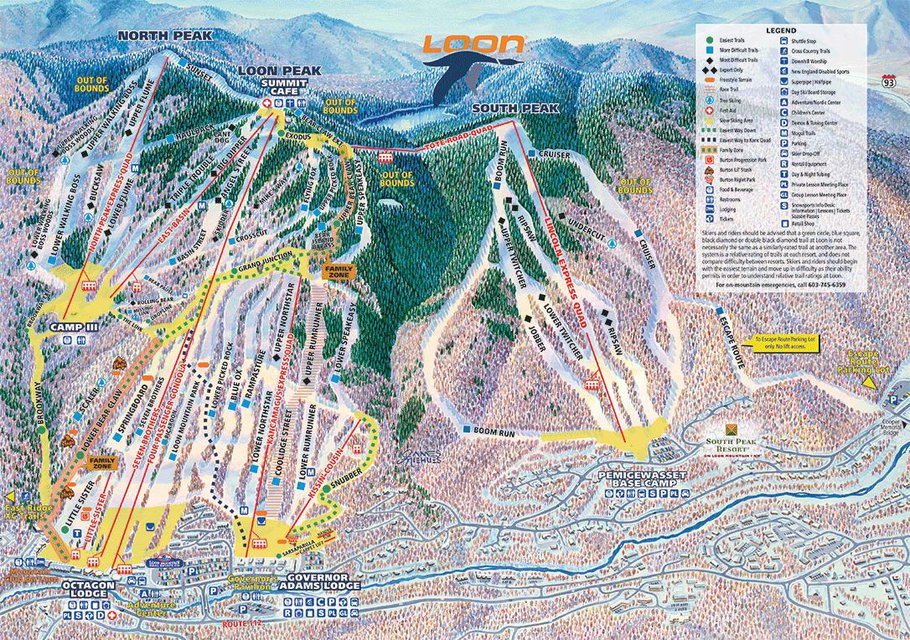 Loon in 2016 Photo Courtesy: Loon Mountain
Loon: Nestled in the White Mountains of New Hampshire, Loon is a favorite ski resort among New Englanders. Opening in 1966 Loon Mountain had expanded to three chairlifts by 1969 while offering twelve runs. Over the next few decades Loon continued it's growth and by 1989 the resort claimed thirty-seven trails after expanding from Loon Peak to North Peak. Plans were in the works to expand to South Peak and eventually that goal was achieved. Today Loon offers a total of sixty-one trails and twelve lifts.
JACKSON HOLE, WYOMING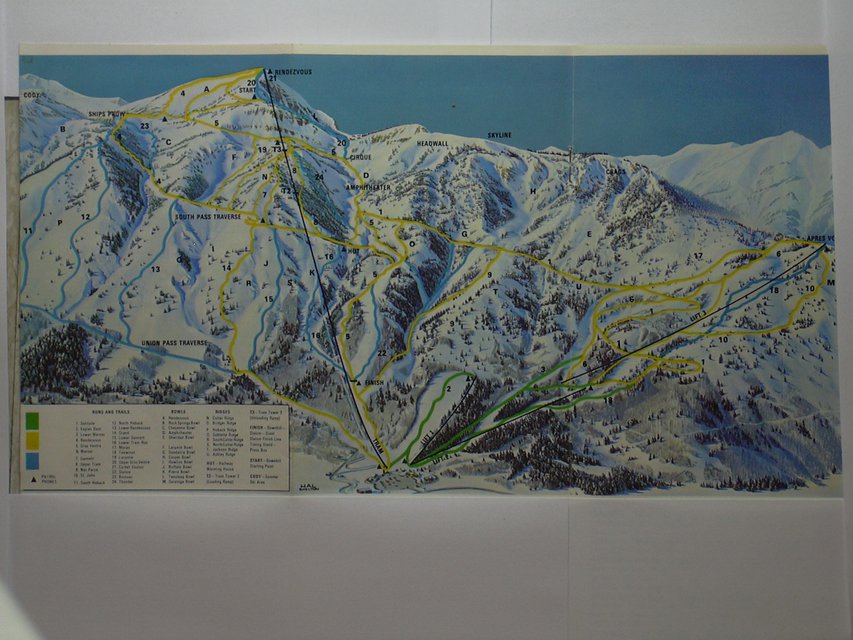 Jackson Hole in 1969 Photo Courtesy: Skimap.org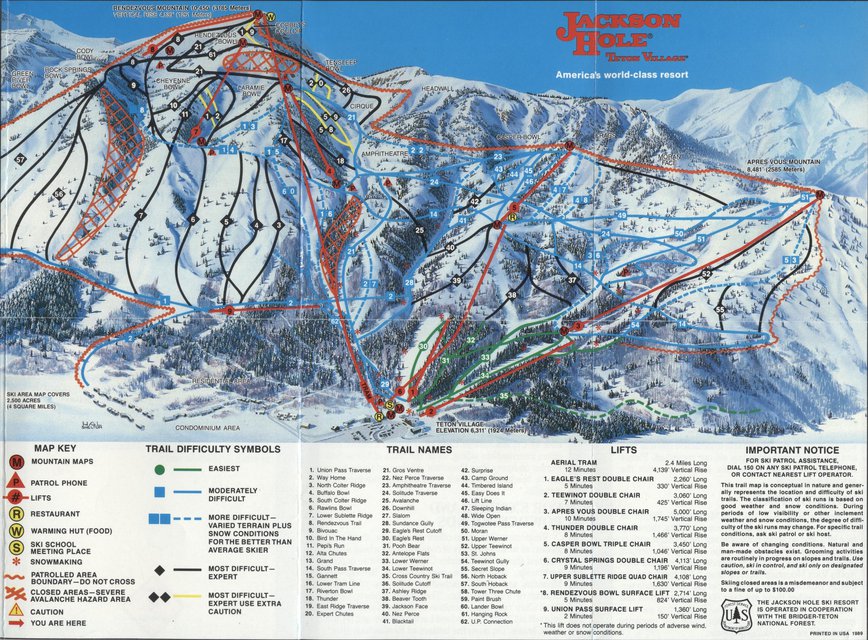 Jackson Hole in 1989 Photo Courtesy: Skimap.org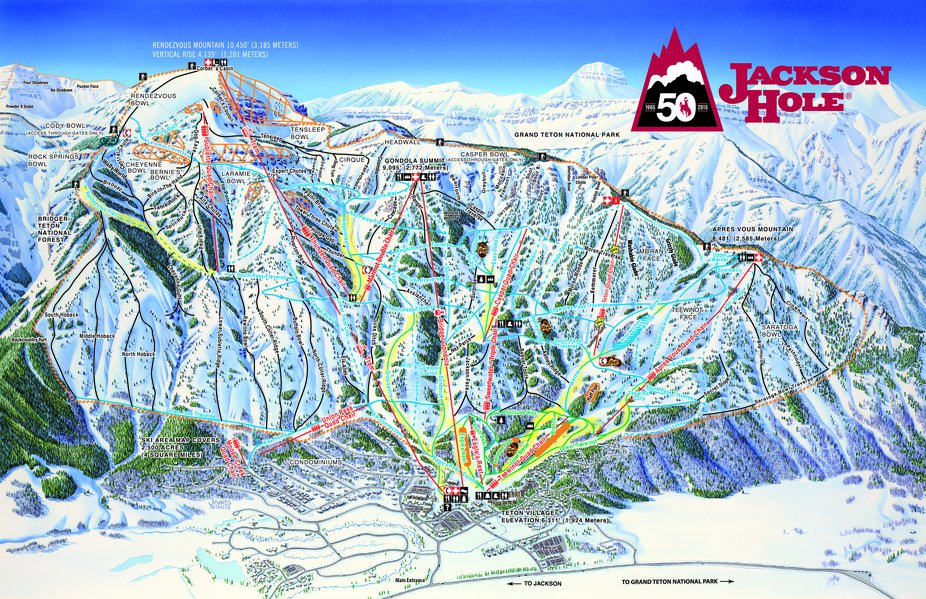 Jackson Hole in 2016 Photo Courtesy: Skimap.org
Jackson Hole: In 1965 Jackson Hole Ski Corporation opened for business with lift access on Apres Vous Mountain which can be seen the the far right in the 1969 trail map. Shortly after in 1966 the Ariel Tram opened allowing skiers to access Rendezvous Mountain's 10,450 foot summit. The original Tram only carried 52 people at a time compared to the 100 skiers it can hold today. By 1989 the Jackson Hole Ski Corporation had added five more lifts, three on Rendezvous and two more lifts that provided skiers with direct access to the Casper Bowl area. In 1998 JHMR added the Bridger Gondola and in 1999 the resort began its backcountry gate policy providing access to thousands of acres of backcountry skiing. This season is JHMR's 50th anniversary and the resort celebrated by adding a brand new Teton lift which now provides access to terrain that was previously hike to only.
WHISTLER BLACKCOMB, BRITISH COLUMBIA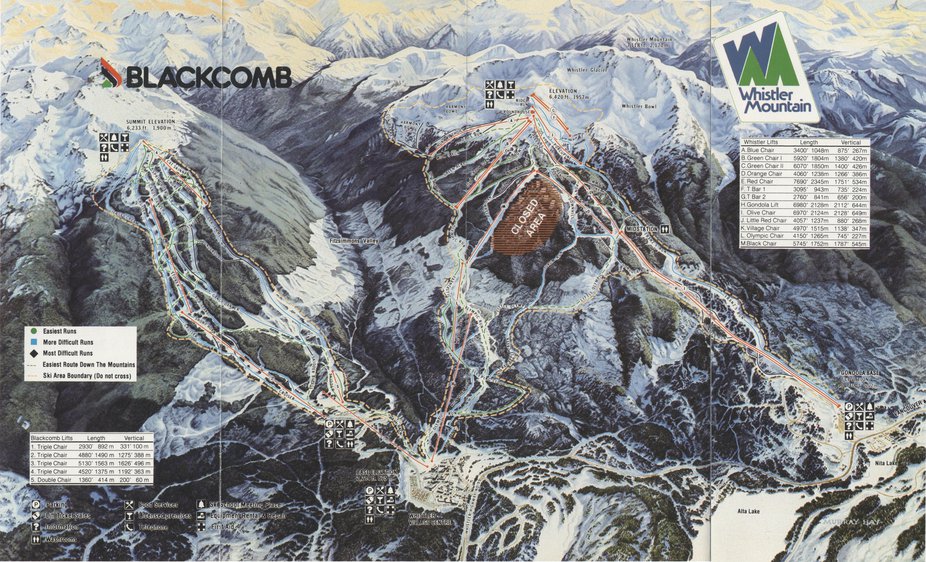 Whistler & Blackcomb in 1980 Photo Courtesy: Skimap.org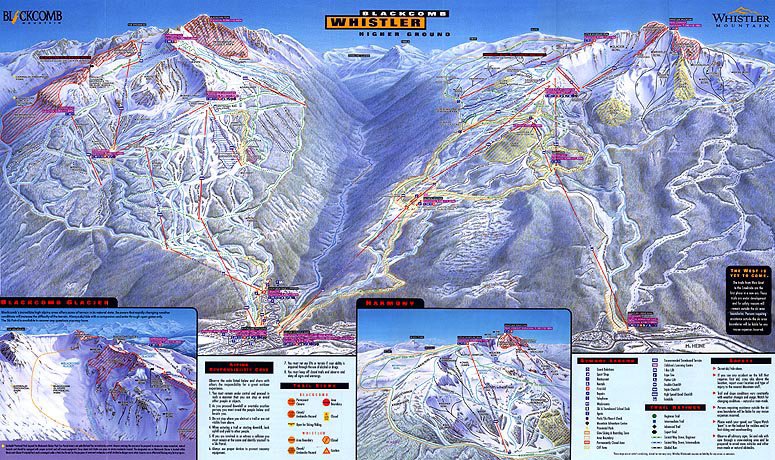 Whistler Blackcomb in 1998 Photo Courtesy: Skimap.org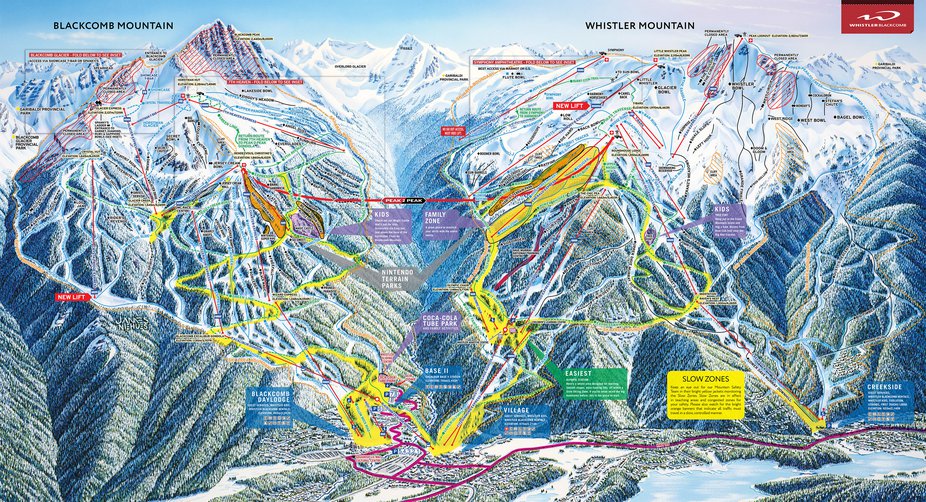 Whistler Blackcomb in 2015 Photo Courtesy: Whistler Blackcomb
Whistler Blackcomb: Today Whistler Blackcomb is the largest ski resort in North America providing over 8,000 ski-able acres. However this wasn't always the case, just like all resorts Whistler Blackcomb was built up over many decades into the mega resort that it is today. Back in 1980 which is the year Blackcomb opened, Whistler and Blackcomb were actually two separate resorts. Whistler village was set up between the two resorts and soon after both ski areas began to compete with one another by adding new lifts and expanding terrain. After a few decades of competition the two resorts merged in 1997 to form one massive resort. As you can see in the 1998 trail map the two resort names are placed together. Fast forward to the present and you may notice one major change among the many expansions in terrain. The record breaking Peak 2 Peak gondola which opened in 2008 connects both mountains. This season marks Whistler's 50th anniversary and the resort is sure to continue its amazing growth well into the future.