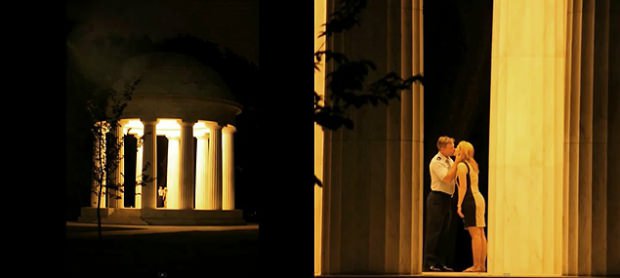 While sightseeing in Washington DC, Angila Golik saw a man in military uniform and a woman in a white and black dress standing in the center of the rotunda of the War Memoria. At that moment she somehow just knew that he was about to propose. So when he pulled out a ring and slid it onto her finger she started snapping photos, capturing an intimate engagement that might otherwise exist only in the memory of those present.
Sadly, even though the group she was with cheered for them and she herself yelled out "I have pictures," the couple was too far away and left not knowing that their special moment had been digitally immortalized. That's where you, the internet, and the digital age at large come in: Golik has asked for help identifying the mystery couple so that she can send them the pictures of their engagement, giving them something she never had.
She laments that "One thing I don't have are pictures of my own proposal. I would have loved to have that," so if you think you know who the couple might be, send Golik an email at adgolik32(at)gmail.com. And even if you don't, help spread the word; after all, any one of us shouldn't be more than six degrees of separation away from the happy couple.
(via PopPhoto)