After a 4 am wake up call to plow snow…the light and fluffy powder convinced me to stay at work a little longer, getting on the hill for fun and writing a blog entry — my first.
Day begins waiting in lift line at 8:45 am taking photos of Andy Wertheim and the guy with a button on his goggles reading "I Love Squaw" (joke, what's he doing at Alpine then?).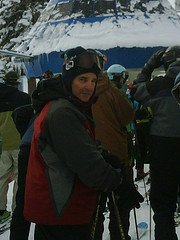 We then see Rasta float in off D-8, to the face of Summit making beautiful, small tight, ski school-like turns (even Greg Felsch would be proud) to the lifts opening right on time – 9 am. Immediately we hike like mad, break the trail to Hanging Snow Field, traverse right, hit Red Fir to Lower Beaver, break over to Kangaroo Gully…face shots all the way. Up Summit again, b-lining to the Saddle and High T, floating to Big Ben Bowl for more un-tracked, ego, city girl snow. Up Sherwood Express for a quick South Face lap top to bottom. Up Sherwood again, to hit Hidden Knolls, to Scott Chair for a hike to the top of Lakeview…of course to enjoy Outer Outer…there aren't any words to describe that isolation, thus pure happiness. In a state of bliss, we headed back to Sherwood to ski Shuttle Cornice and back to the Scott lift for Ed's private stash on the Lava Fingers – that's right, no tracks at 11:30 am.
Bottom line…Ski with Ed.
"It's not about the skiing, it's about the company, "says Ed. (Well the skiing is pretty good, too.)