Rail jams have disappeared somewhat in recent years. The big prizes have all but dried up as slopestyle becomes the all-consuming competitive side of freeskiing. But we can't all have access to big jumps or national teams and the art of technical rail skiing has, by and large, been passed over in regular competitions. Yet some of freeskiing's true greats came up purely riding rails including, of course, @TWallisch . So who better to bring the rail jam back with a bang at his local resort of Seven Springs. We asked him a few questions about the when, where and the why of his new event.
Yo Tom, what made you decide to put on this kind of event?
When I was a kid every local hill hosted a rail jam with cash prizes throughout the winter. These days the events are few and far between with almost no rail events for pros. With much of the focus in slopestyle competition on jumps and the newest triple cork, I want to return some of the focus of competitive skiing to rails and rail technicality. My goal with this event is to give the skiers that excel on rails the chance to stand out and compete on the best rail setup possible.
How did you choose Seven Springs?
The east coast is known for producing incredibly talented rail skiers and I'm so proud and excited to be bringing a major ski event back to the east coast! My dream is for Steel City Showdown to bring back the fun and excitement of hometown rail jams. I want to give the world's best rail skiers a chance to compete against each other in an exciting new format allowing the riders and fans to truly follow along with all the action. First, we plan to build an absolutely epic rail setup in "The Streets" area of Seven Springs. Then we will use Live-Scoring during the final jam to judge each and every hit, giving the riders and fans a live leaderboard to follow. Each athlete's best tricks will be added together for a final score. The highest score wins and will be walking away with cold hard cash.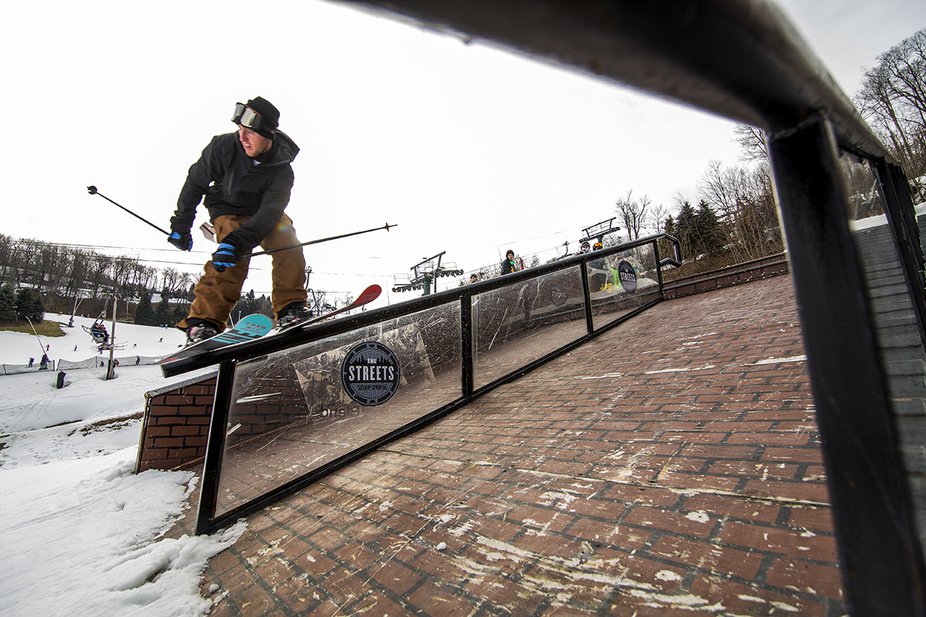 Tom shredding Seven Springs Park. Photo: Shay Lee
When does it all go down?
Pro qualifiers and finals will all take place on Saturday, January 11th with the Finals going down at night under the lights. There will be music, food, and drinks at the base of the venue with an epic show to see in person! We will also have full Livestream event coverage worldwide. Come watch or tune in to see all of the world's best rail skiers throw down on the biggest stage!
The Steel City Showdown is invite-only but we will also be hosting an amateur rail jam on January 10th with lots of prizes up for grabs and the opportunity of qualifying on to compete in the Pro event!
Anything else you want to add?
Hosting a major rail event is something I've always dreamed of since I first became a professional skier. I'm so proud to have the support of Seven Springs and all of our sponsors to finally make this dream come to life. More details will be coming soon! Stay on the lookout for more!
What: Steel City Showdown
Where: Seven Springs Ski Resort PA
When: January 11, 2020