Interview by Jeff Schmuck
Unless you've been hiding under a rock, you've probably heard that Fuel TV has decided to profile Tom Wallisch as the first male skier to appear on their popular program Firsthand. The episode, which will air on Fuel this Sunday, August 22nd at 5pm PST/8pm EST & 8pm PST/11pm EST, details portions of his 2010 season, including a look at his home in Salt Lake City (aka the 4bi9 House), an urban film trip to Finland with Level 1 Productions, where you'll get a sneak peek at footage from their new movie Eye Trip, and his spring time homecoming to Wisp Mountain, Maryland for the annual Tom Wallisch Memorial Rail Jam.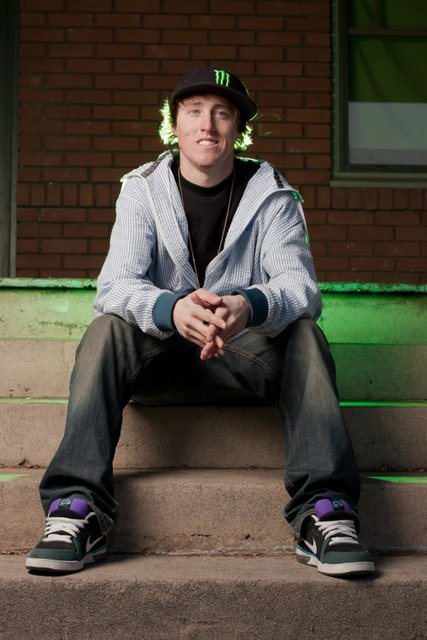 Photo: Ed Herbold
Since Tom will be doing most of the talking in the episode, we thought it would be cool to hit up the producer of the show, Adrenaline Garage's Jeff Harper (who is also the wizard behind our live broadcasts and premieres that you all enjoy) to talk about what it took to finally get a skier on Fuel TV, and went into making the episode. While most TV programs centered around action sports are produced more corporately for the sake of making money, Harper, along with Freedle Coty, Jake Strassman and Tyler Malay, got together to ensure that the first male skier to be profiled on Fuel was a story told not only for skiers, but by skiers. - Jeff Schmuck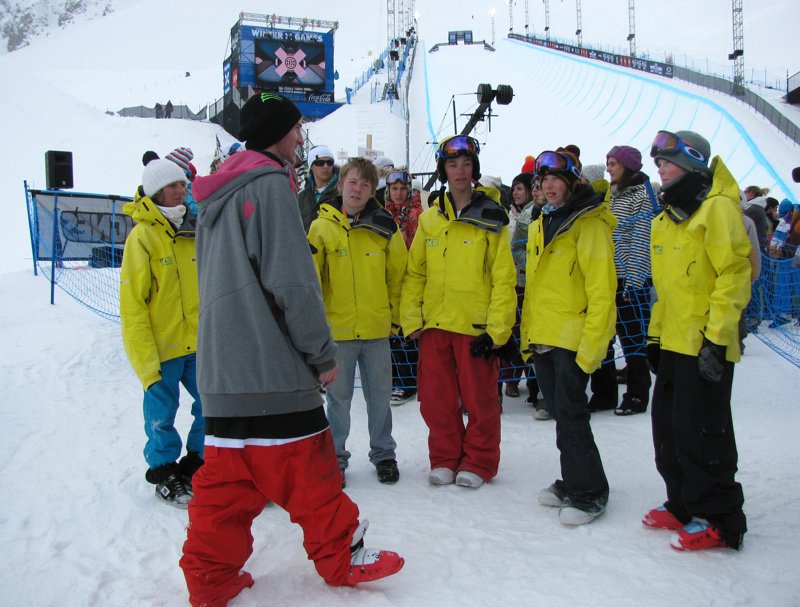 Photo: Jeff Schmuck
What did it take to get a skier on Fuel TV?
The process actually started a couple of years ago. I was color correcting Long Story Short and trying to help Level 1 meet their deadline. At some point we started discussing how there was no skiing on Fuel TV. The general consensus was that it was never going to happen, but I was fired up and wanted to give it a try. I thought the road to more skiing was through Firsthand, so I posted on NS asking who the community thought would make the best show. Shortly thereafter, I pitched one of those names. It didn't get very far, but it certainly laid the groundwork for this episode. Eventually, the internal attitude at Fuel evolved and they asked me for a skier for the series. Tom was at the top of a short list I gave them.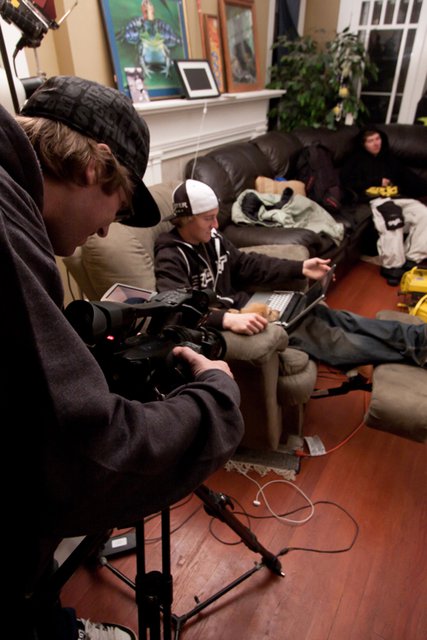 Photo: Ed Herbold
How different is the process of working for a network?
Like working for any big company, Fuel expects to have input on the show. However I think their expertise is a real asset to the production. For the most part, everyone that works at Fuel is there because they are passionate about action sports. Walking through their offices it's pretty obvious that it's just not a bunch of suits. During the review process it was great to get their insight, and in the end, I think it's a better product because of it. There were some weird moments, however, where we saw the corporate element. The Fox legal department, which takes a look at every Fox show, has to sign off on each episode before they air. Usually nothing happens and the episodes sail through without any problem, but this time, the person taking a look at the show took exception to Tom's house. I selected the location for the interview because it looks like many houses on many college campuses all over the world. The only difference is that this one is filled with skiers. The fact that Tom is a part-time college student is pretty unique and I wanted to bring that out in the show, but Fox's legal department was concerned about the abundance of empty beer bottles in the house, despite the fact that Tom is of age. In the end it didn't end up being an issue since there is no mention of drinking in the show, so Tom appears in his house, beer bottles and all, but it certainly was an interesting learning experience to see how easily corporate lawyer's feathers can get ruffled over something like that.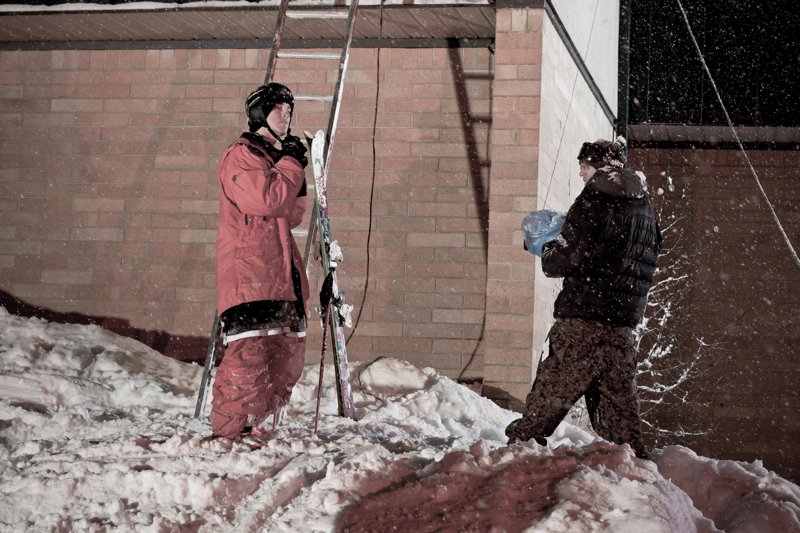 Photo: Ed Herbold
How do you approach producing a TV show about skiing for a more mainstream audience as opposed to making a traditional-style ski movie?
I think there are a lot expectations about what a ski video should be, and of course there is a definite demand for that to continue. If a producer really changes up their formula, they risk being displaced by another video, so as a result, I feel that large-scale innovation in ski movies is pretty slow. In TV, our space in ski culture is much more poorly defined. In seeking to establish ourselves, there is a lot more innovation because we don't have to contend with the same expectations, and we need to innovate to find our niche and survive.  As a result, we can tell a different story. In this case, I think we're all familiar with stories about Tom. We had the rare opportunity to show what those moments are actually like and hear from the people involved. Hopefully it really adds some perspective about how Tom is as a person and what the true experience of being a pro skier is like. And of course, any time Tom is skiing, you're guaranteed to walk away with amazing footage. Throw in an urban trip to Finland on their snowiest year in a decade, and you're in ski filmmaking heaven.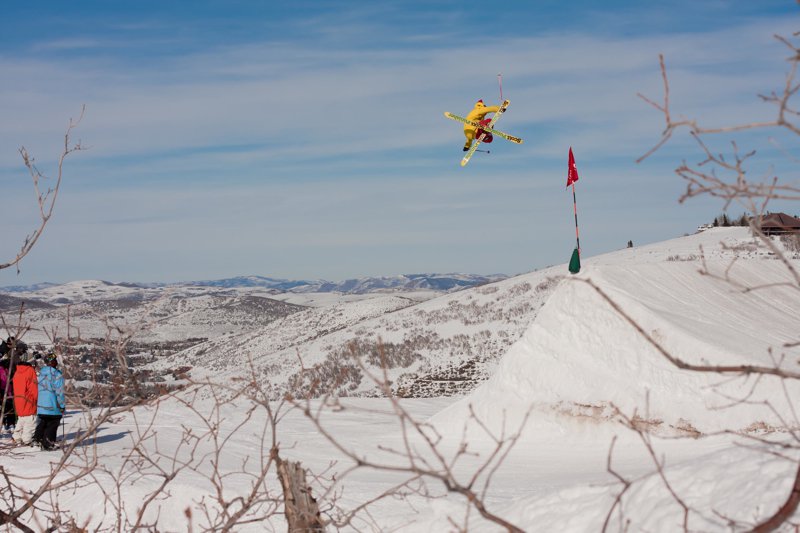 Photo: Ed Herbold
This episode is unquestionably a significant opportunity for freeskiing in terms of helping spreading the word of the sport to a broader audience, so following this, what do you think is the future for skiing on TV?
I think the opening for more skiing on Fuel has never been wider. Companies evolve and there are numerous pressures from various different sources that make former absolutes very optional, and skiing is certainly a beneficiary of that. That being said, skiing isn't the only beneficiary. As Fuel moves forward, skier audience engagement with the network is going to play a huge role in determining what this new opportunity means. On the supply side, ski filmmakers need to come up with next generation content ideas. There is certainly a lot of exhaustion with the traditional show formula currently on the network. If skiers embrace this and make it known to the network, I think there is a really good chance this won't be last we see of skiing on Fuel.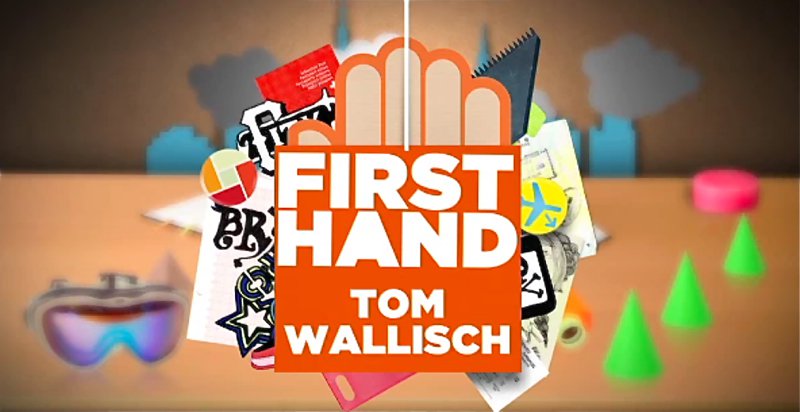 Don't miss Tom Wallisch's Firsthand, this Sunday, August 22nd on Fuel at 5pm PST/8pm EST & 8pm PST/11pm EST, and for more information on Adrenaline Garage, check out http://www.adrenalinegarage.com.