As part of the High Fives Festival this weekend in Annecy, the Sosh Big Air goes down on one of the biggest city jumps the world has seen.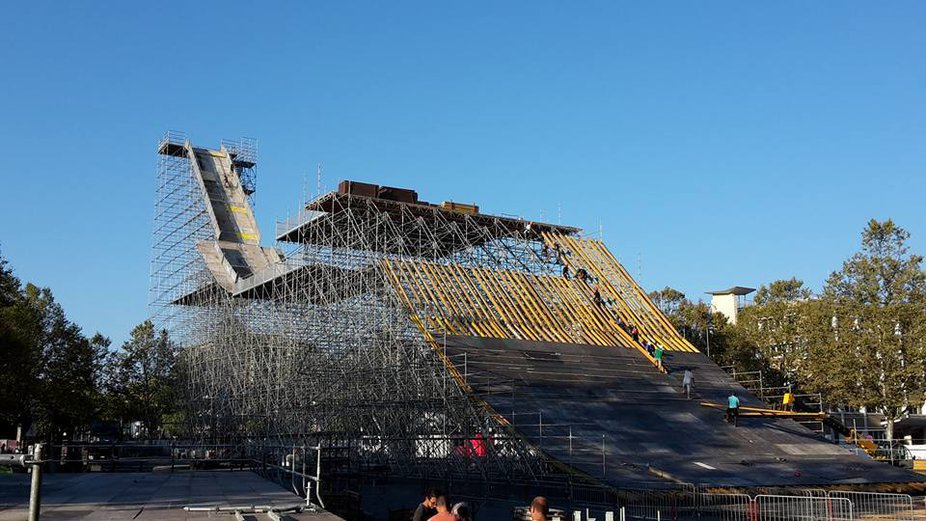 Press Release:
THE BEST SKIERS IN THE WORLD ARE ENLISTED TO JUMP AT SOSH BIG AIR
On the 15th of September, a big step in the history of freestyle skiing was taken in New Zealand. Jackson "Wacko" Wells landed a "quad cork" . The good news is that Jackson will be in Annecy on September 30th and October 1st to participate in the qualification event of the Sosh Big Air ...
And that's not all! 10 days ago the World Cup ski big air season started in Chile at El Colorado resort. The triple gold medalist at X Games, Swede Henrik Harlaut, won this first event of the circuit, followed by Swiss Fabian Boesch, Luca Shuler and Swedish acrobat Jesper Tjader. These four skiers take the overall lead of the World Cup 2016-17. And all four are already sharpening their skis for the Sosh Big Air, in which they will compete in a great spirit after the start of an encouraging season.
The Englishman James "Woodsy" Woods will be joining them. Earlier this summer he won Jossi Wells Invitational in New Zealand and confirmed his excellent form in recent days at the Cardrona Games (NZ) taking the 1st place in the slopestyle ski event.
The young Estonian prodigy Kelly Sildaru, n°1 in slopestyle AFP ranking and winner of the X Games Aspen 2016, also confirmed her presence in Annecy. The 14 year old skier will not participate in the competition, but will ski in runs alongside 3 French snowboarders, Arthur Longo, Boris Mouton and Seb Konijnenberg.
In a small last minute change: following the recent injury of American Tom Wallisch, the Finn Antti Olila joined the ranks of Sosh Big Air. Given the original format of the competition (mandatory tricks in the finals), Antti has what it takes to succeed on the 42 meter high jump erected in the heart of the city of Annecy! Despite his injury, Tom Wallisch will be attending the event to support his friends!
In short, la crème de la crème will be in Annecy for the first edition of Sosh Big Air ... Not to be missed!
Find more information about Sosh Big Air in the original press release.
Request credential to Emilie Germain
#soshbigair