Cover photo: Tristan Shu
This Is Home finally drops tomorrow at midday EST. With more than 250 premieres around the world, I'm sure many of you will have already checked it out but to help the wheels keep turning on the hype machine, I wanted to drop something of a hybrid review/preview. I don't want to give away too much, rather I'd like to mention some things that got me stoked, which might be things to look out for when you sit down and watch. If you want a blow by blow write up, there are a couple floating about on the ski interweb already. I'd suggest sitting down tomorrow with a brew or two, maybe turn down the lights, fire up some candles and get comfy because this is a good'n.
The basic structure and theme of TIH revolves, unsurprisingly, around the concept of home, with six segments in different riders' home areas followed by a finale in Faction's own home of Verbier. The homes in question, by the way, are Montana (Adam Delorme), Finland (Antti Ollila), Utah (Johnny Collinson), La Balme (Candide), Czech Republic (Dan Hanka) and Zermatt (Sam Anthamatten). In each location, a group of Faction riders meet up with the local in question and a part is born.
Team movies haven't really become 'a thing' in skiing (yet?). There have of course been a fair few over the years, HG Skis are perhaps most notable for doing it regularly and ON3P, Atomic and Armada have also had iterations here and there. This Is Home is on a whole other scale from anything seen for some years though and Faction should be applauded for committing a pretty sizeable chunk of resources to this project. I hope it pays off and maybe starts pushing more brands in this direction. Somehow I doubt it, but it'd be awesome to see full year projects from a bunch of brands out there.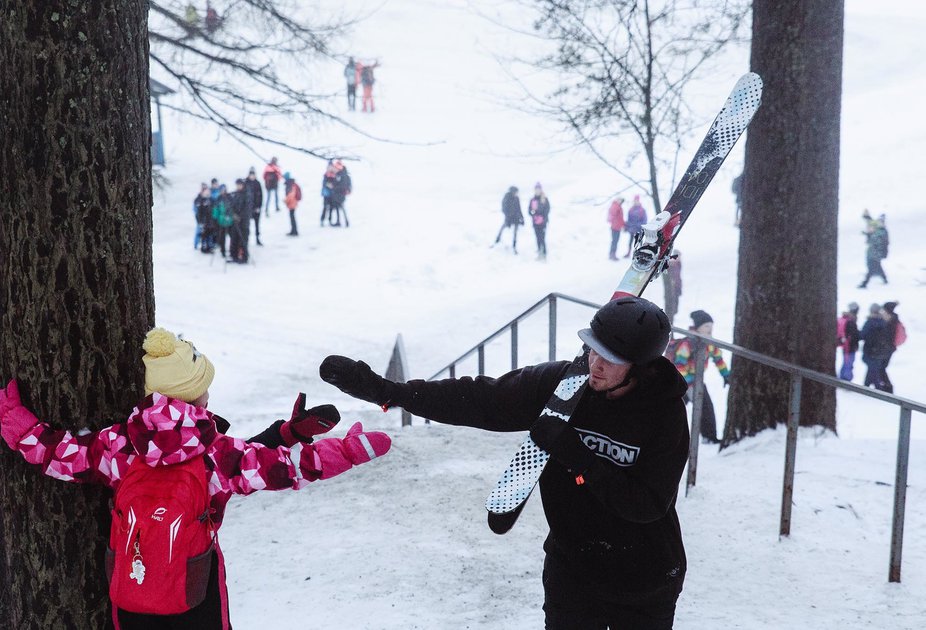 Handrail with a crowd in Finland. Alex shut this rail down, these kids know. Photo: Alric Ljunghager
Since This Is Home is arranged around the theme there are no rider segments. Normally, I have to say I prefer rider parts. Three or four minutes of shots from one guy seems the best way to really highlight a particular rider. Keegan Killbride in Habit this year immediately springs to mind. But in This Is Home, the riders still stood out individually, thanks to having individual styles all round. Sometimes, because of the location-based filming windows, conditions weren't level of epic we're used to seeing in ski porn. In Montana, for example, the crew got some snow and stacked shots, but it wasn't the crazy blower pow you might be accustomed to in that kind of segment (I actually liked that about it).
Everyone featured had bangers. Dan Hanka killed it in Finland, Tim McChesney had some truly mindblowing shots both in the streets and at the Verbier shoot, where he cork sev'd a ridiculous gap. Delorme's appearances were, of course, flawless, and Henry Sildaru is a terrifying prospect (he was ten years old at the time of filming... you'll see what I mean). However, for me, four more guys really stood out even amongst such a stacked roster.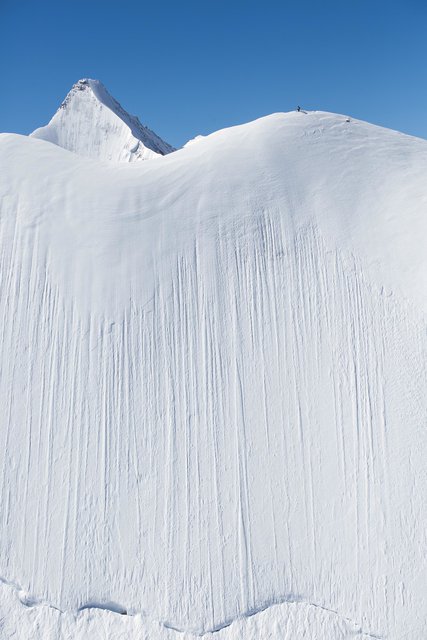 This is why you might need a magnifying glass. Photo: Tero Repo
The first was Duncan Adams. He's chronically underrated but he's one of the smoothest skiers in the game and has been since he was making pipe comps bearable back in the day. He suffers the curse of making things look too easy and therefore not being duly appreciated but this year feels like his year. Between his This Is Home appearance and his shots in Lite Years, he would unquestionably be in the running for a backcountry SOTY award. Sam Anthamatten, also starring in the backcountry-oriented segments blew my mind. He also fits the massively under-rated tag, there are very few, if any, other guys out there combining his level of alpinism and big mountain prowess with a bag of tricks. He had a bunch of shots in Jeremie Heitz' La Liste and he continues where that film left off, skiing some enormous lines in his hometown of Zermatt (Johnny Collinson also skis some ridiculous stuff) and killing it in Utah. For the Zermatt segment you might want a magnifying glass to find the skiers, that's how big we're talking.
https://www.newschoolers.com/videos/watch/882692/THIS-IS-HOME---Utah-Segment
This Is Home: Utah Segment
The other two standouts are more obvious fits for NS: Alex Hall and Antti Ollila, both of whom, in my eyes at least, are well on their way to establishing themselves on that 'best on the planet' level. Antti skis so fast that his hat falls off constantly, he has one of the best styles in the game and has an eye for trick selection I'd argue maybe only Phil Casabon matches. I'm sure most of you reading this already know this, but even so, I bet you'll be blown away. He's continuing where he left off in the Keeshlife movie and that is one of my all-time favourite segments. Meanwhile, Alex Hall, filming his first major urban segment, stacked more shots in a two week period than should be humanly possible. I'm told he didn't take a single down day on the whole street shoot. Anyone who's skied street knows just how insane that is. AHall's part also contains what was probably the undeniably legit cork 180 ever done. Sure you've seen it at comps by now but this was filmed in March. I'm only scratching the surface here by the way, he has a ton of shots. Keep an eye out for his rider edit too, there are more that didn't make the movie.
This feature looked scary af. Photo: Tero Repo
So on to criticisms? Well, if you get really aggravated by narration, you might not like that aspect of TIH but for me it wasn't overdone. The La Balme segment isn't the defining Candide section you might all be hoping for (side note, from what I've heard, it's coming separately). Oh and if you really hate anything not filmed on a potato, that might also be an issue. Basically there isn't much not to like and the price of $0 is on point. Etienne Merel shot every segment and the result is a consistency in filming style that is missing in quite a few movies these days. If you liked the Faction webisodes then you're in for a treat here. I'll probably repeat watch the Finland and Verbier sections the most but that's because they are the ones that I can most relate to. There's pretty much something for everyone in here though, from street, to pillows to terrifying lines. Basically, make sure to check it out right here on NS tomorrow.