It's springtime which means I should probably use some sort of metaphor about changing seasons in this piece but I don't really feel like it. Sorry, you'll have to look for your blooming similes elsewhere.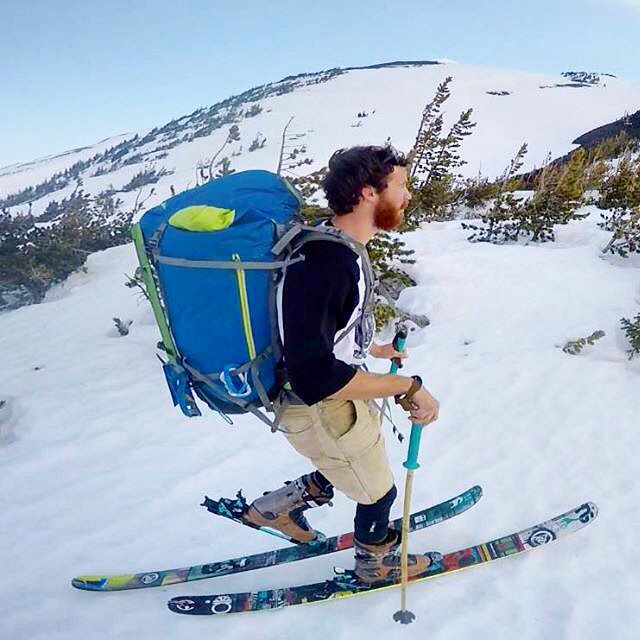 Here is a picture of me so that you know not to take this article too seriously
When I first joined NS I wasn't sure what I was really getting myself into, I just knew that I wanted to be a skier and there happened to be a bunch of skiers on this one website. Fast forward a few years and I have been blessed enough to get to ski with many of you, laugh with (and at) others, and through the internet, experience your trials and triumphs. I've gotten to share cramped floors, beers, countless gummy worms, a few small cars, too many smelly socks and not enough great powder days with this community. I'm proud to say that I met some of my best friends on the internet and I can't wait to meet and ski with more of you.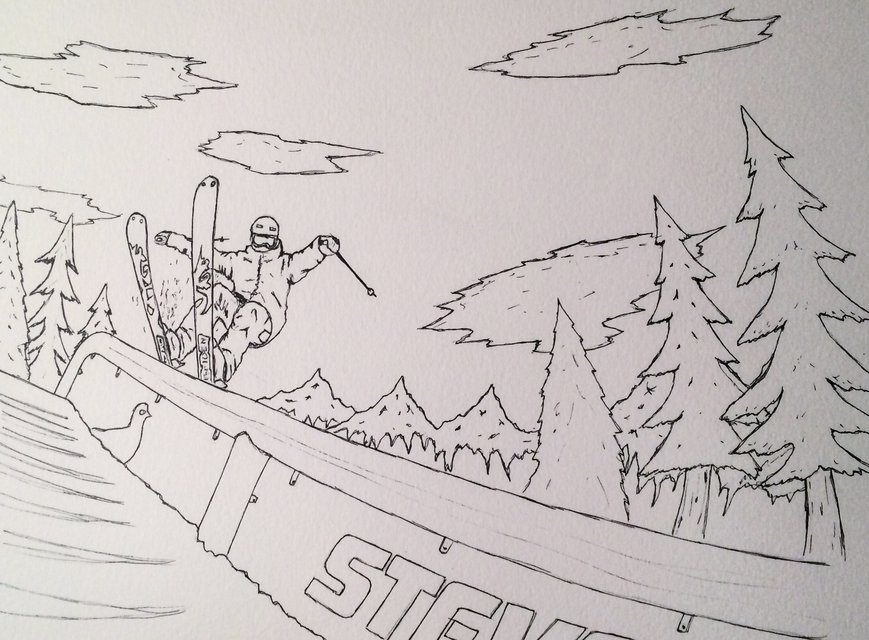 This is a drawing of Caleb, I can't thank Caleb, James and everyone else who has let me shoot them enough.
As a young skier I looked up to and respected the content creators on this site with a reverence usually reserved for the minor Norse Deitys. Now that I have been fortunate enough to do a little content creation myself (and at the prompting of the always inspirational Doug Bishop) here are a few words before I stop hurling my stories at you.
When I first started throwing pictures and words at newschoolers I was just searching for my voice, looking for anyone who would listen to my ramblings. Once I joined the Content Team I was still writing and shooting because I loved it, but now I was getting "exposure" and even a little money. I'm always wary of anyone who promises "exposure," it often feels just a step or two from the proverbial Nigerian Prince, however, I quickly learned that a lot of the industry is watching NS's content and it's not just the occasional Orange Names you see posting. Newschoolers has served as a launchpad (or some would argue a diving board) for plenty of ski industry careers and I am thankful to announce that I'm taking that same plunge.
This is who I'm working for:
http://www.newschoolers.com/watch/723821.0/JLev-Interviews-Blister
Blister Gear Review offers the most honest, in depth and all around awesome reviews of outdoor gear on the planet. They also happen to be run by some of the most hard-working, honest and motivated people I have ever had the pleasure of working with. So, go, give us a follow:
Facebook: https://www.facebook.com/BlisterGearReview
Instagram: @blistergearreview
This means I won't be puking so many words and photos out over here. Instead I want to ski with as many of you as I can. I want to hear your stories, see your pictures, watch your videos. I'm sure NS will continue to crank out the type of content that helped get me stoked about skiing and I cant wait to see how the content teams continue to grow and develop. For anyone just starting to think about writing, shooting or telling their stories, if there is anything I can help anyone with or any question I can answer hit me up, nothing gets me more stoked than helping people tell their stories, just look out, I can be kind of a jerk with critiques.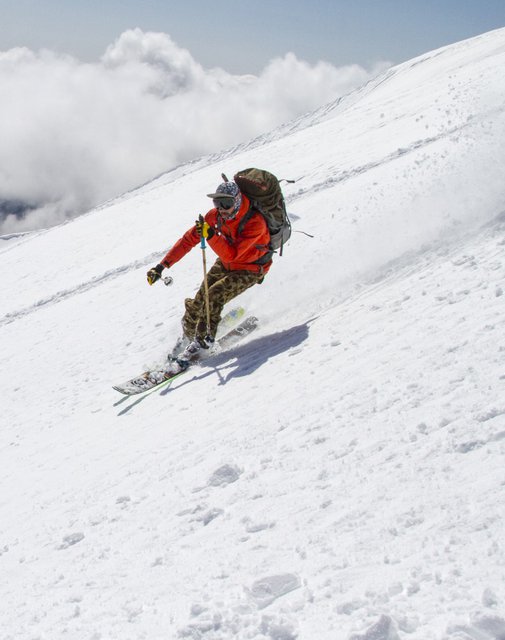 Here is a picture of me skiing to (hopefully) keep your attention
I'll be wandering around in search of free wifi and mountains to walk up and slide down as I try to figure out where I want to live, so friend/follow/add/whatevertheheckelseyoudo me on the social medias and hit me up if I'm ever in your area, I'd love to point my camera at you!
Friend me on the facespaces, I probably won't write on your wall for your birthday but I'll totally read that article you shared
Follow me on Instagram @cywhitling I'll definitely like all your selfies
Add me on Snapchat: cydwhit, I mostly just post skiing stuff, doodles and my brothers flexing
Don't follow me on Twitter, I never post anything
Check out the blog on my website I'll hopefully write on there a little more consistently: http://www.cywhitling.com
#bemorestoked
Thanks for everything!