words and photos by Dan Carr
When the small Kootenay town of Nelson, BC was first mentioned to me the first things that came to mind were epic powder skiing and hippies.  Whilst it does have both these things in abundance, Nelson also has another little secret…
During a short break in the storm cycles hitting Whistler, Jeff Thomas from Theory-3 Media contacted me about doing an urban trip to Nelson as part of his new movie The Journal.  The lineup; Max Hill, Frank Raymond and Joe Schuster with Line MC and local Kootenays jibber Colston Beatson to show us around plus cinematographer Blair Richmond on filming duty for Jeff.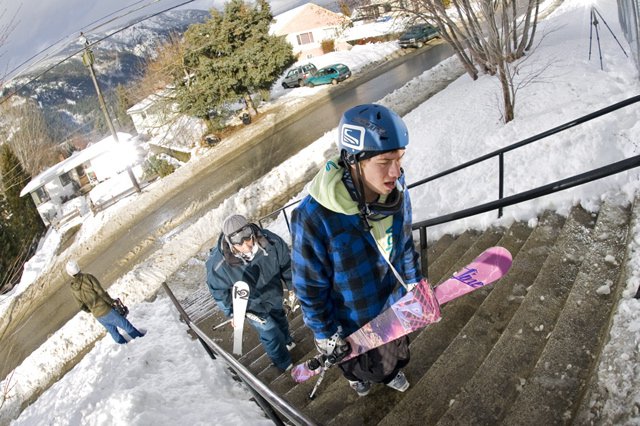 Frank Raymond & Joe Schuster
Two days before our arrival Nelson got 30cm in town but as we rolled in to meet up with Joe it was raining hard. We grabbed Colston and all piled into Joe's van to take a look around and make a list of what we wanted to hit for the next few days. Within an hour we had a pretty solid list and we really weren't even trying that hard.  Built on the side of a hill, Nelson has rails on nearly every street.  Some of the streets were so steep, the van wouldn't even make it.  No wonder the locals need something to hang on to!  In fact the problem was not finding rails, but instead finding rails that we thought were actually possible.  Catching sight of a rail brought the van to a screeching halt while someone jumped out and ran over to it, only to throw their arms up in despair as they were met with a 24-kink rail that stretched for two blocks!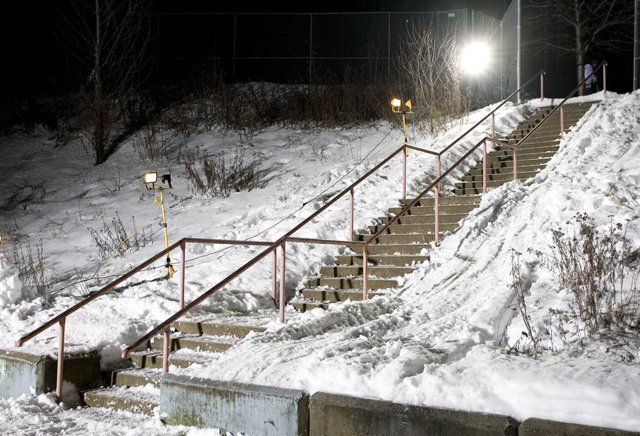 When we talked to locals and explained to them that we were in town making a ski movie their immediate reaction was to enthusiastically ask us how the snow was up there.  With the world class cat skiing operations of Baldface and Retallack based near town it was easy to understand their assumption, but I couldn't help but feel a little ashamed when I told them that we had come all the way here just to shoot rails!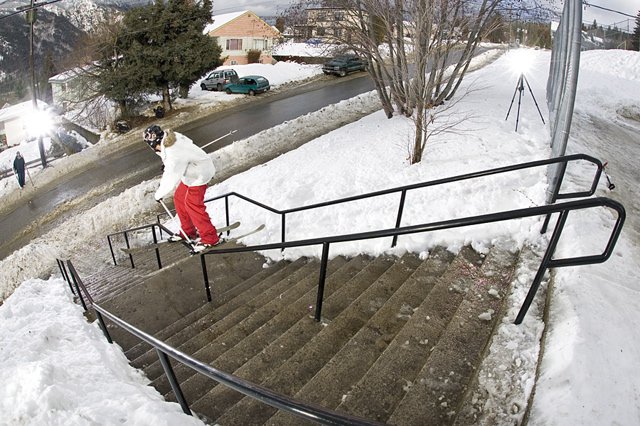 Colston Beatson
We decided to warm up on the nice little dub kink near our hotel the next morning.  Everyone cleaned it first time including Colston who stepped up to his first urban kinker with fine style.  The guys sessioned it for an hour or so before deciding it was time to move on to something longer.  On our recon mission the night before, we had seen a nice dub kink with a loooong flat section so we moved on to that one at a local school. It wasn't a super speedy in run but Colston got it dialed pretty quick and Joe and Frank got some nice switch ups going on it.  Unfortunately Max broke a binding when he was getting ready so he had to sit that one out.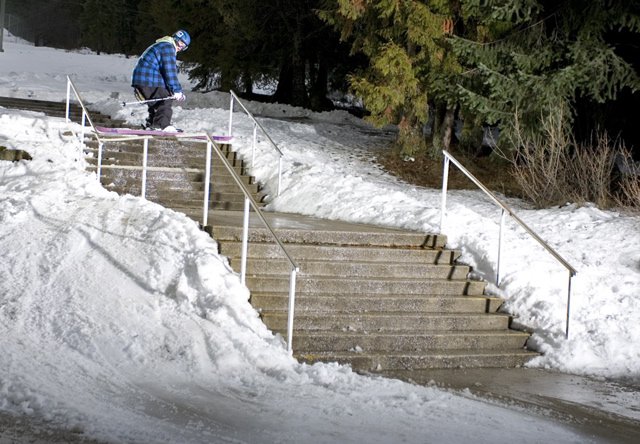 Joe
It's sort of an unwritten rule that you have to eat junk food on rail trips so we grabbed some pizzas before heading over to another rail for the evening session.  This one was a pretty big quad kink out the back of another school.  By the time you were at the bottom of it you were HAULING!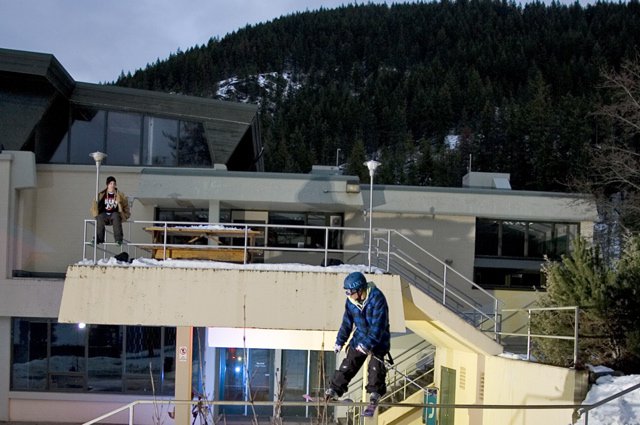 Joe, as Max perches in the background
And then there was a wall to dodge, which Max forgot about as he cleaned it to switch…he seemed to be in a lot of pain for a while but then Frank stepped things up a notch and showed Max how to have a real bail with his shoulder right into one of the rails upright posts.  Frank needed to get checked out at the hospital but while Blair took him down there Joe really wanted to get this thing finished off, so I put down the still camera and got the HD video camera figured out.  Joe got it done, we got the shot, bed time.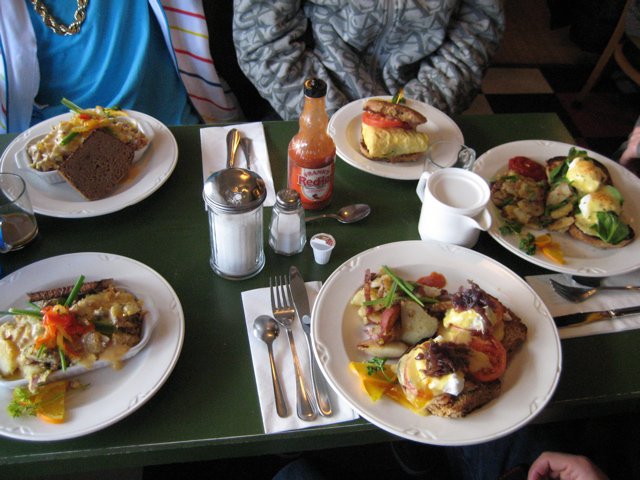 the feast
The first day was a pretty big day so we had a leisurely start the next morning. At the recommendation of the locals we went for breakfast at The Full Circle café.  Check the photo, probably the best breakfast in the world!  After this we headed back to a nice down bar that Joe and Max had eyed up for spinning on to.  Despite having to cover a road in snow and start the run in though someone's front yard, Nelson locals simply wished us luck and carried on with their day.  In fact the guy whose yard was turned into a starting ramp actually gave me his e-mail address and asked to see the photos!  For the rest of the afternoon we scoured Nelson for something other than a rail to hit the next day.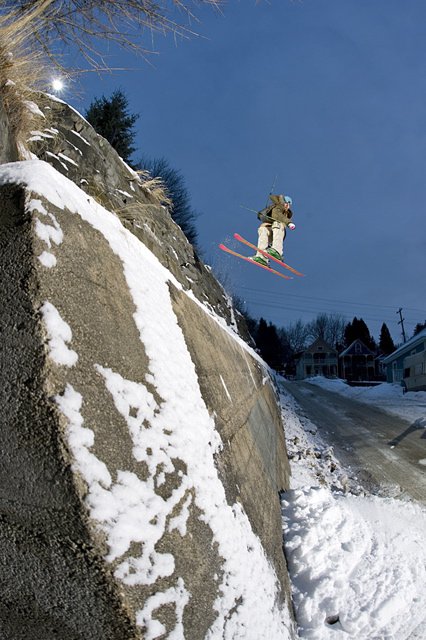 Max Hill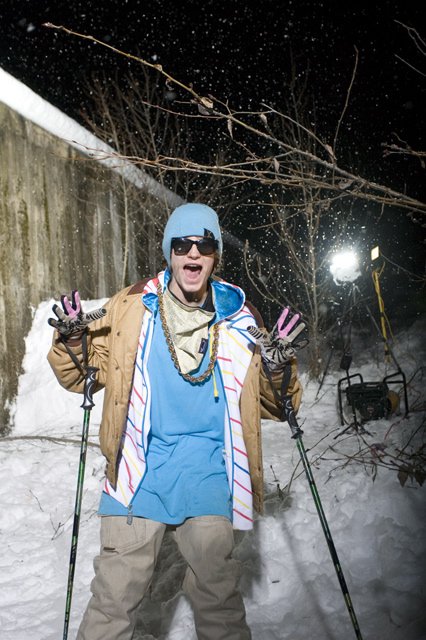 On the fourth day we turned Nelson's streets into our own park with Max skiing down the roads and styling out his trademark shifty out of someone's yard onto the street below.  In the afternoon we set up a wallride that we found the day before.  Frank, with his shoulder in a sling, was relegated to driving duties as he towed Max and Joe into the wallride.  Hopping off the road and down an embankment covered in trees, the in-run was almost as impressive at the wall.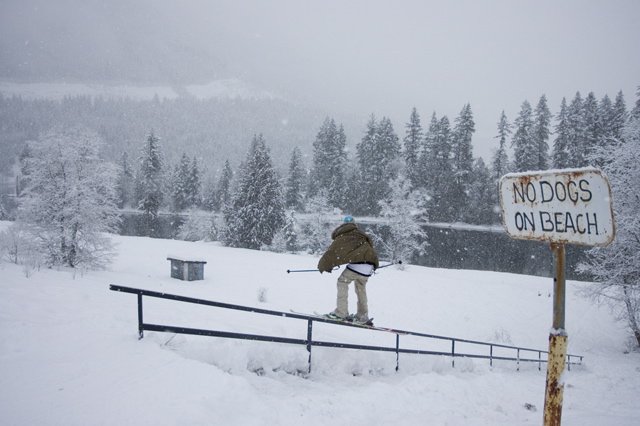 Max
Day five and it was time to move out and start heading back towards Whistler, more snow was on the way and with a ton of shots under our belts we were all keen to hit some pow. We had heard about one last rail on our way home.  A 65 ft down bar just outside Nelson, a worthy shot for the last one of the trip.