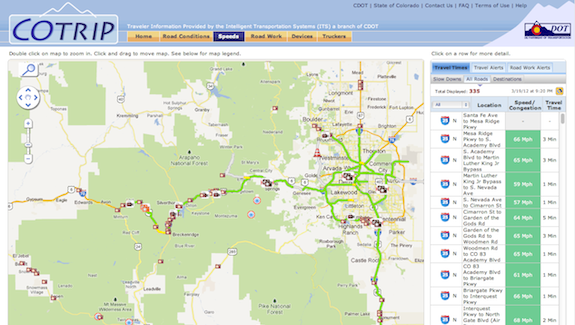 A few weeks ago my girlfriend and I were getting ready to head back to Boulder from skiing in Vail on a Sunday. We checked CoTrip.org as we religiously do, and were disappointed to see that traffic was listed as red status all the way back to Denver. We didn't really want to hang out in Vail to wait it out, but we also didn't want to spend the next five hours sitting in traffic. What to do?
Enter the "Fairplay Route." We drove from Vail to Breckenridge, and then through and out of town via CO-9 S. This took us over Hoosier Pass, into fairplay and to US 285 which took us almost all the way home. This scenic route, and it is very scenic, added about 30 minutes to the normal (traffic free) I-70 drive, but probably took less time than the crowded I-70 parking lot would have that day. Also, even if it was the same amount of time, it just felt good to be moving instead of sitting in traffic.
So, the lesson is, check the traffic before you head home, and if it looks bad, take an alternate route. You'll be glad you did.
For a couple more traffic-avoiding tips, see the article I just wrote for Vail Resorts here.