Yep, it's really happening, camp is on! Our first session is underway, with a super-stoked group of adult (well, really big kids would be another way to put it) campers.This first session is traditionally a mogul camp, but over the past few years the freeride interest from the "mature" demographic has been growing, and we now have a pretty awesome group of campers who are getting their freeride game figured out. Watching skiers in their 40s and 50s pushing themselves on the jumps, rails, and halfpipe, is truly an inspirational sight!This week we have Sarah Burke and Mike Riddle coaching, and the lane is coming together by the day. We had a nice treat on Tuesday, with about 5 inches of fresh pow in the morning.Here's a little shock value for you, this guy did this to himself on a rail on day one and didn't even miss a beat, just kept on giving' er. Not bad for a guy who has kids older than some of you.....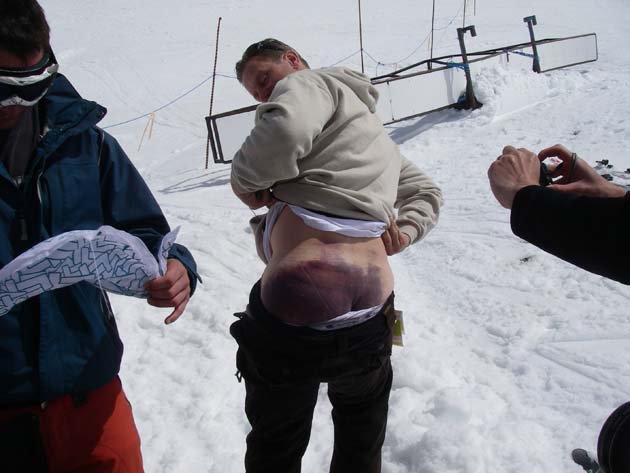 The digging crew has been slaving away getting features ready for the start of kids camp, and we've had a pretty good sized crew of riders up daily, helping us to test the features as we build them.Here's one of the new rail combos for this year, I've been thinking of this one for a while, and our good buddy Darrin at Snowpark Solutions did a great job of building us this beauty. Seems like everybody does their big switch up tricks on battleships or up-down combos, and I thought that maybe if we can build something that offers a little more "pop", then we might see some really creative rail to rail moves. We have it set up fairly mellow right now as everybody gets used to it, but I think we'll increase the gap a little more soon, and set it up so it's a little steeper on the take-off of the first box. So far it seems to be a hit, the crew has been sessioning it hard.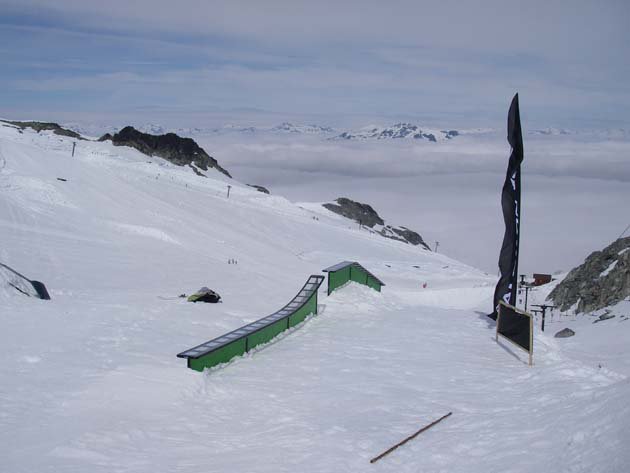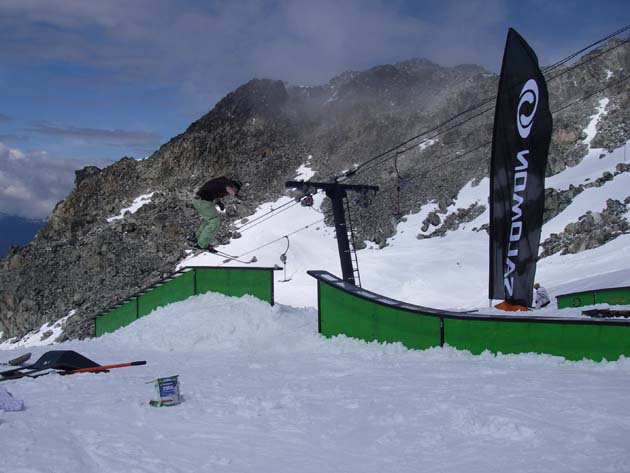 We're going to be flying up our big rails as soon as we get a good weather window, and the big wallride is under construction right now. We also have another wallride this year, courtesy of Whistler Blackcomb we are rocking the Pontiac car-ride. Here's a shot of the crew getting it ready.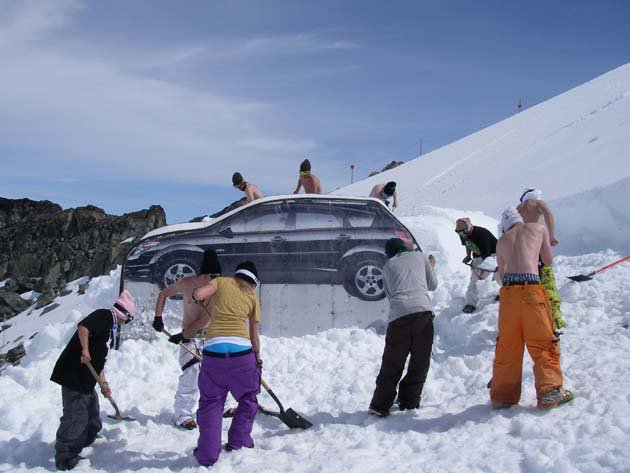 The jumps beside the t-bar are still in the building phase, but have been riding really well, and there's already been a few great sessions as we test them out. Here's a shot from yesterday, Dane Tudor throwing down against the clouds.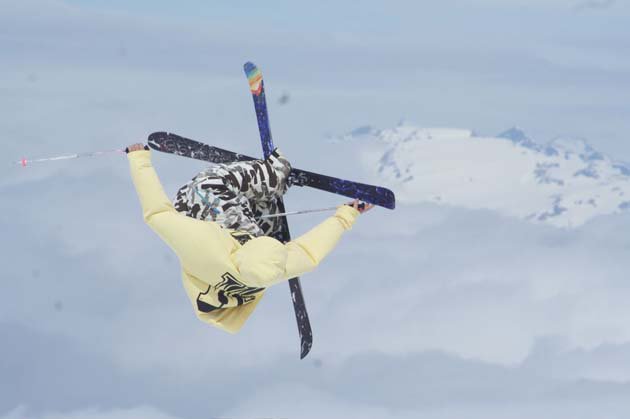 We are pushing snow in lane 1, which used to be High North's big booter lane. Doug B and Turpin have been giving me the scoop on what to build over there, and TJ will be adding his insight to the design of those features too, so we are super stoked to get that going.And in case you haven't heard, we just added another EPIC coach to our line-up, Mr. IAN COSCO! He's in for session 3 and maybe more.............See you soon everybody!