We're proud to announce the grand opening of our brand new flagship store in Seattle!
The new evo Seattle has 50% more floor space, allowing for better merchandising, dedicated service areas and is staffed with more employees to serve customers. There is more free parking and easy access to and from I-5, Hwy 99, plus better public transit service and access to the Burke-Gilman trail.

With more floor space, we are able to offer our customers a wider selection product from the best ski and snowboard brands. The store also carries all the accessories needed to make the best of any day on the mountain.
The new store has beautiful shopping areas dedicated to men's and women's products, featuring the best assortment of technical outerwear and casual clothing for the action sports, active lifestyle customer.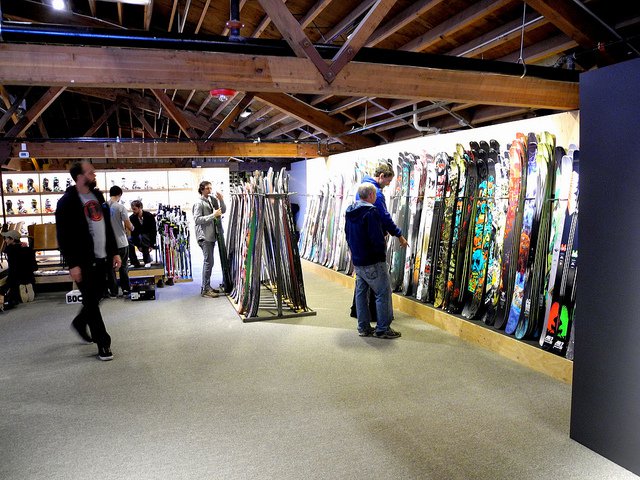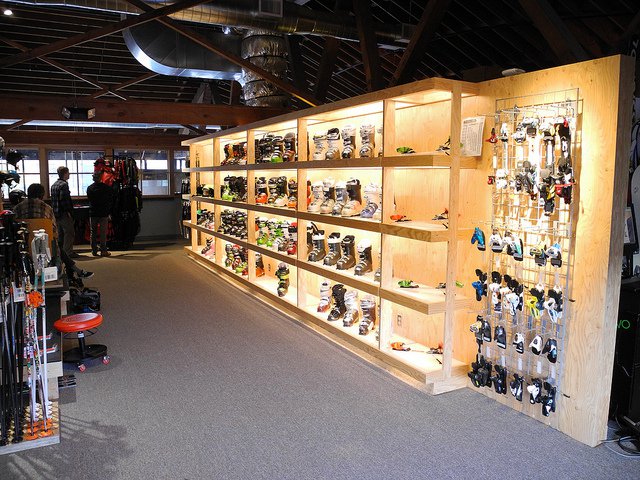 At the new evo, we will be building on the success of the art gallery at the former location. The gallery in the new store is integrated into the main sales floor, and will feature local artists and brands that are inspired by action sports to seamlessly tie together sport, community and culture. New exhibits will rotate monthly (on the first Fridays in synch with the Fremont Art Walk). Spy Optics will be the first to display in the new evo art gallery.
The South Wall Project is an adaptation of the "West Wall Project" concept to a larger south facing wall on the corner of Stone Way and N 35th St. The wall has featured murals from Push/Spy Optic, Obey, Patagonia and Spacecraft in the past, and the new location is even better situated to allow commuters of all types – by foot, car, or bike - to enjoy various artists' work. For the grand opening, the crew from Electric Coffin has been hard at work painting the South Wall with a mural from Burton Snowboards. This LED lit wall will be a beacon of inspiration and collaboration. The South Wall art is scheduled to be changed at least 2-3 times per year.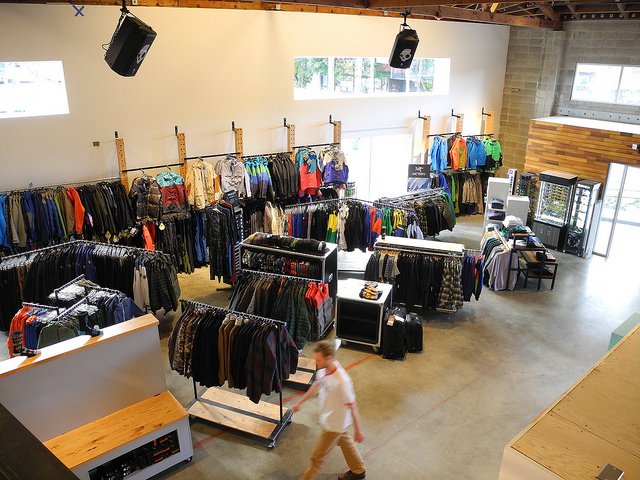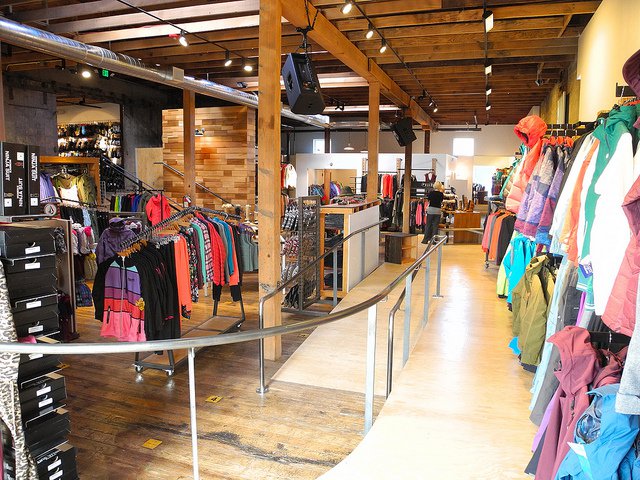 In addition to all of that, Skullcandy has installed a state-of-the-art sound system throughout our store. We plan to continue to host ski and snowboard movie premieres and special events to continue our goal of being a gathering place that builds a sense of community. Within the evo store we will also be holding a variety of in-house events like avalanche awareness educational clinics, new product introductions, and focused themes such as an evening specifically for women, or for backcountry enthusiasts, as well as other activities. The new store will also continue serving as a venue for events that support evo's favorite charities like the Service Board and Big Brothers, Big Sisters of Puget Sound. To create excitement and provide entertainment to the events, we are working with new companies like Protosong.com and local music artists.
The new store is located at 3500 Stone Way North, Seattle, WA 98103, on the border of the Wallingford and Fremont neighborhoods. Access to us has never been easier – whether by foot, car, bike or public transportation. Just a few short turns from I-5, HWY 99 and the Burke-Gilman Bike Trail, we are now more centrally located and easy to find, with plenty of parking in the back and next door to The Fremont Collective Building. Customers can also take Metro Transit bus routes 26, 30, 31, 32, and 46.
Our flagship store is a part of The Fremont Collective building. This 25,500 square foot building is also the home to two amazing restaurants, Joule and The Whale Wins. While the three businesses are separate, the building experience is integrated such that customers can enjoy shopping, and grab a bite to eat. The Fremont Collective building also features a skate park – All Together Skate ("ATS"), which will open its doors at a later date, bringing Seattle its only indoor skatepark.
http://www.youtube.com/watch?v=VpNz6Mp6yiM
With the expansion of the new location, we have hired over 30 new store employees and promoted several employees to bring customers an even more enriching store experience. Jerry Chevassus, evo's new Director of Retail and New Store Development, says, "The Assistant Managers, Darren, Nicole, and Tom, bring a great mix of talents from business savvy, technical product knowledge, are enthusiastic about what they do, and have prior management expertise in the action sports industry. All three are local talent and come from within evo. I am excited that we are able to 'promote from within' and that we are able to build on our tremendous tribal knowledge at evo."
http://www.youtube.com/watch?v=qxTZvuIHGNw
For more information on evo, check out www.evo.com, and be sure to Like us on Facebook at www.facebook.com/evo, and to Follow us on Twitter at twitter.com/evogear.