Skis
4FRNT
4FRNT is no newbie to the women's ski game and it shows; producing a 4 ski quiver for almost any condition, they did their homework when it comes to the ladies. They've created their ContourCore made specifically for women which places the center of the ski accordingly to a women's center of gravity and for all the non believers out there, "baby making hips" is a saying for a reason. For a long day on the skin track, big backcountry lines, and fresh powder storms the Hoji W is 4FRNT's go to ski. Based off the men's Hoji, the Hoji W comes in a little bit different sizes, but is basically the same ski. The Aretha is built for a solid ride around the mountain; whether you're going mach ten or getting through some leftover crud this ski will keep up. If its performance in bad conditions rings true you can only imagine what a blower pow day has in store. For the east coast skier, or someone looking for a little narrower all mountain ride the Madonna fits. Pulling in right under (and at) 100mm with a camber/rocker profile these babies will cruise down any ice mound you call home. Finally, for all you park girls the Blondie. Based off the men's Click, with a lighter swing weight and full camber it's the perfect ladies jib stick.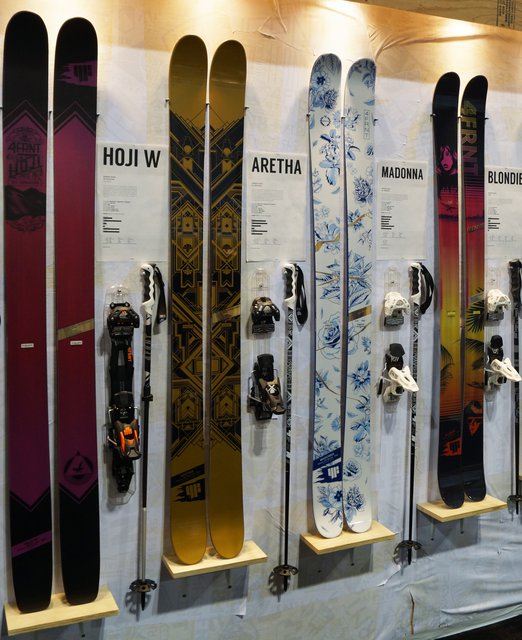 Hoji W - Big Mountain
171 127/112/119
179 129/112/120
187 130/112/121
Aretha - Big Mountain
154 118/99/113
164 124/102/119
174 130/105/125
Madonna - All Mountain
158 118/94/114
165 121/96/116
172 123/98/118
179 126/100/124
Blondie - Park
157 115/83/110
162 116/84/111
167 117/85/112
172 118/86/113
E: Really stoked on the Hoji W's. So awesome to see them making a big mountain ski in such big sizes. Not a huge fan of some of the graphics, but hey that's not what it's all about.
M: 4FRNT have thrown it back to a miami vice vibe for the Blondie next year. They are one of only 2 companies to give us 4 choices in sizes, which is rad to see. It's super similar to the men's Click, a good cambered park ski. Basically the only difference between the 4FRNT mens and womens skis are graphics and size, no 'pink it and shrink it' here!
B: I'm often not a fan of brands putting a pretty top sheet on a men's ski, making them in tiny sizes and calling it a girl's ski. However, when you consider how great the men's park ski is, the female version, the Blondie, is going to be a great option this season for a nicely cambered, performance park ski. My favourite ski of this range is the 179 Madonna. It's so nice to see a brand catering for us taller gals. I'm really excited to see a girl's ski I can finally try, as at 177cm tall, the usual 165 girl's ski is way too short for me. It's a little bit softer than the men's ski which will make it a nice ride for girls who don't have the weight the men are carrying, but are looking for similar performance.
Armada
"We'd be doing females a massive disservice by tweaking the flex or the famous pink it and shrink it, which we are obviously not huge fans of. We give a graphic females can call their own, but (are) definitely not going to dumb it down." Armada's flagship women's ski used by their X-games athletes is right up there with the boys. It comes with an incredible new top sheet; real flowers placed on a chalkboard into the shape of a skeleton, photographed and digitally enhanced. They're the best everyday ski for park laps and taking a few groomer breaks. The ARVw is now available in more than just one size and was given a bit of nose rocker. This one is your ticket for an all mountain ski with a bit more width than the ARW. The Cantika is the ultimate lightweight option for ladies; whether it's your first day on skis or you just like to have the feeling of nothing on your feet, these babies will let you turn with easy and power down the mountain. Stepping up a bit, the TSTw will not only charge all over the mountain, but will also excel in freshies. The construction has stayed the same because as the saying goes, "if it ain't broke, don't fix it". Quite possibly one of the more controversial ski names in ladies skiing, the VJJ 2.0 slay so hard in powder you're going to be screaming their name. The big change here is a less dramatic taper which pushes the contact point out a little bit longer. This gives way to a more mellow turn radius, promoting flotation at slower speeds and stability at higher speeds, but reducing the uphill cut during a turn.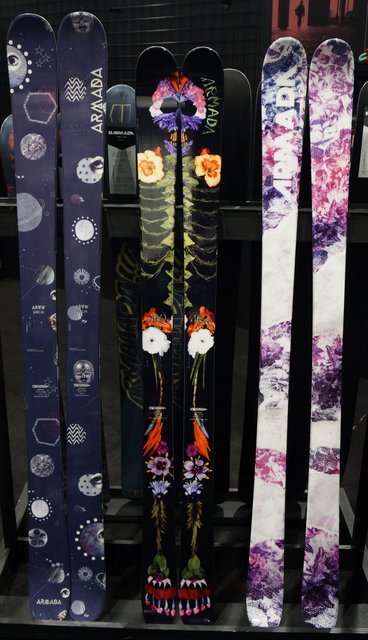 ARVw - All Mountain
158 129/96/119
168 131/97/121
ARW - Park
161 116/83/106
166 117/84/107
Cantika - All Mountain/Park
150 114/78/104
157 117/81/107
164 119/83/109

VJJ 2.0 - Powder
155 124/112/121
165 129/115/125
175 130/116/126
TSTw - All Mountain
156 116/99/120
165 117/100/121
174 118/101/122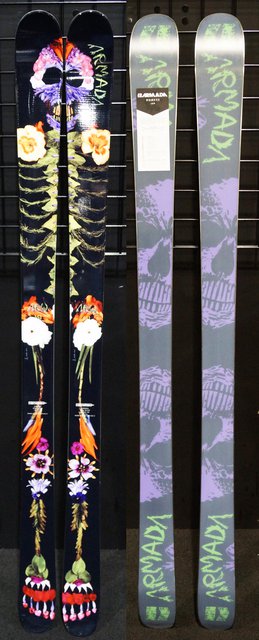 ARW
E: Yessssss. The whole line up is awesome. From the graphics to the construction, it's all so great. The ARW's graphic is so creative, using actual flowers to create the image, they also make such a good all around park ski. The TSTw's are on point this year, really excited to try these out all over the mountain.
M: Ah, the ARW. Every girl knows about this one. Armada build their girls skis like their mens, wood core; a super good all mountain and park ski. It does suck that they only come in 161 and 166 though... There's also the Cantika which is a park/all mountain ski, perfect for a girl looking for a one ski quiver for quick transitions in and out of the park.
B: I've always loved everything about the VJJ: the look, the dimension and best of all the name. This year is no exception. It looks like the perfect ski for a girl to shred some powder. It's the softer sister of the JJ, catering for the lower weight and smaller size of girls, but still maintains the dimensions of the male model. Another ski that looks promising this season is the TSTW, which offers shorter versions of the heavily acclaimed men's ski, while adding some really nice graphics and a lighter core. It's really cool to see Armada not buying into the old industry norm with ultra feminine graphics on their girls' skis. The graphics of the ARW are fantastic.
Atomic
One of the big names in skiing, Atomic has brought a strong line up of women's all mountain and backcountry skis. The Vantage series is an all mountain, on piste ripper made for charging hard. Atomic has introduced some new technology to the series, a carbon mesh for less weight and to promote strength. The Vantage 90 has introduced a titanium backbone to run throughout the ski to ensure running stability giving the ski not only an awesome graphic, but a high performance all mountain ride. The Century series is for those early morning tours or the inbound powder days. The Century 109 has a carbon power booster to maximize rocker stability. Both skis in the Century line have a rocker camber rocker profile that contributes to massive flotation and stability on hard terrain.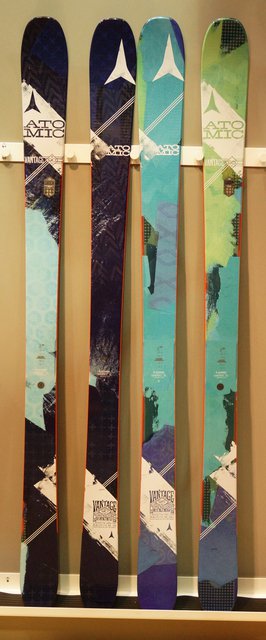 Vantage 90 CTI W - All Mountain
153 127.5/90/111
161 129/90/112.5
169 130.5/90/114
Vantage 95 C W - All Mountain
154 130/95/115
162 131/95/116.5
170 132/95/118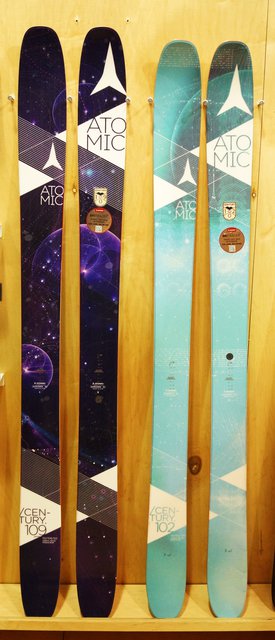 Century 109 - Freeski
159 131/109/121
167 132/109/122
175 133/109/123
Century 102 - Freeski
156 128/102/
164 129/102/
172 130/102/
E: It's nice to see Atomic giving these skis a more modern construction. They're using twin tips on skis that very well could have a flat more directional tail, but you are now able to be a little more versatile all over the mountain. The Century is going to be a solid choice if you want to ride all over the mountain, especially on steeper terrain out west.
B: The graphics on the new girl's line are right on point. I love their use of blues, greens and black to generate a feminine yet serious-looking ski. The Vantage 90 looks like a great symmetrical ski for the girl who wants to ski everywhere.
Faction
Faction has certainly come out strong this season. With a young girls freestyle ski to a big bad backcountry twin, they really know what they're doing. "Built with the same technology and quality of the men's line, these are not dumbed down skis with a pretty topsheet." The Ambit, a symmetrical freestyle twin, has gotten an updated tip and tail by adding some rocker to accompany the softer flex. These skis are going to be a go-to for sliding rails and jibbing around the mountain. The bigger sister, the Heroine, is an all mountain twin that is the perfect one ski quiver. Whether you want to cruise groomers in the morning or hot lap the park in the afternoon, this ski will do it all with a rockered tip and tail. The Supertonic, a backcountry twin, has been updated to a balsa/flax hybrid core to create a super lightweight powder ski, perfect for hauling up the bootpack. Not only is this ski light, but it can take on any pow day or big line. Even better, this ski sizes all the way up to a 182 for all those charging tall ladies. Not only has faction created some amazing skis, but they brought on some ripping ladies to design all the graphics, topsheet and bases.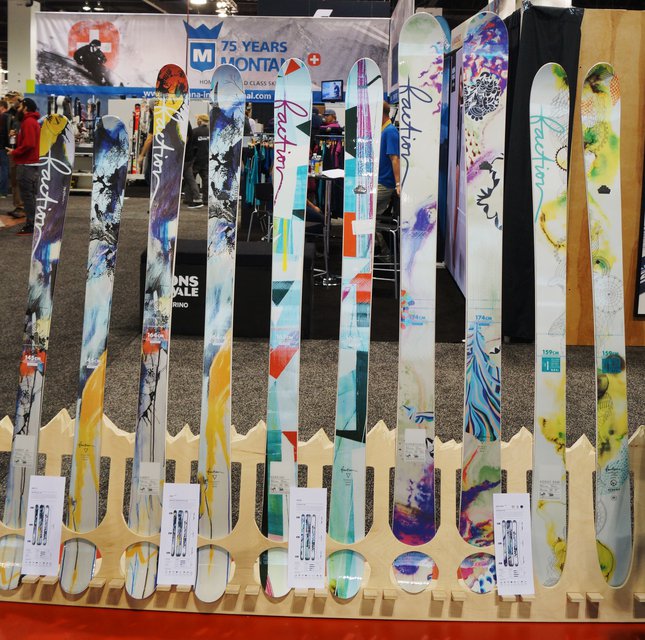 Ambit JR - All Mountain/Park
125 113/79/105
135 113/79/105
145 113/79/105
155 113/79/105
Ambit - Park
154 116/86/116
158 116/86/116
164 116/86/116
174 116/86/116
Heroine - All Mountain
158 126/92/116
163 126/92/116
168 126/92/116
Supertonic - Backcountry
158 142/107/131
164 142/107/131
176 142/107/131
182 142/107/131
Agent 90W - Freeride/Touring
149 126/92/116
159 126/92/116
164 126/92/116
174 126/92/116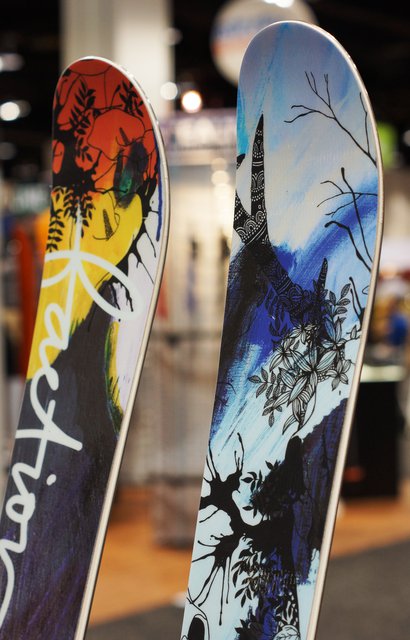 Ambit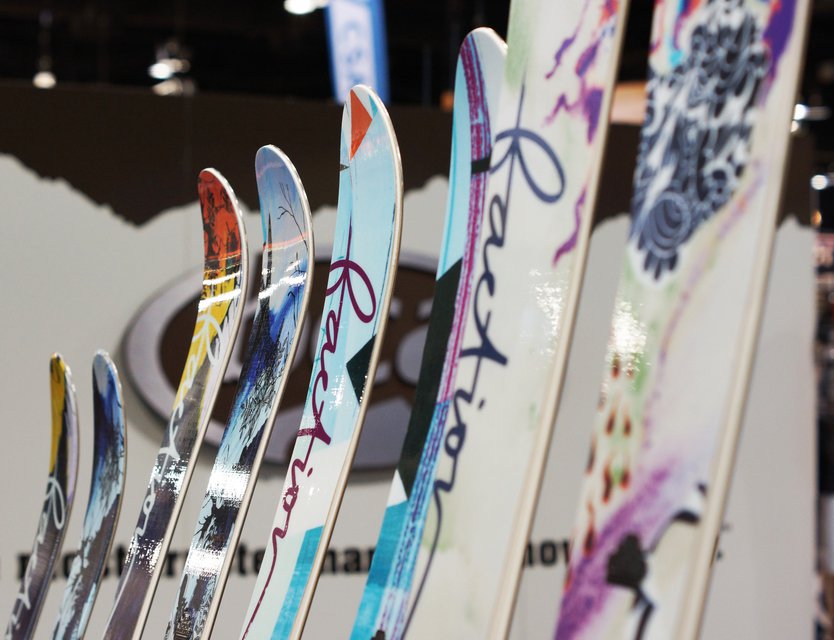 Ambit, Heroine, Supertonic
E: I had a pair of the Ambits and they're so great. I love the new graphics for them and they're such a fun park ski; smooth, buttery and light. The Supertonics are going to be great for heading out to the backcountry. They're still light, but will handle the hard lines you ride.
M: One of only 3 brands to make a true twin and available in 4 sizes ranging from 154 to 174 (fun fact: 174 is the longest women's park specific ski that we reviewed), Faction are really doing the chicks a solid next year.
B: Faction are killing it in the women's range this year with five different gender-specific skis, all in three or four lengths. From 80mm to 107mm underfoot Faction has skis that suit any type of skiing. In my opinion the best part of the Faction lineup is the Ambit Jnr which is a girl-specific junior ski that is just a smaller version of the Ambit women's park ski, which looks amazing. With some lovely blue graphics you won't feel embarrassed around the boys in the park as this is a really nice park ski without going overboard with the femininity seen on some skis.
Icelantic
Voted the small brand in skiing to watch, Icelantic has been making their handmade skis in colorado for the past 10 years. This year they're expanding their women's line to two skis. One of the only companies to have a female CEO, we took some time out to speak with Annelise Loevlie directly to get the inside scoop on the skis. Icelantic's number two seller of the whole line, men and womens, the Oracle, has received a tremendous construction makeover. They gathered a lot of feedback from women saying that they would like a narrower width. So they did just that, trimmed down the waist and added three new sizes. The new ski, the Maiden, is based off the men's Nomad rocker, the number one selling ski of the line. Loevlie described it as a step up from the Oracle with a fatter waist, stiffer core and a nice turning radius. Both of these skis incorporate a "fly-weight" core. The "fly-weight" core makes the ski extremely light designed for women and smaller frames. She added that the lightweight core does not compromise the ski at all and that what matters at the end of the day is the strength and integrity of the wood. Icelantic reels in some of the most original graphics every year and this year is no exception. The theme Mountain Cultures incorporates the landscapes of mountains around the world and some of their important people or symbols. The Maiden showcases the norwegian goddess Skaoi, who is associated with bow hunting, skiing, winter and mountains. Kind of perfect for the hard charging women's ski. The Oracle's graphic ties more into it's name and is modeled after the Andes culture.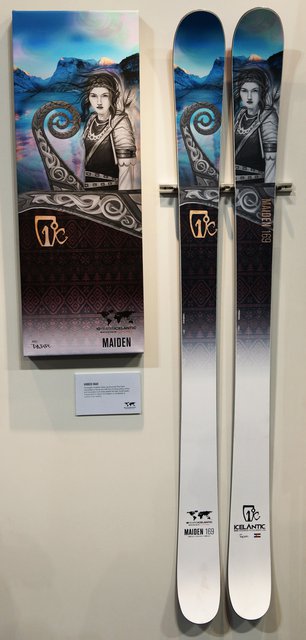 Maiden - Freeride
155 136/101/126
162 136/101/126
169 136/101/126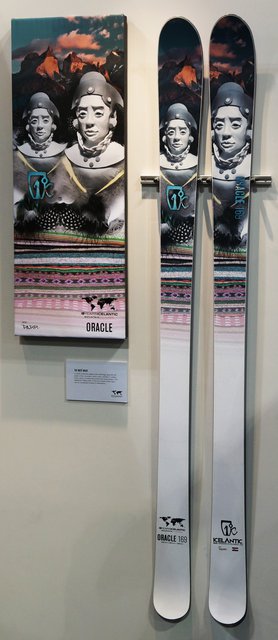 Oracle - All Mountain
155 126/88/108
162 126/88/108
169 126/88/108
E: Picking up these skis, I literally couldn't tell I was picking skis up. They are sooooooo light. Now that is great for some things, but not sure how that will translate to riding through crud and such. It's awesome that they've added more models to the women's line up, great to have more options out there. Definitely wish they would make some in some bigger sizes though.
M: THEY'RE SO LIGHT. Mah gawd. As Neddy Flanders would say, feels like you're wearing nothin' at all... The graphics for all the Icelantic skis next year have an awesome story. Each ski is modelled after a different mountain range around the world and the concepts are all inspired buy the unique cultures, which is sick. Nice to see Icelantic branching out more into the womens market. No park specific skis yet though.
B: The pick of the graphics this year by far went to Icelantic. Their ski graphics are actual mountain ranges from all over the world and a caricature of a powerful woman from that area. Combined with a great colour scheme, this means the brand new Icelantic girls' range provides some of the best looking skis this year. Fun fact: their graphics are first painted as a picture and then transposed onto the skis. It's awesome to see a girl's ski from Icelantic, so hopefully they branch out more in future.
K2
K2 has always been a leader when it comes to the world of women's freestyle skiing. Allyssa Clarke showed us the new line up with what has changed, where did the MissDemeanor go and what they have to offer the ladies. The all mountain line, the Remedy series, offers something for all conditions. The Remedy 112 is not just strictly for powder, but will also carve around the mountain. The Remedy 102 is the ski anything anywhere super versatile all mountain ride. The Remedy 92 takes the place of the MissDemeanor. They've widened it up a bit and added more taper for ease of entry into a turn and added playfulness. The MissDemeanor is the previous park/all mountain ski, but they felt it was getting left behind as an all mountain ski. "We didn't want to pigeon hole it as just a park ski. We want to showcase it as an all mountain ski." On the park side of things, the MissConduct has remained unchanged. "We asked our female pro team what we should change about it, they all replied with nothing, they loved it." The entry level Empress is the only ski to incorporate the jib rocker profile. Not only is this a ski for beginners, but also for ladies looking for a softer flex and more playful ride (when compared to a full camber ski). K2 has done some awesome work with the graphics this year as well, "Just because you're a beginner doesn't mean your graphics have to suck." The Backcountry line, the Talkbacks, are designed with the help from a group of female backcountry-focused skiers. They feature more taper and an all terrain rocker. The Talkback 96 is the ideal backcountry ski for not only getting up hill, but having a bit of width to enjoy the fresh powder on the way down. If you're looking for an even easier ascent, the Talkback 88 is made for going uphill quick and enjoying some tight turns on the way down.
Remedy 112 - Powder
169 135/112/130
179 135/112/130
Remedy 102 - All Mountain
156 131/102/125
163 131/102/125
170 131/102/125
Remedy 92 - All Mountain
156 124/92/118
163 124/92/118
170 124/92/118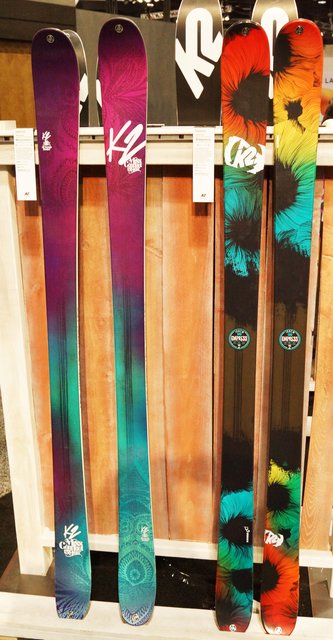 MissConduct - Park
149 118/85/109
159 118/85/109
169 118/85/109
Empress - Park
149 113/85/104
159 113/85/104
169 113/85/104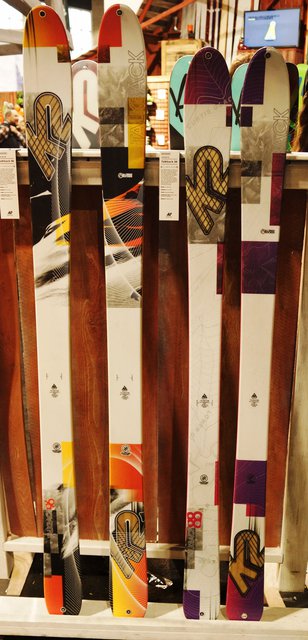 Talkback 96 - Touring/Backcountry
163 128/96/118
170 128/96/118
Talkback 88 - Backcountry
153 126/88/167
160 126/88/167
167 126/88/167
E: K2 has so much variety in their women's offerings. Multiple options for any type of riding, which is so nice to be able to have options. The Remedy series is so great for all mountain variation; groomers, powder, anything! Kind of bummed about the MissDemeanor change, but it makes sense to just make it into an all mountain ski with jibbing capabilities.
M: The only brand to spoil us with 2 park specific choices (unless you count Armada's Cantika...). Both the same underfoot, with the MissConduct having a little tighter radius, and they have different rockers.
B: The new K2 girl park skis look really interesting. Both the MisConduct and the Empress skis having the same waist which gives you the unique ability to chose which tip and tail width enabling you to tailor the skis to your personal style. It's really cool to see a highly progressive move catering for those who want to change the finer details while keeping a park specific waist
Liberty
Liberty has introduced a three ski quiver this year. The Jinx is a great all mountain ski with a light core. Liberty was able to make the ski so light by using a multi wood core to incorporate different woods for different purposes; bamboo for strength, paulownia and poplar for lightness. The Jinx has a stealth rocker to promote playfulness and a tapered tip and tail for easier turn initiation. The Envy comes in a bit fatter than the Jinx for a wider platform in different snow conditions. They've changed the construction a bit by making the ski lighter with a bamboo backbone. The Envy has a stiff cambered mid-section while still having a stealth rocker in the tip and tail producing a solid platform to carve and easier turn initiation. New to the Liberty lineup is the Genesis. Designed for powder, this ski is made to surf down the mountain while still gripping in the mid-section. We spoke with Creative Director, Shannon Kennedy, who not only designed the women's graphics, but Liberty's entire line of skis. She described her design process and how she includes an element of nature in all the skis. Regarding the women's line she explained, "I tried to make it something I like, my girlfriends would like and something my mom would ski on all at the same time."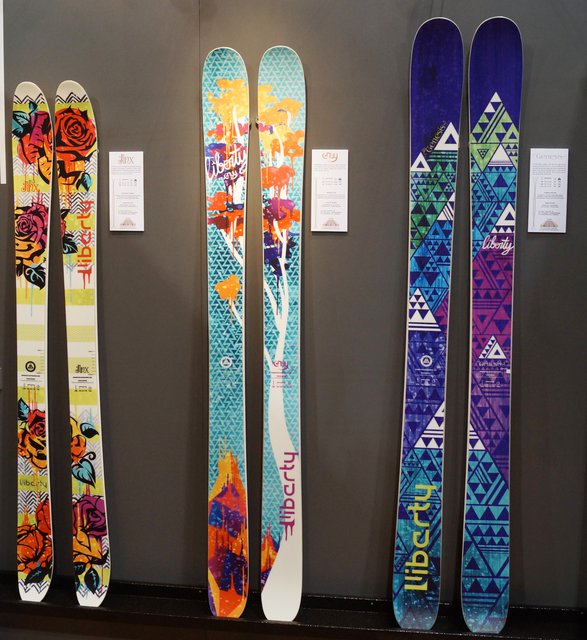 Jinx - All Mountain
159 129/94/118
168 129/94/118
Envy - All Mountain
156 135/105/125
167 135/105/122
Genesis - Powder
158 145/116/136
166 145/116/136
174 145/116/136
E: It's great to see such a small company with three women's options, kind of something for everyone. It's so cool to see a woman design not only the women's, but the entire companies line. You go girl.
Line
Line's lineup looks a little different from years past and the big question was, What happened to the women's park skis? Global Brand Director Josh Malczyk broke it down for us. "Park skis? We make the best park ski in the world. We don't make the best men's park skis in the world, we just make park skis. So the girls in the park our riding our 'Adult Mens' skis." Makes sense. Here is what Line is offering up to be women's specific. The directional freeride Soulmate series has been redesigned into the Soulmate 92 and the Soulmate 86. The 92 is the hard charging ski with Sidewall technology which translates to maximum durability and a smooth solid feel. The 86 is an easy in for any lady out there that wants to ski with power, but with a light and responsive feel. The lightweight women's freeride Pandora is back with an addition to the series. The Pandora 95 mirrors the Sick Day 95 to create an all condition playful skis. The 95 includes the Thin Tip technology reducing swing weight and tip chatter. The original Pandora 110 remains unchanged to be the perfect soft snow all terrain ski. To check out the park skis from Line, head over to the SIA overall coverage for a full line up!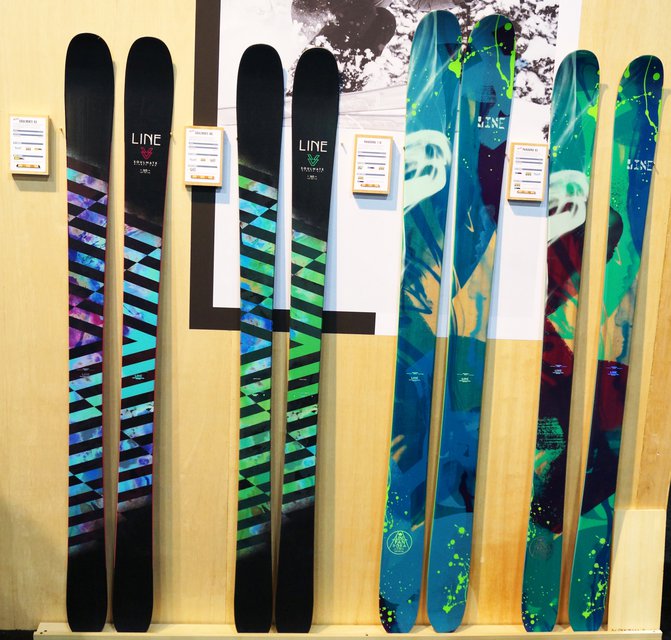 Soulmate 92 - Freeride
151 127/92/115
158 127/92/115
165 127/92/115
Soulmate 86 - Freeride
151 125/86/111
158 125/86/111
165 125/86/111
Pandora 110 - Powder
152 142/110/125
162 142/110/125
172 142/110/125
179 142/110/125
Pandora 95 - All Mountain
152 130/95/115
162 130/95/115
172 130/95/115
E: Kinda bummed there are no female specific park skis, but it makes sense. At the same time, looks like it gave them more time to develop the rest of their women's line. Having a women's ski like the Sick Day, the Pandora 95, so stoked to ride them.
M: Girls who ride Line usually use the Chronics for park laps, which works. If it aint broke, don't fix it.
B: The Soulmate 92 looks like a promising ski for the all mountain girl. These are a sister ski to the men's ski the Supernatural and will hopefully prove a more aggressive ski than what has been seen in the past. The jump in waist between the Pandora 95 and the Pandora 110 is interesting considering they have a few 100mm waisted men's skis, however the Soulmate looks like a great ski to shred all over the mountain.
Moment
Moment's female lineup has gone unchanged, but that's not always a bad thing. Boasting two all mountain skis and a powder ski, moment is really living up to their reputation. The Hot Mess, an 87mm underfoot all mountain ski with a triple camber and front rocker, these skis are built to take you all over the mountain and down to your favorite watering hole. The Sierra, an all mountain twin rocker with triple camber underfoot, is Moment's flagship and for a good reason. With a width ranging from 95 to 99 depending on length, the Sierra is the perfect do everything ski; corduroy groomers, any kind of powder, even tight chutes. For those big storms and leftovers the Bella will do you right. With a "mustache rocker" (tip and tail) and a slight camber underfoot these skis will blow through champagne powder and cut through the crud. At 108 underfoot you can cruise the groomers on the way back to the base.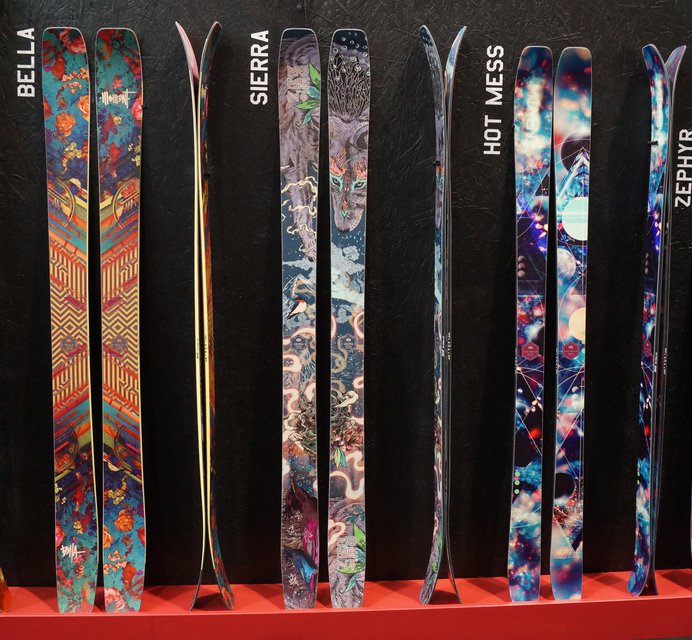 Bella - Powder
162 136/108/128
172 136/108/128
Sierra - All Mountain
162 120/95/112
172 124/99/115
Hot Mess - All Mountain
158 115/87/103
168 115/87/103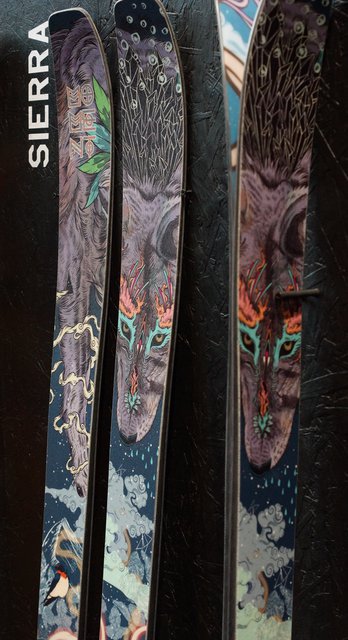 Sierra
E: The Sierra, from its look to its construction, oh my god, so on point, yes please! The whole line up, graphic wise, is probably my favorite. So much creativity and intricate details went into each ski. I kind of wish I could have a pair of each of these. Definitely would pick the Sierra's for an everyday one quiver ski.
M: No park specific skis for tha ladies from Moment. But they nailed the graphics this year. The Sierra is badass, and "Hot Mess" is probably my favorite name for a ski ever. But neither of those things will make you ski better. Guess we'll have to find out during demos.
ON3P
Joining the world of women's skiing this year, we graciously welcome ON3P. Designed with input from women's skiers they've done it right. The Jessie's come in three different widths based on platforms already existing in the men's line; the Filthy Rich, Kartel and Jeffrey's. The 86's are a more park/all mountain ride, the 100's all mountain, but capable of riding switch and hitting features and the 112 for deep powder days. There are only slight differences between these skis and their men counterparts. They are made with a caramelized bamboo core as opposed to the natural bamboo core to minimize weight. They have a more tapered sidecut to make them more turny. The big question is, With all these tweaks, how do they compare to them men's? Sam Caylor tells it to us straight, "Oh they're right up there with them. They're not flimsy, they're not dainty in any way shape or form. The women's specific ski, when it comes to mind, is a flowery, soft ski; that's not these at all. These are for the girls that rip or want to rip."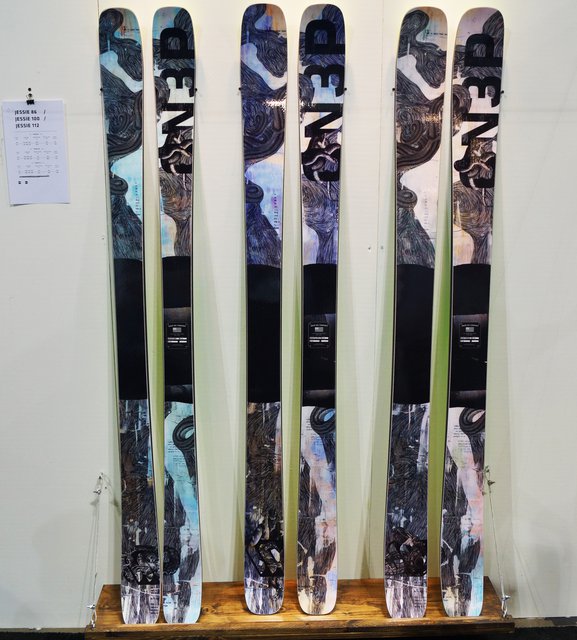 Jessie 86 - Park
161 114/86/114
171 116/86/116
Jessie 100
161 126/100/120
171 138/100/122
Jessie 112
161 136/112/128
171 138/112/130
Jessie 100
E: Oh the Jessies. I may be a bit biased because I have a pair of the 100's, but these are truly an amazing ski. You can turn on command and float through the air. Ski through crud, powder, groomers, they will literally do it all. They still have a bit of weight on them, but it also adds to their durability. Would love to take the 112s out on a powder day or the 86s into the park. The graphics are so great too, designed by a woman which is super rad. They're still female friendly, but have super cool details like snakes eating birds!
M: This was one of my favorites of the whole show. The new Jessie 86's. Built really similarly to the filthy rich, albeit a bit lighter and a bit tighter (radius, duh). Another true twin, with slightly thicker edges which are more resilient to the rail damage that bad bishes be gettin' done. I actually also got to demo the Jessie 100's at On Snow and they were so much fun. The girls did a great job with the specs on this one. Receptive and floaty. Loved 'em. ON3P could easily convince me to buy a set of girls skis.
B: To me ON3P had the most promising girl's range of any company. Rather than just slapping girly graphics on men's skis ON3P have altered the dimensions to better suit women's lower centre of gravity. All three of the Jessie skis look great in every way, designed by girls for girls. Unfortunately they were too short for me to try, but the skis from which they are designed, the Filthy Rich, Kartel and Jeffreys are such great skis I think the Jessie's will be amazing. The three different waist dimensions give a nice range of options and the inclusion of the Jessie 86, a symmetrical twin-tip, will be awesome for girls who shred park. Everyone I spoke to at the show sung their praises so these would be my pick to get, if they were long enough for tall girls.
Rossignol
Focusing on Rossignol's freeride, backcountry, and freestyle series to get rid of the directional clutter, we find the 7 Series, one for the ladies who want to rip all over the mountain, with style. Though none of the 7 Series have what we would consider a twin tail, that doesn't mean you can't jib around with these on a pow day. The flagship Star 7 is the powder and backcountry oriented ski. Constructed with a paulownia/diago wood core, it's ultra light, but with the air tip construction, stays above snow and initiates effortless turns and maneuverability. The mid fat Savory 7 has the same construction methods as the Star, but will be best used for the light snowfalls and general riding all of the mountain in most all conditions. The Saffron 7 will be perfect for any east coaster or a lighter touring ski with the same rocker and float as the fat counterparts. Graphic wise, the 7 series remains pretty unchanged from previous years to creates continuity.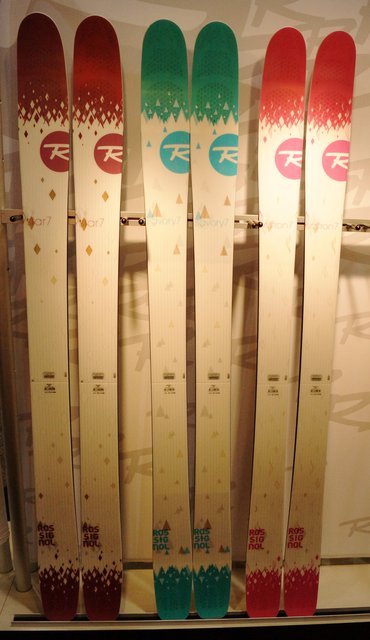 Star 7 - Freeride
162 140/116/130
160 140/116/130
178 140/116/130
188 140/116/130
Savory 7 - Freeride
162 136/106/126
170 136/106/126
178 136/106/126
Saffron 7 - Freeride
162 128/98/118
170 128/98/118
178 128/98/118
E: These are really awesome all mountain freeride skis, but I really wish they would do something different with the designs and the names. I feel like they're a little too girly and uncreative.
Roxy
They're back. This time teaming up with Faction to create their line of girl power skis. With a whole new line up they're showing the industry that they're contenders too. They are introducing a 4 ski quiver; Shima (not pictured), ily (not pictured), Dreamcatcher 85 and the Dreamcatcher 75 as well as 2 junior skis; Bonbon and Bonbon mini. The Shima an all mountain do everything ski comes in at 96 underfoot and ranges from 156cm to 172cm. It comes with a medium sized tip rocker, camber underfoot and a slight tail rocker to conquer any condition. The ily is Roxy's park specific ski. At 82 underfoot and ranging in sizes from 153 to 173 even the taller ladies can find their right fit. With an almost true twin, rockered tip and tail and a medium/soft flex, these are sure to spin you where you want. The Dreamcatcher 85 is their off-piste specific ski, with an active tip rocker to float over powder. If you're looking for a narrower width than the 85, the Dreamcatcher 75 is the way to go. A lighter and smoother flex than it's counterpart it's made to set you free on the slopes.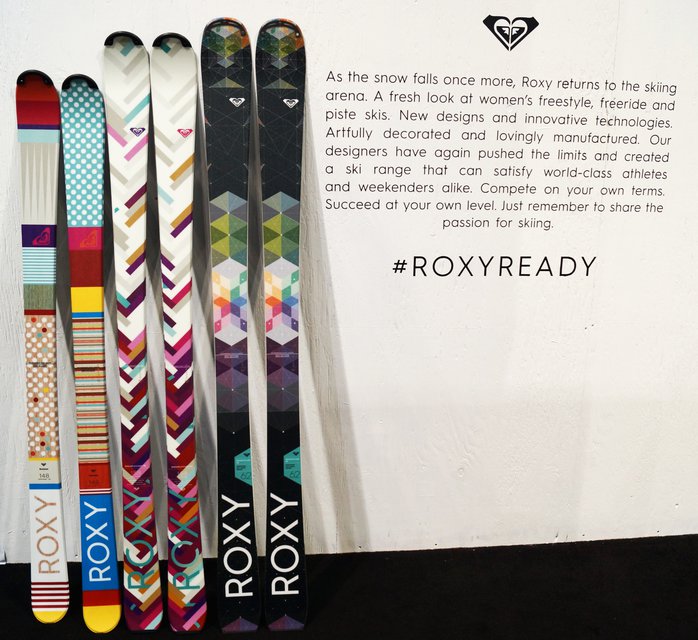 Bonbon - Junior All Mountain
124 113/78/104
136 113/78/104
148 113/78/104
Dreamcatcher 75 - All Mountain
142 119/72/103
150 119/72/103
158 119/72/103
166 119/72/103
Dreamcatcher 85 - All Mountain/Powder
154 130/85/115
162 130/85/115
172 130/85/115
E: Really interested to see how Roxy does now that they have the help from Faction. Faction makes some great stuff so it will hopefully help Roxy make some skis that are more than just something pretty to look at. They seem to definitely be sticking with narrower waists so I'm really looking forward to how the powder ski holds up!
M: It's nice to have an all girls brand, I think. But a lil' testosterone never hurt no body. Someone demo some and lemme know how they go.
B: It's been a while since I've seen a Roxy ski but it's nice to have a female-specific brand back in the market. The only benefit of a men's range as opposed to Roxy's female only approach seems to be the creation of a more aggressive ski, as these do seem pretty soft. However, I think with the thin waists (72, 85, 96) these could be really good entry level skis.
Sego Skis
Located in Victor, Idaho, Sego Skis is making a name for themselves. They've teamed up with Powder's woman of the year, Lynsey Dyer, to create a collaboration Unicorn Picnic ski. I spoke with Hannah Van Arsdell, marketing and sales coordinator, about the design and construction process. "Sego was motivated by Lynsey's vision and our own experience in the ski industry. We are working in a market that doesn't give enough attention to women's skis, and the attention that is given comes down to "shrink it and pink it" with almost every women's model out there. We want to help change that tact in the market, and this is only our first step. We are so stoked this issue is finally gaining the positive attention it needs and the ladies are taking a stand and making the difference." The ski definitely models Lynsey's style of skiing big charging lines which is a niche that needed to be filled. "Lynsey was looking to design a big mountain women's ski, one that rides hard, is super stable, and of course, fun. She wanted the ladies to get stoked on a ski made for them that rides big and hard, but in sizes that we demand." The ski doesn't differ much from a men's and Hannah explains that the only difference is a light poppy core.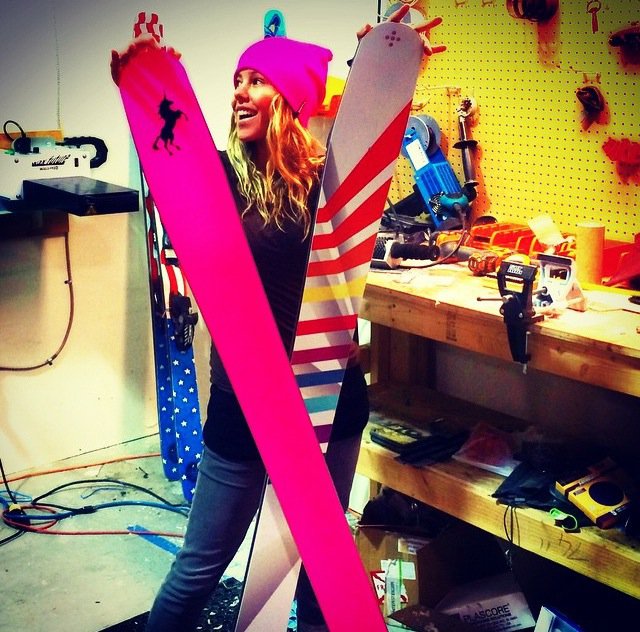 Photo: @lynseydyer
UP Pro - Big Mountain/All Mountain
159 136/110/127
167 136/110/127
174 136/110/127
E: These skis are awesome all over the mountain if you want to go fast. Definitely more of a hard charging all mountain ski, but that reflects the style of Lynsey. They were still pretty light and taking them over jumps had such a solid landing, so you can only imaging that when jumping over a cliff you're going to have such a solid landing.
Surface
After a rebranding and a year long hiatus from the women's skiing world, Surface is back. They're introducing the Daily H, the women's version of the Daily. As the name states it's an everyday do anything ski. Coming in at 100 underfoot, this ski will be able to ride all over the mountain or take on a bit of fresh snow. The Daily H has a camber underfoot and early rise tip and tail profile, providing stability underfoot while being able to stay above the crud. Unlike its male counterpart the melding of the core is a bit different and has a bit more taper leading to a softer flex and lighter weight.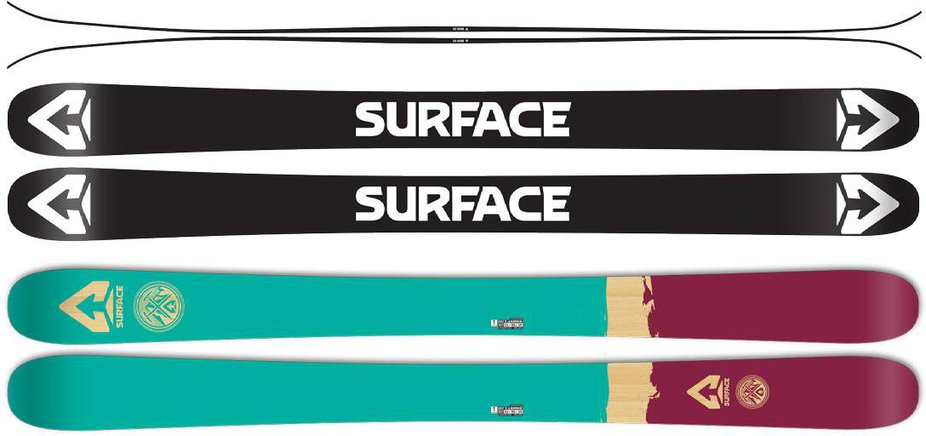 Daily H - All Mountain
145 133/100/129
161 133/100/129
171 133/100/129
E: Really glad that Surface has started making women's skis again. After talking with the owners, it seems that they're taking direct input from women they know which really helps to translate to a ski that ladies actually want to ride. I'm definitely a fan of the simplistic graphics and can't wait to take these for some laps.
Volkl
Last year Volkl made a splash by intorducing their first women's powder specific ski. This year they've introduced yet again a new women's ski to their line, the 100Eight W. Designed with a full rocker profile, flat tail and 108 underfoot, this ski is going to be perfect for the ladies hitting big lines and steep chutes. The One W has kept its original construction and sizing with a 116 width. The full rocker profile makes this ski the go to on deep powder days to surf the mountain. Boasting Volkl's title of "the most versatile women's freeride ski on the market," the Aura is living up to its name. With a width of 100mm it will still survive on pow days and sunny slush days. The full rocker profile is going to make this ski get up and over much of the crud that you could be dealing with in variable conditions. One of Volkl's more all mountain skis, the Kenja, has gotten a construction makeover. Now a bit wider, 90mm, early taper in the tip and with a tip and tail rocker this will be the ski to ride all over the mountain yet still be super playful. The Pyra, Volkl's women's park ski, is truly a rarity. This park and pipe ski has a true twin and features a tip and tail rocker profile making this ski not only jibby and playful going forward, but you're going to have that same feeling while cruising switch on these!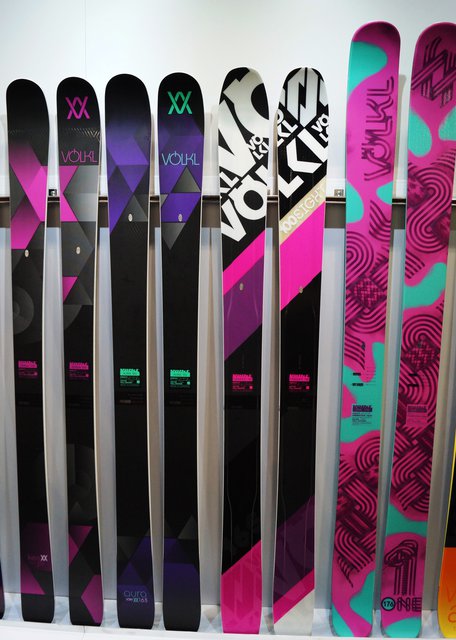 Kenja - All Mountain
149 127/90/110
156 127/90/110
163 127/90/110
170 127/90/110
Aura - Freeride
156 132/100/118
163 132/100/118
170 132/100/118
100Eight W - All Mountain
157 141/108/124
165 141/108/124
173 141/108/124
One W - Powder
156 138/116/130
166 138/116/130
176 138/116/130

Pyra - Park
147 112/85/112
155 112/85/112
163 112/85/112
E: I've heard good things about their men's powder ski, so we can only hope that the women's lives up to that as well. It's kind of a bummer that they don't make the park ski in a bigger size than 163, could definitely attract more women. The graphics are kind of all over the place, but at least they're being progressive.
M: The last brand to also make a true twin park ski for the chickas. Definitely on the shorter side though 147, 155, 163. And arguably the girliest graphics. The same specs as the men's Ledge's, which are a super fun park ski IMO.
B: While it's great to see Volkl catering for the really short girls (starting from 147cm) the hyper-feminine graphics really put me off these skis. The range is the typical men's skis given a 'pretty, super girly' top sheet and re-sold to women. While I love that they have made a park specific girls ski in short lengths that is as good as the men's ski, the graphics on these really put me off and I would rather ski the men's ski.
Boots
Full Tilt
A leader in the freestyle centric boot arena, Full Tilt has redesigned and revamped their women's line. All the boots will now come with replaceable toe and heel pieces, meaning you can keep your boots for longer if the pieces wear down. Also a big change to Full Tilt, a few of the boots will now come with a focused intuition tongue liner! The tongue will create a simple boot entry and widen the market for the ladies who prefer a tongue liner as opposed to the wrap. Keeping their flagship Soul Sister boot, at a flex 6, a full intuition wrap liner and 99 last, it still retains it's classic cable system. The Rumor has gotten a little update, still using a cable buckle system, but having a focused intuition tongue liner. The Mary Jane has been replaced with a new series of boots, The Plush series. The Plush series comes with the same buckle system as the original, a ladder buckle with cables for even pressure. These are made for the ladies with wide feet, at a 102 last. As the name states, the Plush 6 has a 6 flex, and a full intuition wrap liner. The Plush 4 has a 4 flex and the new focused intuition tongue liner.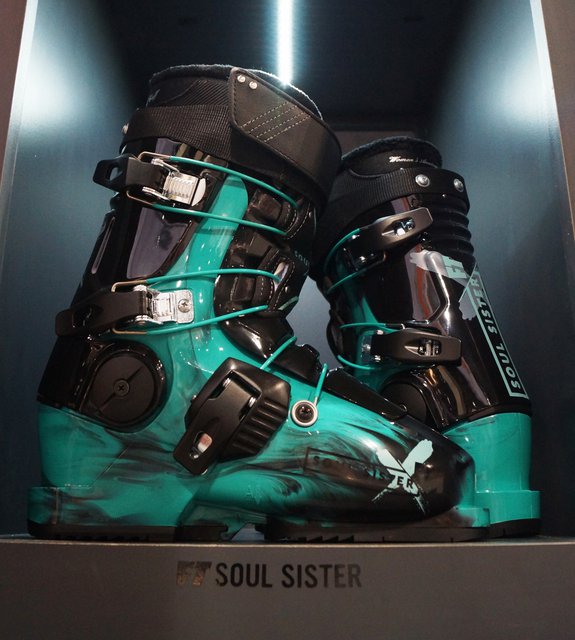 Soul Sister
23.5 - 27.5
Flex: 6
99mm Last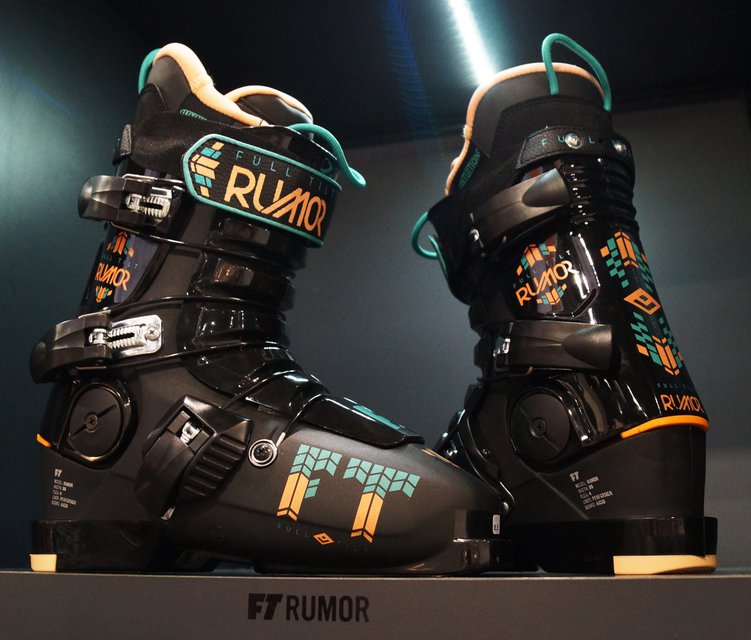 Rumor
22.5 - 27.5
Flex: 4
99mm Last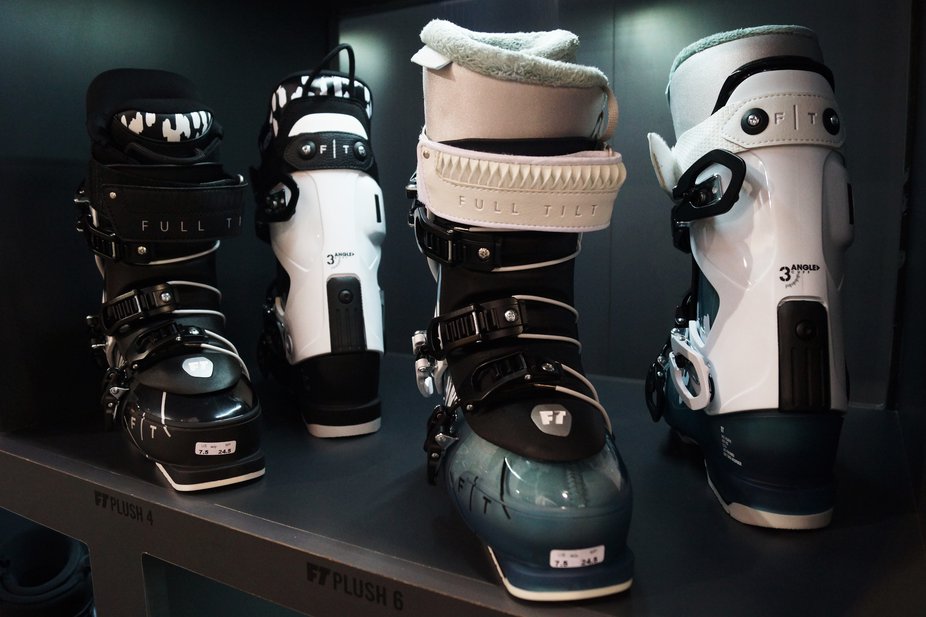 Plush 4
23.5 - 27.5
Flex: 4
102mm Last
Plush 6
23.5 - 27.5
Flex: 6
102mm Last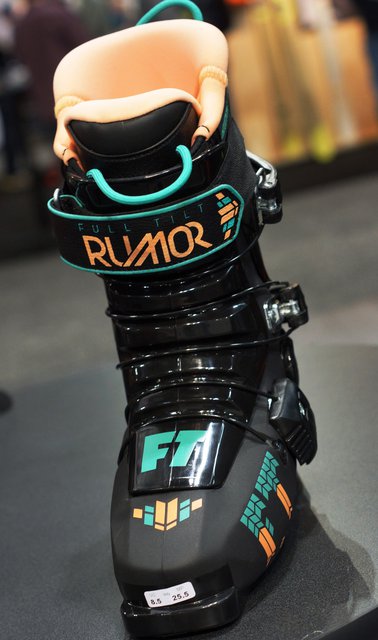 Tongues!
E: Really excited for the changes at FT. It's great that they're giving size and flex options for the different lasts instead of one standard. Smart move on them to add the tongues; I've met people that aren't fans of the full wrap and vice versa, so now there's an option for both. The Soul Sister design is so rad, they melt the two plastics together to get the coloring and it is one of the best looking boots I've ever seen, too bad my foot is huge. Speaking of that, tried the Plush 6 on and it was seriously more comfortable than the street shoes I was wearing.
M: YAY!!! Boots for the fat footed ladies out there! Stoked to see a wider fit. Also, next year Full Tilt are releasing another liner, with a tongue. So you now have the choice of liners, which makes them a more versatile brand. Super good job done on the designs too.
B: I finally understand all the Full Tilt hype on here. I demoed the Soul Sisters at the On Snow and I loved the progressive flex. It's really cool to see Full Tilt branching out and now making a range of boots in a thicker last and some boots with actual tongues. I love that Full tilts have the inter-changable tongues as I found the Soul Sisters too soft for me. Super stoked to try in future the new buckles, tongues and shells.
The Gear Girls
Erika Dahlby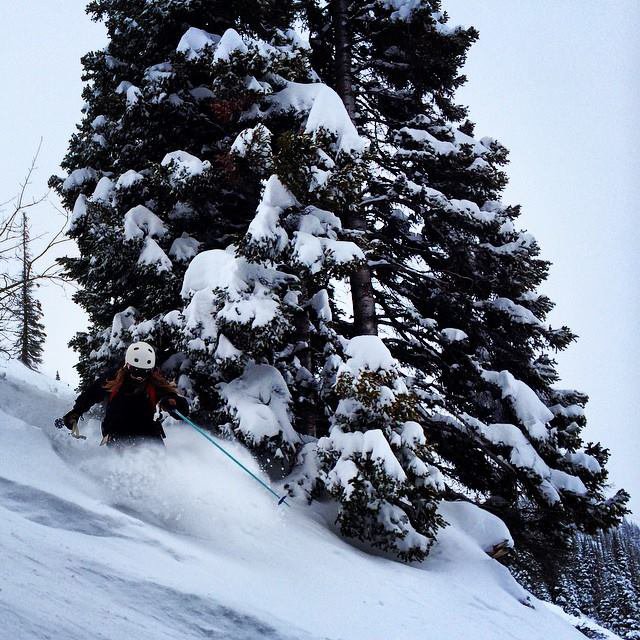 Photo: Zach Nelson
Maddie Jones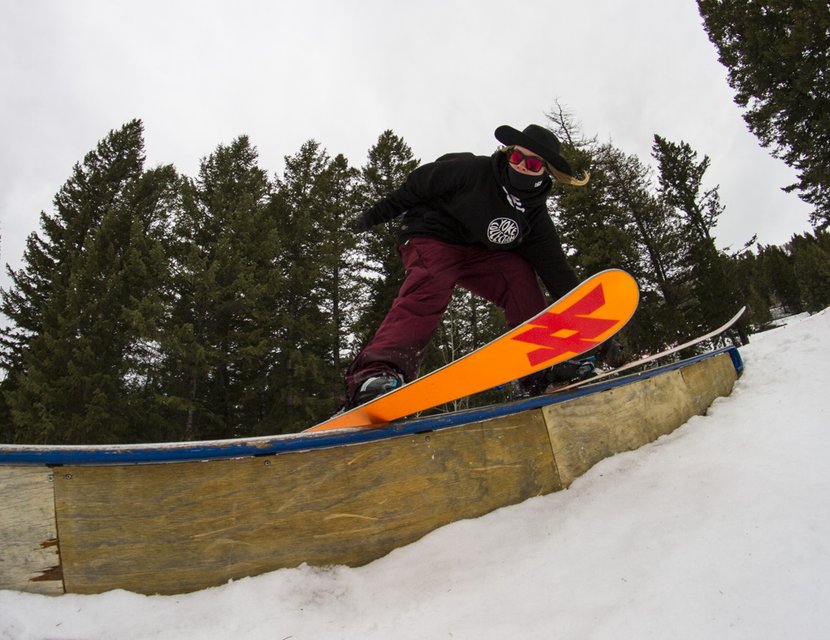 Photo: Cy Whitling
Brooke Dunleavy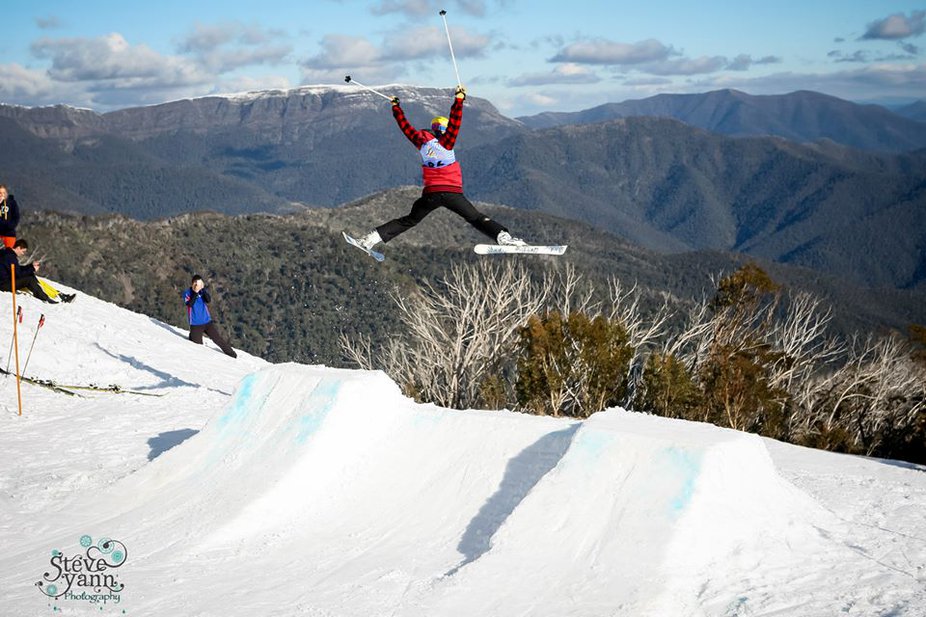 Photo: Steve Yann
I want to give a huge thank you to these ladies for all their input and to Newschoolers for giving us the creative control to run around the tradeshow to make this happen. Also to all of the companies that took the time to speak to us about all of their new gear. Looking forward to making next years already!
Have a brand you want to see? Let us know to include it for next year!