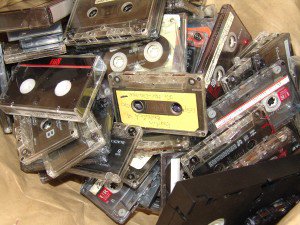 A skiing or boarding mix is a tricky thing to make. As John Cusak said in High Fedelity, "The making of a great compilation tape, like breaking up, is hard to do and takes ages longer than it might seem. You gotta kick off with a killer, to grab attention. Then you got to take it up a notch, but you don't wanna blow your wad, so then you got to cool it off a notch. There are a lot of rules." When it comes to a skiing or boarding mix, it's a little easier; I think you just need lots of fun songs, and nothing too slow.
I just looked at my "skiing" playlist and it's a bit long: 470 tracks and 1.2 days of music. But, I listen to that baby all season long so I don't want to get tired of listening to the same songs. I just throw it on, hit shuffle, and I'm good to go. The best is when that perfect song matches up with the run you're on. Maybe a fast Bloc Party song down a bump run, a light and fluffy Architecture in Helsinki tune as you float down some powder, or my favorite a little "Walking on Sunshine" by Katrina and the Waves on a beautiful bluebird day.
But seeing as how my complete list is not really a feasible list to share, here's a "best of" from that list that crosses multiple eras and genres. A little bit of everything if you will, but a whole lotta good tunes for good turns. I know, I tested 'em out.
Click here to listen to the list on Rhapsody
1. Crown On The Ground – Sleigh Bells
2. Hang Me Up To Dry – Cold War Kids
3. Ion Square – Bloc Party
4. D.A.N.C.E. [Album Version] – Justice (electro)
5. POWER (Album Version (Explicit)) – Kanye West
6. Sinister Kid – The Black Keys
7. Automatic Lover – Teddybears
8. Maybe You Can Owe Me – Architecture in Helsinki
9. Don't Go Away Mad (Just Go Away) – Motley Crue
10. Dominos – The Big Pink
11. Complete Control – The Clash
12. Digital Love – Daft Punk
13. Come Dancing – The Kinks
14. Hey Now Now – The Cloud Room
15. Song for No One – Miike Snow
16. Jane Fonda – Mickey Avalon
17. If You Want Me To Stay – Sly & the Family Stone
18. Gone To Save Mankind – The Winter Sounds
19. Shake! Shake! – The Subways
20. If I Didn't Have a Goiter – Johnny Socko
21. Don't Bother Me – The Blakes
22. Unless It's Kicks – Okkervil River
23. Freak Out – Stellastarr
24. Walking On Sunshine – Katrina and the Waves
25. Abel – The National
26. This Way – (featuring Kayne West) – Dilated Peoples
27. Think I'm In Love – Eddie Money
28. Everybody Wants Some!! – Van Halen
29. Little Stereo – Teddybears
30. Massive Nights – The Hold Steady
31. Little Lion Man – Mumford & Sons
32. Coldblack – The Knew
33. Pop Song – Starf*cker
34. A Hit In Sweden – Say Hi To Your Mom
.