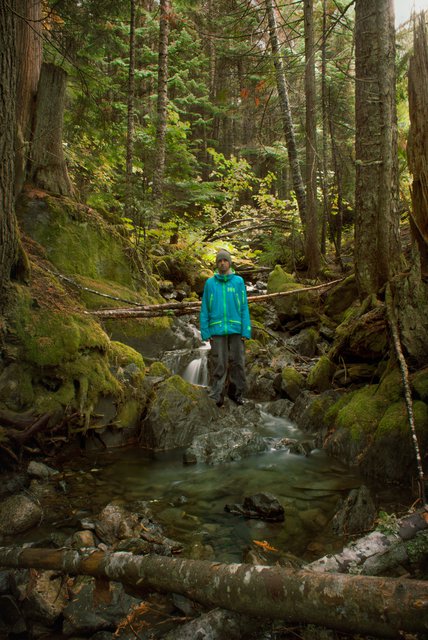 The PNW is certainly a beautiful part of the world but it's not the driest
Of all the places you could choose to call home Whistler, in my opinion, is a pretty good option. I moved half way around the world to be able to call this place home but along with all the positives, living in the PNW is not without its challenges.
Coming from the UK I thought I knew a thing or too about wet weather but even the UK's worst weather is nothing compared to what the PNW can throw at you. In the same day you could be skiing knee deep powder at the peak but get down to village level and the rain can be so hard I sometimes wonder just how stable the towns foundations, built by stoned hippies back in the 70's, really are.
The challenging conditions will test even the best outerwear and if you plan on being out in anything the mountain could throw at you, you will be no doubt be drawn towards the high end 20K + and Goretex options. The Helly Hansen Ullr outerwear I am reviewing here is a perfect example of the high end outerwear which many people who call the PNW home choose to wear.
At this point you may be thinking, awesome but I don't live or ski anywhere that I would ever need something like that. Fair enough, what we need in the PNW is very different to say the East coast or even Europe so this article is not only going to be a review of the Ullr outerwear instead I am going to try to give you a broader understanding of how outerwear works and perhaps more importantly, why appropriate layering beneath is so important.
Styles of Outerwear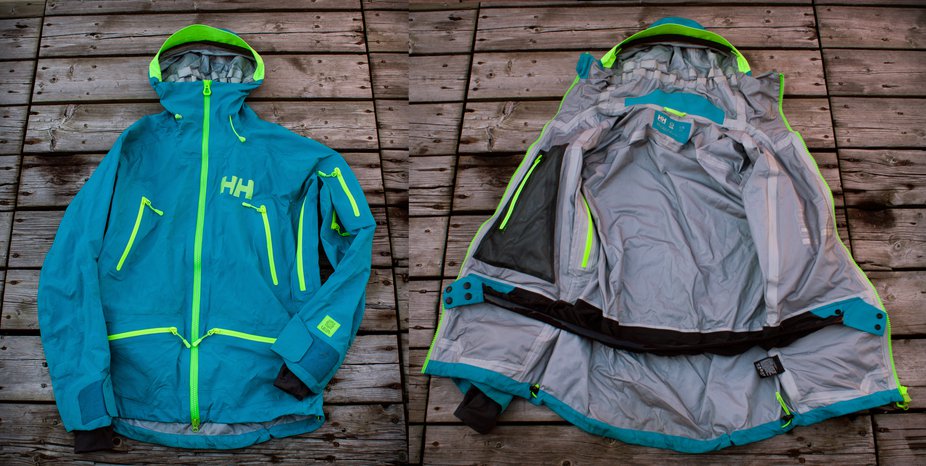 A shell jacket has no insulation and is designed to be worn with layers beneath
Ask people to describe a ski jacket and many will answer along the lines of "warm and waterproof". Waterproofing is a big factor but warmth is an interesting one. Although you can buy insulated jackets not all ski jackets will be insulated. Some such as the Ullr outerwear above don't have any type of insulation and are referred to as a shell. A shell is basically a waterproof and windproof layer but no insulation, much like you may expect a rain jacket to be.
Often a persons first reaction when showed a shell jacket is "but we ski on snow, how will that keep me warm?" well on it's own it won't. Shell jackets are designed to be worn with different layers underneath and it is this layering process which make shell style outerwear such an attractive option.
On cold days you can wear a number of warmer layers and so long as you have the layering correct you will be warm and comfortable all day. On the warmer days you can wear fewer or different layers and stay cool and comfortable. This versatility in using the same outerwear in a range of conditions is a big selling point for many people.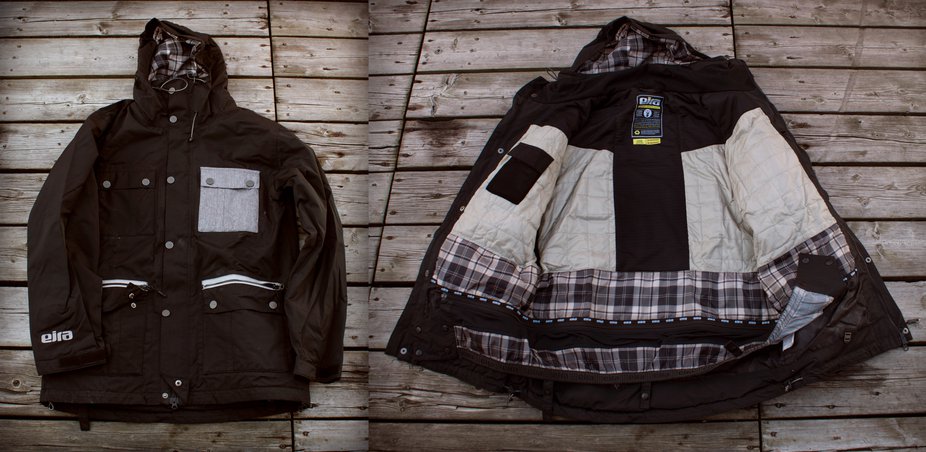 You can see the insulated section in the main body when this Eira insulated jacket is open
With an insulated Jacket you lose some of this versatility. Cold days will be no problem and you will probably find you can get away with less layers and still stay warm. The problem comes on the warmer days, you cant remove the insulation so you are stuck with a jacket which may be too warm, no matter how little you wear beneath.
There are of course some situations where an insulated jacket will make more sense. The East coast for example could be one area where you may want an insulated Jacket. The East can get cold, especially if you're skiing at night so the extra warmth can be really nice. As a side note I do quite like skiing park in insulated outerwear as it gives just a tiny amount of padding for when things do go wrong.
So when considering your next outerwear, think about where you ski and what will work best. Personally I like shell style outerwear as it gives so many options (including summer use) but I must admit I do like insulated pants if I'm just resort skiing. I find legs can be harder to layer so I often use pants with at least a small amount of insulation.
How Waterproof Do I Need?
If you have looked at outerwear online, which I'm sure most of you have, you have probably seen waterproofing given a rating such as 10K or 20K, but what does that actually mean? Without getting too technical (well as technical as a boot fitter can be about outerwear) the number comes from testing carried out in the lab. The most common test is to place a 1" square tube over a section of the material and by measuring how much liquid the fabric can support before it begins to leak, brands get a good idea of how waterproof a material will be. There is much more too it then that but if you speak to the outerwear reps most will admit the lab testing is not really that relevant to real world use, it does however give a good estimation for how waterproof a fabric will be.
In the most basic terms the higher the number the more waterproof. So a 20K jacket will be more waterproof then a 10K from the same manufacturer. Its great to give you a rough idea but in practice not all 10K jackets are equal. I would say things get a better as you move up to 20K but again there can be a big difference in performance.
Having said that, even here in Whistler I have used 10K jackets and they have held up fine to all but the heaviest of rain, and really this will be the deciding factor for you. Most, if not all 10K jackets will be fine for everyday skiing. They can handle snow and even some rain, but where they will begin to fail is when the skies really open. More often then not I will go home at those times but if you're out in the backcountry that may not be an option and this is when the higher end jackets are really going to shine. If you plan on staying out in absolutely any condition then you will want to be looking at 20K + or Gortex outerwear.
Breathablility
Breathability refers to how well a garment allows your sweat, in the form of water vapor, to escape through the outer material. You may have experienced the clammy, damp feeling you can sometimes get in cheaper rain jackets. That dampness is caused by water vapor from your sweat not being able to escape fast enough through the jacket's outer material. The water vapor builds up and this creates the dampness inside.
The same can happen when skiing but in general you wont notice it as much as usually you won't be sweating too much. We ski in the cold and we also get a rest on the lifts, so excessive sweating is not usually a problem. Where it can be more of an issue is in the backcountry. If you are skinning or hiking for an extended period in a jacket which does not breath well, things can be pretty unpleasant uncomfortable very quickly.
Breathability is rated in the same way as waterproofing so the higher the number the more breathable. Having a jacket which does not breath well will limit how well the rest of your layering works so breathability should not be something to skip over. If you know you will be working hard then going for a 20K jacket even if you live in a generally dry climate is still probably a good idea.
Layering the Secret to Happy Skiing
Hopefully by now you have a better idea of the type of outerwear you are looking for but getting the outerwear right is only half the battle. The layers beneath are the ones which will keep you warm and also more importantly dry.
Especially in the park you often see people using lots of layers. There is a thread in the forum about this topic right now and I found this post: " I wear a hoody all the time, I would wear a long john shirt, t shirt, my arcteryx insulated fleece, sweatshirt with a vest over that and if I was still cold, a jacket." That is a lot of layers and although probably will keep you warm if you change a couple of elements you could be even warmer while wearing less.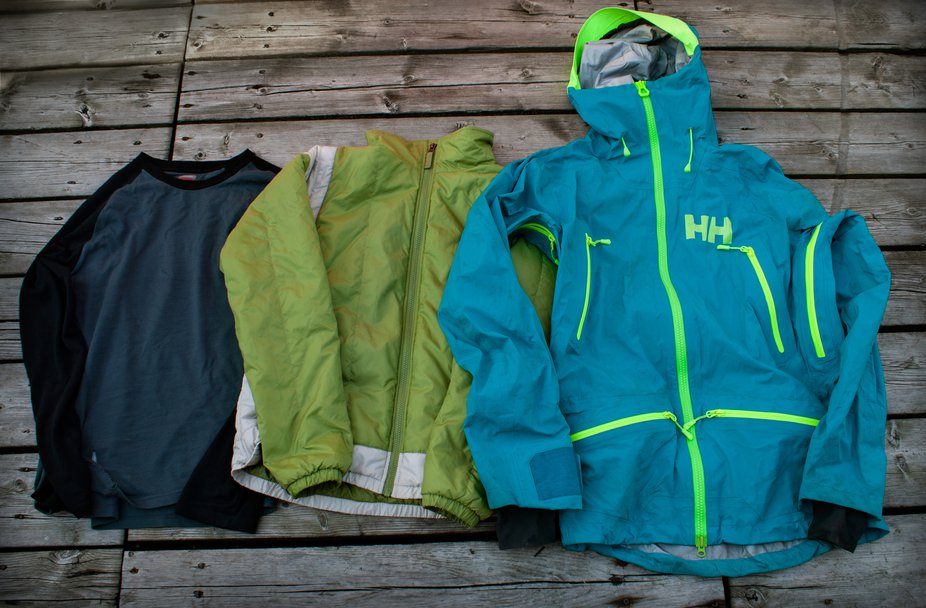 Looking at layering as a 3 part system is a good way to go. Here you can see a good example for a colder day starting with a merino base layer followed by a synthetic insulation mid layer and finally the Ridge jacket.
A good way to think about layering is to think of it as a three stage system. Working from the inside out, the first is the base layer. The Base layer helps keeps you warm and removes sweat from your skin. This sweat evaporates quickly and can hopefully escape through the rest of the layers
The second stage can be any layer or layers you use to add warmth. Often referred to as mid layers they can be used to add warmth but also an important consideration is that these layers can breath. The second layers need to work with the base layers. If the base layers are allowing sweat to evaporate but this water vapor is being trapped by the mid layers then the system is not working and you may find you begin to feel sweaty and damp which in turn can lead to you feeling cold.
The final stage is the outerwear. This is your protection from the elements but it also needs to breathe.You could have the best base and mid layers but if you use a cheap jacket which does not breath well they are essentially unable to work as intended and you could end up still feeling cold.
If you think about how your layers work with each other and try to avoid any layers which may restrict the overall system, you will hopefully find you can wear less layers and feel less bulky when dressed to go ski.
Base Layers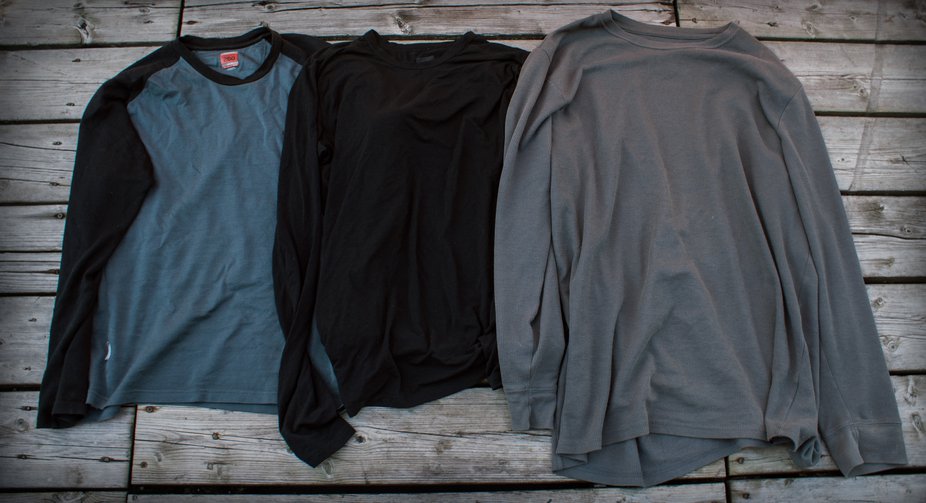 Base layers from Ice Breaker, Le Bent and Hurly
A good base-layer for skiing will do two things, keep you warm and absorb sweat and allow it to evaporate quickly (dry quickly). Certain materials are better at this then others, wool is a popular choice as it absorbs moisture quickly and drys quickly but more importantly it will stay warm even when wet. Synthetic materials can also work well and have similar proprieties to wool. An important feature with base layers is their ability to stay warm when wet. Even gentle skiing will make you sweat a little so having a layer which gets cold when wet such as cotton is not a great layer to have next to your skin.
When it comes to warmth, base layers are rated using a numerical system. If you look at base layers they will often give the weight as 200 or 260 and this refers to the number of stitches per inch. The higher the number the warmer so if you ski in a cold area or you get cold easily you may like to look for thicker 260 weight base layers. Most people go for the mid weight which is usually around 200 but some people who like barely any extra warmth could look for a 150 weight. I do find synthetic in general is a little cooler when compared to wool of the same weight, so if you run warm and don't like the idea of wool, thin synthetic base layers may be for you.
One aspect which will have a big impact on the effectiveness of base layers is fit. They do need to be tight, if not they will not be able to absorb the moisture and can let in cool air which can mean you still feel cold even in the warmest base layers. I know its not very Newschoolers to wear things tight but you don't need to show them off. Wear a second larger layer over them and no one will ever know, just make sure to avoid cotton. I have a few good base layers I wear depending on the conditions then I have a cheaper synthetic base layer I got in XXL to wear over the top. It does nothing as a layer in terms of warmth but it breathes and looks better in the bar at the end of the day.
Mid Layers
So you have your base layers set and sometimes you may find the base layers will be all you need, but if its colder or you are wearing just a shell you will probably want some extra warmth. There are many different types of Mid layer but there purpose is the same, to trap warmth.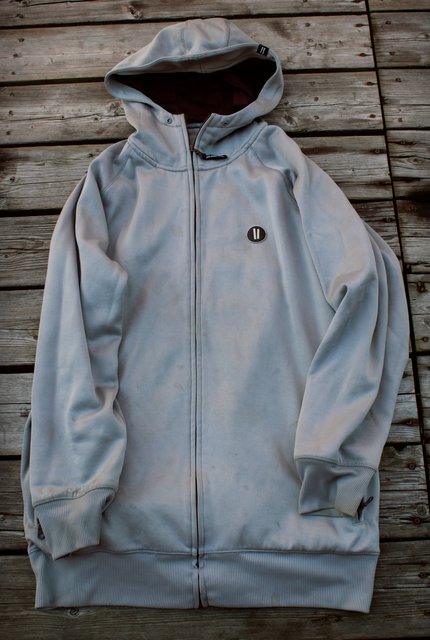 Technical mid layers don't have to be uncool. This riding hoody from Planks is one of my favorites for cold days
You will often see mid layers split into 2 categories; technical layers and down and synthetic insulation layers. Technical layers will include things like fleeces and wool pullovers but brands are now producing technical hoodies to give you some more style options. A technical hoody will differ from a normal hoody in the materials it is made from. If you look at the saga ridding pullovers, they are made from 100% polyester compared to the non riding hoodies which are either partially or fully cotton. Polyester being a synthetic fiber means it will maintain warmth when wet and will dry quickly to help moisture evaporate.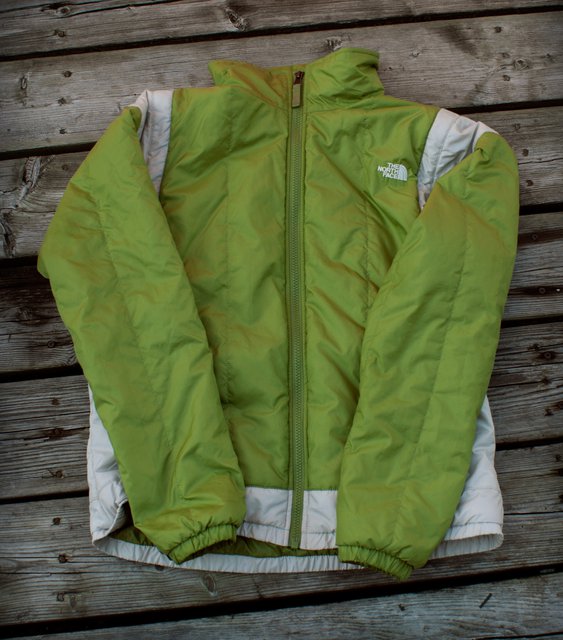 This is a synthetic insulation mid layer but it feels and acts a lot like real down
Insulated mid layers are made from either down (feathers) or synthetic material made to look and feel like down. Real down has the advantage of being warmer, when compared to the equivalent weight in synthetic down. Unfortunately down will lose its thermal properties when wet. A synthetic down will stay warm even when wet so can be a better option somewhere like the PNW. Companies are starting to produce Hydrophobic down which is a treated down to make it more resistant to water meaning they will still perform when wet. Both down and synthetic mid layers are extremely light and are a great option for extra layers as they don't take up much space in a pack.
Whatever style of mid layer you go for try to avoid materials like cotton and if you can, look for items marked as riding or technical.
With the base and mid layers sorted the final step in the layering system is the outer protection. More then any layer, what you choose for outerwear will be highly determined by the conditions you ski in and for me that means wet. I need something highly waterproof but with me getting into touring more and more, I also want something which can breath well. On paper the Helly Hansen Ullr outerwear seems to match my needs pretty well but would it live up to expectations or would it leave me cursing the god of Snow.
Introducing Ullr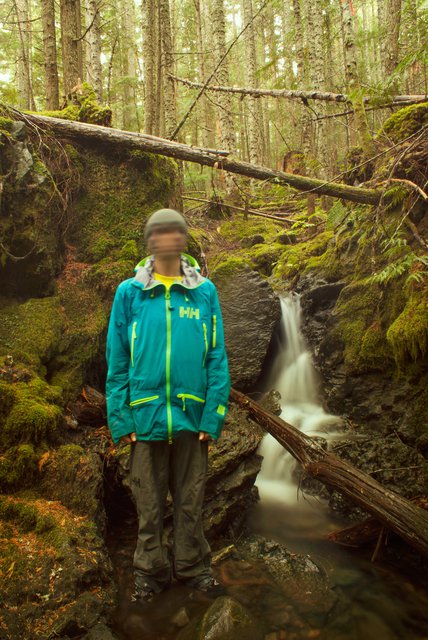 Helly Hansen may not be a brand which instantly springs to mind for ski outerwear, especially on this site, but they do have an amazing heritage when it comes to making outerwear. Helly Hansen have been in business for 138 years and they have learned a thing or two in that time. Although not huge in ski outerwear currently they have been producing ski gear for years and some of you may remember Mark Abma's jacket from 2010.
Helly Hansen are looking to expand in the ski world and the Ullr collection is at the very forefront of this. Named after the the Norse god of snow, the Ullr freeride collection is a top end ski collection designed in collaboration with some of Helly's top athletes.
There are a number of jackets and pants in the collection includeing both shell and insulated options. I would be testing the Ridge Jacket and the Elevate Pants the top end shell options in the range. There are woman's versions with a different cut but all the same features under the Aurora name.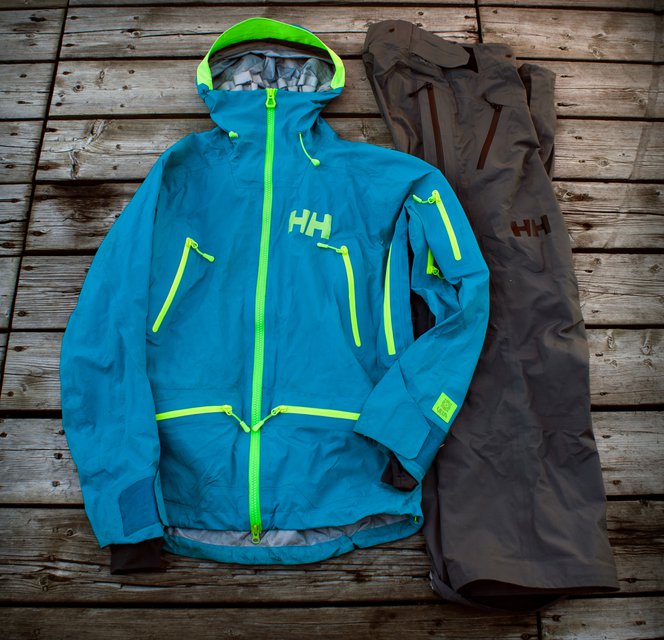 Tech Specs
Name: Ridge Jacket & Elevate pant
Price: $550 & $450 USD
Fit: Regular
Waterproofing/Breathability: 20k/20k
Construction: 3layer Helly Tech Pro, fully seam sealed
Zippers: YKK water resistant
Other features: Recco rescue system, wrist gators, helmet compatible hood.
Looking at the jacket and pants its clear to see this is high end outerwear. If you have seen brands like Arcteryx you will be familiar with a how a high quality garment should look and initially inspecting the Ridge jacket I was very impressed. The construction felt solid, the seams were all neatly sealed and the overall feel definitely was what you would expect for a jacket of this price.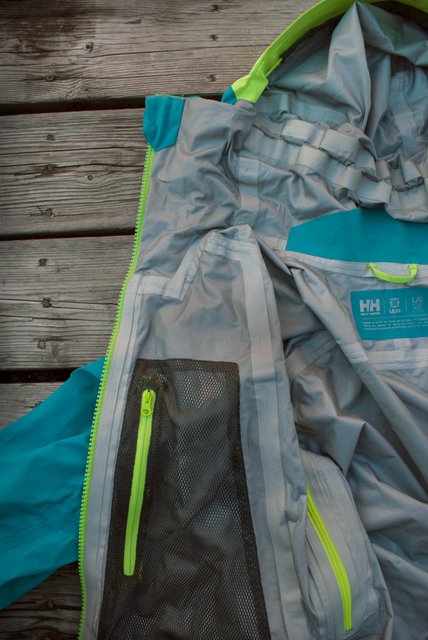 The inner material looks like Goertex or other high end materials but the feel and weight is much different to most you will find
Probably the most striking aspect of the jacket was the actual feel of the material. Often higher end shell jackets, especially those which use Goretex, can have a rather rough feel and the outer material can be a little unforgiving offering little in the way of stretch. The material used on the Ridge jacket, has a much more natural feel, it is incredibly light and has a smooth feel to the inside. The outer material is very easy to fold and even stretches a little. When compared to equivalent jackets it feels much more like a lighter rain jacket then a technical shell.
The pants feel to use a slightly firmer material, possibly to increase durability but they again offer a really unrestricted fit and feel.
I would be testing both jacket and pants in size large. At 5'11 and 160lbs the large fitted me fine but don't expect a baggy fit. This is outerwear designed to fit and even if you up size, it's not really going to give a baggy fit. I could have actually got away with a medium in the pants but they do have a good amount of waist adjustment so I could make them work. One small factor I did notice with the pants is they don't have any belt loops at the front. They have a long section at the back which you can run a belt through but it's weird in my opinion that there are no belt loops at the front. You can also attach the pants to the jacket to seal out snow and it has the added benefit of helping to keep them up.
In Use
Helly sent me the jacket and pants back in March and I have been wearing them on and off ever since. In that time they have certainly seen nearly every condition you could imagine, being used all over the mountain in both winter and summer.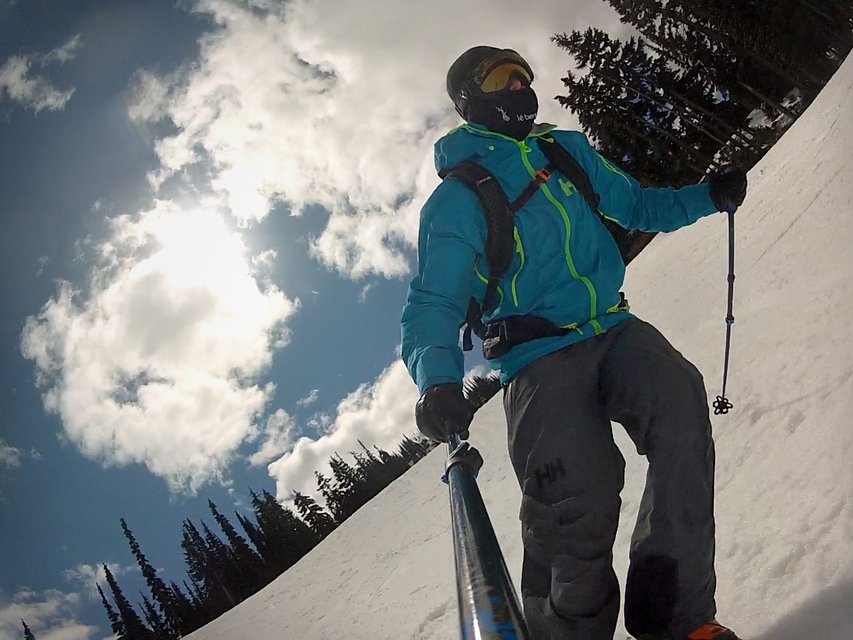 I was testing a number of touring products at the end of last season and this gave me the perfect opportunity to really put the outerwear to the test in the type of scenarios it was designed for. Freeride can mean a lot of things but Helly are expecting users to be using this at the more extreme side. This may mean multi day tours, single long hikes to get to a face or just riding hard in-bounds. The common ground here is that users will be out in all conditions and working hard. The jacket and pants both use Helly's propriety membrane, Helly Tech professional and they have put a great amount of work into improving the breathability of this membrane, culminating in this new membrane being the most breathable Helly have ever used.
If you have not been touring before you would probably be surprised how warm you can get. Even in the cold, skinning uphill can get warm fast and often maintaining body temperature can be one of the hardest parts of a tour. You get hot and sweat so you remove your jacket but then when you stop for a moment, you soon cool down and it can often be a case of constantly adding or removing layers.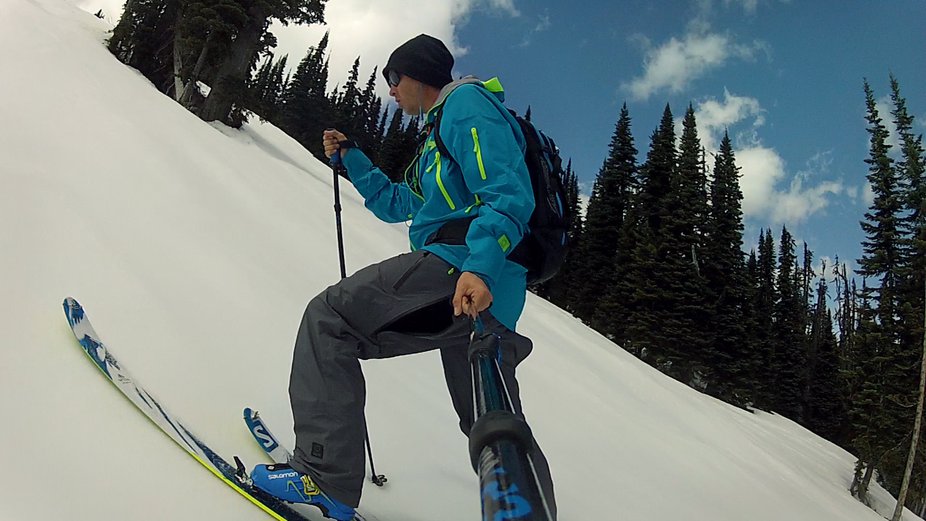 What would be ideal is a jacket and pant combo which offered wind resistance and protection when your not moving but could breath and allow airflow like you were not wearing a jacket when you are moving. A lot of high end outerwear claims to do this but where most fall down is breathability. They are great at keeping you dry but just cant keep up when you start working hard and sweating. Even some top end Goertex jackets can feel rather like a sauna after a short time hiking.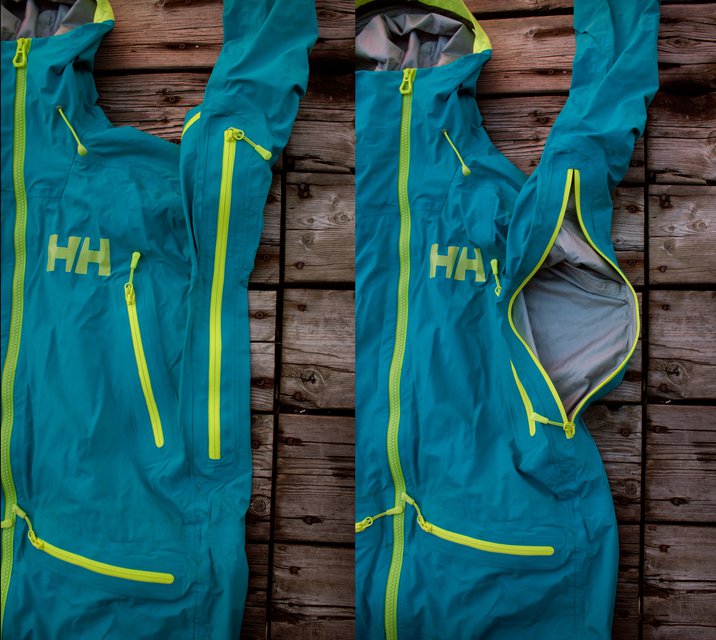 The large vents on the Jacket above and the pants below, allow great airflow when things get warm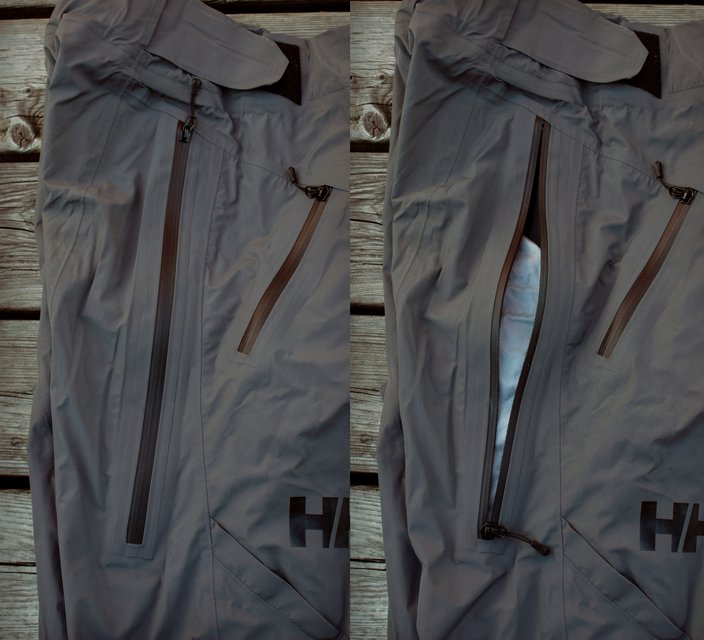 The Ullr outerwear is different, the jacket in particular breathes really very well. While touring I was finding I could keep the jacket on the whole time and even on warmer days I would not be overheating by the top. One of the big factors is how well both the jacket and pants are vented. The Jacket has large, mesh-less vents beneath both arms and the pants have a long vent which opens fully. It is not a full length vent so you cant remove the pants ver boots but they are certainly big enough to keep things cool. Some other brands choose to use a mesh to cover vents and although stopping things like snow getting in they do restrict how much airflow you can get in the jacket or pants. The vents on the jacket allow a good amount of airflow and having them extend a good way down the body means you can get airflow round the back, an area which often overheats especially with a pack.
The placement of these vents and also the other pockets on the jacket have been carefully considered. The skiers using of this type of outerwear are quite likely to be wearing a pack when they ski so making the pockets and vents easily accessible without removing the pack is important.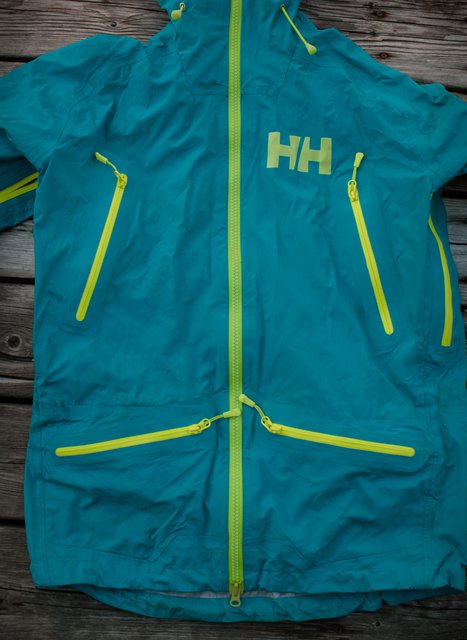 The placement of pockets and vents has been carefully considered to be as accessible as possible, even when wearing a pack
Helly Hansen have done a great job here and even while testing with 4 different packs I am yet to find one which does not work with the pocket placement. The two lower pockets sit above the hip belt of all the bags I have tried and the toe inner pockets sit just inside the shoulder straps. The arm vents can be fully opened and closed around the pack straps. This may sound like a small thing but it can be extremely annoying to have a pocket or vent be covered by a strap and it could become a real issue if you are caught in a slide. Having things easily to hand could make all the difference in those situations. The pockets on the pants sit slightly lower on the leg and are designed to be accessed without having to hike up the jacket.
The lightweight feel of the Jacket in particular at times makes you forget your wearing outerwear. I was never being restricted and even when I was reaching and streching I never felt restricted. Helly have done a great job of ensuring the design allows movement something which may sound like a simple idea but plenty of outerwear out there fits well until you really start moving.
When things do become too warm the light weight and ease of which you can fold and compress the jacket means it can be stuffed into even the fullest of packs. I even found I was able to stash it in the helmet carrying section of my Evoc bike bag, something I was not able to do with any of my other ski jackets.
In the Wet Stuff
At this level I expect the waterproofing to be excellent and comparable to Goretex. Initially I did wonder how an outer fabric so soft and stretchy could offer any real protection but even in the heaviest of rain I have never had any water making its way through. Water beads on the surface and being so smooth the drops simply run off before they are able to begin to wet out the material. I did wonder if wearing a pack would affect the shoulders but even with the extra pressure from a pack I never had any problems.
When it actually decided to snow rather then rain the snow skirt and wrist gators did a great job at keeping snow out. The snow skirt is pretty tight but it stretches and really does stay in place well. The wrist gators are quite thick and really one of my only real complaints. I found them a little thick to fit under some gloves and although they are really warm they can get a little damp and certainly in the summer they are far to warm. I would prefer a thinner material be used here, I like gators but they are maybe a little bulky on the ridge jacket.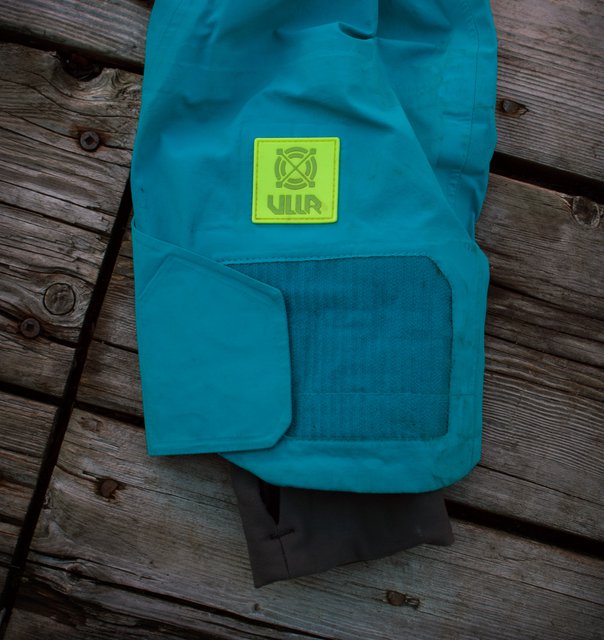 The over sized cuff really seals out the elements and is easy to use in gloves or mittens
One area I do like a lot is the cuff. They have an extremely large Velcro section and you really can seal the arm well and have no worries that the cuff will come lose. Even when scrambling through trees and rocks I never had the cuff release, again maybe a small thing but I did find it useful at times. They are easy to use in gloves or even mittens however I did find some of the larger more bulky gloves I had, struggled to fit inside the cuff. Although the cuff is big it does not actually open very far so very bulky gloves may be a slightly tight fit.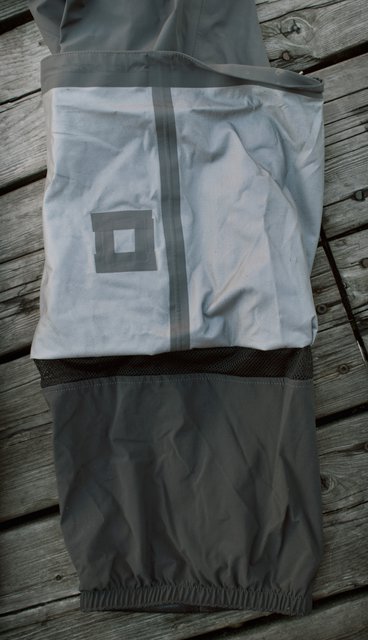 The pant gators are much stretchier then on most pants and they create a great seal on the boot
The gators on the pants are a bit different to what you would normally find. They use a much thinner stretchy material and I did wonder how durable it would be but so far I have had no issues. I have found they work really well especially with boots with a big range of motion. The stretchy material fits over the boot really well, no matter what position you are in and because of this do a great job of keeping snow out. There is a small section of heavy mesh at the top which does allow a small amount of airflow.
The jacket hood has a good amount of adjustment featuring a pull string on either side and one on the back making it easy to adjust, weather you are wearing a helmet or not. Without a helmet I did have to pull the back drawstring quite tight to keep it in place when windy but I do have quite a small head. One thing I did find was if you have the hood adjusted tightly it can be a little hard to put the hood up and down with the main body zipper fully done up. It was not a big problem but I did notice it a couple of times throughout testing.
The overall feel of both jacket and pants is excellent. They give a great range of motion and never become heavy or wetted out even in the heaviest of rain. To get some of the photos for this article I was wading around in rivers and even that was not enough to wet out the pants. I did find after washing a few times the jacket began to wet out in high abrasion zones but it should be noted I was washing the jacket with normal washing detergent, something I will talk about more later.
Durability
When you are spending close to $1000 on outerwear the last thing you want is for it to fall apart first time out. This issue is compounded by the fact people buying this type of outerwear will potentially be in environments where scrambling over rocks and through trees and bushes is not uncommon, so being built to survive is very important.
To properly test this, I treated this outerwear in a way which would make most Arcteryx wearers wince. I was scrambling over any and all rocks, climbing through trees and bushes and generally doing anything you would avoid doing if you had just paid $1000.
I fully expected to do some damage but even the worst I could throw at it, it easily shrugged off. The pants in particular held up really well. They have a reinforced section at the bottom which although not very "cool" really did a great job of preventing edge slices and other damage.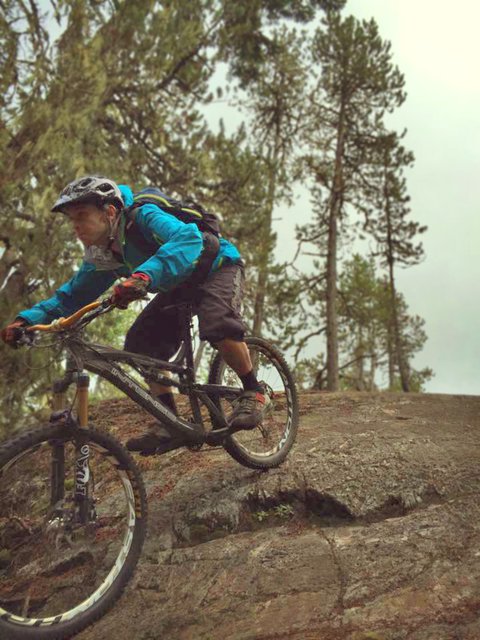 Whistler is not just wet in the winter and the Ridge jacket has been great for the cold wet days on the bike
I had a few crashes on the bike while wearing the jacket and was pleasantly surprised every time to see that I had done no damage. I would not want to be crashing in the bike park but out on the trails I had no concerns wearing the jacket.
For an outer material which gives such an unrestricted feel it is very durable, something which I must admit surprised me. Over the last 7 months the worst that has happened is a small amount of fraying of the thread on one wrist and overall its actually survived a lot better then most of the other outerwear I have tested despite how badly I have treated it.
The Bad Points
As they say, nothing is perfect and unfortunately there is one issue with the jacket, It gets really smelly. I do admit I use this jacket very differently to most jackets. If I'm going out and I know i will be working hard and sweating this is the jacket I will wear. So you would expect it to need washing more regularly but it does seem to need washing a lot.
I think a big part in the problem is just how well it breathes, it is constantly taking moisture through the fabric but I think the fabric is holding onto the bacteria in sweat more then it should. Obviously you can wash the jacket and reading Helly's website it says to wash with normal detergent, not something I would normally not recommend, but to test it I washed it like this a few times and it does seem to work fine. The smell goes and the jacket is good until you work hard again and the smell quickly returns.

Something like the NikWax Tx.Direct wash in re-proofer will be a good idea for constant washing
Having to wash a jacket regually is not really a bad thing but with outerwear like this you don't really want to be washing it constantly. There is a waterproof coating applied to the outside and constant washing will remove this but you can reproof the jacket with products like the one above.
When I was testing in the resort I was having no problems so if you are wearing it for everyday skiing you should have no problems but once I started touring it got nasty, pretty fast.
Overall I can except the smell to some extent as it performs so well in terms of breathability. All my bike gear needs washing after 1 ride in summer so if you are working hard you have to expect things will get a bit stinky. Interestingly I had no issues with the pants at all.
Overall
There is no denying it, this is expensive outerwear and to be honest it's probably not for many people on this site. If your outerwear requirements are keeping you warm and dry while looking 'steezy' in the park, well no it's not for you (and you probably have not read this far anyway) but if you are the type of skier who will get after it no matter what, Ullr is definitely worth a look.
If you get the chance to compare the feel of the Ullr jacket to some other top end jackets it will be easy to see just how different the feel is. The fit is excellent and offered some of the most unrestricted movement I have ever had, the waterproofing has been what i would expect from a high end jacket and the breathability has far exceeded my expectations.
If you like to work hard while skiing this could seriously be your new outerwear, I truly have never used anything which breathes so well and my preparations for tours have become much easier as often I can just wear the Jacket all the way.
Most of the top brands offering Goretex will have outerwear offering similar waterproofing, so if you mainly ride the resort and your main priority is waterproofing then although Ullr is excellent it is on par with other options. Where the Ullr range really wins for me is the breathability and fit, if you plan on touring this coming season I would highly recommend checking it out.
Hopefully you understand layering a little better but there is one area which often gets overlooked, goggles. Overheating and in turn fogging of the lens, can be a real problem for many people but there has never really been a good solution. Step up the new Julbo Aerospace goggles which hope to offer a simple solution to a very real problem.
As a special bonus, Julbo are offering a 20% discount on all goggle sales through their Candian site http://www.julbo-canada.ca. Use promo code NEWSCHOOLERS20
Julbo Aerospace
The Aerospace may look like your average goggle but it has an ace up its sleeve
When it comes to ski goggles it may seem there are endless possibility's. You can get almost any size and shape with any lens you could possibly want but common factor is they are all made in virtually the same way. In both framed and frame-less designs, a lens in held in front of the eyes and the space behind the lens in sealed by the goggle body and the foam which sits against the face. For most skiing this system works perfectly but there are some situations where it is less then ideal.
By sealing the space behind the lens, if you are working hard and sweating you can find that the lens begins to fog. This happens when there becomes a difference in temperature behind the lens and in front of it. When touring, for example not many people would choose to skin up wearing goggles as you would quickly overheat and the lenses could fog. It's not just in the backcountry that it is an issue. If you are hiking a rail in the park, even on a cool day you can begin to overheat. Most of the time you would simply remove the goggles and maybe switch to sun glasses but what if there was an option to wear your goggles the whole time without overheating. Well thanks to the new Jublo Areospace such a product now exists.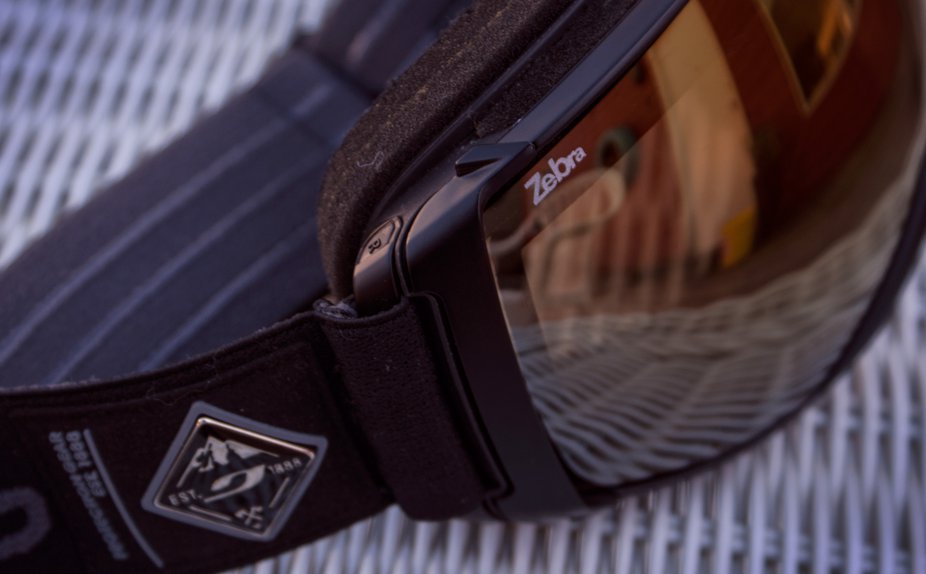 The lens attaches to the small section next to the strap rather then around the whole frame
The Aerospace uses a whole new design concept when it comes to allowing airflow but the actual system is very simple. Unlike most designs where the lens is attached on all sides the aerospace's lens only attaches to two movable sections of the frame at the left and right side. With these to sections pushed back the lens forms a seal with the frame and the goggle functions like any other goggle. However when you pull the two end sections of the frame forward they move the lens around 5mm away from the frame and allow airflow. The system is very simple to use and can be done in gloves and mittens. The mechanism is both easy to move and solid when the lens is pulled out. You can easily ski with the lens pulled forward and the mechanism will hold. Getting the lens to push back is very easy and a small click lets you know the lens is seated. There is a small bridge at the top of the frame which prevents snow or rain entering the goggles when the lens is pulled forward.
Pull the plastic section on each side forward and the lens moves away from the frame to allow air to circulate keeping you cooler and preventing fogging
Overall it is a very simple idea. By pulling the lens forward you are able to get good airflow which helps regulate the temperatures really well. Although designed for touring I actually found I was using the lens feature all the time especially in the spring. On warmer days when you get down to the lift it was so nice just to pull the lens forward and get some airflow. Yeah you could just put the goggles up on your head but the heat from your head will often fog the lens. The aerospace system gives a really good option for cooling off while maintaining your lens so you can actually see.
I tried them a few times touring but most of the tours I did were in the spring so to be honest it was still too warm for them. They would be great for mid winter tours were you would want some protection but still need good airflow.
The fit is described as Extra large but I would say they are more a mid to large size. The field of view is excellent but they don't feel large and weighty. They fitted my smaller face well but would suit a more mid to large face. The strap is a fairly regular width and has a couple of lines of rubber to help secure the strap.
There are 7 different color options with the 4 different lenses Julbo offer. I have tried both the Snow Tiger, a darker lens for clear days and the Zebra. The Zebra is a slightly lighter lens and did offer great clarity on lower light days. The lenses have really impressed me and although only having 4 options may seem limited compared to what the competition offer I do think Julbo have got all conditions covered so why offer more if they don't need too.
When I first received the Aerospace, although I thought they were a cool concept I wondered how much I would actually use them. In reality I have found I move the lens all the time. Its so nice to be able to cool off at any point you want. Even if you just stop mid run you can pull the lens forward, get some cool air and ensure the lens will not fog on the rest of the run. I constantly have the lens forward on lifts on warmer days and if I'm ever hiking the park I will just leave the lens forward while skiing. I should note its a little odd skiing with the lens forward at first as things do look a little different but you get used to it although really just ski with it down.
If you overheat regularly skiing or you often struggle with foggy lenses these may be the goggles for you. If you tour regularly and want something that offers more protection then sunglasses these are definitely worth a look. The design is very simple and really does work. Whether you like the style is up to you but in terms of functionality and vision you cant go wrong.
Review System
If you are interested in any of the base layers featured in this article you can read reviews of them below (just click the name):
Base Layers
and remember, add your own reviews. The more reviews in the system the more useful it becomes, so anything you have used add a review. Choices for who is on the gear team are based on submitted reviews, so get reviewing and next time it may be you writing these articles.
Follow me on instagram at @TomPietrowski to see all the products I am currently testing